Want to know the secret to a healthy pizza? Top it with a salad. It's a "salad pizza," and it's delicious!
If you haven't ever tried salad pizza you may very well be skeptical. Salad on a pizza? And a cheese-less pizza at that? Being the cheese and pepperoni lover that I am, I wasn't convinced either. All it took, however, was one bite and I was sold.
In fact, I was more than sold. I've been talking up this pizza to everyone who will listen and I've been eating it every chance I can get.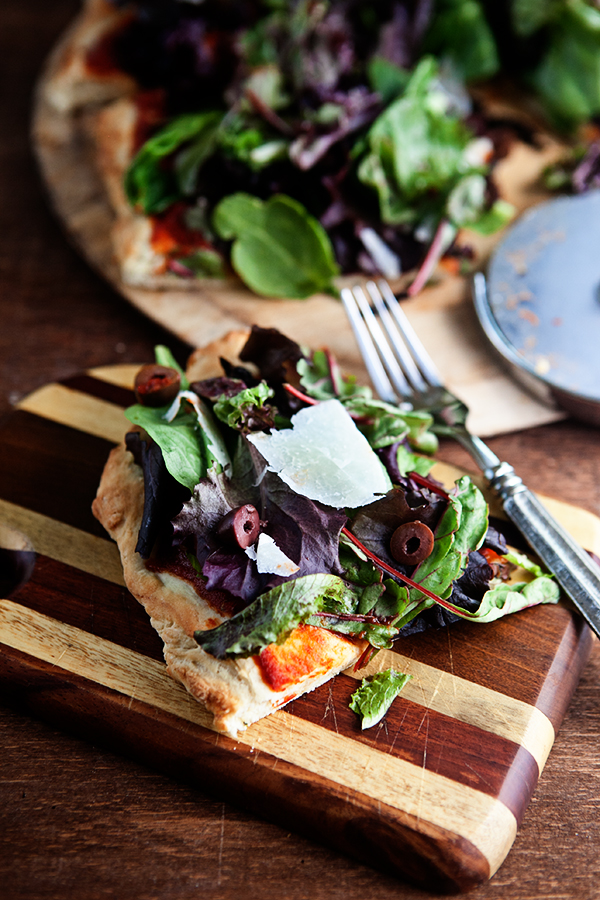 Photos via Some the Wiser
I may have actually developed a little salad pizza obsession. Right now, with spring in the air and lettuce in my garden, it ends up on the dinner menu more than once a week.
While I think you could probably mix up any number of salad combinations and top a pizza with them, my favorite recipe is simple…
If you have a great crust, homemade or a store-bought dough (like Trader Joe's) and a good sauce, you don't really need much more. Just pile on the greens, a mix of spinach, lettuce, chard, and it's going to be good. I've added kalamata olives, sun dried tomatoes, and a drizzle of balsamic vinegar just for a little something extra. Top it with some shaved Parmesan cheese and you've got yourself a first class pizza!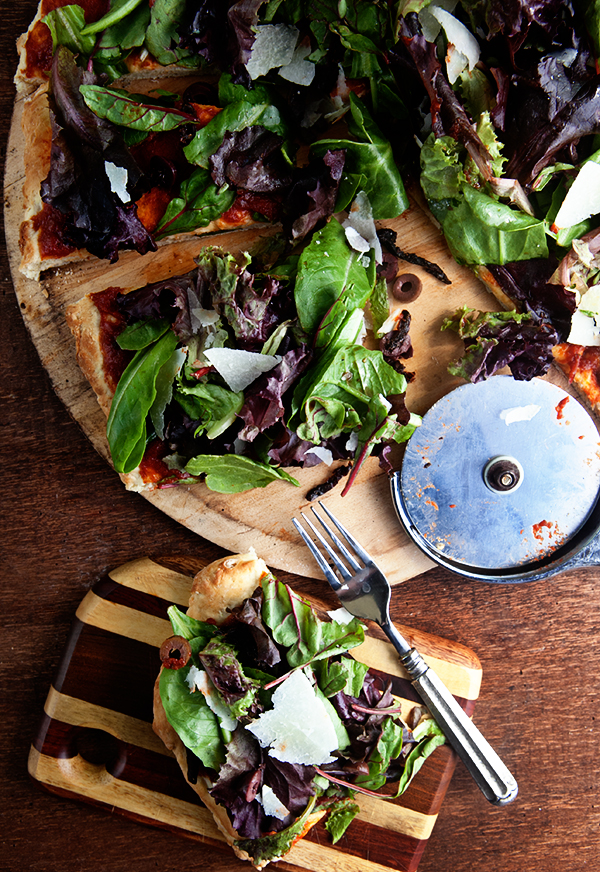 With all those fresh greens, this almost looks too healthy to be a pizza. That, however, is precisely the magic at play here. It is healthy and it is pizza and while I am chewing each crusty, delectable bite I am keenly aware of both of those facts and I'm convinced that makes it taste even better.
When it comes to food, healthy-and-delicious is almost always the point.
So if you have greens in your spring garden right now or have been eyeing them at the farmer's market, this is the perfect recipe to show them off. Make sure you have a great crust and a great sauce because that will make all the difference.
When it comes to sauce on a salad pizza, I tend towards a sweeter sauce than your average pizza sauce — think spaghetti sauce. If your standard pizza sauce isn't very sweet, maybe sub in a sweeter spaghetti sauce or add a pinch of brown sugar in.
Ahh, salad pizza. There's never been a more delicious way to eat your greens!
Salad Pizza
Ingredients:
Pizza dough, homemade or store-bought
2 cups pizza sauce (see notes above about sauce)
4 to 5 cups spring greens, lettuce, spinach, chard, arugula, etc.
1/4 cup sliced kalamata olives
1/4 cup sun dried tomatoes
2 tablespoons balsamic vinegar
Shaved Parmesan cheese
Directions:
Step 1:
Preheat oven to 450 F.
Step 2:
Stretch pizza dough and place on pizza pan or pizza stone. Bake for 5 minutes, then remove from oven and spread sauce evenly over par-baked crust.
Step 3:
Return crust to oven and bake for an additional 6 to 10 minutes or until the crust is golden and crispy. Remove from oven and cool slightly — just until the sauce quits steaming, about 5 minutes.
Step 4:
Toss the greens, olives, tomatoes, and vinegar in a large bowl until well combined. Spread evenly over the cooked pizza crust. Top with shaved Parmesan and eat up!