With summer quickly approaching, it means weekend cookouts are about to start in full force. Basically, my favorite time of year. And this summer you'll be ready for any cookout invitation with this summer pasta salad recipe in your back pocket.
You're all probably familiar with traditional pasta salad that uses bottled Italian dressing, multiple types of cured meat and cubed cheese. Well, today we're changing things up, and I promise it's for the better.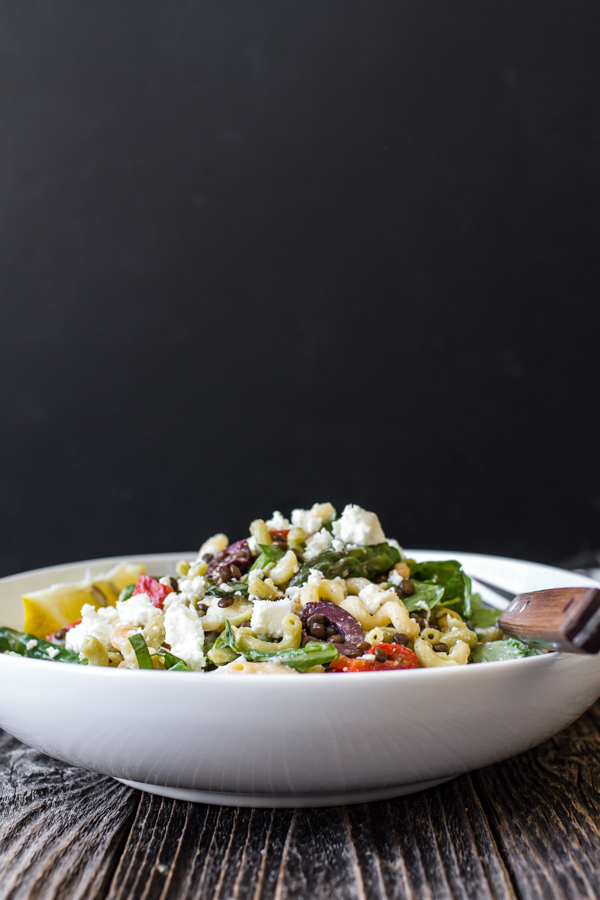 Photos via Ashley McLaughlin
To take things in a new direction I started from square one. Noodles. Anything with a spiral will do. What next? Flavors. What kind of flavor profile did I want to achieve? Rather than the typical Italian flavors I went in a more Meditteranean direction with feta, olives, roasted red peppers, and artichokes.
Instead of using cured meats as a protein source, I decided to add beluga lentils. I realize they are not at all the same thing, however, beluga lentils add an ample kick of protein and fiber to this recipe. The beluga variety are my favorite because of their tiny size and crunchy bite. They work perfectly in this dish, contrasted with the doughy noodles and mixed with those Meditteranean flavors.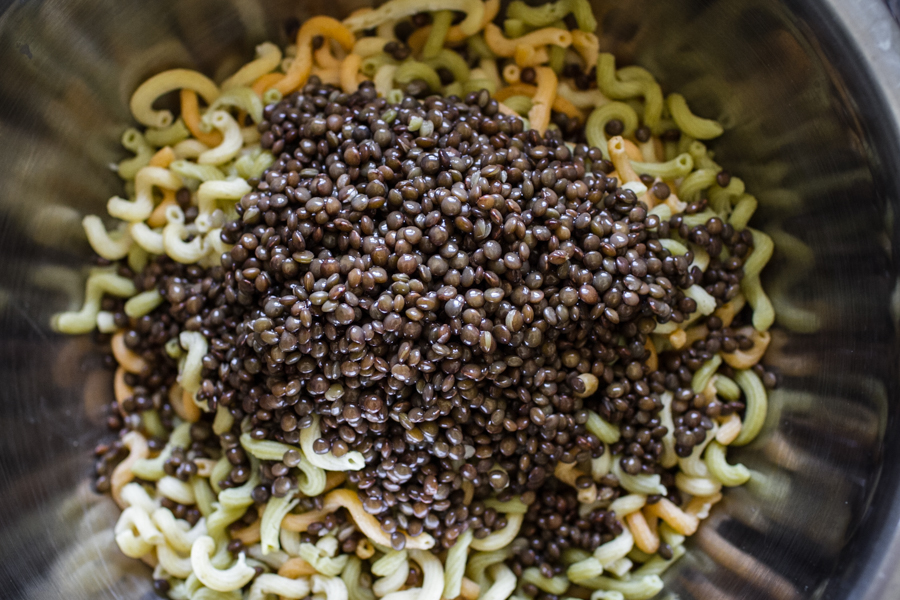 Next up, it's the dressing. Making dressing at home is incredibly simple and once you start. I promise you'll never go back to the bottled stuff.
This one includes lemon juice, olive oil, feta, shallot, mustard, salt and pepper.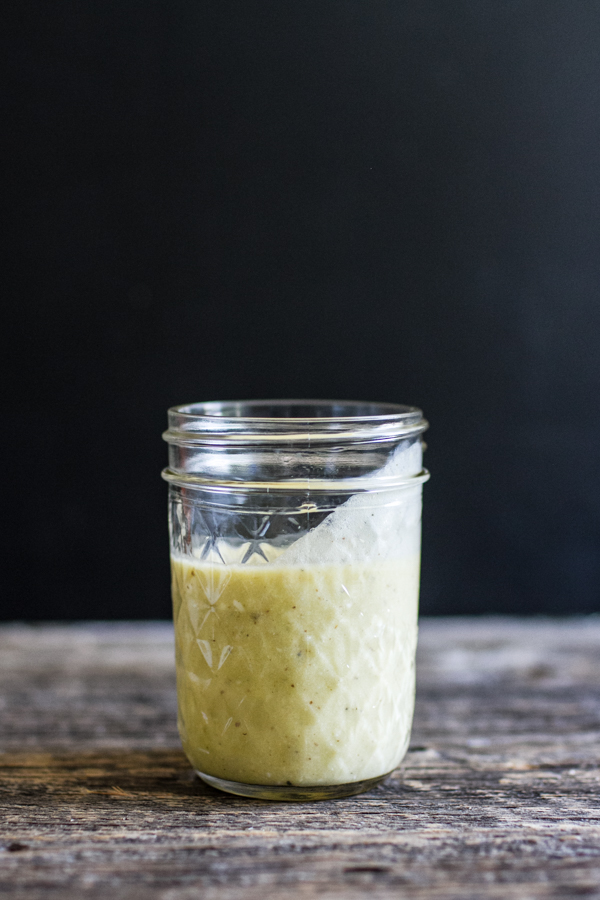 Now let's not forget about adding some green! I used blanched asparagus and a few handfuls of arugula. They both add flavor and bite, along with plenty of nutrients.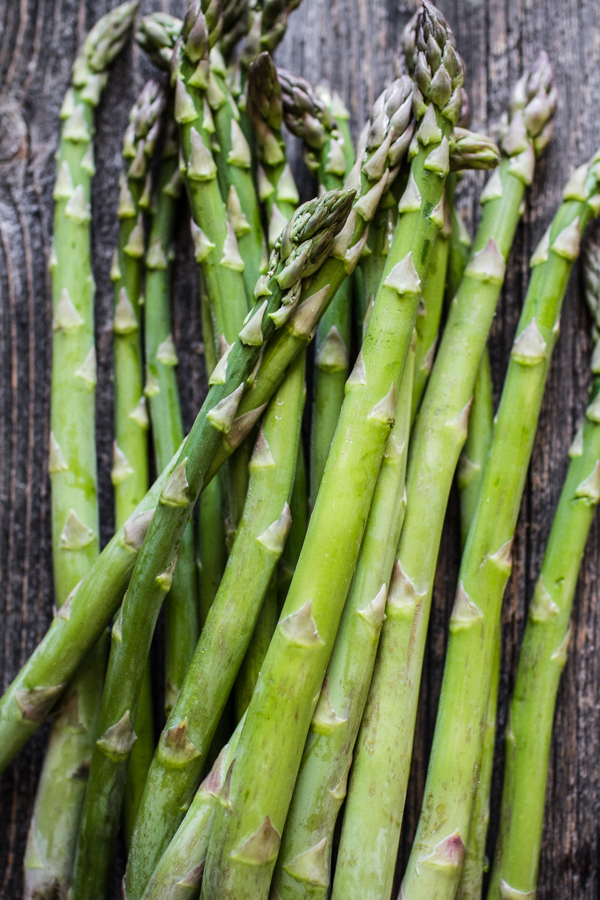 All you're left to do is toss everything together and you have a huge bowl of food ready to be shared with friends and family. But if you don't have a cookout in the near future, this makes a great weeknight dinner that will stretch for a few days worth of lunches.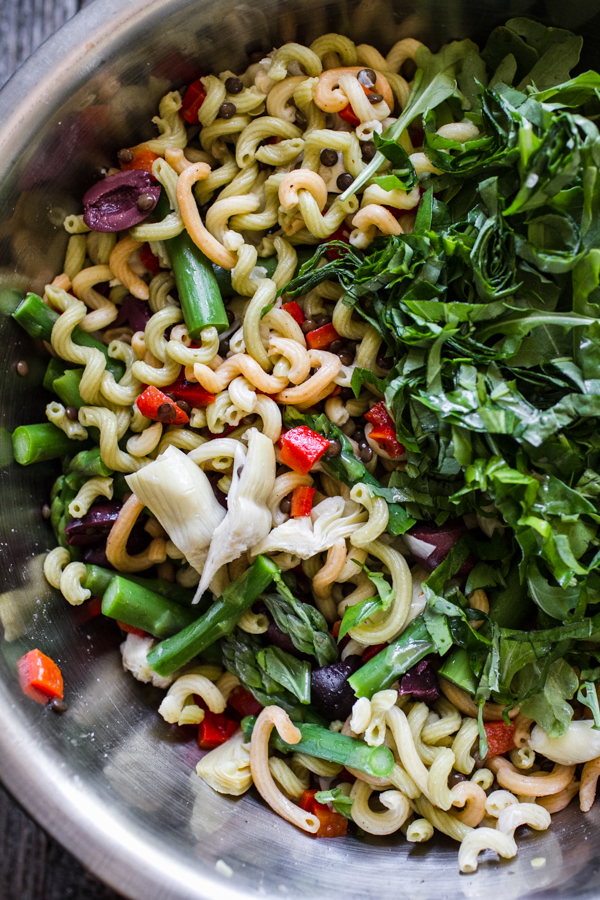 Summer Pasta Salad
Yields: 5-6 entree servings, or 8-10 side-dish servings
Pasta salad ingredients:
1, 8oz box pasta noodles of your choice
1lb asparagus, ends trimmed and discarded, then chopped into 2-inch pieces
1 1/2 cups cooked (1/2 cup uncooked) black beluga lentils (or green)
8 whole artichoke hearts, quartered
1/2 cup diced roasted red peppers
1/2 cup sliced kalamata olives
3-4 handfuls baby arugula
5oz feta cheese
2 tablespoons well-chopped fresh basil (or parsley)
Salt and pepper
Extra lemon for serving
Dressing ingredients:
1/3 cup lemon juice
4-5 tablespoons extra virgin olive oil
3 tablespoons chopped shallot (or 1 large garlic clove)
1oz feta cheese
1 teaspoon stone ground mustard
1/4 teaspoon salt and pepper
*If you plan on cooking this dish and serving it right away be sure your lentils, artichokes, peppers, olives, arugula, feta, and basil are all fully chilled.
Directions:
Step 1:
Boil a large pot of water and cook pasta according to package directions.
Step 2:
While waiting to boil, place all dressing ingredients in your blender and blend until well combined. Pour in a jar and place in the fridge.
Step 3:
Once the pasta is just tender, strain through a colander and rinse the noodles with cold water to stop the cooking process. Place in a large mixing bowl and toss with about 2 teaspoons of olive oil (to prevent the noodles from sticking). Refrigerate the pasta.
Step 4:
Boil a medium-sized pot of water while the noodles are chilling. While waiting for the water to boil prepare an ice bath for the asparagus.
Step 5:
Place the chopped asparagus in the boiling water and let cook for just 3-4 minutes, until slightly tender. Drain water and place asparagus in the ice bath to stop the cooking process. Drain water and ice once fully chilled, about 5 minutes.
Step 6:
Remove the pasta from the fridge. Add the asparagus, lentils, artichokes, peppers, olives, arugula, 2-3oz feta, and basil. Sprinkle with salt and pepper. Toss with the dressing (I used it all), then taste, and add more salt and pepper to your liking. Place in a serving bowl and top with remaining feta. Serve with lemon wedges.
Notes:
I used Ancient Harvest Veggie Curls for this pasta salad and they held up great!
If cooking lentils at home, avoid overcooking. You want the lentils to have a nice bite in this salad.