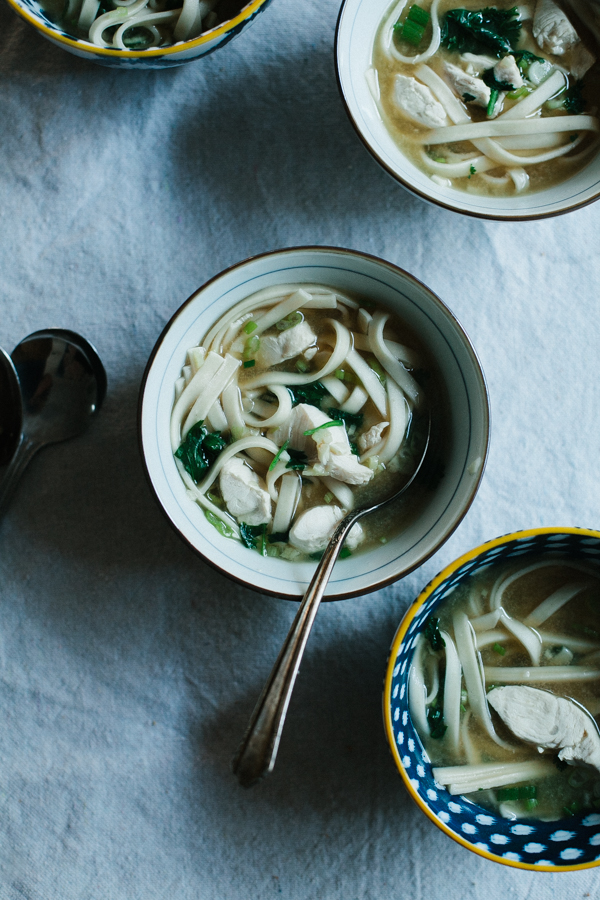 The start of school instantly brought with it the start of sick season. Within the first week all three of my children came home with complaints of sore throats and soon the noses began to run. Besides snuggles, sympathy and soft tissues, soup is my next defense against the seasonal cold.
When it comes to healing soup nothing beats a classic chicken noodle. It's both comforting and nutritious. But why not turn mom's classic chicken soup around and give it a bit of a boost by way of fresh ginger, scallions, cilantro and soy sauce.
When you have these few basic ingredients on hand this soup goes from pot to bowl in just about 15 minutes. So you can be ready for the attack when the sniffles invade.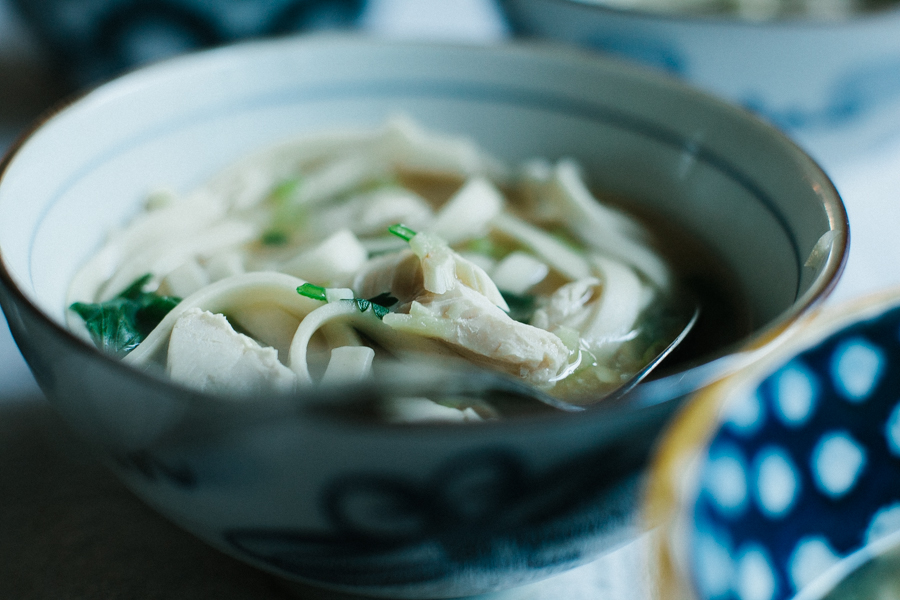 Make over 20 flavorful soups and broths!
Watch your 6 HD video lessons anytime, anywhere, forever, plus enjoy the included 25 downloadable recipes when you enroll in Building Flavorful Soups today. Enroll Now »
About this recipe
We start with chicken stock (or vegetable). Homemade is great, but store-bought is fine, too. To that we add fresh, minced garlic and ginger to give the broth even more flavor and healing benefits that come from both garlic and ginger. Next we add in some chicken (or tofu) and noodles. Anything goes here. Spaghetti noodles are fine or rice noodles or, what I like to use, Japanese noodles. They are soft, tender and somehow creamy. You can find them in the Asian aisle of most supermarkets.
To finish the soup we toss in fragrant scallions and fresh cilantro. The heat of the broth heightens their color and boots their vegetal flavor. A splash of soy sauce and lime reinforces the nod towards eastern flavors.
In between sniffles and faint sneezes my kids applauded the soup and requested its presence at our dinner table even after the colds have faded. I'd consider that a dinner win.
Healthy noodle soup recipe
Ingredients:
4 cups chicken or vegetable stock
8 ounces chicken breasts (or tofu) cut into 1-inch pieces
4 garlic cloves, minced
1-inch piece of ginger, peeled and minced
6 ounces noodles
3 scallions, white and green parts thinly sliced
1/2 cup fresh cilantro roughly chopped
Soy sauce
Lime
Directions:
1. In a large pot add the chicken stock. Bring the stock to a simmer over medium low heat. Stir in the ginger and garlic. 
2. Add the chicken and noodles, then cover the pot with the lid and cook until the chicken is cooked through and the noodles are tender, about 7 to 10 minutes.
3. Turn the heat off and stir in the scallions and cilantro. Finish the soup with a drizzle of soy sauce and a squeeze of lime.
For those that like a little heat, serve the soup with sriracha.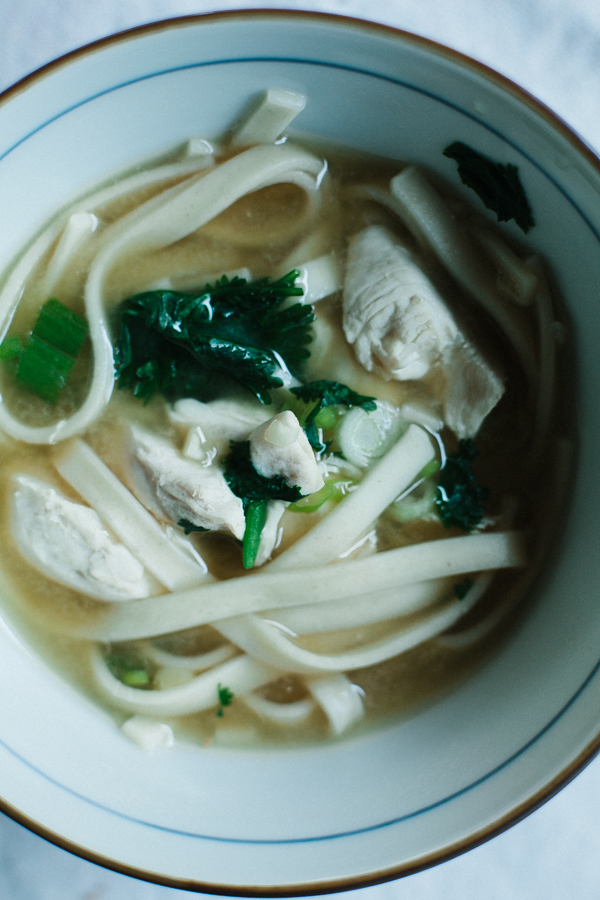 Make over 20 flavorful soups and broths!
Watch your 6 HD video lessons anytime, anywhere, forever, plus enjoy the included 25 downloadable recipes when you enroll in Building Flavorful Soups today. Enroll Now »