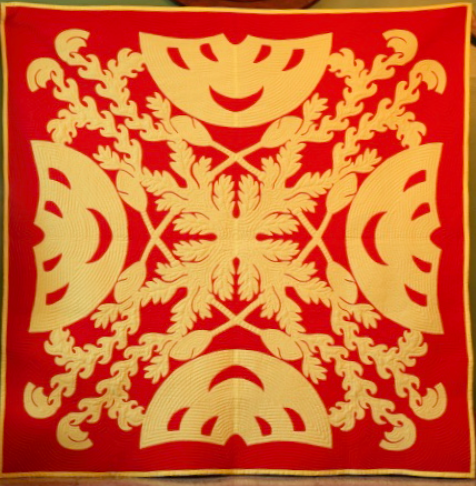 Photo via Makezine
Bold, ornate and influenced by floral motifs, Hawaiian quilts offer a unique take on hand appliqué. With a rich history, Hawaiian-style quilts often included symbols to help record moments in history, like the birth of royalty. There are four distinctive elements you can use to help identify Hawaiian quilts, including their construction and common design elements.
Hawaiian quilts use large applique cut from a single piece of fabric.
Hawaiians traditionally created a material called "tapa" which was pounded from plant bark and shaped into garments and bedding. Europeans landing on the Polynesian islands introduced sewing and patchwork techniques to the Hawaiian people in the early 1800s, but they seemed to favor whole-fabric applique rather than patchwork techniques as quilting grew in popularity.
Hawaiian quilts use symmetry and a folding method to cut fabric.
Remember when you folded paper and cut out shapes to make a paper snowflake? This is a similar technique to what is seen in Hawaiian quilts. The large floral motifs are cut from fabric folded into quarters or eighths, which is reminiscent of the early designs Hawaiian women stamped onto their tapas. The resulting fabric cuts are symmetrical and can be hand appliqued onto a quilt top.
Traditional Hawaiian quilts use just two contrasting colors.
Hawaiian-style quilts typically use solid or near-solid fabrics in only two colors. With one color in the background and another contrasting color used in the foreground and border, these quilts were historically made from the fabrics that were most readily available, which was often red and white.
Echo quilting is a typical finishing method for traditional Hawaiian quilts.
The graceful, flowing quilting lines surrounding the floral motifs on Hawaiian quilts are most often an echo or outline quilting style. Some quilt historians believe this quilting style is in line with the cherished relationship Hawaiian people had with nature and their island.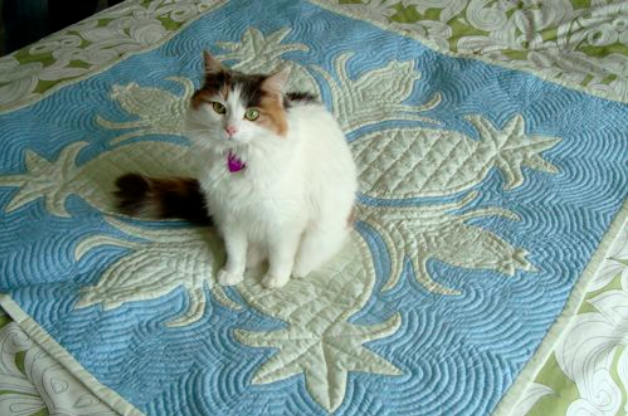 Leimomi of The Dreamstress shares a finished Hawaiian Quilt made from white appliqué on a soft blue background. The pineapple is a popular motif in Hawaiian quilts, and she quilted the fruits with a simple crosshatch design while echo quilting the background.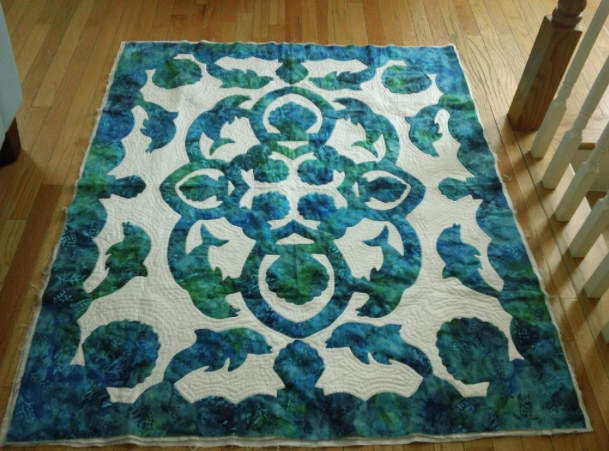 Bluprint member Mary Geehan shows off her hand appliqué techniques in this Blue Hawaiian Baby Quilt made from solid and batik fabrics. The dolphin and seashell motifs are echoed throughout the quilt center and in the border.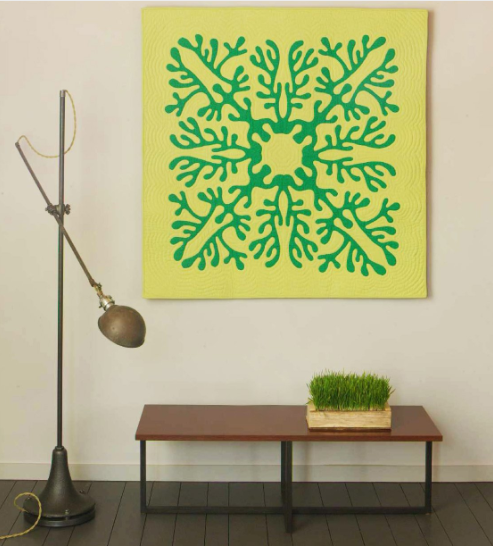 Denyse Schmidt shares more about her Hawaiian-Style Appliqué quilt from the book Modern Quilts Traditional Inspiration in an interview with Sew, Mama, Sew! She encourages quilters to create their own unique motif, perhaps making a simplified version of a pattern that inspires them for quicker needle-turn appliqué.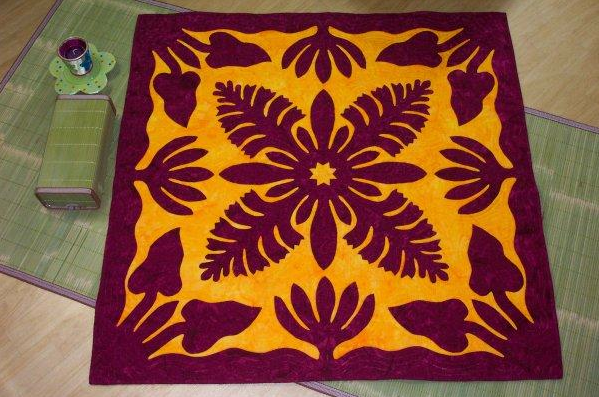 L.K made a Hawaiian Quilt, which was her first hand embroidered quilt of this type. The bold contrast between the yellow background and maroon border and floral center makes a strong impression.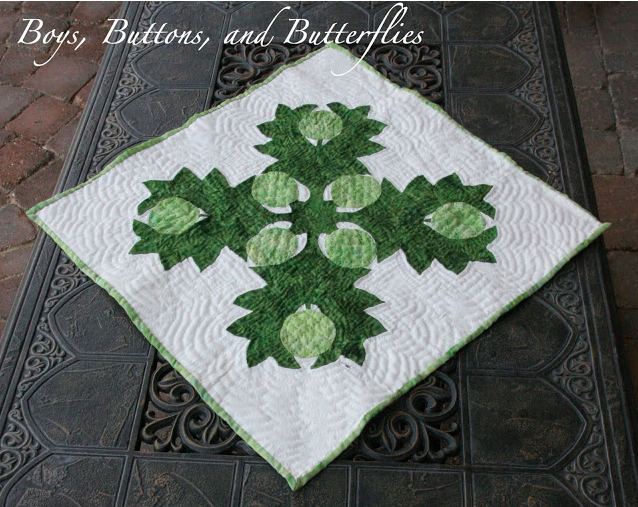 Heidi of Boys, Buttons, and Butterflies shares her Hawaiian Quilt that she created from a quilt kit to make a two-tone green mini quilt. She stitched the project completely by hand.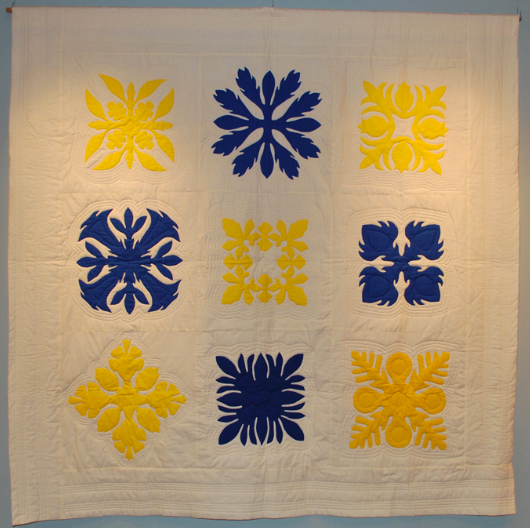 Phyllis Paulo hand appliquéd and machine quilted this Hawaiian Quilt as an anniversary gift. This project shows how the block designs can be made on a smaller scale and appliquéd to the quilt in rows to resemble quilt blocks.
If you've ever wanted to add this technique to your repertoire, we recommend the following tutorials:
Have you long admired Hawaiian quilts?