When it comes to wedding cakes, some couples are looking for a definite conversation piece and what better than a beautifully crafted cake…that hangs as if weightless! Hanging wedding cakes are the perfect way to wow clients during the busy wedding season and a wonderful way for guests to remember your wedding if you're the lucky couple.
Get inspired by these gorgeous chandelier and hanging wedding cakes: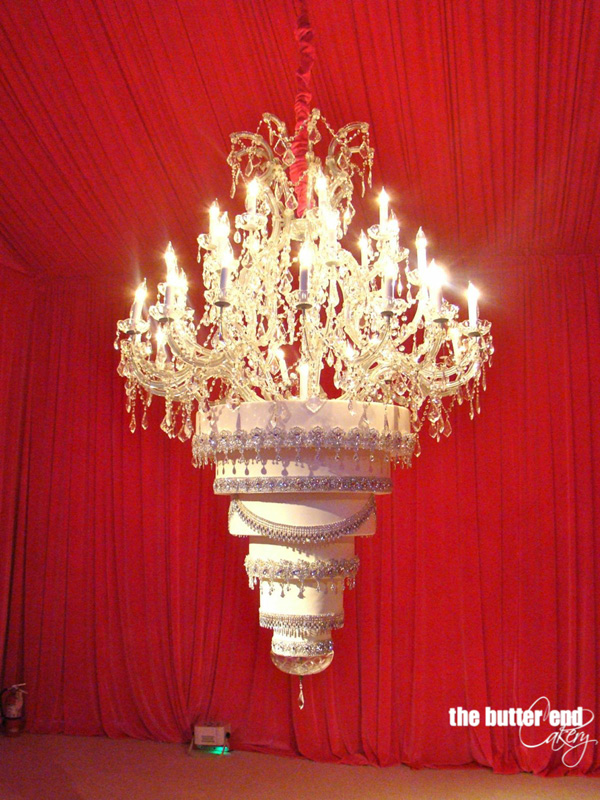 Photo via The Butter End
Upside-down chandelier cake
This cake is quite possibly the pièce de résistance of all hanging wedding cakes. The Butter End created this one-of-a-kind, show-stopping chandelier cake for actress Kaley Cuoco's wedding. Exactly how they suspended six large tiers of cake from the bottom of a crystal chandelier appears to be an impressive feat of engineering. We love that the cake itself mimics the crystal droplets with Marilyn Monroe-esque jewels dripped from each tier.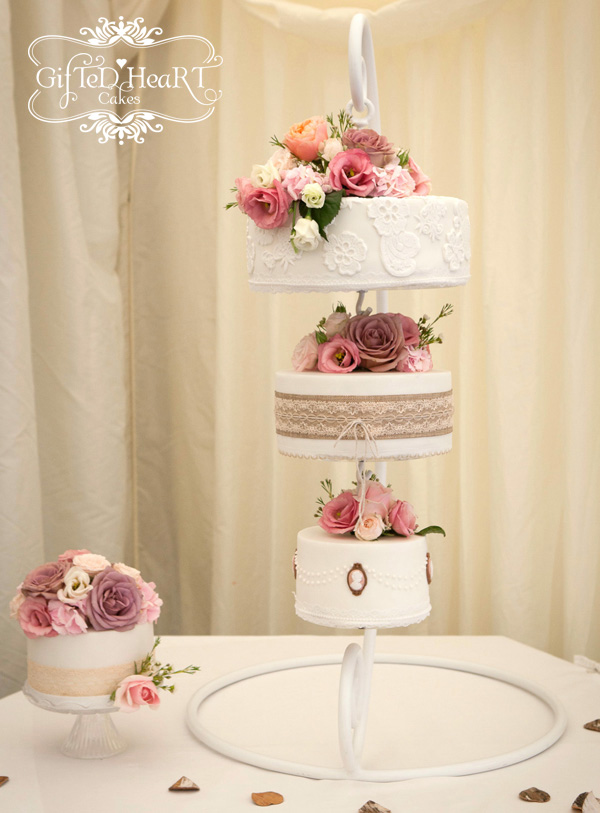 Photo via Gifted Heart Cakes
Pink rose hanging wedding cake
This sweet pink rose wedding cake features each tier suspended from an elegantly tall cake stand. The combination of different laces with cameos lends a beautiful vintage heirloom feel to this hanging wedding cake!
Learn how to create gorgeous lace work for your cakes in Zoe Clark's Elegant Lace Cakes class.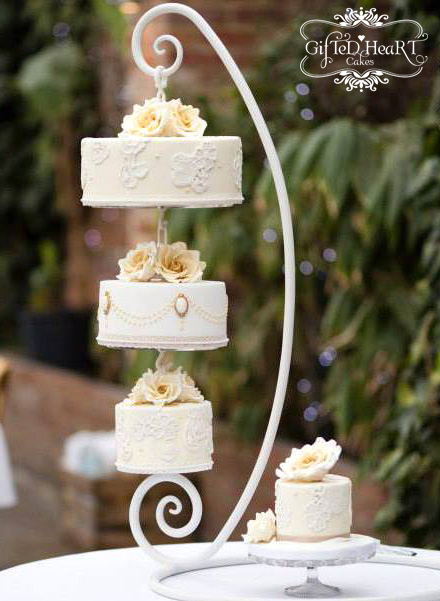 Photo via Gifted Heart Cakes
Cameo hanging wedding cake
The combination of a pale peach color palette with traditional cake decoration makes for a perfectly romantic styled hanging wedding cake. We adore the lovely ruffled roses, pearl accents and Georgian feel to this cake.
Sign up for Nicholas Lodge's The Ultimate Sugar Rose class to master the art of gorgeous gum paste roses.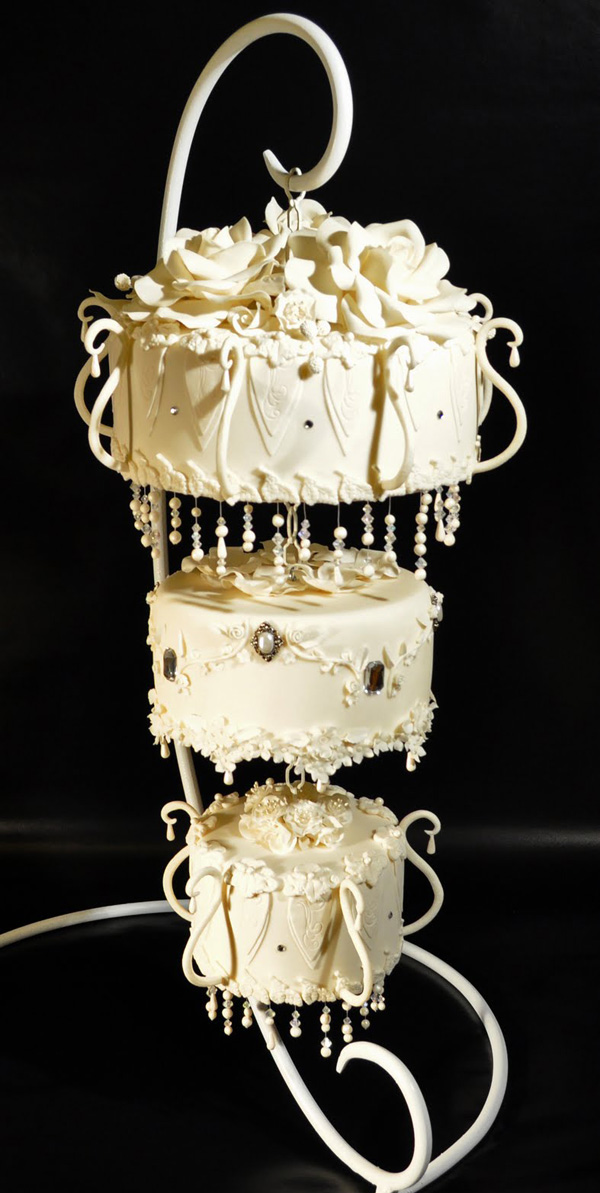 Photo via Judy's Cakes
Chandelier wedding cake
We love the scrolls and fondant droplets that decorate the sides of this hanging chandelier cake! The arches of small flowers that trim the bottom of the second layer are somewhat reminiscent of De Beers necklaces with their dripping florals.
Learn how to make gorgeous glittering cakes like this in Marina Sousa's Jeweled Wedding Cake Bluprint class.
Things to consider when planning a hanging wedding cake:
Creating a hanging wedding cake is an accomplishment in itself, but with lots of planning, sketching and research (as well as time and patience) you should have a show-stopping cake that exudes awestruck gasps from everyone around! Before you dive into such a structural demanding cake there are a few things for you to consider. First and foremost is how you'd like your cake to be suspended; from a ceiling fixture such as an actual chandelier, a rose entwined swing, gilded chain; or from a strong wrought iron stand specially made for the purpose.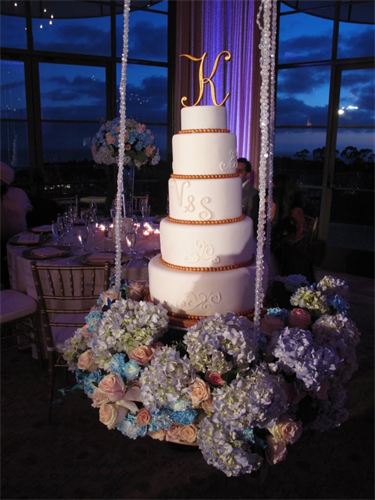 Photo via Sweet Cakes by Mel
This gorgeously elegant five-tiered swing wedding cake is given a fun and playful feel by being perched upon a swing bursting with florals. We love how this creates an unmissable center piece with it's quirky display, sleek and elegant design and romantic florals. Setting an otherwise heavy wedding cake upon a swing is a great way to instigate an informal touch to a reception!
What types of hanging weddings can you choose from?
If you're apprehensive going all out with a seven-tier chandelier creation, we'd suggest that the easiest way to have a "hanging" wedding cake is to set the cake onto an old fashioned tree swing, just like the beautiful cake above, featuring tangled roses, blossoms or lights. Then turn the reception into a gorgeously rustic garden party with the cake and swing as the centerpiece — perfect for a secret garden themed wedding!
If you're both brave and adamant that you'd like to create a chandelier cake, experiment with creating wood cake boards, wooden dowel rods, hooks, chains, etc. Also, be sure to speak to the venue to make sure a suspended wedding cake is even possible. Then begin preparing and testing your ceiling fixture beforehand.
For a suspended cake, the first wooden cake board should be the smallest and have a long wood or dowel rod securely fixed into the center; each cake tier needs to be stacked through this once placed onto a wooden cake board of their own. Once your cakes are tiered, add trimmings along the base of the bottom tier to disguise the board. When ready, carefully add a hook fastening to the end of the dowel rod so that your cake can be suspended from the ceiling.
For a hanging wedding cake that features each tier separated by chain, each needs its own wood cake board with a dowel rod just above the height of the cake. Stack each cake onto each corresponding board, and to hide the top of the dowel rod, create a bouquet of gum paste flowers to perch atop. When ready, gently hook your suspended wedding cakes with chains, rope or strong taffeta ribbon separating each tier!
With hanging wedding cakes as a possible show-stopping trend for 2014, we're sure to see this style re-created in a myriad of decadent ways, from cakes dripping with sugar chandelier droplets to hanging gardens adorned with bouquets of sugar roses.
Are you itching to create an impressive hanging wedding cake yourself?