Raise your hand if you love binding quilts! The sheer thrill of finishing a project and seeing it bound is enough to make many quilters start dreaming of their next project. Still, others put off this practice, taking their sweet time to bind a quilt.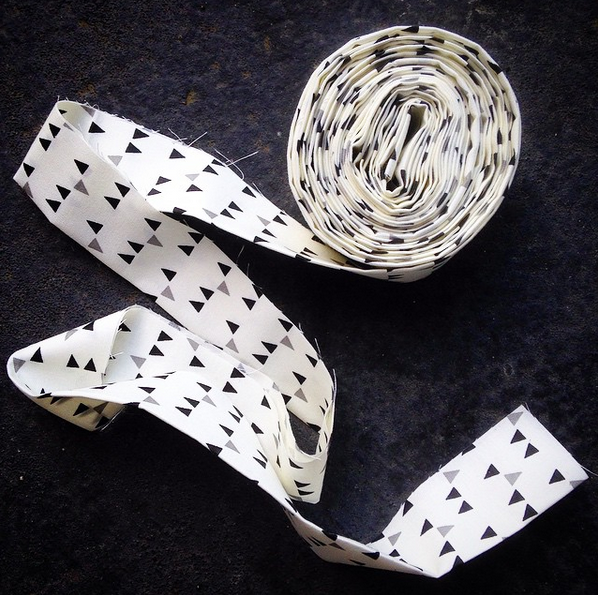 Photo via Lindsay Sews
If you've been quilting for a while, you may have an opinion on using pre-made binding vs. making your own.
When making the decision for handmade quilt binding or the ready-made variety, your choice often depends on the project and what you have on hand. Read on for some tips to help you pick the best binding for you!
New to bindings? Get the basics on different kinds of bindings here.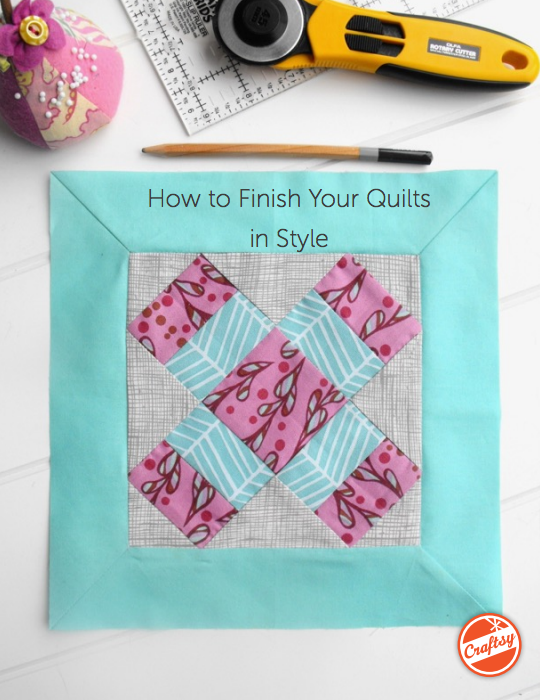 FREE Guide: How to Finish Your Quilts in Style
Frame your quilts like the masterpieces they are! Learn how to add beautiful borders and binding today.Download FREE Today
I generally use handmade, straight-grain binding for my large quilts.
Because I'm binding the whole perimeter, this  saves me from worrying whether I have enough packs of pre-made binding.
The white and black binding shown above is made from yardage of quilting cotton cut 2½" wide, and pressed in half. I pieced together strips at an angle to avoid bulk when making the length of binding.
If you're making your own binding, check out this post for examples of three ways to do it. You may also like Sherri's excellent continuous bias binding tutorial, which comes in handy if you are binding a quilt with curved edges.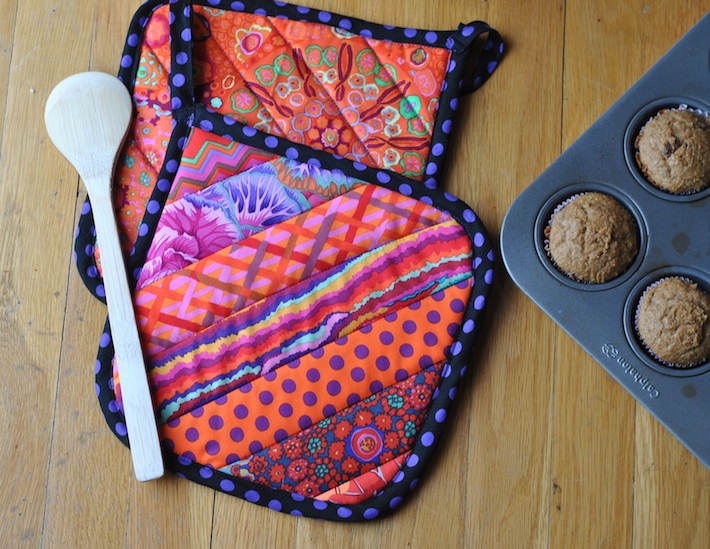 Photo via Craft Buds
Sometimes I also make my own handmade binding for small projects, to add pizzazz!
Though this quilt-as-you-go pot holder is a small project, I really enjoyed making my own binding from a polka dot fabric coordinate to the other fabrics in my project. Keep in mind how the fabric will look as binding — solids, monochromatic prints and small-scale prints are a good choice!
Since I can make the binding a little wider than pre-made bias binding, I knew it would wrap securely around the three layers of batting, one of them insulated. Although it's not as convenient as having store-bought binding, I often enjoy making my own binding and find the extra time is worth it when I see the finished project.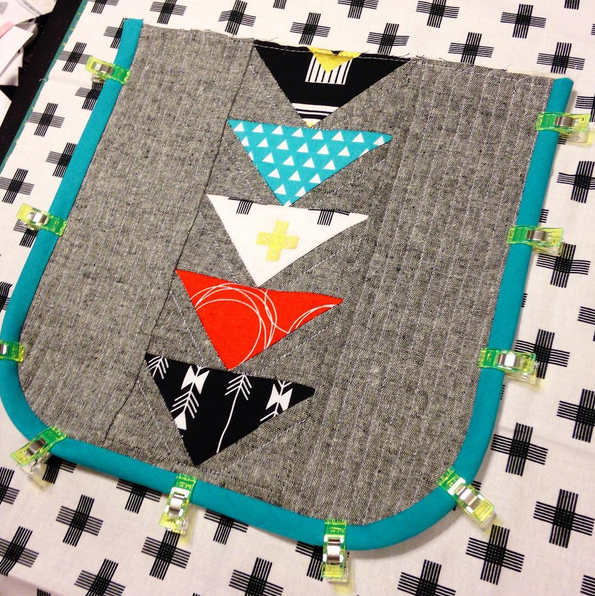 Photo via Lindsay Sews
I like to keep ready-made double-fold bias tape to bind small projects and quilted accents.
To sew this bag flap, I used pre-made Wright Co Double Fold Bias Tape in a shade of teal that matched my project. There are many shades available, so when I found I already had the perfect one in my stash, I was glad to save time by not making my own! Because it's cut on the bias, I had no trouble going around those curves. I also liked how the solid bias tape gave me a sharp, finished edge.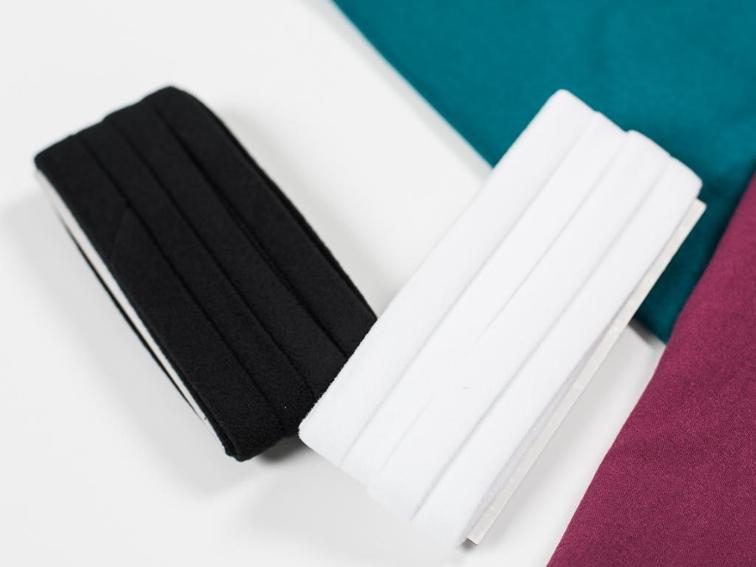 Did you know you can buy ready-made fleece binding for thick quilts?
Often sold in a length of 3 yards, a ready-made quilt binding like Wright Co Extra Wide Double Fold Fleece Binding is a good choice for small quilts or accents on bags or quilted gifts.
Because it is a flexible fabric, it will stretch well over high-pile quilts made from fleece, fur and more. Make sure to grab enough packs of this binding so you don't run out of the color you need mid-way through.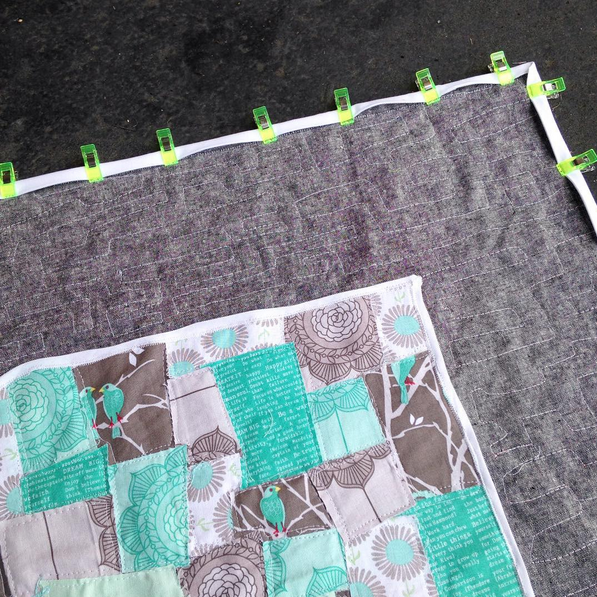 Photo via Lindsay Sews
When to use each type of binding
If the quilt won't be touched, like a wall quilt, consider saving time by using ready-made binding.
I find the texture of ready-made binding to be a bit rougher and not as "cozy," so I didn't mind using the perfect shade of bright white to accent and bind the wall quilt shown above. I often find bias binding in thrift shops and yard sales, making them very economical. Especially if you are going to choose a solid binding, why not save some time and go with pre-made?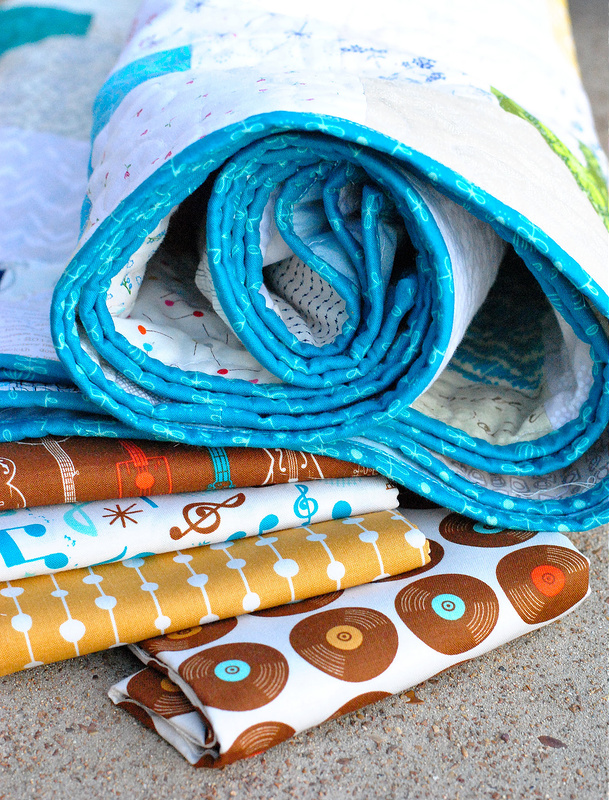 Photo via Lindsay Sews
If a quilt is going to be used a lot, I prefer the touch of a handmade binding.
Especially after it gets washed, handmade binding is generally crinkly and soft, and perfect for baby quilts, lap quilts and bed quilts that will be snuggled for years to come!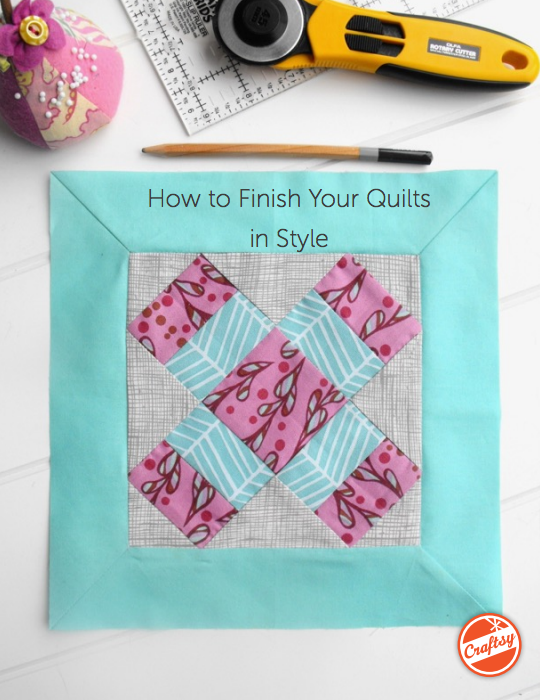 FREE Guide: How to Finish Your Quilts in Style
Frame your quilts like the masterpieces they are! Learn how to add beautiful borders and binding today.Download FREE Today