Welcoming a new baby into the world is such a special and amazing event. Months of preparation go into getting ready for the big day.
One way to make a baby's arrival more special is to create a custom nursery. While many retail stores now offer complete nursery sets with a coordinating theme, it can be fun and relaxing to create an entire ensemble yourself — quilting and/or sewing it all on your own. Although the task may seem overwhelming, the quilting industry has created so many shortcuts to make this a fun and easy process.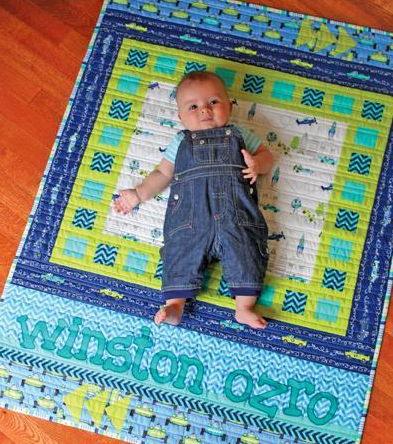 Lullaby Lane Baby Quilt, pattern via Bluprint member SassafrasLane
Here's how to take advantage of what's out there and create a one-of-a-kind nursery!
1. Check your quilt store for preprinted panels. These panels are easy to embellish with borders and binding, and allow you to finish a quilt quickly. What's more, preprinted panels might offer a great nursery theme.
2. While shopping for preprinted panels look for coordinating "large stripe" prints. Many designs are wide enough to allow you to cover bumper pads with one, interesting piece of fabric. Check the repeat to get the most use out of your fabric.
3. Fairfield has designed flame-retardant bumper pad foam that fits any standard size crib. Each package includes a free pattern for covering the bumper pads. Since the foam is pre-cut and the pattern is included, this is a very quick and easy project!
Minky Baby Quilt via Bluprint member LeAnne Ballard
4. Oh! So Soft is a new fabric that has become wildly popular in the quilting industry. This plush polyester fabric makes the perfect baby blanket because it is ultra-soft and machine washable. Use Oh! So Soft to back a piece of flannel (no batting required!) then fold the Oh! So Soft toward the flannel fabric. Zigzag around the edge of the Oh! So Soft (no turning under is necessary if you zigzag or surge) and you have a great baby blanket.
5. The many patterns available on Bluprint offer endless opportunities for creating the nursery of your dreams. In our nursery pattern section, you'll find easy crib sheets, bumper pads, quilts, diaper hangers, stuffed animals and more!
6. Plan a photo memory quilt for your baby. Take appropriately sized photos when baby comes home, shows his first smile, has her first yawn and more.
Nursery bedding via Bluprint member JillStraw
7. Join Vanessa Wilson in Bluprint's online class SewLittle: Nursery Design, as she shows you how to make adorable items including a changing pad, rocking chair cushions and window coverings.
Taking some time to plan the nursery for your baby can be a fun and exciting project. With all of the products now available this process can be quick and easy, and your baby's nursery will be filled with the best kind of love—handmade items made by you!
[box type="shadow"]You might also enjoy our roundups of 8 must-have patterns for a quilted nursery and 7 quick baby quilt designs.[/box]
What have you made for a nursery before?