Handcrafted cake toppers can really elevate a celebration cake for any occasion – perhaps the topper is a matching element to a themed wedding cake, or perhaps it's the one colorful and well-designed accent on an otherwise simple and beautifully frosted tiered buttercream cake. There are so many amazing handcrafted cake toppers these days to covet – from gum paste figures to classic sugar flowers.
My favorite ones are those made with care, love, and originality. I've trolled the interwebs for a great selection of inspirational toppers, from laser cut wooden ones to hand-painted, to simple paper cutouts, to hand-drawn loveliness! Yeah, these toppers really take the cake!
Sparkly Glitter Hearts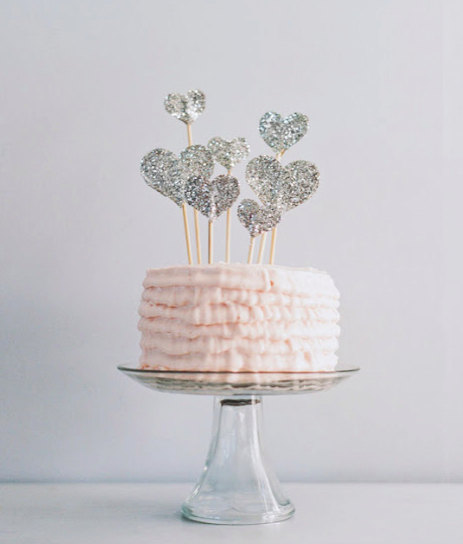 Photo via The Paper Pony
Love this collection of different sized sparkle zone glitter covered hearts! You could use any color for the glitter or mix up glitter colors for a rainbow effect. Great for disco themed birthday parties or a silver-palette-heavy wedding. 
Note: The tutorial went missing! Let us know if you find it and we'll link to it!
Handpainted Modern Wooden Toppers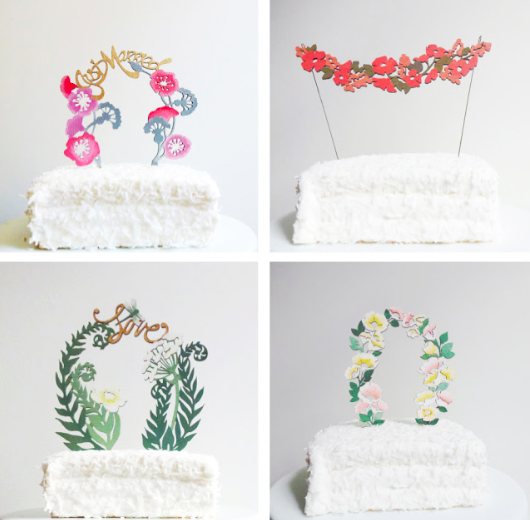 Photos via The Shoppe by Madeline Trait
I love how a simple two-layer square shaped coconut cake gets taken over the top with the addition of these amazing modern yet vintage-feel handcrafted cake toppers. They remind me of floral head garlands – I wore one of those as a four-year-old flower girl! Imagine one of these babies plunked into a three-tiered simple frosted pale pink buttercream wedding cake! Visit Madeline's online shop here to view more!
Rustic Bent Wire "We Do" Wedding Cake Topper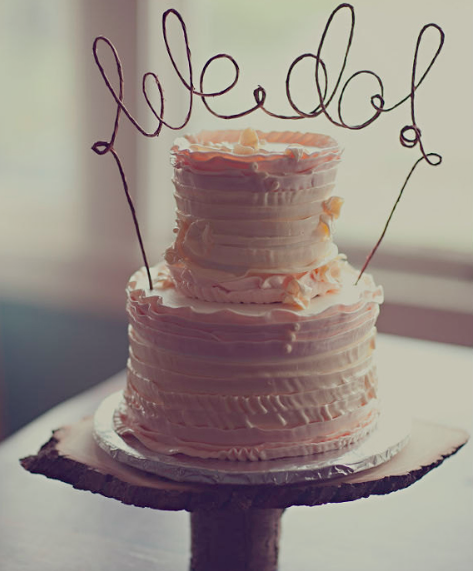 Photo via Anto Arts
Planning a rustic romance wedding? This bent wire wedding cake topper just might do the trick! If you attempt to make something like this, ensure the parts of the wire that touches the cake are wrapped in a food-safe covering. I love how this artist designed their exclamation point at the end of "We Do!" Visit Anto Arts' online shop here for more inspiration!
Paper Cut-out Silhouette Wedding Toppers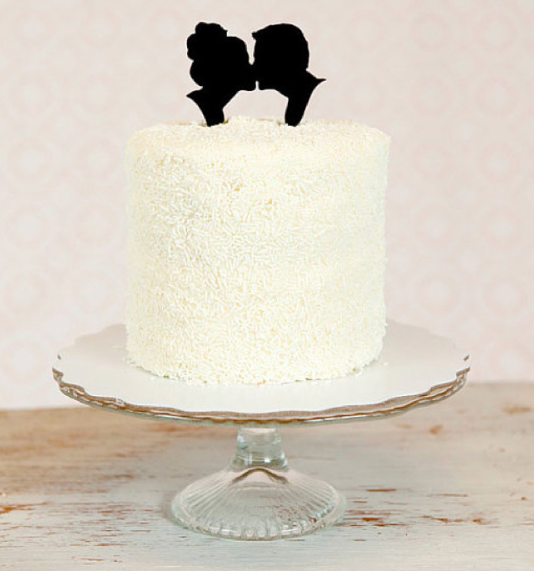 Photo via Simply Silhouettes
Love the dramatic contrast between the black silhouette of the loving couple and the white sprinkles-covered cake! These black paper silhouette cutouts can be created precisely using very delicate scissors known as "silhouette scissors." An example can be found, but I'm sure you could try it any type of sharp, fine scissors. You can visit Simply Silhouettes here for more ideas!
Vintage-Look Handmade Bird Wedding Cake Toppers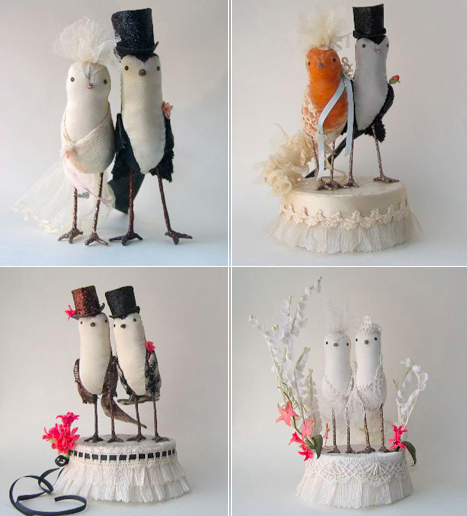 Photo via Oh Joy
Ann Wood's little birdies are quite famous in the handcrafted wedding cake topper world, and rightfully so! Ann uses materials such as ivory silk satin and antique silk lace to handcraft these little beauties. I love the idea of these little birdies perched on the mantlepiece or a worn bookshelf of the wedded couple years and years later – a sweet reminder of your wedding day. Visit Ann Wood Handmade to view her work!
Initials and Heart Cake Toppers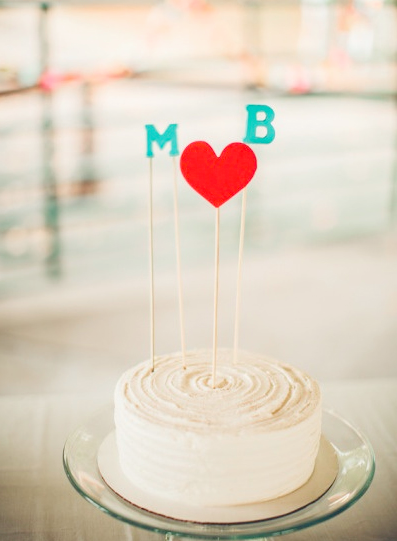 Photo via Style Me Pretty
A simple and effective way to personalize a cake – colorful initials and a red heart! These could be made a few ways – hand-cutting craft paper, or even shaping letters in Fimo or colored clay and hot-gluing them onto wooden skewers. Of course, the colors of the initials can match your wedding day colors, too!
Hand-lettered Paper Wedding Cake Toppers


Photo via First Snow Fall
First Snow Fall's hand-lettered and hand illustrated one of a kind wedding cake toppers make me want to get married again! Love the floral flourishes and the vintage-feel whimsy of the lettering. Visit their online shop to fall in love and feel inspired!
Laser-cut Bamboo Wooden Cake Toppers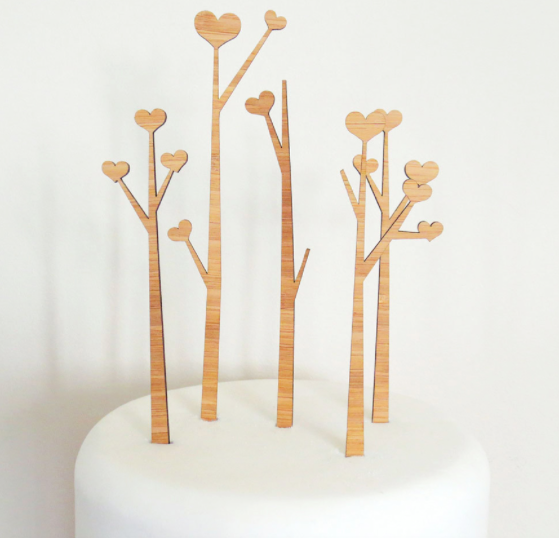 Photo via Cabin & Cub
This bamboo wooden cake topper set by Cabin & Cub would be perfect for a rustic in-the-woods themed wedding. I love the modern and clean look of the bamboo and the lightness in color. Visit Cabin & Cub's online shop for more laser-cut bamboo cake topper magic, including little elephants, lovebirds, and squirrels!
Alphabet Letter Banner Toppers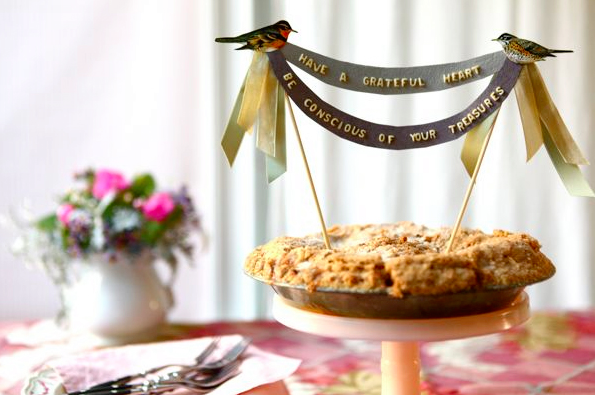 Photo via Oh Happy Day
This is such a great project – alphabet pasta lettered handcrafted banner for a cake or pie topper! The options are endless for wording: Happy Matrimony would be sweet! Plus you can cut out any images of birds or cute animals from a vintage book or old encyclopedia and adorn with some French ribbon. Perfect. Check out a detailed how-to here.
Are you yearning to make a cake as much as I am now, so you can plunk in your handmade cake toppers? Learn how to build a simple and modern buttercream cake, try out Joshua John Russell's FREE mini-class Modern Buttercream! Or, Jessica Harris's class Clean & Simple Cake Design will help you to create a perfect cake to display a creative and handcrafted cake topper.
Come back to the Craftsy blog tomorrow to learn how to make Isomalt coral.