Whether you're spinning yarn on a drop spindle or a spinning wheel, the right accessories help you keep track of your progress, measure your finished yarns, and produce your best work. Not all of these accessories are useful every time, but there are a few basic hand spinning supplies that are useful to keep on hand. Here's a rundown of what we consider to be essential hand spinning supplies.
[box type="shadow"]Learn all about spinning yarn in the Bluprint class Spinning Dyed Fibers, taught by Felicia Lo, founder of SweetGeorgia Yarns. She reveals the secret to capturing the colors you've always dreamed of while showing you how to spin both space-dyed and hand-painted fibers.[/box]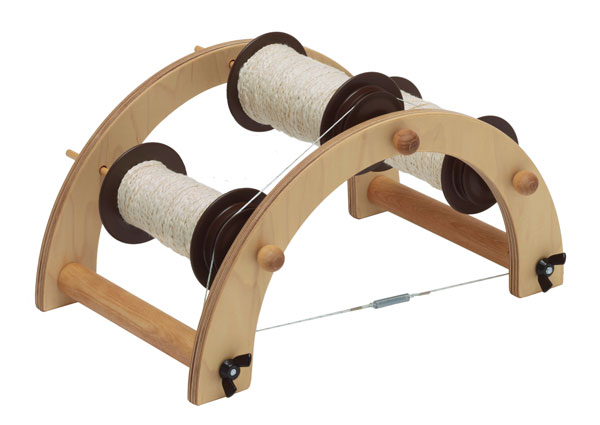 Photo via Schacht Spindle Co.
Spinning wheel accessories
A Kate (or lazy Kate) holds your full bobbins for plying or winding off into a hank. If you spin on a spindle, it's still a good idea to wind off your finished singles onto a toilet paper tube or storage bobbin to ply from. A tensioned Kate has a brake band that prevents the bobbins from spinning out of control while you're pulling yarn off them. Some wheels come with a Kate built right in.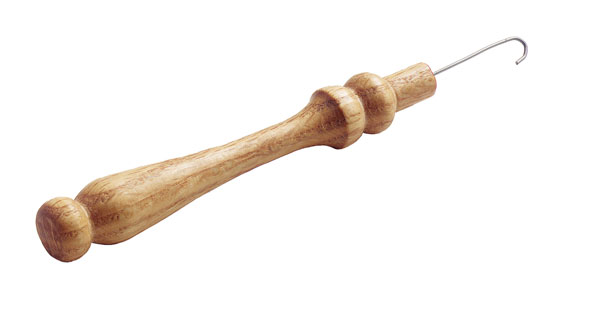 Photo via Schacht Spindle Co.
If your spinning wheel didn't come with an orifice hook (or it was lost on its journey to you), a crochet hook makes a fine substitute. You can also purchase pretty and stylish hooks for this purpose. If your wheel doesn't have a handy place to keep the hook, you can tie a loop of yarn around a stationery bar to hang it on.
A couple of lap cloths in different colors are useful for keeping your clothes fiber-free, and can help you see your fiber supply and drafting triangle more easily. A lap cloth should be made of a smooth fabric, like a cotton, linen or nylon. An apron (full or half) with pockets works well for keeping everything close by.
Small blank index cards are great for helping you keep your handspinning consistent throughout a larger project. Wrap your spun sample around the card, securing the ends with tape or notches, and keep it close by to compare to as you're spinning. Be sure to jot down the fiber, the date, and any other important information for later reference.
It's always a good idea to keep a bottle of spinning wheel oil and some lint-free cloths with your wheel, to lubricate the moving parts and wipe up any spills. A nice project bag is useful for keeping your loose fiber and spindle in, and can be hung from the wheel between sessions.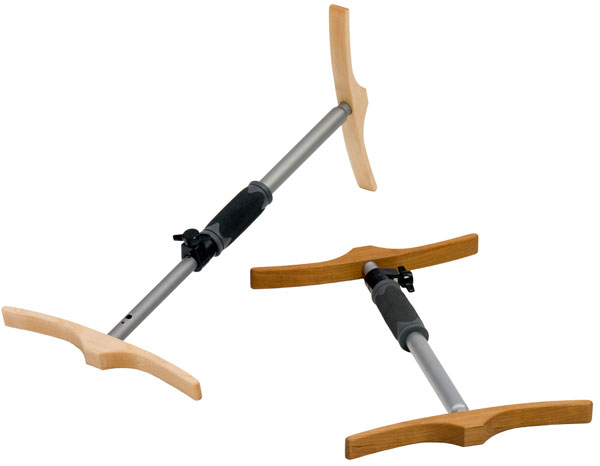 Photo via Schacht Spindle Co.
Winding Accessories
A niddy-noddy is a wood or plastic tool used for hand winding your spun yarn into a large loop (hank), to be washed and finished. It consists of a central bar and a cross bar on either end, like a capital I, with one arm perpendicular to the other. Niddy-noddies come in a variety of sizes, from small to large. A very small niddy-noddy is perfect for winding off small amounts of yarn, such as those produced when sampling a new fiber. The most common size produces a hank that is 2 yards in circumference, making it easy to approximate the total yardage. Just count the total number of wraps around the niddy-noddy and multiply by 2 — just keep in mind that the yarn will often shrink up a bit when washed, for a slightly reduced yardage.
Photo via Louet North America
A skeinwinder or swift can do the same job as a niddy-noddy, often a little more quickly. These are generally larger tools, and might clamp to a table or sit on the floor.
Scrap yarn always comes in handy! Once your yarn is wound off the bobbin and into a hank, be sure to secure the ends of the yarn to the hank as well as tying the hank in a few extra places to ensure it doesn't tangle when washed. The scrap yarn you use for this purpose should be smooth, strong and won't felt or rub color off on your new hand-spun yarn.

Measuring
A digital scale is an invaluable tool for every spinner, knitter and crocheter! There are lots of models available in a variety of price ranges. Look for one that measures in grams, or tenths of grams for better precision. You can use the scale to help weigh and divide spinning fiber, weigh your finished skeins, and figure out how much fiber or yarn you have left in a project.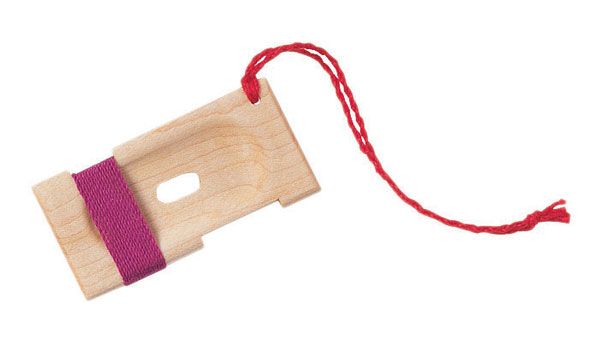 Photo via Schacht Spindle Co.
A wraps per inch (WPI) tool is a nice accessory to have if you're spinning a lot. A WPI tool has a smooth ½" – 1″ section for winding your yarn around, and you can compare your number of wraps against other yarns or a WPI chart. You can also use a nice wide ruler to measure WPI. For more information, see also our post on determining yarn weights with WPI.
A swift and ball winder aren't strictly necessary for winding your yarn in preparation for knitting or crocheting, but they do come in handy. To determine your finished yardage, a yardage meter is a useful tool. The yarn fits into a groove in the meter, which measures as you wind from the swift to the ball winder.
A few basic hand spinning supplies make it easy to enjoy your spinning sessions, and give you lots of information about your finished hand-spun yarns.
[box type="shadow"]You might also enjoy our post detailing the parts of a spinning wheel.[/box]
What spinning accessories do you find most valuable?