Smocking is an embroidery technique used to gather fabric. Although many embroidery techniques began purely for decorative purposes, hand smocking techniques were also practical- the gathered fabric is able to stretch, and smocking is commonly done on cuffs and necklines. These days you'll mostly find smocking on children's garments, but it also looks great on women's clothes and accessories, as well.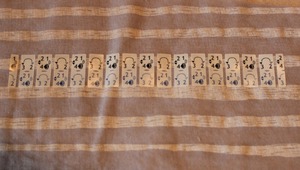 Types of Smocking
There are two types of smocking: English and regular. English is marked on the wrong side of the fabric while regular smocking is marked on the right side. English smocking is a bit easier for beginners because you pre-gather your fabric, rather than gathering the fabric as you embroider.
Smocking Supplies
Although smocking tends to be featured on high end children's clothing, it's not actually an expensive hobby: all you'll need is regular cotton basting thread, fabric, and embroidery thread.
Pleating the Fabric
Gathering the fabric can be done by hand, with the use of transfer stickers, or by using a pleating machine. Pleating machines are a little bit of an investment, ranging from $150-$300. You might find a fabric store in your area that has a pleating machine and is able to do the pleating for you. Transfer stickers are a very affordable option and are easily found online and in larger craft stores. Since smocking is based on a grid format, you can also create your own dots directly on the fabric with a pencil or water soluble pen. Or, if you use gingham or polkadot fabric, the fabric will have enough of a natural grid and you won't need to create one.
Choosing Fabric
You'll want to use a lightweight fabric that gathers well. If you are using transfer stickers, you'll need a fabric the stickers will stick to. Most natural fibers will work well, just stay away from silk. Because the pleating will shrink the fabric, you'll need a width of fabric that is 2 to 3 times the size of your finished project.
Needle and Thread
Generally, when using hand smocking techniques, you'll use four to six strands of embroidery thread and whichever embroidery needle works best with your thread. The thread should always follow the needle to avoid twisting the thread.
Smocking Stitches
Just like embroidery, there are different types of smocking stitches. Some of the basics are cable, stem, outline, cable flowerette, weave, honeycomb, trellis and smocker's knot. They all have a learning curve to master, but you can stick with one stitch per project or combine several for a unique design.
Smocking Projects
Even if you don't have any small children in your life, you can still practice your hand smocking techniques. Smocking is an interesting detail to add around the neck of a blouse or the waist of a dress. You can also include smocking on your home decor projects, like on pillows. If you really want to experiment, you can add beads to the smocking, as well. Find beautiful smocking patterns right here on Craftsy.