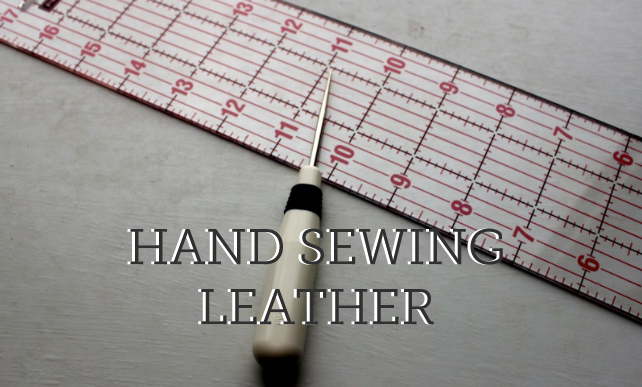 Have an itch to make something with a rock 'n roll vibe? Hand sewing leather techniques can seem a bit daunting, but with some special tools and a little patience you'll be whipping up leather goods like it's no big deal. Enjoy these great tips below for hand sewing leather.
If you'd prefer to sew leather with a machine, make your own leather tote in Don Morin's online class Making Leather Bags.
When hand sewing leather, you will need a leather sewing needle (stronger and longer than most hand sewing needles) and waxed thread (you can buy already waxed thread or do it yourself with a little beeswax). Depending on the thickness of your leather, you might need heavy-duty scissors. A box cutter will also work, but might not be the safest option for your fingers if you are cutting out curved pattern pieces.
Use pattern weights to keep your pattern in place while you cut (straight pins will be no help to you!).
To begin sewing, measure and mark your leather where the holes will be. The tougher the leather, the further apart your holes can be. Be sure to keep the holes small; this will help with durability.
Once you have the holes marked, you can create guide holes using an awl or leather punch. Be sure to place a board underneath the leather to protect the surface you are working on (unless you don't mind a few extra holes in your table.) If you don't have an awl or leather punch on hand, you can also use pliers to guide the needle through the leather. If you are working with a soft leather such as suede, you should be able to sew directly through the leather without creating guide holes. Either way, measuring and marking the holes in advance will help keep your stitches even.
Since you can't easily use straight pins to keep the leather in one place as you sew, try using binder clips to keep things stable. You can also use rubber cement or glue on your seams before sewing; you'll need to let the glue dry completely before stitching and you'll want to be careful not to let glue seep through the guide holes you've made. Tape is another option but might leave residue on the leather.
Try sewing with a whipstitch or a running stitch. You can also try using a running stitch first and then whipstitch around the edges for added stability. Also, make sure that you are sewing wide seams.
If you find that your thread is not going through the leather very easily, you may need to add more beeswax (even if you are working with thread that came waxed).
You might need to protect your hands by using a thimble or wearing gloves.
To set the seams (ironing is not a good idea), place your item between two boards in a vise or under some heavy books. You can also use a rubber mallet.
Have you worked with leather before? Let me know in the comments!
Come back to the Bluprint blog tomorrow for a great book giveaway!