Among different quilting techniques, the slow and steady pace of hand quilting has grown in popularity in recent years. Many quilters enjoy the process of hand quilting as well as the finished look of these treasured quilts.
Whether you are brand new or an old pro when it comes working with hand-quilting patterns, we've rounded up a few tips to help you choose your next design, including some surprising templates made from objects around your house.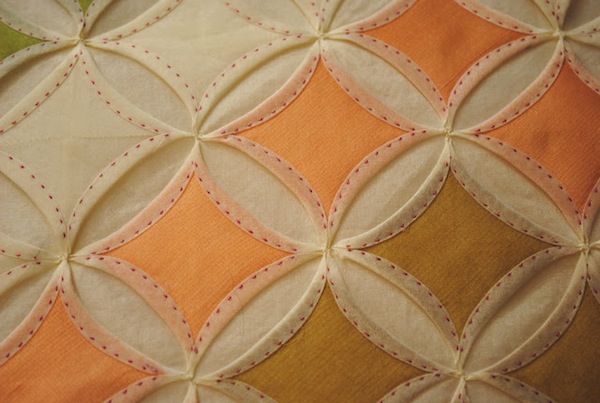 Among the simplest of hand quilting patterns is a running stitch sewn in a straight line.
This quilt in particular does not require a template, since the hand quilting echoes the slight curve of these Cathedral Windows diamonds. To try this technique, you'll want to stock up on basic hand-quilting supplies, like a large quilting hoop, a comfortable thimble and 100% cotton thread that's made specifically for hand quilting. While you're shopping, pick up a new pack of hand quilting needles, because it's a good idea to change out your needle for each quilt.
Take a closer look at this hand quilting pattern seen above as well as some other work spotted at the Tokyo Quilt Festival at WGSN-homebuildlife.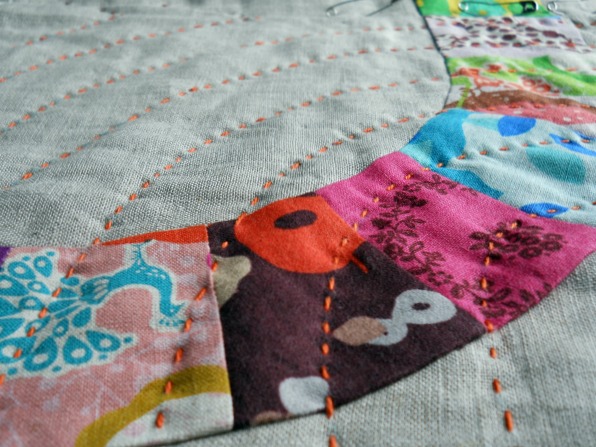 More complex quilt patterns are often achieved by marking the quilt with an erasable quilting pencil or pen.
You can trace quilting stencils or acrylic rulers unless you'd like to draw the designs by hand. To quilt her Single Girl quilt by hand, Nova of A Cuppa and a Catch Up shares how she used a manila folder and craft knife to cut her own template. Now, that's clever! To get the curve, she traced the curve of her quilt pattern, marking it in the opposite direction. For the quilting, Nova recommends a Perle 8 cotton thread and either leather, metal-tipped or stick-on thimbles.
See our blog post Quilt Marking: Tips and Tools for more information.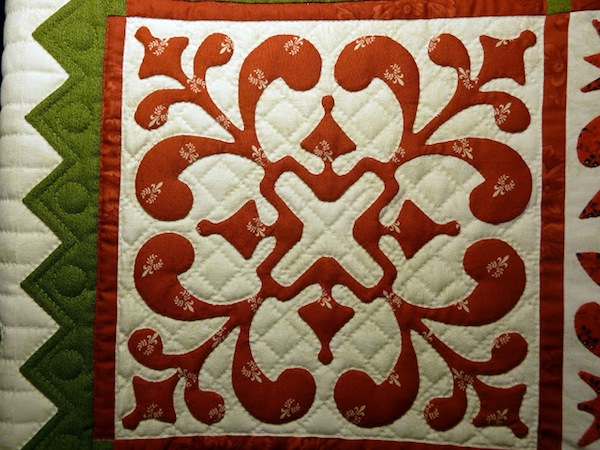 Once you've tried basic hand quilting patterns such as a straight running stitch and curves, you may enjoy mixing up different patterns in the same quilt block.
In this hand quilted block by Sue Garman, she echoes the appliqué with hand stitching as well as quilting an on-point diamond grid in the background. In the border, she incorporates a zigzag and circles, which can easily be traced by marking on the fabric with a coin or other stencil and a quilting pen or pencil.
Here are some specific hand quilting patterns you might want to try:
Straight lines or a grid can be marked with an acrylic ruler.
Curves, arcs or circles can be marked with quilting stencils or a DIY compass. (Use a stationery point and tie a quilt marking pencil to string.)
Feathers, leaves or flowers can be drawn from quilting stencils.
Geometric shapes, like diamonds and hexagons, are easy to draw using a ruler or quilt block templates.
Novelty shapes like hand prints, animals or baby rattles can be drawn from cookie cutters or images printed from a computer. You can also trace your hand or actual objects from around your house like coins, bowls toys or leaves.
There are plenty of other hand quilting patterns for quilters who are willing to think outside of the box. In her class Hand Quilting: Heirloom Design & Technique, instructor Andi Perejda shares inspirational work to inspire you to get out of your comfort zone and look at hand quilting in a whole new light.
Be sure to take a look at the video clip on how to hand quilt or read more about the basics of hand quilting.
Are there any designs in her piece Homage to Provence, seen above, that you'd like to try on your own projects?
Do you have any favorite hand quilting patterns?