Over the last hundred years, cakes have evolved from yummy desserts to true works of art. With the invention of fondant and the development of edible food coloring, cake decorators the world over have stretched the limits of cake decorating techniques.
One of the most amazing techniques is painting on fondant. Most cake decorators were artists long before they started baking in the kitchen. Colette Peters has a master's degree in painting and worked for Tiffany & Co. before becoming a cake pioneer and developing many of the techniques we use today. Maggie Austin was a professional ballerina before she started making all those fondant frills. And you can tap into your inner artist too with Kate Sullivan's new Craftsy class The Art of Painted Cakes.
Here are a few hand-painted fondant cakes to get your artistic imagination flowing:
Photo via Lydia Extein
Pink peonies wedding cake
Let's start off with this stunning four-tier pink peonies wedding cake. The rich, bright pinks and natural shading of the leaves make this cake pop. The addition of the sugar peonies bring dimension to the cake. I love the shading and color variation of each petal, it makes me want to stop and smell the roses, well, at least the peonies.
Learn how to make gorgeous sugar peonies  like these, and anemones and tulips, too, in Nicholas Lodge's class Classic Sugar Flowers.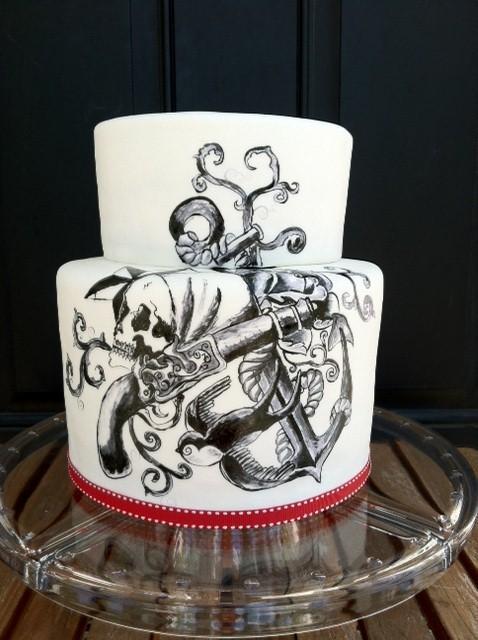 Photo via SweetandSwanky
Pirate baby tattoo
This freehand painted cake screams talent. SweetandSwanky describes how she used Wilton black food coloring gels mixed with vodka to produce this stunning tattoo-inspired cake art. I could stare at this baby shower cake all day!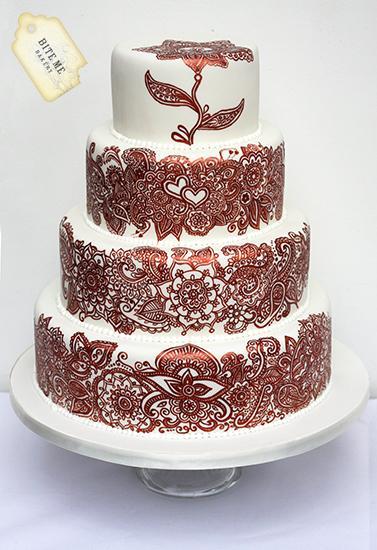 Photo via Bite Me Bakery
Henna tattoo wedding cake
Speaking of tattoos, this intricate and exquisite hand-painted cake by Bite Me Bakery speaks of the symbolism and beauty in Indian weddings. Henna, or Mehndi, is believed to bring good luck and is a symbol of love between a husband and wife. Mehndi is applied just before the wedding on the palms and hands of the bride, and the name of the groom is hidden in the henna design. Henna lasts between 1-2 weeks and my favorite part of the tradition is that while the Mehndi lasts, the bride does no household work and is pampered and cared for.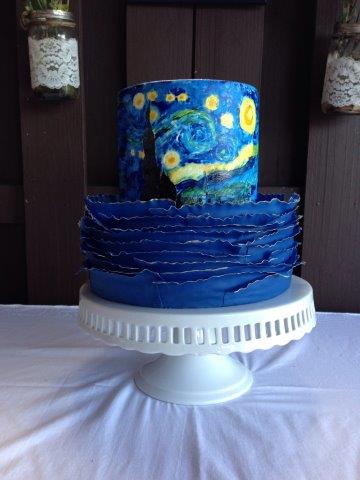 Photo via Lola Marti Cakes
Starry Night
This beautiful depiction of Vincent van Gogh's Starry Night is truly a work of art. I love the addition of the fondant frills with gold edging on the bottom tier. Lola advises to paint in layers, letting each layer dry thoroughly before starting on the next. She used powder colors, gels colors and vodka to achieve her beautiful blues and golds.
Photo via Gulnaz Mitchell
Time for tea
This lovely vintage cake with a gum paste tea cup and saucer feels as if it is inviting you to sit and stay awhile. The beautifully hand-painted roses and gold details exude feelings of warm chats with friends in the summer sun.
Do you prefer using vodka, lemon extract or clear vanilla to paint on your cakes?