Let's talk hand embroidery supplies, zooming in on fabric. Choosing the right fabric for hand embroidery is a vital part of ensuring your finished piece turns out. Like a canvas is to a painter, the fabric is the foundation for hand embroidery work. It's important to choose a fabric that supports the weight and style of stitches. Here's some tips on selecting the proper fabric for your next embroidery project!
Beginner's Guide to Beautiful Hand Embroidery
From supplies to popular stitches, get the essentials you need to know for beautiful hand embroidery!Get My FREE Guide »
Here are some tips to help determine the right fabric for hand embroidery!
Each fabric should also be able to hold taut in an embroidery hoop, maintaining the structure of the stitches even after removing the hoop. You want to avoid fabric that might pucker, warp, or distort stitches and make sure that you choose the right fabric that highlights or compliments your stitches, whether you decide to leave the piece in the hoop or frame it with decorative fabric in a quilt piece.
1. Pay attention to thread count.
You want to choose fabric with the appropriate thread count and weave that will allow the needle to pull the thread through with ease. Fabrics with a looser weave, such as Muslin, Cotton, Aida, Linen, Flour Sack, or Osnaburg are good. These fabrics have a lower thread count than what we might consider as appropriate for bed linens or sheets.
Osnaburg can range anywhere from 40 to 80 thread count, meaning that in one square inch, there are 40 threads widthwise and 40 threads lengthwise to create a thread count of 80. Muslin has a thread count of 150, meaning that it has 75 threads going widthwise and 75 threads going lengthwise to create its weave. Linen thread count can range anywhere from 80 to 150 depending on the manufacturer's style.
2. Choose cotton for quilting
When hand embroidering for a quilt project, you may want to try stitching on Kona Cotton. Because it has a thread count of 120, the weave is easy to pull a needle and thread through.
Again, the looser the weave, the easier the needle can pass through with thread, whereas fabrics with a tighter weave can make it difficult, and even painful on your fingers and hands to pull the needle and thread through.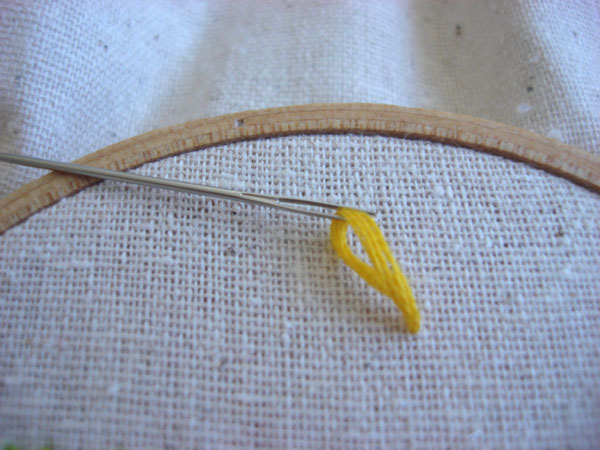 3. Pre-wash to avoid puckering.
To avoid puckering, it is a good idea to pre-wash and pre-shrink your fabric prior to stitching. This is especially helpful if you will be incorporating your embroidered piece into a quilt or sewn fabric project.
4. Use stabilizer when adding accents
If you are going to be incorporating heavy embroidery with beading, buttons or thick stitching styles, you should use appropriate interfacing or stabilizer as a backing for your fabric. Stitching with fabrics that have stretch in them can be a bit tricky, especially knits, but it is definitely not impossible.
[box type="shadow"]
Check out the Bluprint hand embroidery class taught by Jessica Marquez, Design It, Stitch It: Hand Embroidery, which offers a whole section on how to hand embroider knits without warping your stitches.
[/box]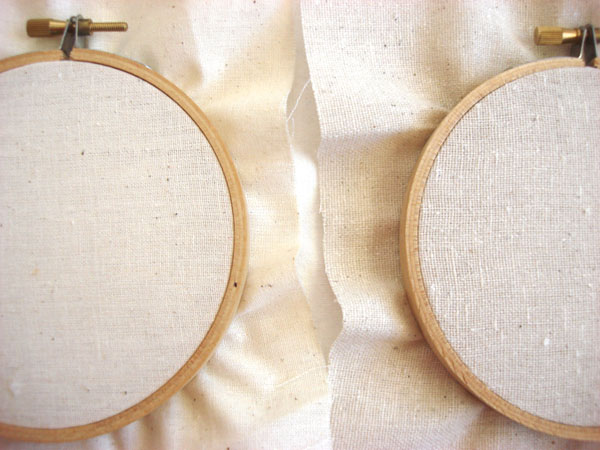 5. Know the differences between fabrics to get the look you want.
I have some natural colored Muslin and Osnaburg on hand to show you the difference in their weave and how they look with stitches. The Muslin is on the left and the Osnaburg is on the right in the above photo. The Muslin is lighter with a tighter weave than the Osnaburg, but both are excellent for embroidery.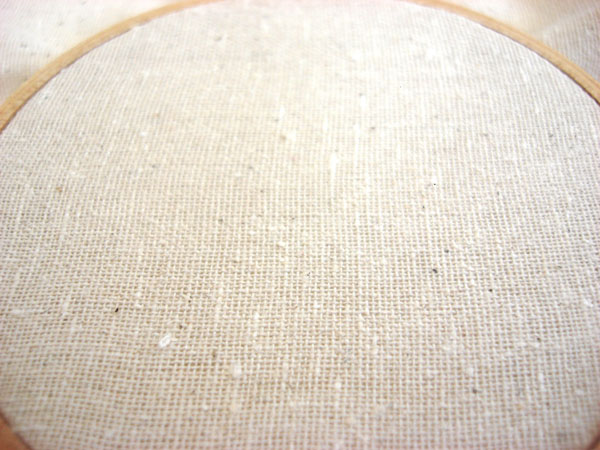 I personally enjoy stitching on Osnaburg because of the weave and its natural color, which allows me to embellish it with all sorts of brightly colored flosses and stitches. Osnaburg is a medium to heavyweight coarsely woven cotton, shown in the photo above. The weave is a bit loose, making it easy to pull the needle and thread through.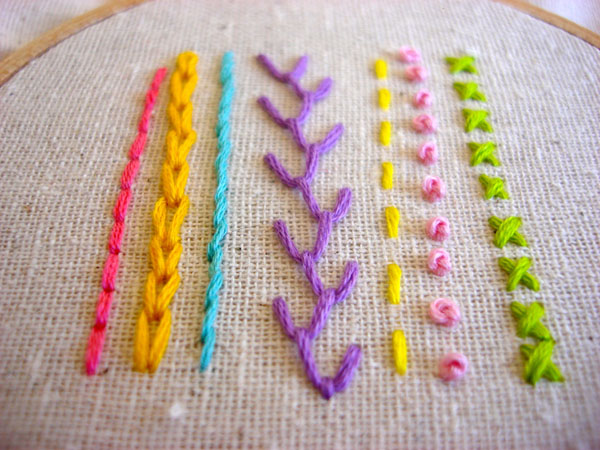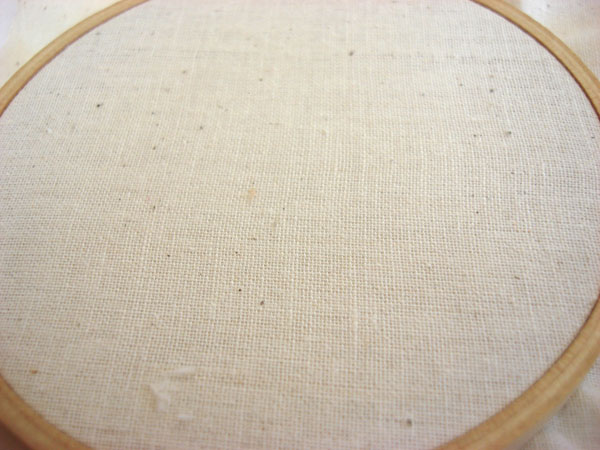 I also enjoy working with Muslin, a plain weave cotton with a bit of a tighter weave than Osnaburg, but still great for hand embroidery. Muslin, shown in the photo above, is available in natural unbleached or bleached white.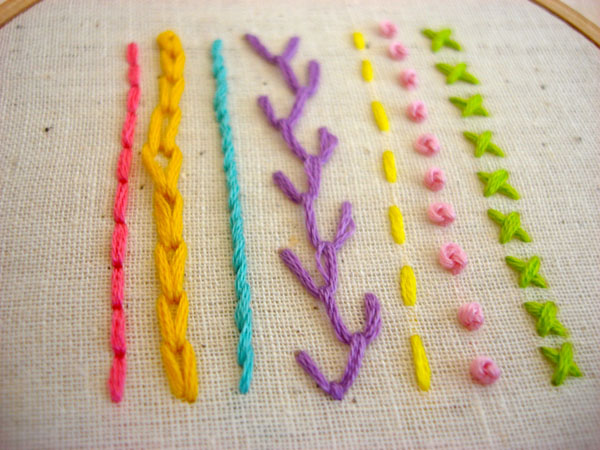 6. When in doubt, try it out.
It might be a good idea to try a few fabrics to see which you like best, then take off with your stitching from there. I tend to use Osnaburg more than any other fabric appropriate for hand embroidery because that is what I learned on. This may be different for you. The more projects you create and variety of fabrics you try, the more you will intuitively know what fabric will work best for each project.
Do you feel you tend to use the fabric or supplies you learned to embroider with?
Beginner's Guide to Beautiful Hand Embroidery
From supplies to popular stitches, get the essentials you need to know for beautiful hand embroidery!Get My FREE Guide »