Halloween makes most of us think of candy, but don't neglect cake. As a cake decorator, Halloween gives you plenty of opportunities to make a creative Halloween candy cake. Make use of that candy and whip up candy cakes which that bring the little kid out in everyone you serve. 
These Halloween candy cake ideas make great use of all sorts of classic sweets.
In this roundup, you'll see a towering candy-coated rainbow masterpiece, creative cake pops, fun-size candy bar kebabs and much more. These inspiring designs are bound to make your Halloween party an affair to remember.
1. Candy corn cake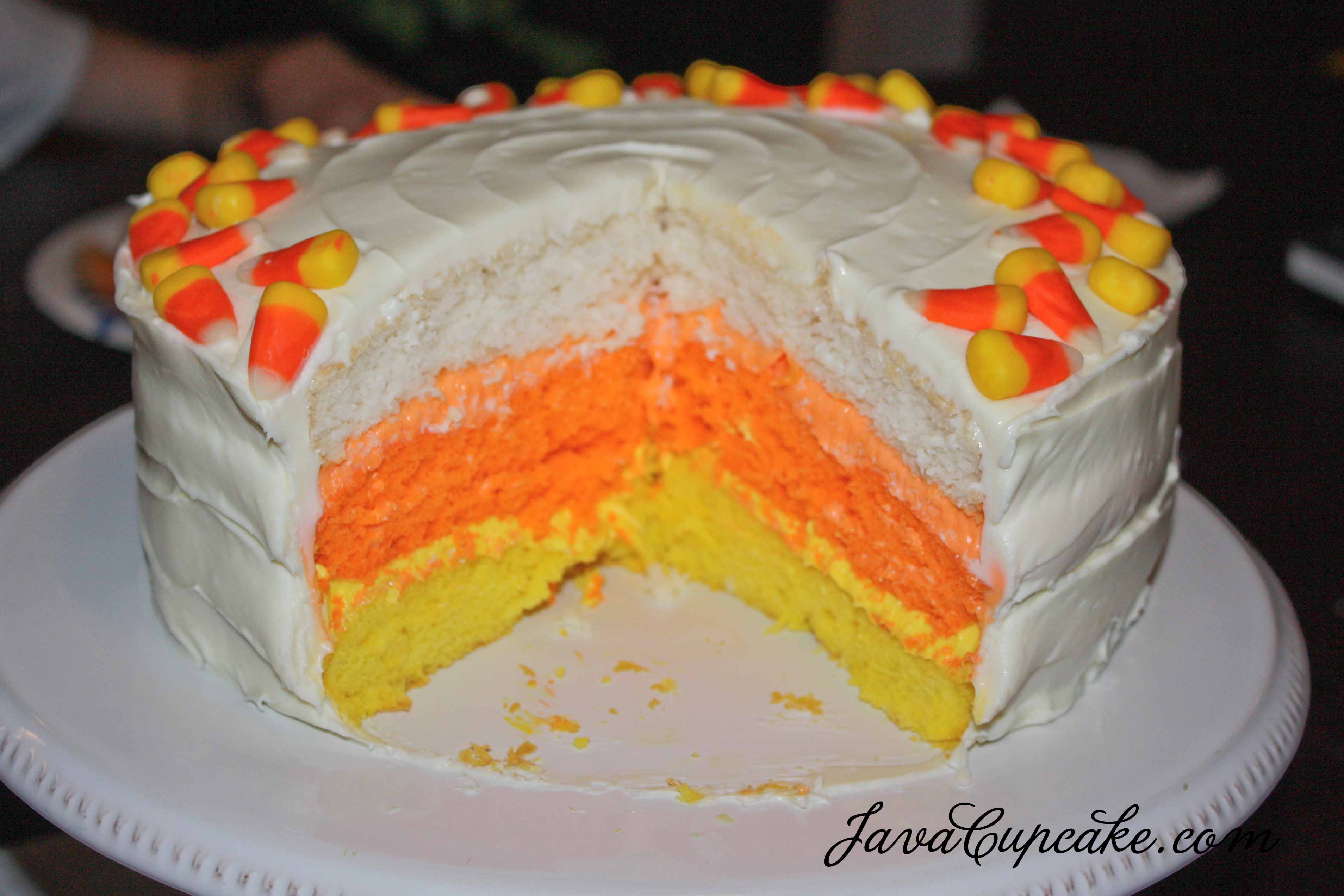 Photo via Java Cupcake
Candy corn is one of the most iconic symbols of Halloween, and it's a muse for Java Cupcake's cake. The tri-level cake has layers tinted in white, orange and yellow to mimic the famous kernels. It's all topped with snow-white frosting and garnished with actual candy corn for a pretty finish. 
Want to try your own? Make it extra special with homemade candy corn! 
2. All-over candy cake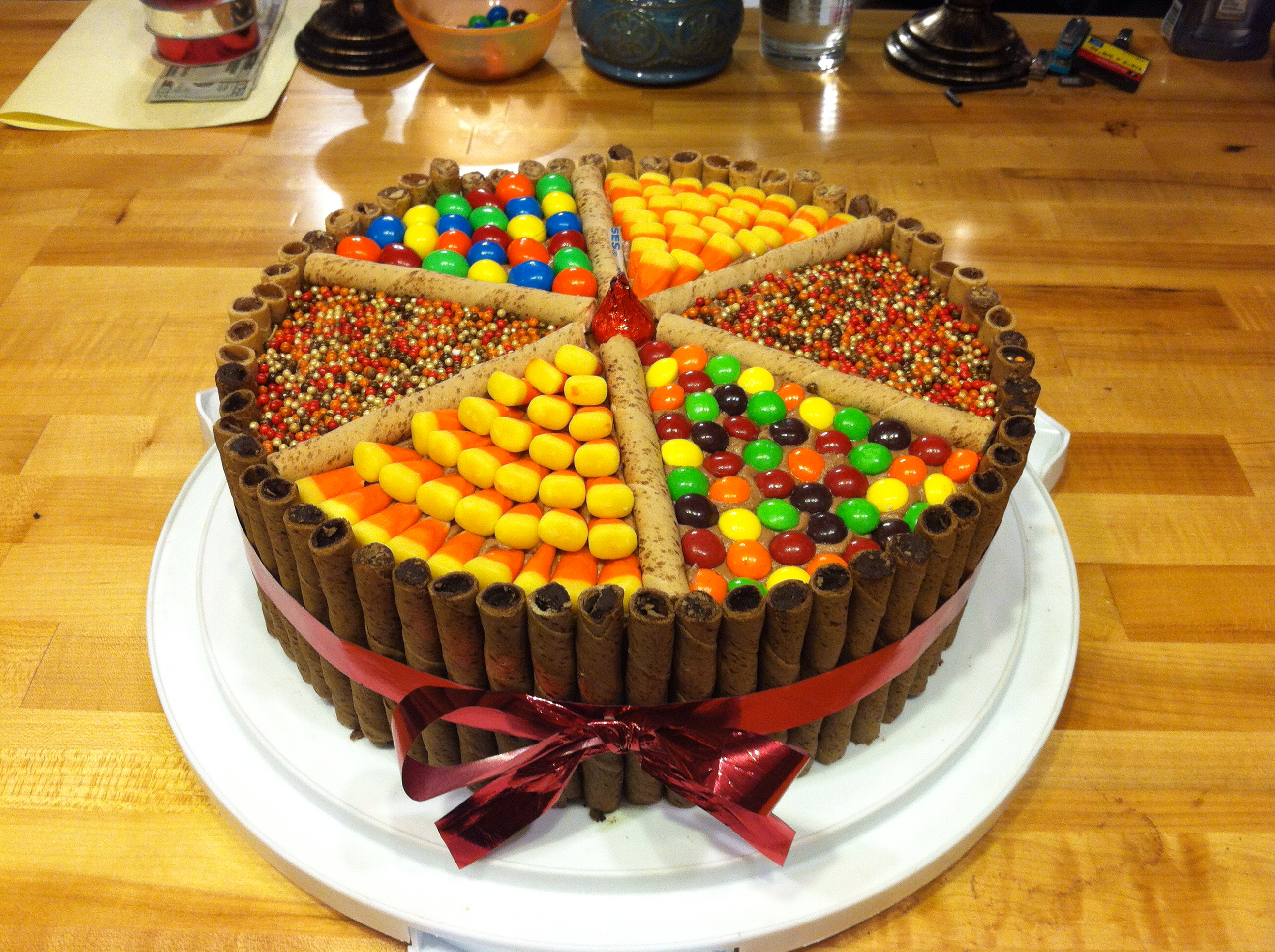 Candy cake via Craftsy member Jennifer Poptic
While this cake is billed as a Thanksgiving cake, this cornucopia of sweetness is just as appropriate for Halloween. The cake is surrounded rolled chocolate wafer cookies, and the top is divided into six wedges, each filled with alternating candies and fall-colored sprinkles. The visual effect is stunning! 
3. Psychedelic Halloween candy cake 
Photo via Charles Phoenix 
This over-the-top Halloween candy cake by Charles Phoenix is like a Willy Wonka–fueled fantasy. It starts with five stacked layers of rainbow swirled cake covered in chocolate frosting. Then, the whole cake is dotted with chopped Halloween candy, M&Ms and more. This is not a cake to be easily forgotten! 
4. Halloween cake cake pops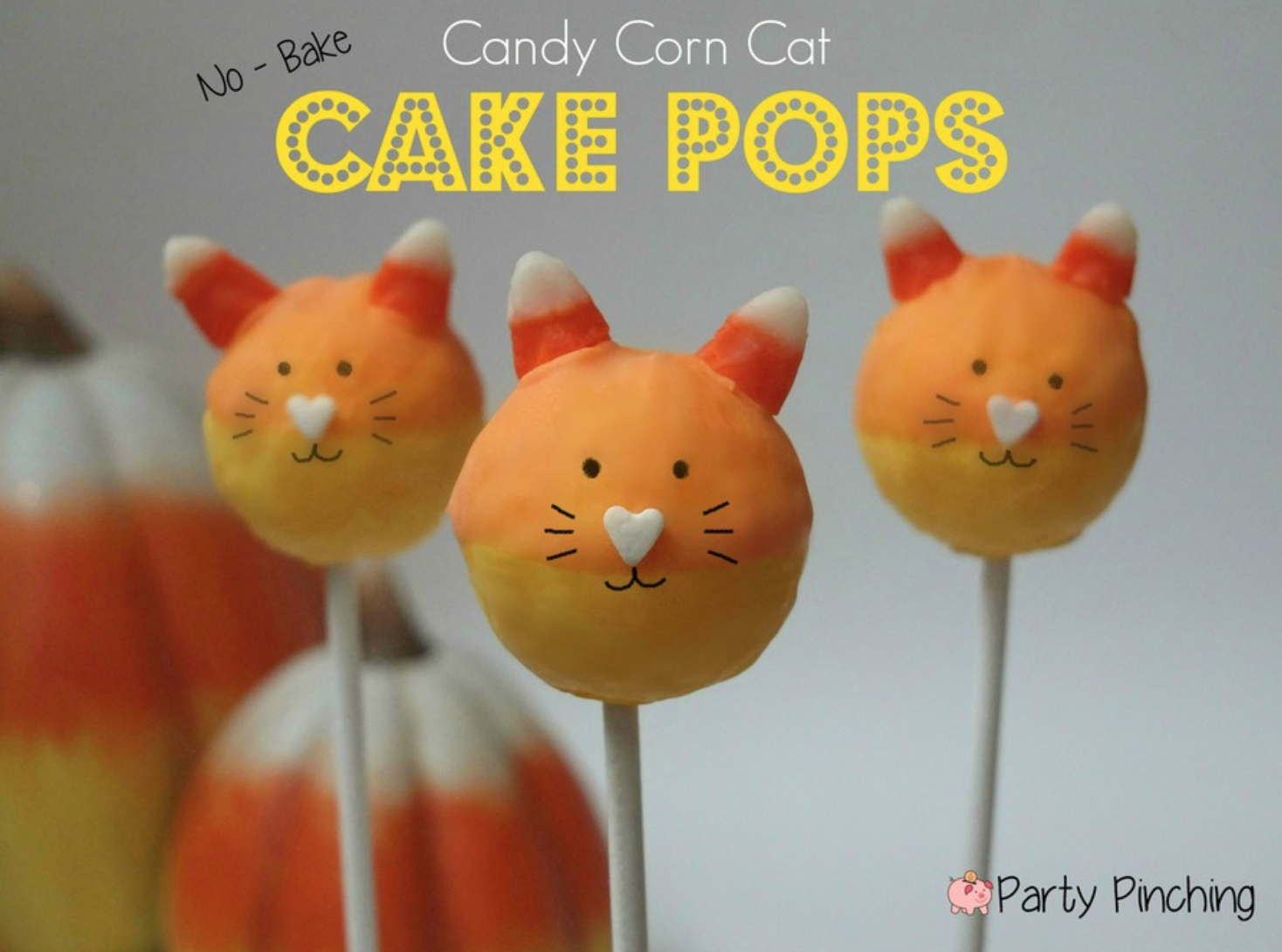 Photo via Party Pinching
Cake pops and kittens are both adorable in their own right. These sweet creations by Party Pinching take the cuteness to the 10th degree! These Halloween-hued cat cake pops use candy corn as the ears. With their sweet faces and little heart noses, these are almost (almost) too cute to eat! 
5. Witch cake pop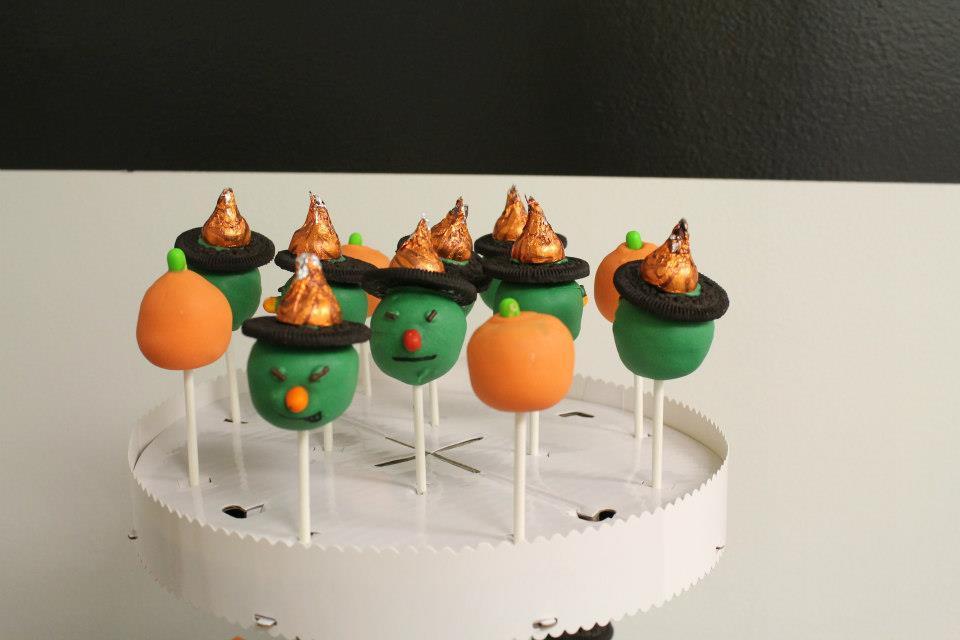 Cake pops via Craftsy member Geniecita 
Around Halloween, Hershey's kisses are available in special seasonal foil colors. Stick these festive treats to chocolate wafer cookies to create fantastical hats for witch cakes pops! These whimsical treats make for a wonderful centerpiece as well as a sweet snack. 
6. Fun-size candy bar cake kebabs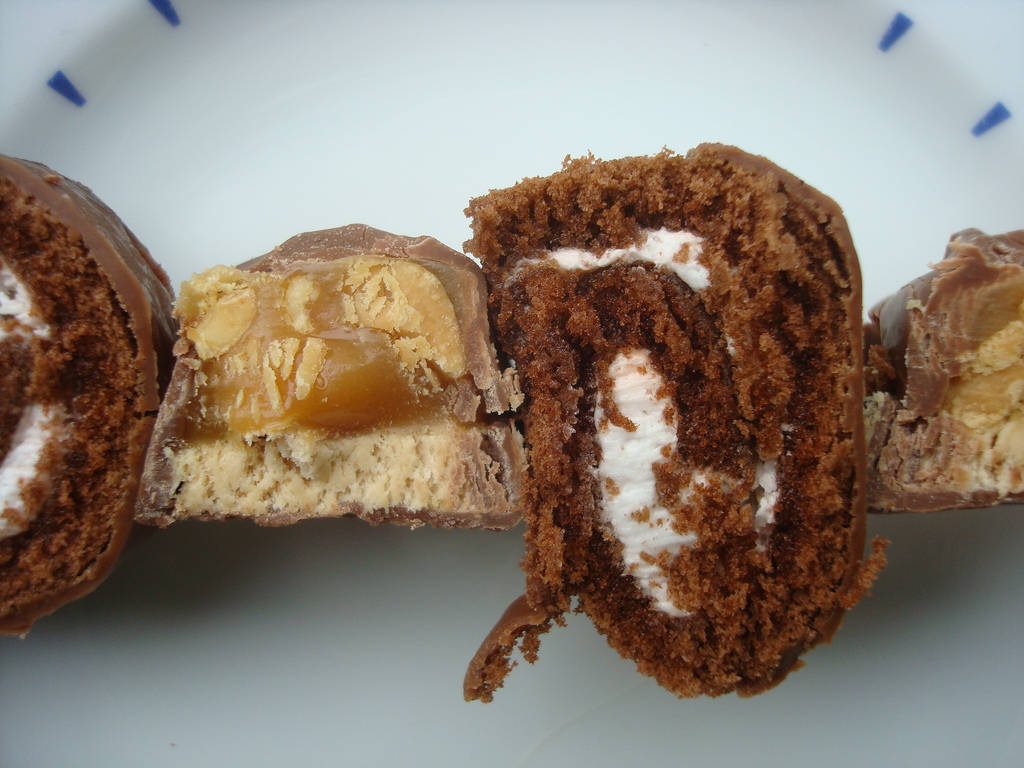 Photo via CakeSpy
Easy to make and fun to eat, these candy kebabs feature slices of your favorite fun-size candy bars and snack cakes. You could also recreate this effect using hunks of your favorite cake recipe. It's a crowd-pleasing and party-friendly treat that can be assembled in minutes! 
7. Jack-o'-lantern candy cake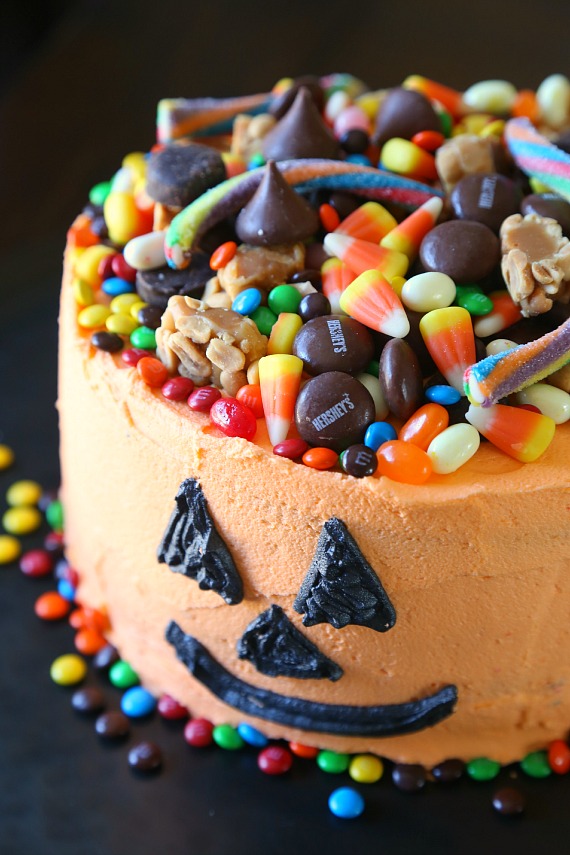 Photo via Cookies and Cups
This cake by Cookies and Cups can be recreated with any two-layer cake flavor you'd like. Simply ice your cake with an orange-tinted buttercream and decorate the side by piping a jack-o'-lantern face. Then, garnish the top and base of the cake with a generous helping of your favorite of Halloween candies! It's surprisingly easy to make, but makes for a highly impressive (and cute!) presentation. 
8. Halloween Rice Krispie cake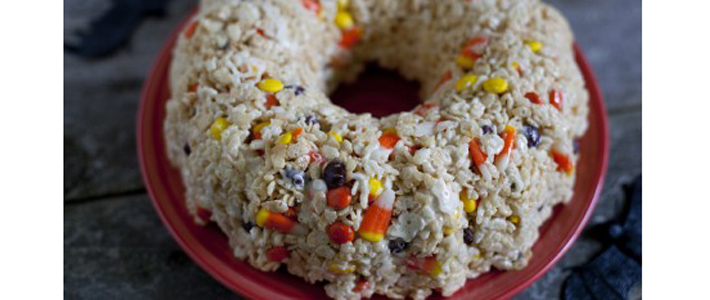 Photo via Eating Richly
For a creative Halloween candy cake idea, look no further than the closest cereal box! Diana Johnson, the blogger behind Eating Richly, combined classic Rice Krispies Treats with Halloween candy and pressed it all into a well-greased bundt pan. Once set, the cake is ready for a very cool and kid-friendly Halloween treat.