If you know me or my work, you know that when it comes to cupcakes and a variety of goodies, topping them with fun and fancy embellishments is my absolute favorite part! Ensuring you are utilizing the proper medium and taking different aspects of your sweets and design into account is crucial to creating showstopping confections.
Follow this simple guide to guarantee perfect fondant toppers for your sweet cupcakes and confections!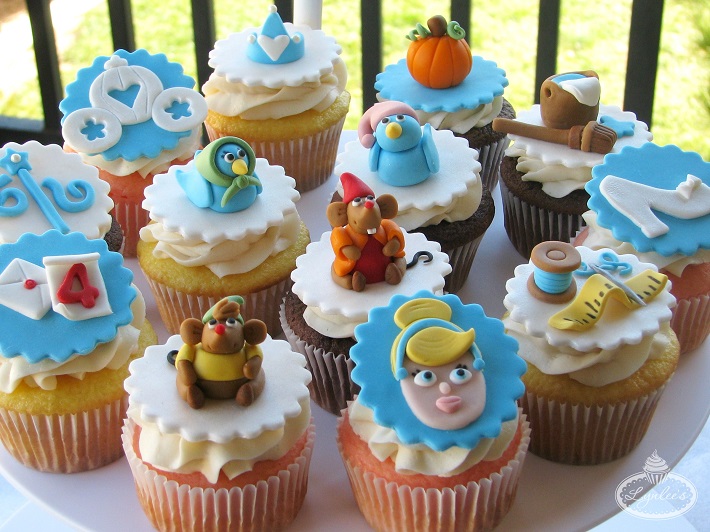 Photo via Lynlee's
How to Make Fabulous Fondant Toppers
1. Decide on your medium.
So, you might be asking yourself why you should even question what medium to utilize, especially if the title of this post is specifically about fondant toppers, right?! Well, you are correct – if you already know without a doubt that you want to make your decorations out of fondant, feel free to skip ahead!
But just in case, make sure you know all your options before proceeding. While fondant is my medium of choice and is what was utilized to create this Cinderella cupcake set, toppers can also be created with gum paste, which dries quicker and harder and can be utilized when more structure is necessary. Either one can be used to mold both flat or three-dimensional designs, as seen above.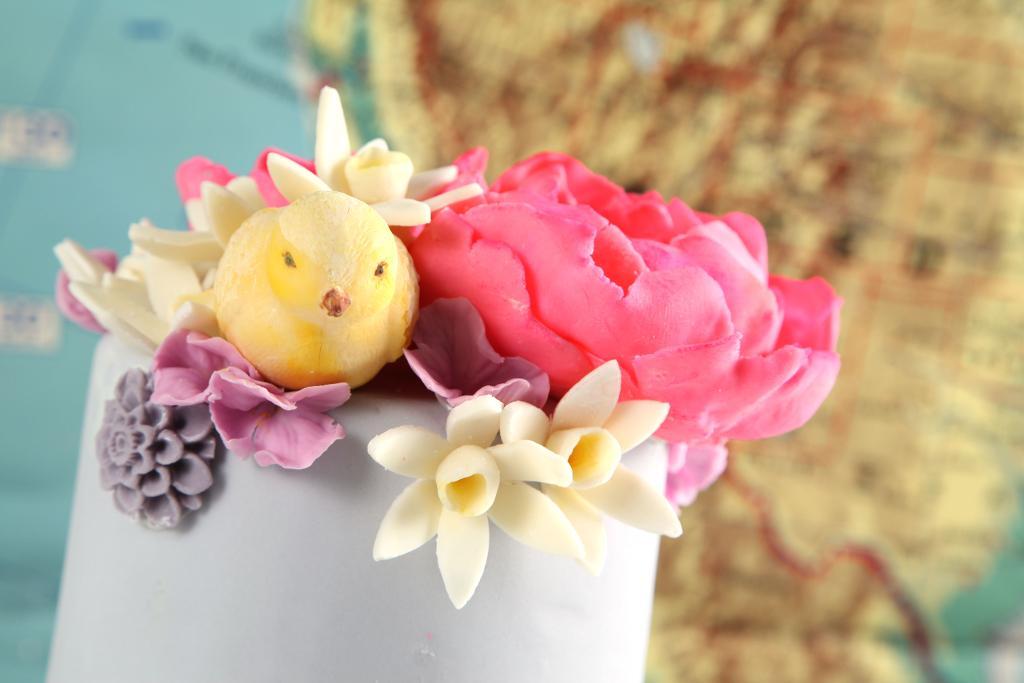 Photo via Crafty Instructor Kate Sullivan
In addition to fondant and gum paste, modeling chocolate can also be useful in making toppers. This medium can be especially useful in sculpting, as it tends to be more malleable and provide additional options that fondant cannot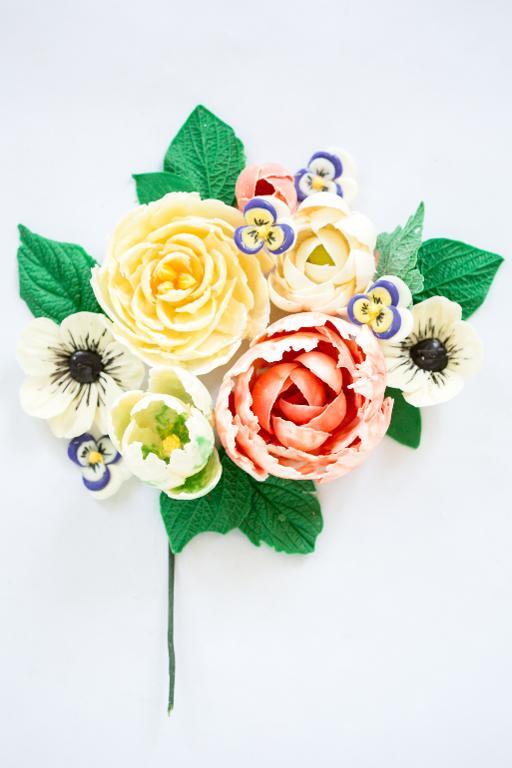 Photo via Bluprint instructor Erin Gardner
Another option to consider in making toppers is actual chocolate! As with most mediums, chocolate does not react well to extreme heat and can melt more quickly than others, so be sure to consider the climate and environment when making the final decision.
While these additional elements are available to make toppers, fondant still remains a popular and favorite medium.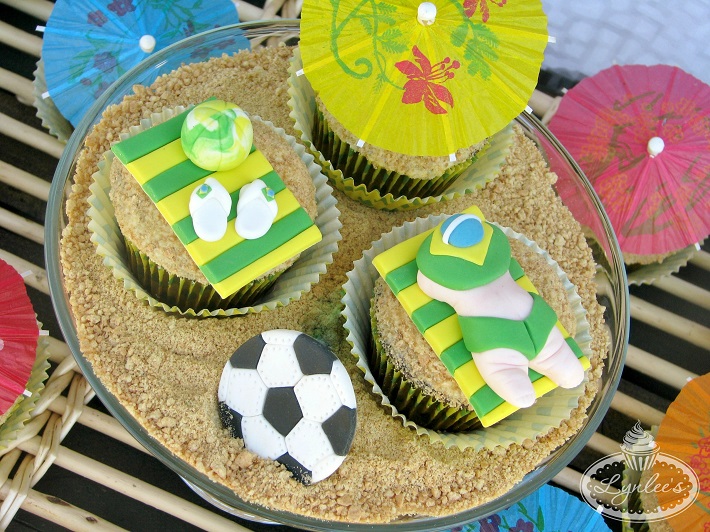 2. Choose your topper's size and weight.
When making toppers, you must analyze your blank canvas to decide what your capacities and limits are.
If you are planning to embellish a regular-sized cupcake, the surface is on average a little over 2″ in diameter, so you want to make sure your design is approximately the same size, if not smaller. I tend to utilize a round cutter, approximately 2¼", to form a bottom disc and confine my design to its surface. This way, I know it won't be too large to fit and proportionately, not too heavy to be held on a cupcake!
That being said, you can still be creative with the shapes and sizes, such as the Rio de Janeiro beach cupcakes above, inclusive of an overall rectangular shape and a variety of sized embellishments.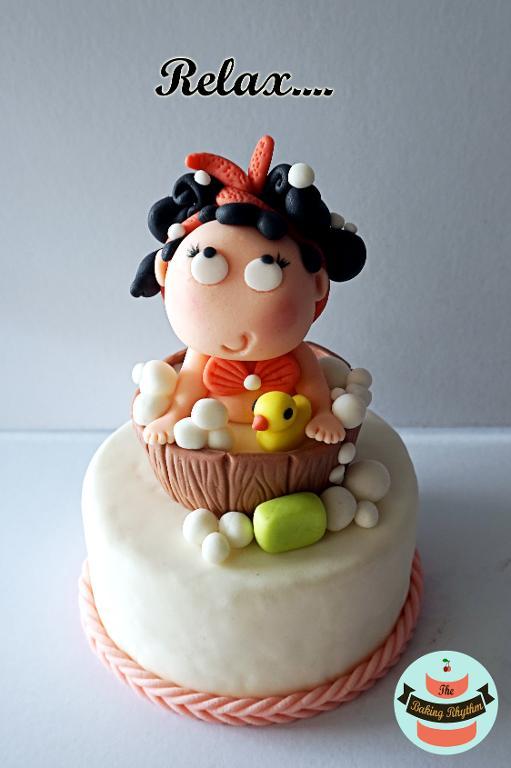 Photo via Bluprint member YY the baking rhythm
Bluprint member YY the baking rhythm created this absolutely adorable Bubble Bath Girl topper in the course Custom Cake Toppers: Step by Step with Brenda Walton. As you can see, its proportions make it entirely too big and heavy for a cupcake, but it is just the perfect topper on a miniature cake! Taking the time to determine your measurements ahead of time will help you tremendously when making your toppers and ensuring they are the perfect fit!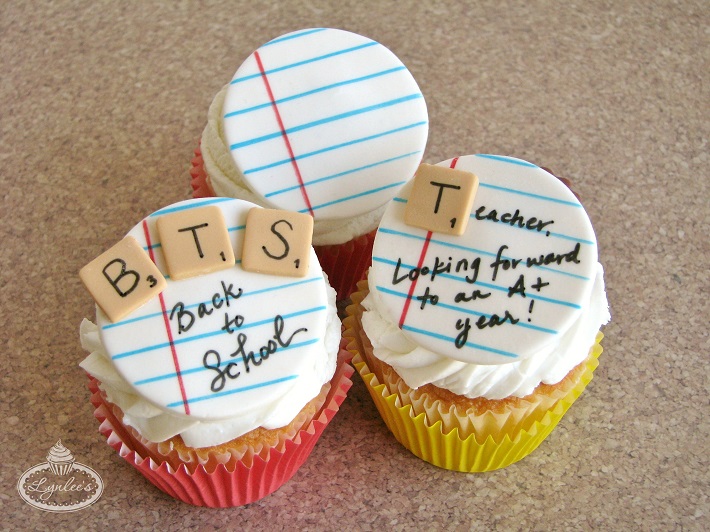 3. Determine your design dimensions.
Now that you understand the surface with which you have to work, you can take your designs to various dimensions! If you are planning on a simpler design or are working on an order of large quantities, flat fondant toppers are ideal! Just like this Back to School topper set, the fondant is cut perfectly to size and is supplemented with designs that are not too complicated.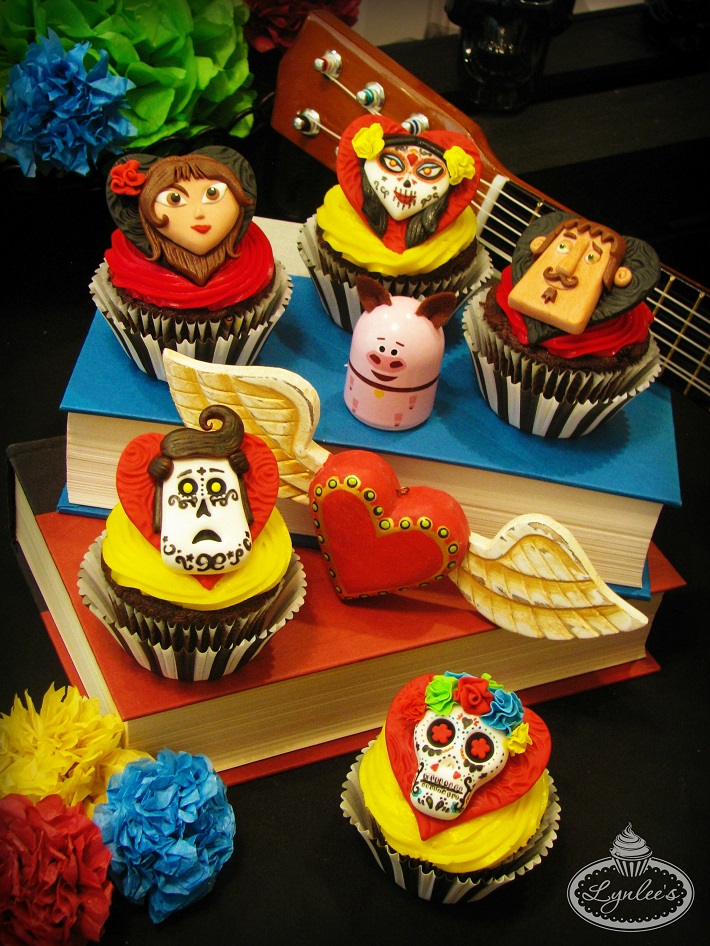 These fondant cupcakes inspired by the animated movie Book of Life have a bit more dimension than the flat toppers, though they are not full-fledged three-dimensional figures. The bottom textured heart topper ensures each design is fairly similar in terms of size and provides consistency throughout, while the characters are embellished with a variety of layers and decorations, such as the sugar skull topper.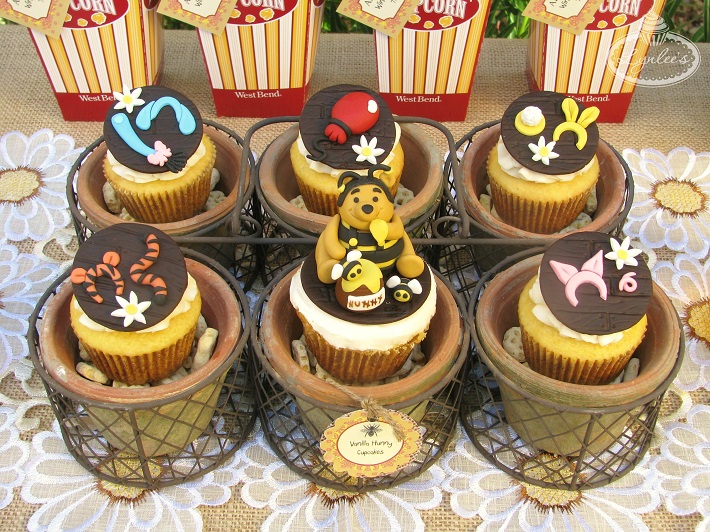 As opposed to the above designs, the Winnie the Pooh character in this cupcake set is a full three-dimensional figure molded out of fondant, accentuated with additional flatter designs. Again, the bottom disc topper provides continuity throughout the collection, while also ensuring the designs do not exceed the given space of a cupcake.
Because the 3-D figure is larger and heavier, you can see that it sits level on the cupcake over icing that was spread on with a spatula. Conversely, the coordinating fondant toppers can be displayed diagonally on a piped cupcake, showcasing the designs a bit more since they are more lightweight.
You can really observe the differences that the different dimensions of a topper can make to your overall presentation.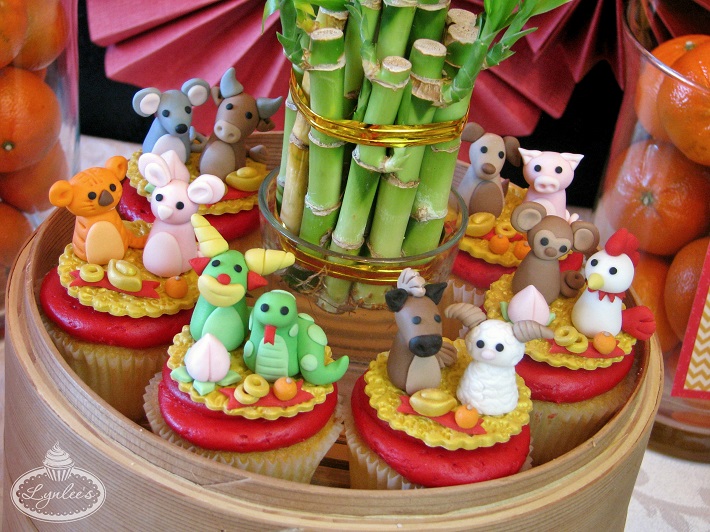 4. Incorporate your cupcakes & confections into the design.
The decision you make in terms of the medium, size and dimension of your toppers correlates directly to your treat of choice! For example, decorating a cupcake gives you less surface space than a cake and requires that your topper be smaller and lighter, but also gives you the opportunity to vary the designs more.
But when creating fondant toppers, not only is it necessary to keep these elements in mind, it is also crucial to look at the entire picture and pay close attention to your desired final presentation.
Will you be covering your confection in icing, fondant or other ingredients?
What color will you be using?
What other materials are you incorporating?
In the above Lunar New Year cupcake collection, the yellow fondant toppers on the bottom of all the animals was intentionally chosen, not only because the gold represents prosperity, but also due to the fact that it would pair well with the red icing on the cupcakes.
The bunny bum fondant toppers on these push pops were deliberately made small to ensure they would fit in the opening of the plastic containers.
Because the contents of the push pops were chocolate pudding and its liquid consistency would seep into the fondant, crushed Oreo cookies were added to the top layer to serve as a buffer between the two elements and simultaneously depicting dirt for the bunny holes!
In this Cutie Pie cupcake, the surface was covered in fondant and the entire cupcake was included in the design. The silver liner was intended to look like a pie tin, making it imperative that the correct color and/or pattern be chosen.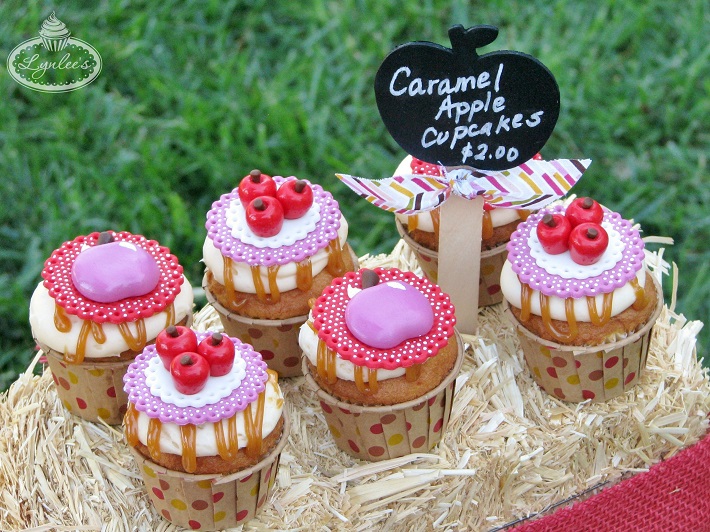 The caramel apple cupcakes above are another example of how the icing and toppings can be incorporated into the design. When making the fondant toppers, a smaller size was chosen so that ultimately, the icing drizzled with caramel would be visible underneath.
Once you have decided on your medium, chosen your topper size, determined your design dimensions and incorporated your sweet treats into your presentation, you're all set to create some amazing fondant toppers! If you need additional assistance, be sure to check out some additional tips for making cupcake toppers, along with the answers to some fondant topper FAQ's!
How to Make Fabulous Fondant Toppers