We're welcoming Stacey Trock of Fresh Stitches to share her top tips for crocheting cute monster amigurumi.  There are so many variations that you can make just by switching up the striping, the colors and the yarn & hook. In this blog post, Stacey tells us a little bit more about how she chooses colors and gives us some great inspiration for making monsters.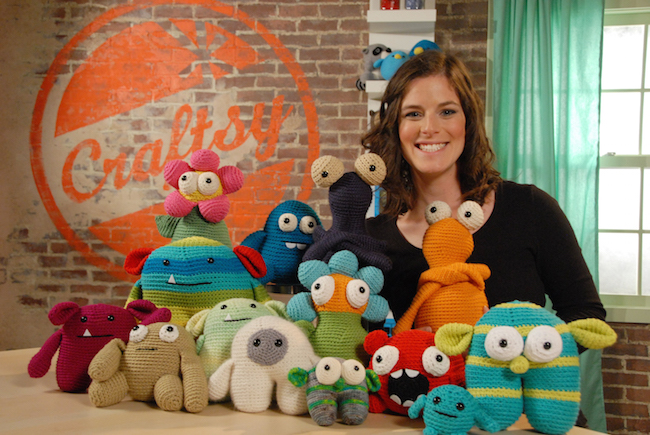 I totally love crocheting monsters.
I've designed over 100 stuffed animals, and of them all, my monstie (Roosevelt) is one of the ones I come back to crocheting again and again.  Why? Because he embodies all of the things that should be totally fun about crocheting! You can let your imagination run crazy!
Below are some of the reasons that I'm crazy about crocheting monsters, along with a few tips!
1. Go zany with your color choices
What color is a monster? Ask 10 people, and you'll get 10 different answers! Because no one really knows what color a monster is… so, when you're crocheting one, pick the colors that make you happy!
There are two avenues you can take when picking colors for your monster: contrasting colors or complementary colors.  Contrasting colors are opposite one another on the color wheel, while complementary colors are touching each other on the color wheel.
This cutie is an example of using colors that contrast (are opposite one another on the color wheel): pink and yellow!
Switch the yellow for purple, and you have an adorable monster in a complementary colorway!
Don't you just love that no matter what colors you choose, he'll look great? In addition to all of the options provided by the color wheel, try crocheting a monster sporting the colors of your favorite sports team… he'll be a hit (and will make an awesome present for a sports-fan)!
2. Diverge from the usual striping pattern
The monster pattern tells you how to switch colors so that you'll get the striping pattern shown in the 'standard monster' (pictured above).  But, once you've made one and you've gotten the hang of crocheting a monster… there's no reason not to go wild!
I was inspired by the Fourth of July to crochet a red, white and blue monster!
To make this patriotic cutie, I made the striping on the body more frequent (switching between red and white every 2 rounds) and ended the striping and crocheted all in blue for the top to resemble the American flag.
But don't stop there… how about instead of using 2 colors, you stripe with lots of colors? You can make a rainbow monster! Or, if you're stuck on one color of yarn, omit the stripes altogether. It's your monster… rock him how you'd like!
3. Choose a different weight of yarn for a totally new look
The monster pattern calls for worsted weight yarn, which gives you a monster about 7" tall.  But, there's no need to stick to that! I dipped into my stash and found some lovely sock yarn… and made a tiny monster!
The sock-yarn monster is about 3" tall.  The only thing you need to change is that you'll need to use a hook appropriately sized to the yarn.  In this case, I used a size C hook on the sock-weight yarn.
You can use a bulky yarn and get a giant monster as well… use the yarn that you love and have a blast!
4. Try fun new fibers
The great thing about making stuffed animals is that there are no rules about what fiber you need to use.  The 4th of July monster (above) was crocheted with 100% wool yarn (Ella Rae Classic).  My sock monster was crocheted with a 100% sugar cane yarn (Queensland Sugar Rush) and a 100% wool sock yarn (Trekking Hand dyed).
The monster that gets the most publicity is the guy on the cover of the pattern (the original Roosevelt), who is crocheted from 100% organic cotton (Blue Sky Alpacas Worsted Cotton).
I love the Worsted Cotton because it's incredibly soft, and comes in fantastically bright colors!
So, if there's a yarn you love, then use it! It's going to turn into a fabulous monster!
Try crocheting a monster in the colors of your favorite sports team or Alma Mater!
You ready?
If you can single crochet, then you've got the skills to make a monster.  You can try any fiber, any color and any weight yarn… your creativity is your only limit! (and, fear not… if you're a little nervous about experimenting, you can always follow the instructions as written, and I won't tell!)
Get more tips from Stacey!
Join Stacey's popular online class Amigurumi: Design Your Own Monster and learn to customize your crochet creations!