Did you know the tradition of the groom's cake is a uniquely American phenomenon? I think I first saw a groom's cake as a young girl watching that heartbreaker of a lady's movie Steel Magnolias. Anyone else remember the grey armadillo groom's cake that gets its bottom cut off with a big kitchen knife? Here is a collection of truly grooms-worthy cakes. from giant peanut butter jars to elephants, and even an armadillo!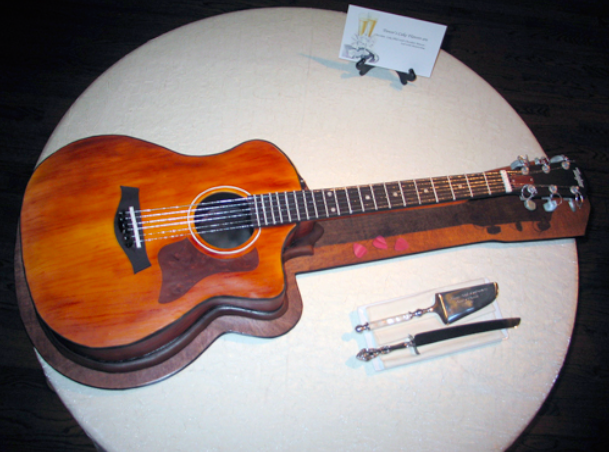 Photo via RDPJ Cakes
Acoustic Guitar Groom's Cake: Strum a tune and take a bite out of this hyper realistic acoustic guitar cake. The tuning knobs and the wood grain texture on the guitar body might be my favorite part about this awesome cake by RDPJ Cakes. Every piece is edible except for the guitar strings, because the cakemaker was worried about thin edible strings and the 104 degree heat on the wedding day!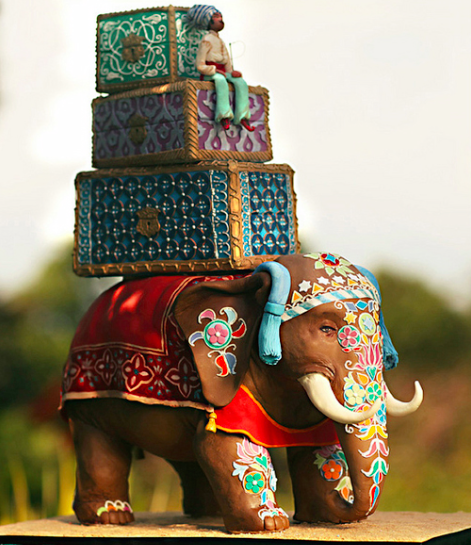 Photo via Heather Barranco Cakes
Indian Elephant Groom's Cake: The amount of ornate detail on this beautifully made Indian elephant themed groom's cake is wonderful, from the intricacies of the colorful steamer trunks to the elephant's body paint! They also captured just the right dozy-eyed look in the elephant's eyes, too, as he lugs along in the hot sun.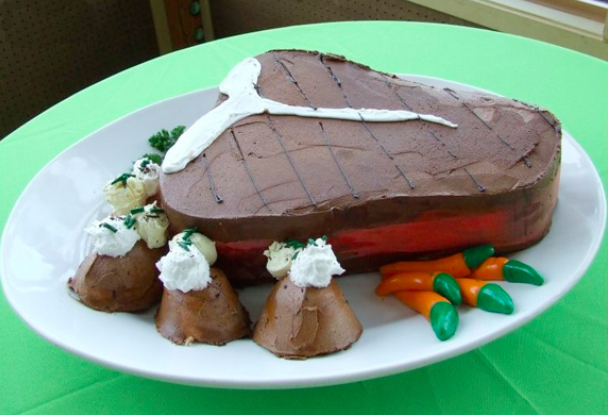 Photo via The World Through My Eyes
Groom's Steak Cake: A great example of a non-fondant steak cake, trompe l'oeil style! A buttercream iced steak with some good-looking potatoes with "sour cream" and "chives." That steak's been cooked perfectly rare, with a simple side of marzipan carrots to boot.

Photo via The Uncommon Cakery
R2-D2 Groom's Cake: Star Wars fans, unite! This awesome 26 inch high R2-D2 groom's cake comes complete with a little bow tie ribbon; he's all dressed up for a wedding. This gravity-defying robot cake is a chocolate cake with chocolate icing with fondant details and accents rounding it out. As R2-D2 would say: beepbooboobeep!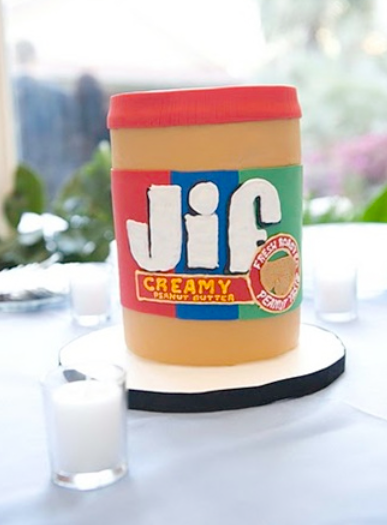 Photo via MGE
Giant Peanut Butter Jar Groom's Cake: Clearly this groom could eat peanut butter for breakfast, lunch, and dinner, much like myself. This is a fun 3D groom's cake, covered in fondant with piped icing accents.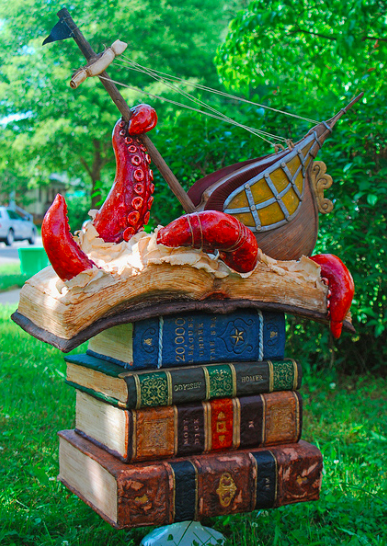 Photo via Sweet Fix
Sea Monsters In Literature Groom's Cake: Such an incredible cake for a literature lover! Stacks of fondant covered cake "books" with the top book splayed open to reveal a squid surprise. This cake is "sea monsters in literature" themed, with the book titles playing along: Moby Dick and 20,000 Leagues Under The Sea among them! I love the texture of the book spines, it really looks like old leather. The squid legs are made from rice krispie treats to keep them light and easily moldable.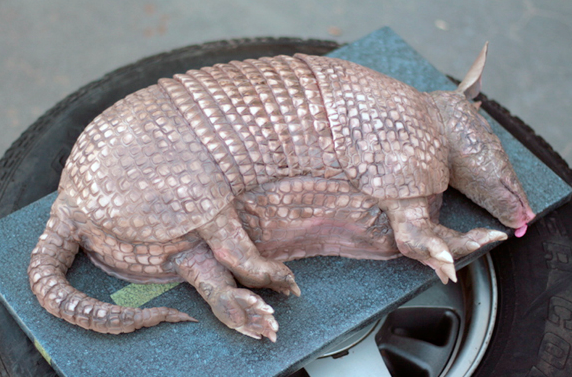 Photo via RDPJ Cakes
Armadillo Road-Kill Groom's Cake: Here's what I consider to be the ultimate groom's cake: the armadillo! Do you agree? This amazing version is even roadkill themed. I read that Steel Magnolias really did popularize this as a groom's cake, but armadillos are also the state mammal of Texas. This guy is covered in fondant, with facial and feet details in gum paste. The armadillo was also textured by hand using a small tool and both hand-painted and airbrushed to create the different skin shades. In case you were wondering: yes indeed, it is a red velvet cake on the inside! Perfection!
Are you loving what can be done with cake to make your groom's day even more special? Feeling as though you'd like to enhance your skills? Try Bluprint's Basic Cake Sculpting class with Catherine Ruehle.
In case you missed it yesterday, catch this year's wedding cake trend. You might also enjoy these dark and moody wedding cakes. Be sure to come back to the Bluprint blog tomorrow for another roundup of cakes you don't want to miss!