The tradition of groom's cakes is a fantastic way of not only adding another impressive cake to a reception, but can also add another dimension to any wedding event!
Originally, groom's cakes, which actually originated in Victorian England, were created to be rather dense fruit cakes incorporating various helpings of alcohol. These days, groom's cakes are more likely to feature a bold novelty design concept or theme. If you're looking for some groom cake design inspiration, why not read on for some fun ideas?
Here's our roundup of some playful groom's cakes to inspire your next design.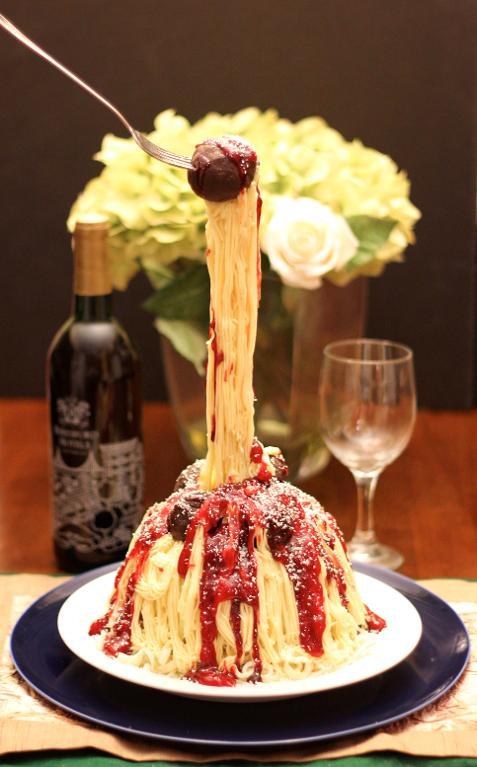 Photo via Bluprint member Marizza's
Spaghetti and meatballs cake
Replicating a delicious meal in cake form is such a fantastic way to remember a first (or significant) date! Reminisce about a proposal dinner or a hilarious yet disastrous lunch gone-wrong with a savory dish created from sugar, flour, butter, and eggs.  We think this is one fun way to inject a great story into a reception!
Create stunning cakes with Lauren Kitchens Gravity-Defying Cakes class and sign up today for a wealth of tips, ideas, and advice!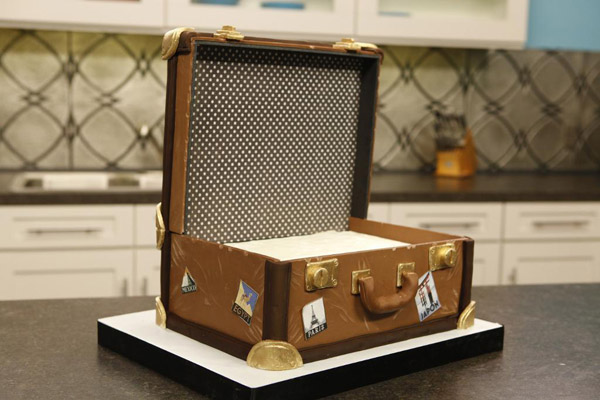 Photo via Bluprint instructor Lauren Kitchens
Vintage luggage cake
We absolutely adore the idea of an exciting vintage luggage cake that'll help the happy couple prepare for their honeymoon! Customise this cake further with hand-painted or edible printed travel 'stickers', edible passports, wafer paper plane tickets or a detailed luggage tag complete with names!
Discover how to master modeling chocolate with Lauren Kitchens' Modeling Chocolate Magic class and enroll now!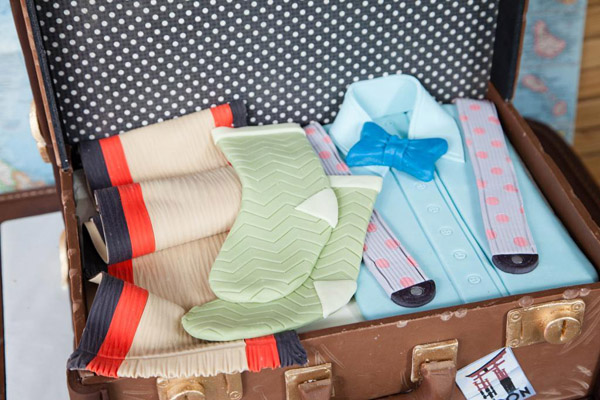 You can even fill the suitcase with fun outfits like Hawaiian shirts for a couple destined for the tropics or reindeer sweaters and mittens for an alpine escape. If the wedding features a definite aesthetic theme, why not add details to compliment this such as lotus flowers and hand-painted kimonos for a Japanese influenced reception?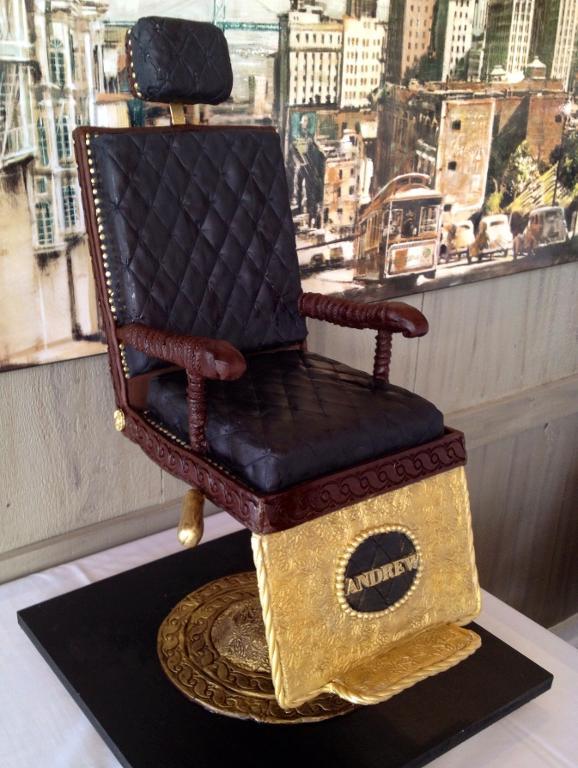 Photo via Bluprint member Vagabond Baker
Vintage barber's chair cake
This life-sized and super realistic design is such a jaw-dropping and awe-inspiring cake we had to feature it! What a perfect groom's cake for a barber or for a vintage/retro themed party. The only problem with this creation is that we foresee so many guests trying to sit in it thinking it's the real deal!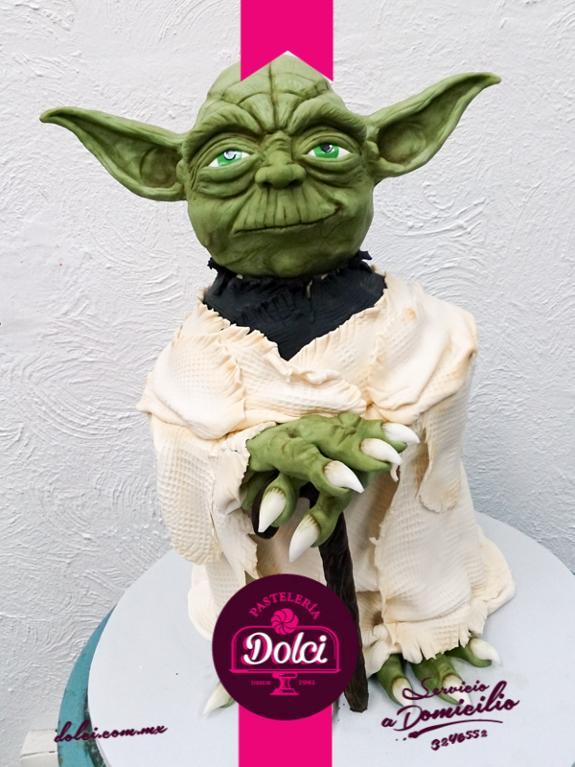 Photo via Bluprint member Dolci Pasteleria
Yoda cake
For the Star Wars aficionado there's always room for a playful Yoda cake. Of course, the idea of a sculpted cake is perfect for any film or cartoon character as well as for replicating the beloved family pet. Wow guests a little more with some quirky personal touches like dressing a character in a jacket or sweater the groom just can't let go off or adding memorabilia of the couple's favorite sports team to the decorated board.
Mike McCarey's Advanced Cake Sculpting: Bobblehead class is absolutely perfect for learning how to carve and develop structures for larger than life character cakes so why not enroll today!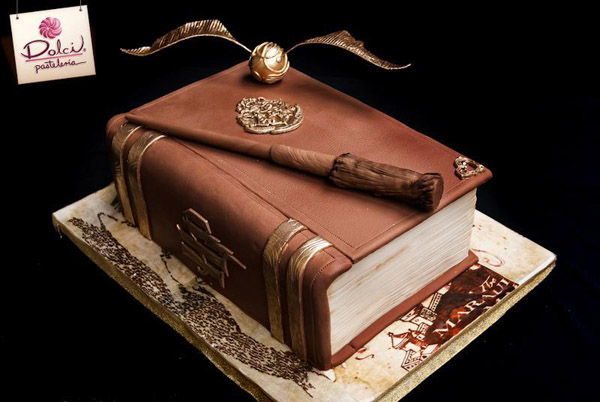 Photo via Bluprint member Dolci Pasteleria
Harry Potter cake
For the big kid a children's book or film themed cake is a great idea! This Harry Potter book inspired cake is executed perfectly and with a touch of playfulness too. We love the idea of a Pagemaster or Never Ending Story themed cake centered around piles of books, hand-painted characters and edible printed pages scattered around the cake board.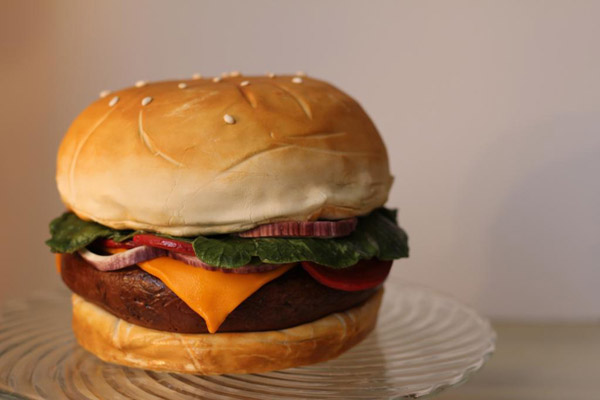 Photo via Bluprint member Wingged
Burger cake
We love cakes with a twist just like this fun design. It looks exactly like a burger… but it's a cake! How realistic does that lettuce look? For a bigger design why not create hot dogs loaded with chili sauce, fries, a pile of doughnuts, a large cola and slices of pizza for a junk food inspired feast!
With so many fun, vibrant and novelty ideas for groom's cakes, we're sure you won't be stuck for ideas on your next wedding cake project. A fantastic trick is to always find out some great personal stories, quips or interests of not just the groom, but the couple. They'll both love the thoughtfulness of a piece of their story woven into the end cake design!
What's your take on the growing trend for groom's cakes?