Summer is all about grilling, and grilling usually means that foods like steak, chicken, ribs and burgers are on the menu. But not all grilled main courses have to be meat — and grilled cauliflower steaks prove it.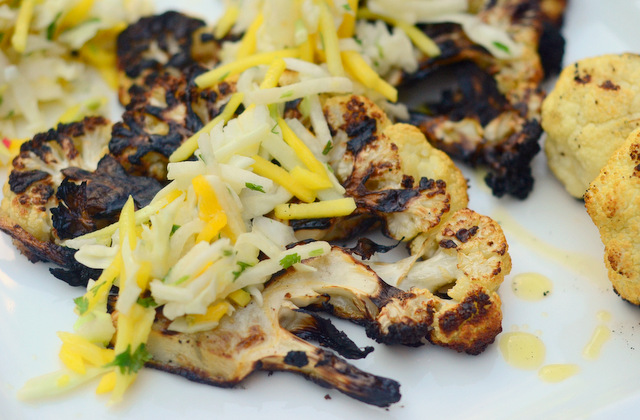 Why make grilled cauliflower steaks?
This vegetarian option is so delicious and easy that it will quickly become a new summer grilling staple, whether you make it a main course or serve it up along side beef steaks.
Plus, it takes less than 15 minutes from start to finish to make these steaks, including all the prep time — yes, really!
The grilled cauliflower steaks have a wonderfully charred exterior — as you might expect to find on other grilled foods — and a center that is both tender and surprisingly meaty. It is one of the most satisfying ways to eat cauliflower, and it is visually impressive to serve, as well!
First, carefully cut the cauliflower into steaks.
The most difficult part of making these steaks is cutting them. You need to start with a whole head of cauliflower. Using a sharp knife, cut it right down the middle into two halves. Cut two 1/2″ thick "steaks" from the center portion of each half of the cauliflower.
Learn more essential cutting techniques with this Craftsy Blog post.
The cauliflower must be cut from the center because the thick stalk allows the steaks to stay together. If you cut from the sides, you'll be left with a bunch of florets (also delicious, but without the visual impact of the steak).
After cutting the steaks, you'll have some cauliflower leftover. You can save this for another use, skewer the florets and grill them alongside the steaks or toss them in a grilling basket to cook.
Then, add simple seasoning. 
Once the steaks are cut, they should be seasoned. I used olive oil, salt and pepper because I like to keep it simple. You can actually use any grill seasoning that you enjoy, as cauliflower has a mild flavor that goes well with most spices. 
Finally, get cooking — about 5 minutes per side.
Turn your grill up to medium-high heat and carefully place your steaks on it. The cooking time will vary slightly, depending on how evenly your steaks were cut, but it should take about 5 minutes per side. You may have to adjust the temperature of your grill slightly, or move the cauliflower to a cooler spot, if the second side starts to char too quickly.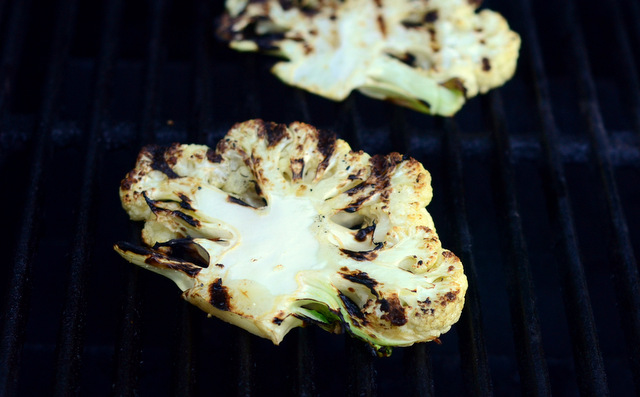 Serve 'em up! Add slaw, sauce and more.
You can serve your grilled cauliflower any way you like. I topped mine with a lightly dressed slaw made with mango-jicama slaw, for a slightly tropical touch. (Keep reading to get the magno-jicama slaw recipe!)
You can serve them with a glaze of barbecue sauce, if you prefer. The options are limitless — and that's a good thing, since you'll likely be making these quite a bit as the summer grilling season wears on. 
Simple grilled cauliflower steaks recipe
Serves 4 people
Ingredients:
1 large head cauliflower
Olive oil
Salt & pepper
Step 1:
Slice the cauliflower down the center using a sharp knife. Working from the center cut, slice two 1/2″ thick steaks off of each half of the cauliflower. Drizzle the steaks with olive oil on both sides and season with salt and pepper.
Step 2 :
Prepare your grill, heating it to a medium-high temperature. Place steaks on the grill and cook for about 5 minutes per side.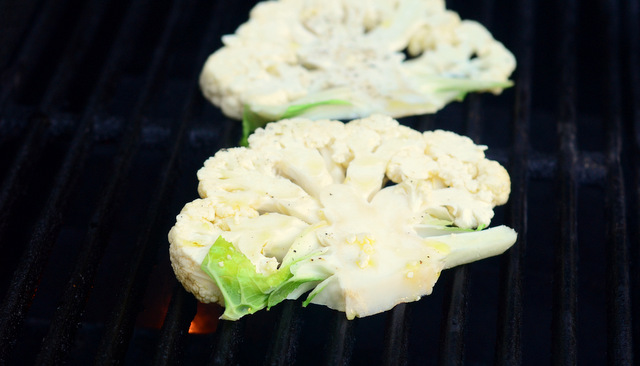 The center of the cauliflower will be tender when pierced with a knife.
Step 3:
Serve immediately. Cauliflower can be served as-is, topped with a salad or dressed with barbecue sauce, depending on your preferences. 
Mango-jicama slaw recipe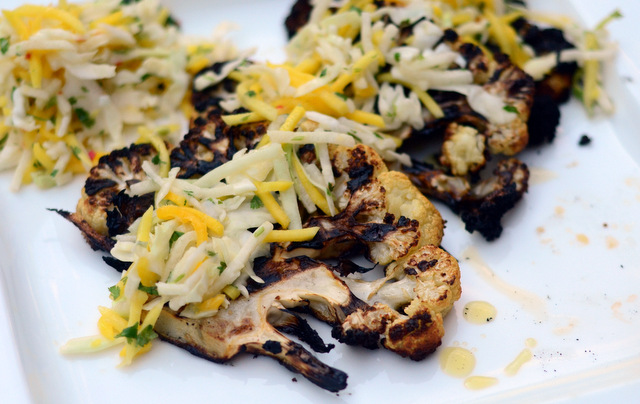 Makes about 4 cups
Ingredients:
1/3 cup lime juice
2 tablespoons honey
2 tablespoons finely chopped cilantro
1/2-1 teaspoon crushed red pepper flakes
Salt and pepper, to taste
1 cup julienned mango
1 cup julienned jicama
2 cups finely sliced cabbage
Step 1:
Combine lime juice, honey, cilantro, red pepper flakes, salt and pepper in a large bowl and whisk until combined.
Step 2:
Add in julienned vegetables and cabbage; toss to combine. Season with additional salt and pepper, if desired.