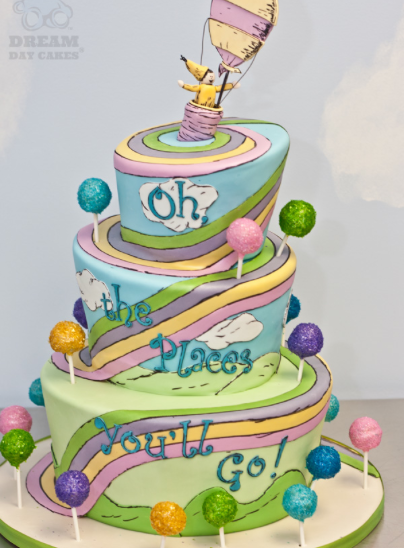 Photo via Dream Day Cakes
Dr. Seuss Cake: The places you'll go will be extremely sweet, if your graduation is punctuated with a cake like this! Based on the ever-inspirational Dr. Seuss story, this cake was created by Dream Day Cakes in Florida for a school graduation, featuring glittering cake pops and whimsically decorated topsy-turvy cake tiers.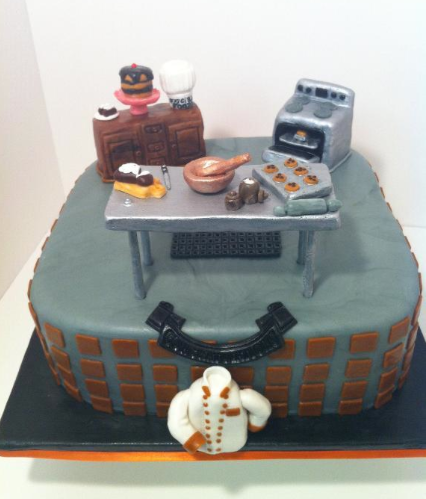 Photo via Bluprint member Oatmeal48
Chef Graduation Cake: For a culinary school graduate, this confection really takes the cake! Created by a Bluprint member, the creative details on this rounded-square shaped cake include a hand-sculpted chef's coat in addition to an assemblage of kitchen gear including a mortar and pestle and the cutest tray of cookies you've ever seen!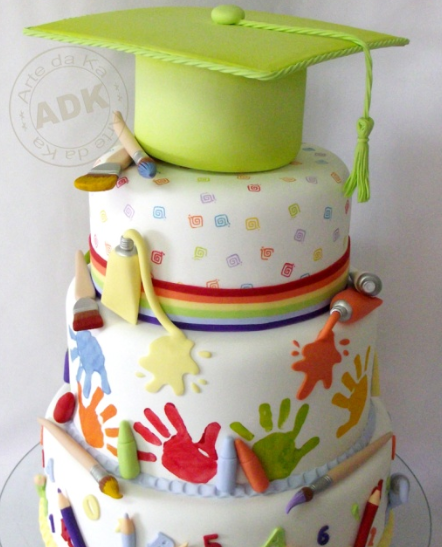 Photo via Bolo formatura
Kid Graduation Cake: Graduations aren't just for high school or college students–even preschoolers and grade schoolers celebrate this milestone. This cake, gorgeously created with a base of rolled fondant atop tiered cake layers, features delicate piping and painted details which would make for a fantastic cake to celebrate a younger group of graduates.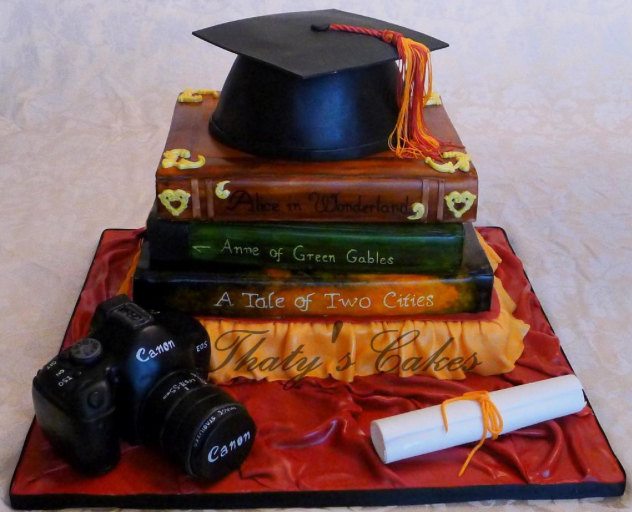 Photo via Bluprint member Thaty
Classic Graduation Cake: This classy cake prominently features literature and photography, served in a most delicious form. Prettily topped with a graduate's cap and garnished with a diploma, this cake was crafted using a combination of fondant and gum paste for the decoration, and beautiful hand-painted details.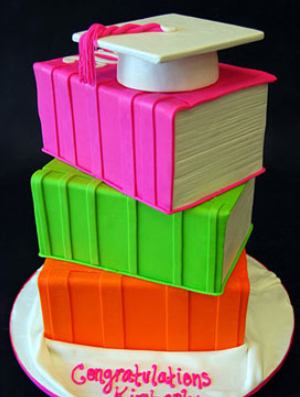 Photo via Pink Cake Box
Bright Graduation Cake: For a cake that celebrates hitting the books but isn't afraid of having a little fun, consider following the example of Pink Cake Box and craft a cake made to resemble a stack of technicolor books! Brightly colored fondant adds a visual pop and lends a fun tone to this lovely cake, which features a pretty graduation cap on the side and impressively indented white fondant to create "pages" in the books.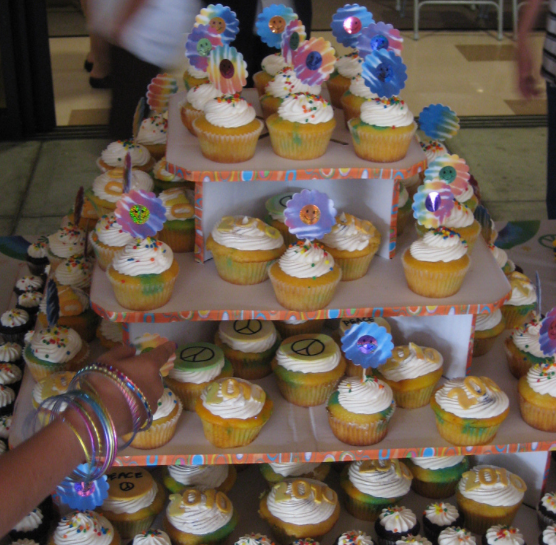 Photo via Meringue Bakeshop
Cupcake Tower: If the event is informal, why not have fun with a cupcake tower? This is a fantastic opportunity to include the grad's favorite colors, flavors, and themes in the tower. For instance, this "groovy" themed tower features 60's style flower smiley faces, peace signs, and bright colors on the cupcakes, and the graduation theme comes in with several cupcakes bearing the grad's name and the year of the graduating class.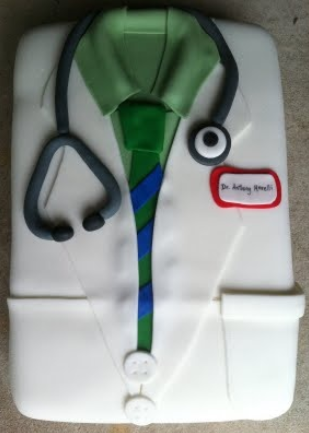 Photo via La Patisserie Rose
Med School Grad: For the MD-to-be, a cake decorated like a doctor's coat is a sweet idea! Use this clever cake as an inspiration, using a sheet cake and covering it with fondant shaped to resemble a shirt topped with a white jacket with lapels–add a stethoscope and a name tag, and you've got yourself a feel-good cake.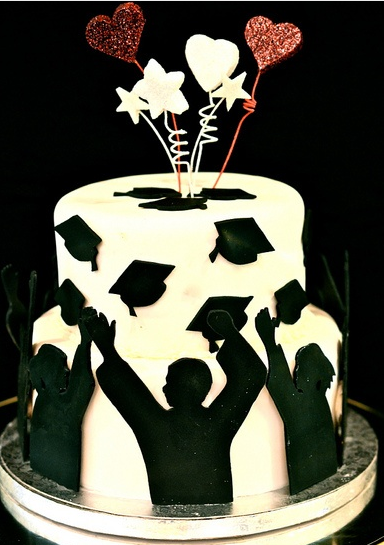 Photo via Mariel Wenger
Grad Silhouette Cake: To capture the joy and exuberance of the graduation cap toss, take a cue from this sophisticated cake! Two tiers of cake are topped with white fondant, and then topped with silhouettes of graduates with their hands in the air, with a sprinkling of caps floating on the second tier above them. A pretty topper featuring corkscrewing hearts and stars conveys the "flight" of the caps in a very sweet way!
Happy graduation! The future sure looks bright and sweet!
You might also enjoy cakes for cookouts and children's books cakes. Plus, come back to the Bluprint blog tomorrow for a collection of beautiful bold geometric cakes.