Cakes aren't the only food that can benefit from a surprise inside. These cookies have a scrumptious secret tucked in the middle: chocolate.
It might seem to defy science and logic, but learning how to make chocolate-filled shortbread cookies is a snap.
Photos via CakeSpy
To the best of the author's knowledge, the key to this recipe's success is sealing the chocolate into a rich shortbread dough, which is fortified with egg. The egg provides the additional binding needed, allowing you to seal in the chocolate. This way, it melts inside, not out, of the cookie.
True, an egg isn't in a traditional shortbread recipe, but once you take your first bite of crumbly cookie filled with gooey chocolate, this small liberty will surely be forgiven.
Recipe note:
You don't have to fill these cookies with chocolate. You can fill them with a spoonful of peanut butter, Nutella, white chocolate or even flavored morsels. You could even try a few with different fillings in the same batch to see which ones you like best.

I tried various ways of filling the cookies with chocolate, including chopped chocolate from a bar, squares from a bar and chocolate morsels. While any of these types of chocolate will work, the entire small blocks (.3 ounces each, more or less) from a bar, or minimally chopped chocolate, tended to have the most "ooze" factor, with more finely chopped chocolate and chocolate morsels forming more of a thin chocolate center, as you can see in the image directly above. Any of these types of chocolate will yield a delicious result, though.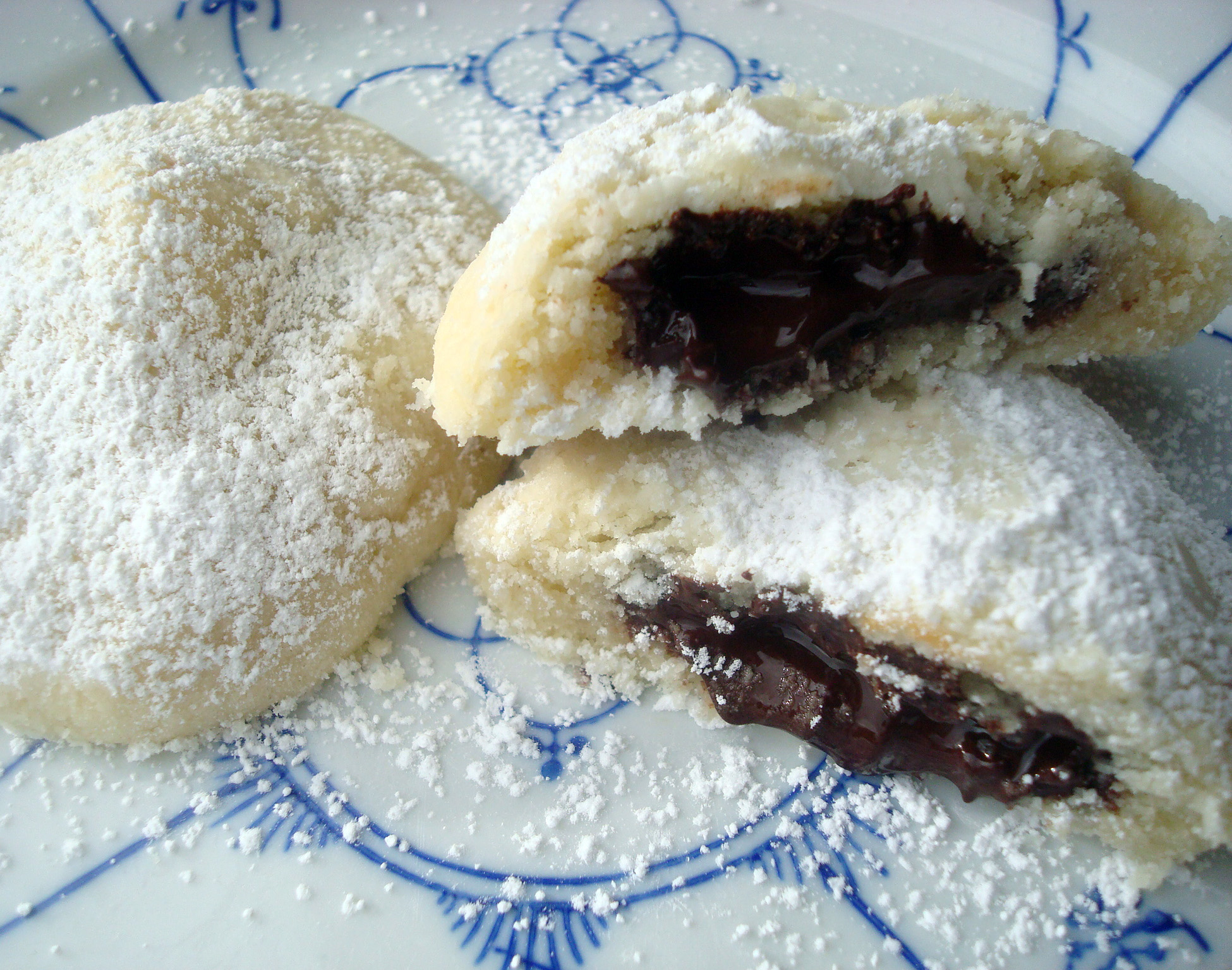 Recipe for gourmet, chocolate-filled shortbread cookies
Makes about 20 cookies
1 1/2 cups all purpose flour
1/2 cup cornstarch
1 teaspoon salt
2 sticks unsalted butter, softened
1/2 cup sugar
1 egg
1 teaspoon vanilla extract
6 ounces chocolate, minimally chopped into 20 portions
Step 1:
Preheat oven to 325 F. Line two baking sheets with parchment paper.
Step 2:
Combine the flour, cornstarch, and salt in a medium bowl. Set aside.
Step 3:
In a stand mixer fitted with the paddle attachment, cream the butter on medium-high speed. Then, add the sugar and beat for 3-5 minutes; it will become somewhat fluffy. Add the egg and vanilla extract, mixing until combined. Pause to scrape down the sides of the bowl and mix again to ensure everything is mixed in.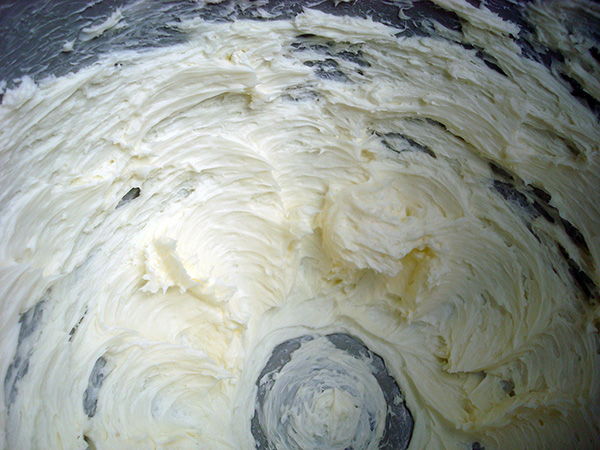 Step 4:
Add the flour mixture in 2-3 increments, mixing at low speed after each addition until combined, and pausing to scrape down the sides of the bowl with each addition. The mixture will come together to form a soft, malleable dough.
Step 5:
Pull a piece of dough, about 2 tablespoons worth, from the bowl. Form a 2-3 inch flat but fairly thick, circle of dough (you can do this one at a time, or make all of your rounds and then proceed).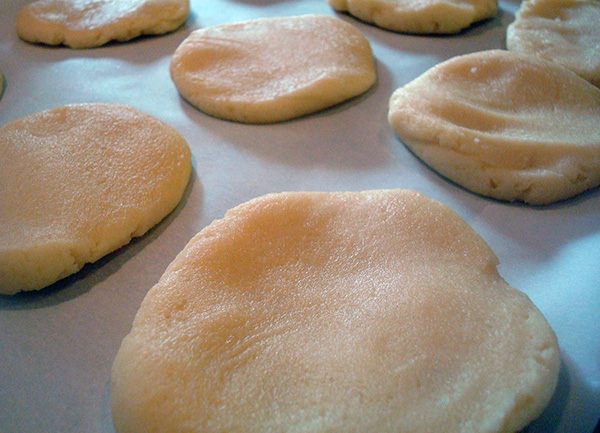 Place one chocolate square on top of the center. Pull the sides of the dough over the filling to form a soft dome, making sure the dough is covering the chocolate on all sides (it can melt through if not). Pinch the top to seal the cookie — it will resemble the shape of a Hershey's kiss. You can also seal the cookie flat on top, just do make sure it's sealed.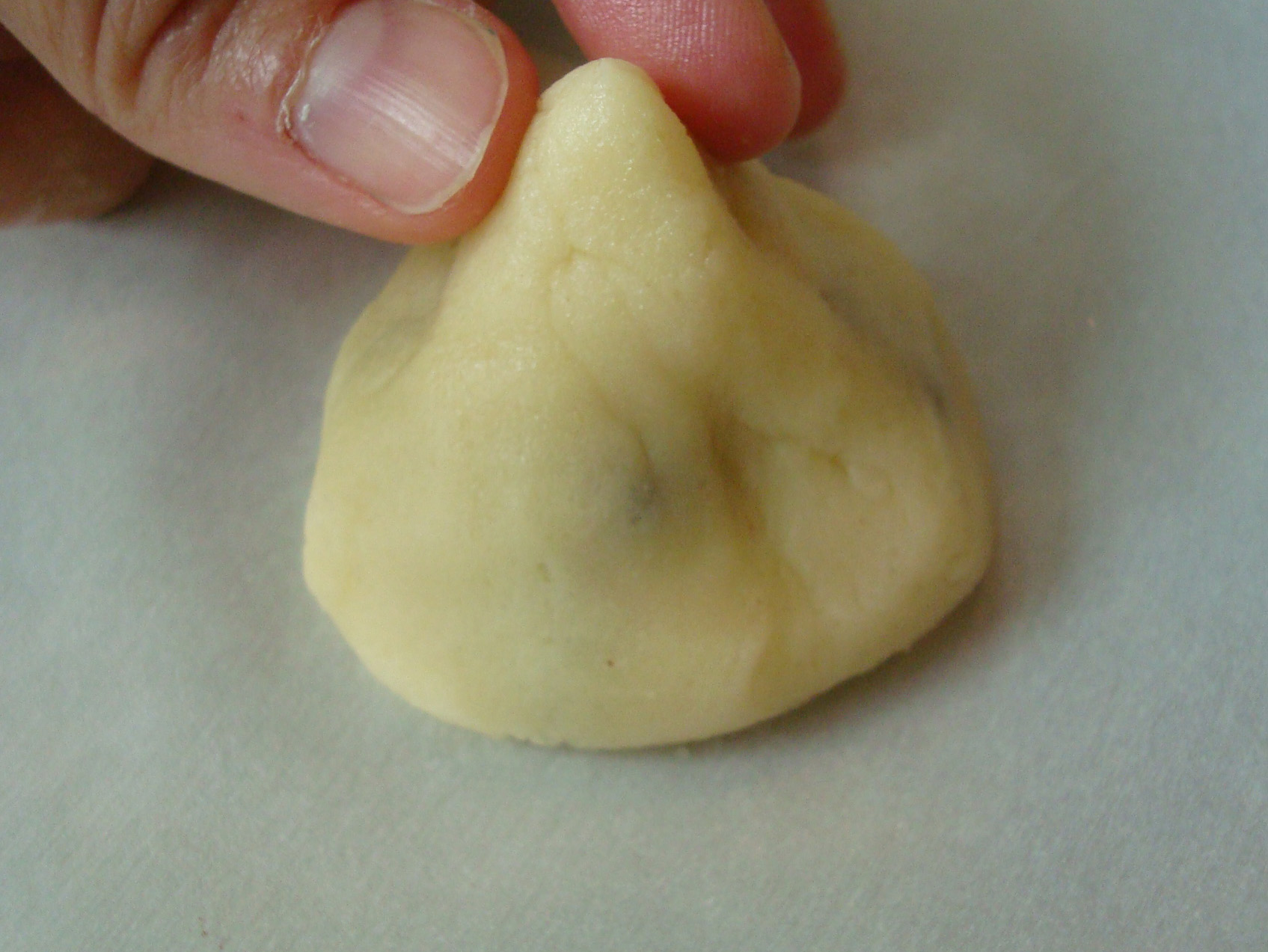 Step 6:
Place the cookies on the prepared sheets, 1 1/2 inches apart to accommodate slight spreading. Bake for 14-18 minutes, or until with a dull finish on top (a golden touch on top is fine, but don't let them get completely golden or browned). Let them cool on the pans. If desired, dust with confectioners' sugar. Once they have set for about 10 minutes, you can serve. Keep stored in an airtight container at room temperature for up to 3 days.