Risotto is Italian comfort food at its finest — a few ingredients brought together simply to equal something greater than the sum of its parts. It's soothing, warm and while it does require some lingering at the stove to coax out the natural creaminess of the rice, the work is somehow comforting in and of itself.
Risotto is like a great black dress: You can dress it up or down with great success. The recipe I have for you today is simple enough for a weeknight but sophisticated enough to impress at a dinner party or weekend meal.
Today, we're making a gourmet risotto with wild mushrooms and leeks.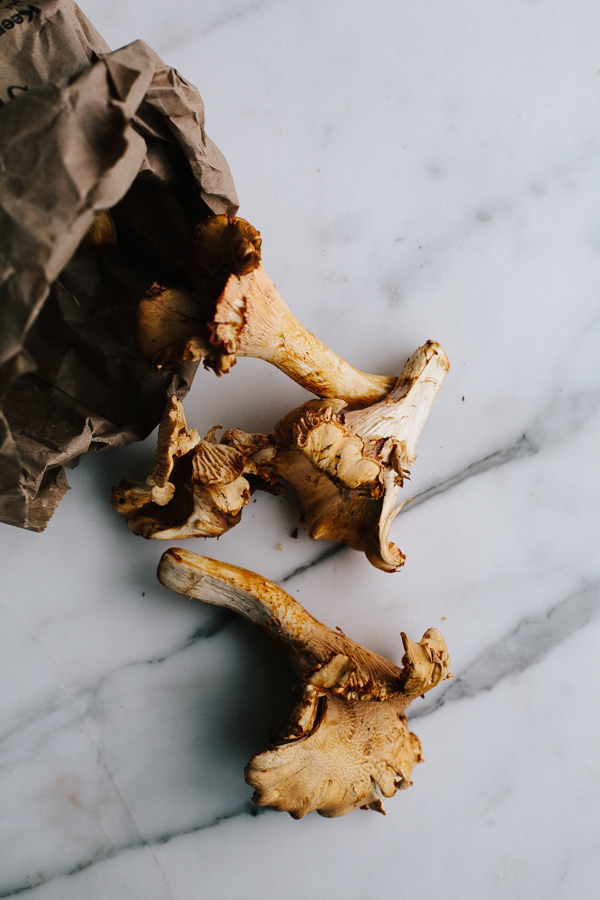 Tips for making perfect risotto:
Just like making pasta from scratch, there are a few tricks to making delicious risotto. Here are my risotto-cooking tips to help you find creamy success.
Stick to short-grain rice.
Other rice varieties don't have the starch to create the creaminess we are after.
Prepare your ingredients.
Have everything ready to go before you begin the process of cooking the risotto.
Keep the broth warm.
This helps the rice to continue to cook quickly and consistently with a nice creaminess.
Toast the rice.
Once you've sautéd your aromatics, in our case below; leeks, mushrooms and garlic, you'll add the rice and coat it in the vegetables and fat. Cook the rice until it starts to turn translucent around the edges and you can start to smell the rice toasting.
Stir, stir, stir.
I always think of the rice as being a bit shy and as the cook your job is to encourage the rice to become creamy. So everything you do is with care and a gentleness needed to give confidence to a tender soul. The warm broth is added bit by bit and in between the additions you are gently stirring.
Wild Mushroom and Leek Risotto
Serves 4 – 6
Ingredients
5 tablespoons butter, divided
1 tablespoon olive oil
1 medium leek, halved and sliced (white and light green parts only)
8 ounces wild mushrooms (such as chanterelles, or shiitake) roughly chopped
2 garlic cloves, roughly chopped
1 1/4 cups arborio rice
1/2 cup white vermouth
6 cups chicken stock
1 cup finely grated Parmesan, plus more for serving
salt
Directions
1. Add 4 tablespoons butter and the olive oil to a large skillet or dutch oven set over medium high heat. When the fat begins to bubble add the leeks and a pinch of salt. Sauté for 3 to 5 minutes or until the leeks soften and begin to caramelize in parts.
2. Add the mushrooms and garlic then sauté until deeply caramelized, about 7 to 10 minutes.
3. While the mushrooms cook warm the chicken stock in a saucepan over medium low heat. Keep it at a very low simmer throughout the cooking process.
4. Add the rice to the pan with the mushrooms and an additional pinch of salt. Stir the rice until completely coated and cook until the exterior is translucent and the rice just starts to smell a bit nutty.
5. Carefully add the vermouth and stir until nearly dry. Start adding the warm stock about 3/4 cup at a time, stirring constantly until most of the liquid has been absorbed. Keep the risotto at a gentle simmer on medium low heat.
6. Start checking the rice after it's cooked for 12 minutes. It should be soft on the outside with a bit of a bite on the inside, continue to add the broth and stir until the rice is cooked. The risotto should have the consistency of a stew — thick with a bit of fluidity. As it cools the risotto continues to thicken.
7. Season with salt to taste.
8. Stir in the remaining 1 tablespoon butter and serve with more finely grated Parmesan.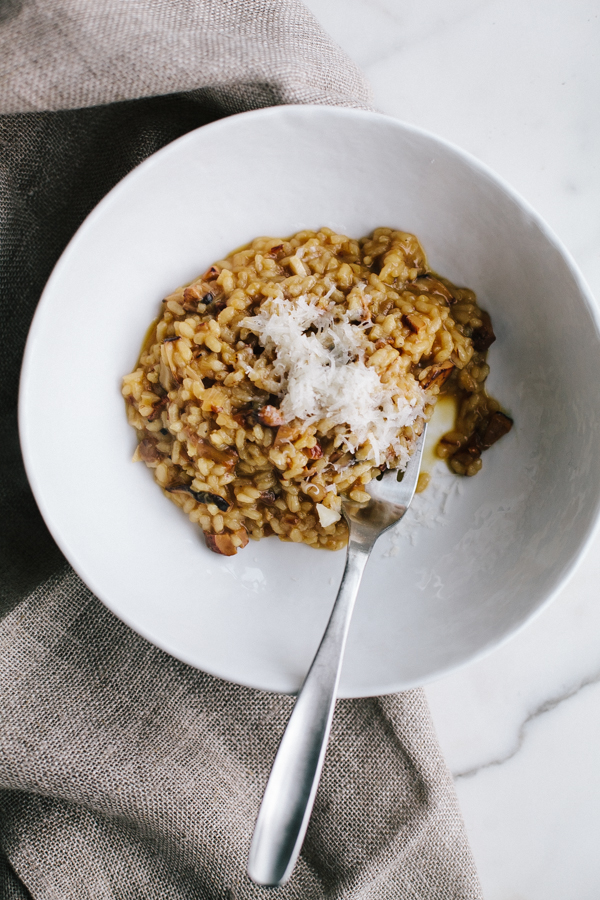 Have leftover risotto? Warm it up with a bit more stock or turn it into Arancini. Think risotto stuffed with cheese then deep fried! Pretty much reason alone to make risotto.
/p>
Recreate more of your own Italian-food favorites at home!
Make mouthwatering traditional Italian pasta from scratch with the online cooking class Homemade Italian Pasta! From fresh dough to finished plate, award-winning instructor Giuliano Hazan will guide you step-by-step through crafting authentic egg pastas, in the convenience of your own kitchen.
Learn how to make, roll out, cut, fill and cook authentic fresh egg pasta, at your pace, with online video lessons you can access anytime, forever. With our 100% money back satisfaction guarantee there's no reason not to try today!
Sign me up! >>
What's your favorite winter comfort food?