Whether you're camping or just looking for a simple summer dinner, hot dogs is often the right answer. But I'm not just talking about a ketchup and mustard sort of a hot dog. I've some recipes that have something a little more gourmet in mind.
Check out 6 creative and clever ideas for kicking up your hot dog that will get adults and kids alike excited about dinner!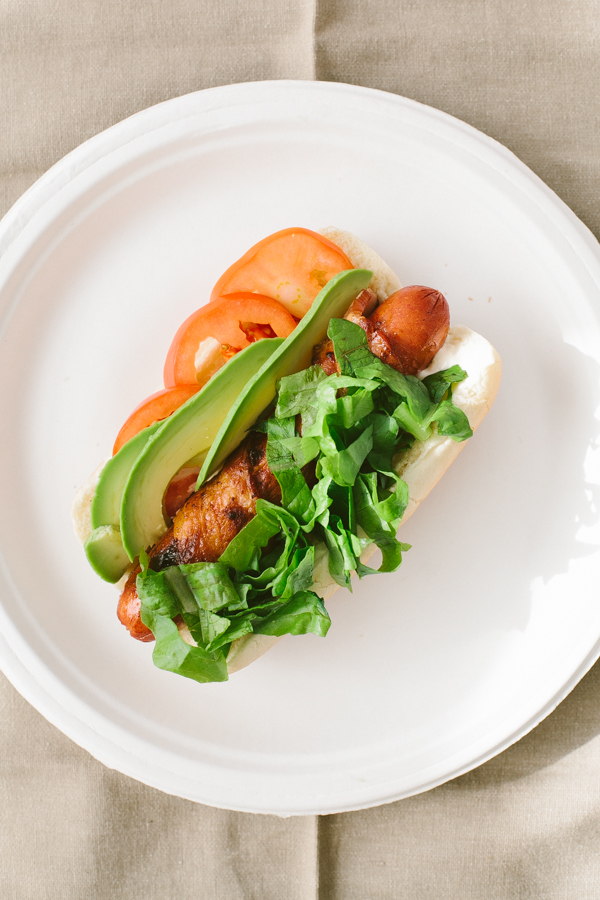 Bacon wrapped hot dog, mayonnaise, sliced tomato, avocado and shredded lettuce
1. BLTA-dog
Secure a piece of bacon around a hot dog with two toothpicks. On low heat or over a low flame on a fire, cook the dog until the bacon is crisp. About 3 to 4 minutes per side. Once a couple of the sides are seared, you can remove the toothpicks to cook the entire dog.
Slather the toasted bun with mayonnaise then tuck slices of tomato and avocado in between the bun and the dog. Top with shredded lettuce.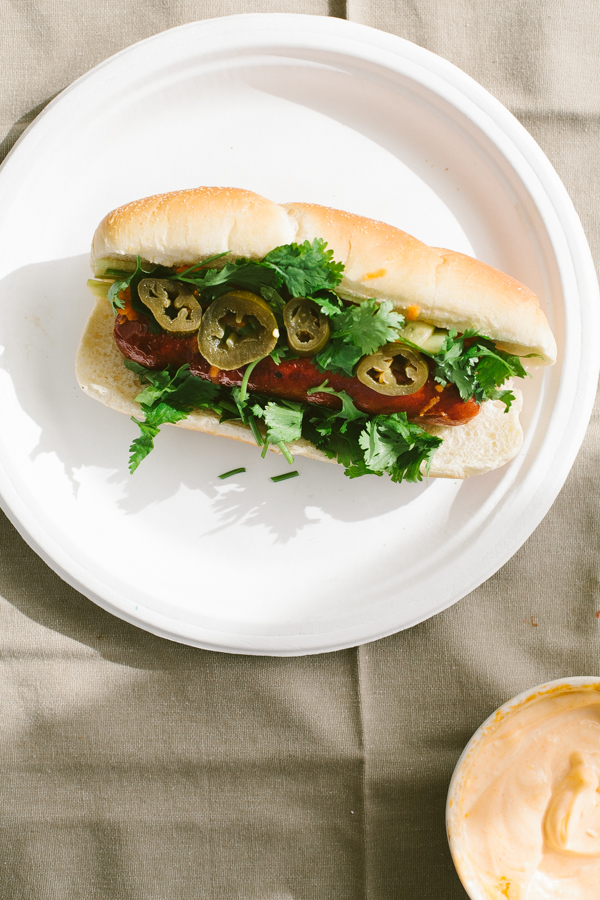 Pickled carrots and cucumber, Sriracha mayonnaise, Plum sauce glazed hot dog, cilantro, pickled jalapeños, mint and basil 
2. Bahn Mi dog
The Bahn Mi is a Vietnamese sandwich that is hearty, sweet, tangy and spicy. Lightly pickled vegetables provide the tang while a sweet and savory pork is often what gives the bulk of the sandwich. Here I've shredded a carrot and thinly sliced a cucumber then tossed it with just a sprinkle of salt, rice wine vinegar then sugar.
The hot dog itself is brushed with plum sauce while cooking and then tucked into a bun that is coated with Sriracha-spiked mayonnaise. Layered on top of that are the lightly pickled vegetables, cilantro, mint and basil and then pickled (or fresh) jalapenos.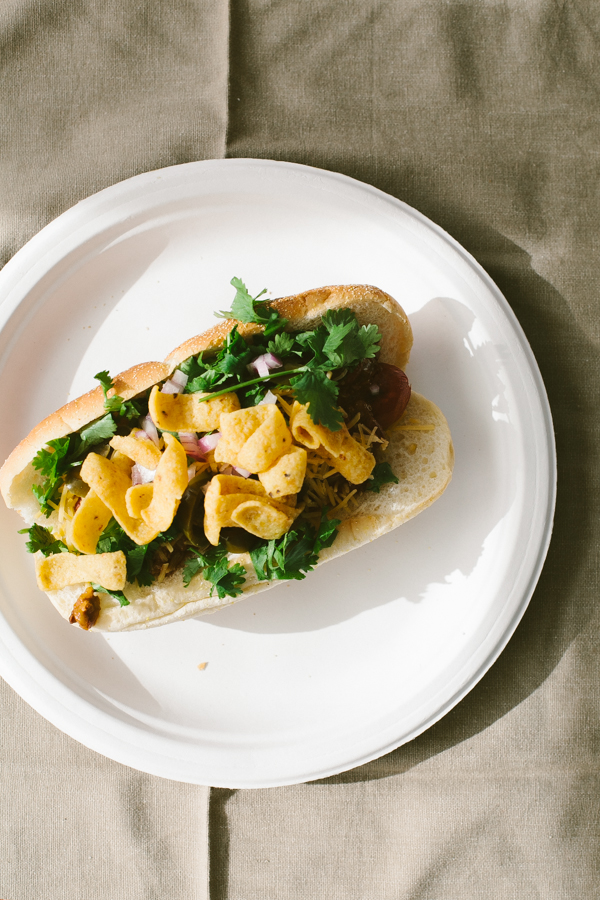 Shredded cheddar, chili, cilantro, pickled jalapeños diced red onion and Fritos
3. Frito pie dog
Frito pie has become a Super Bowl tradition in our family, but I'm always looking for a good excuse to eat this game-day snack more than once a year.
Pile chili on top of a dog along with shredded cheese and crushed up Frito chips. I like to add a bit of cilantro, diced red onion and pickled jalapeno for some freshness.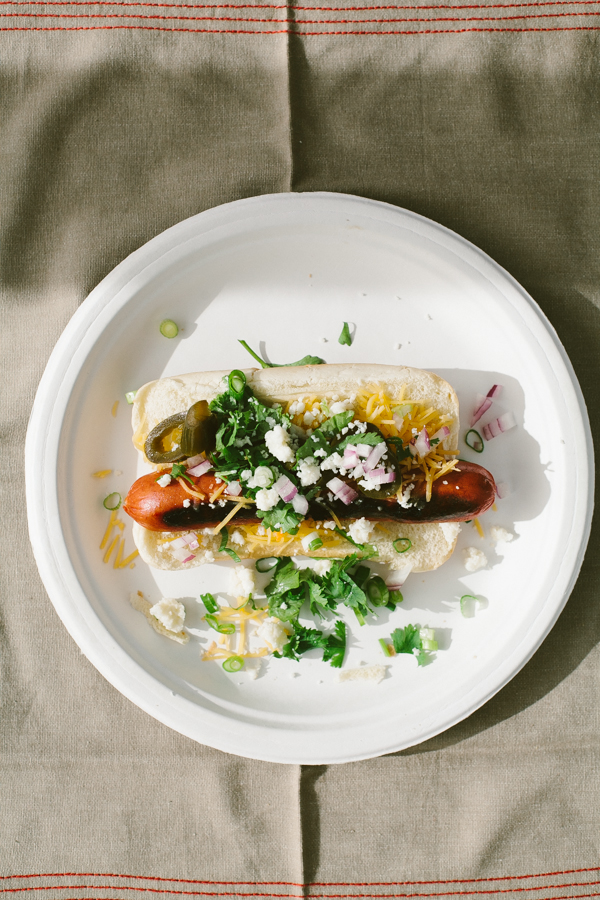 Shredded cheddar, dice red onion, cilantro, Cotija, scallions and pickled jalapeños
4. Taco dog
This version is quite similar to the Frito pie dog. Here I like to also add a bit of Cotija, which is an aged, crumbly Mexican cheese.
Thousand Island dressing, sauerkraut and shredded swiss cheese
5. Reuben Dog
I've been tempted to say this with all the variations, but this one might possibly be my favorite. It has all the delicious components of a Reuben sandwich but in hot dog form.
Layer Thousand Island dressing on top of the dog then top with shredded swiss cheese and sauerkraut. The Reuben also pairs nicely with a bacon-wrapped hot dog.
Pickled peppers, cream cheese and cilantro
6. Spicy dog
This combination I discovered when for my little girl's 2nd birthday we had a hot dog bar. Guests were invited to create their own winning combination, but I highly encourage everyone to follow my lead: softened cream cheese along with spicy pickled peppers (I use Mama Lil's Peppers) and topped with cilantro. It was indeed a winner.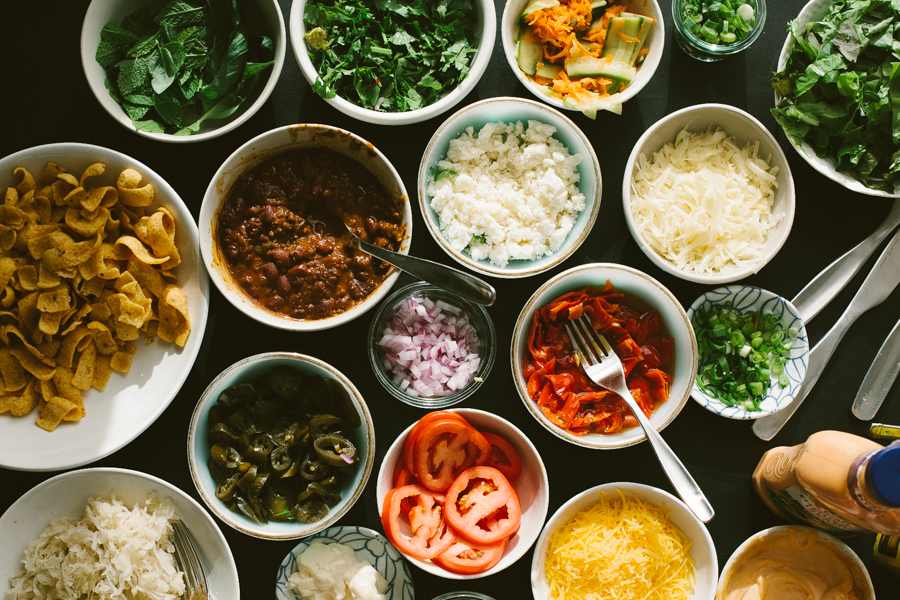 It's hard to stop at just those ideas, there are just so many different ways to dress up a dog. Feel free to choose one or have a hot dog party by providing all the toppings. Grill up a bunch of hot dogs, warm some buns then have your guests go crazy with the possibilities.
Also, check out this great article on Epicurious for more ideas on how to top your dog.
[box type="shadow"]
For more inspiration on great summer meals, check out these classes on Bluprint: Low & Slow BBQ at Home and Fire up the Fish. Your family — and your taste buds — will thank you!
[/box]
How do you like your hot dogs? What other combinations have you tried?