The metallic trend continues to put a shiny stronghold today's modern wedding cakes, whether it's hand-painted gold petal dust or flecks of real 24-karat gold flake.
This collection of gold cakes will have you itching to paint on some of the shimmery stuff onto your next cake project.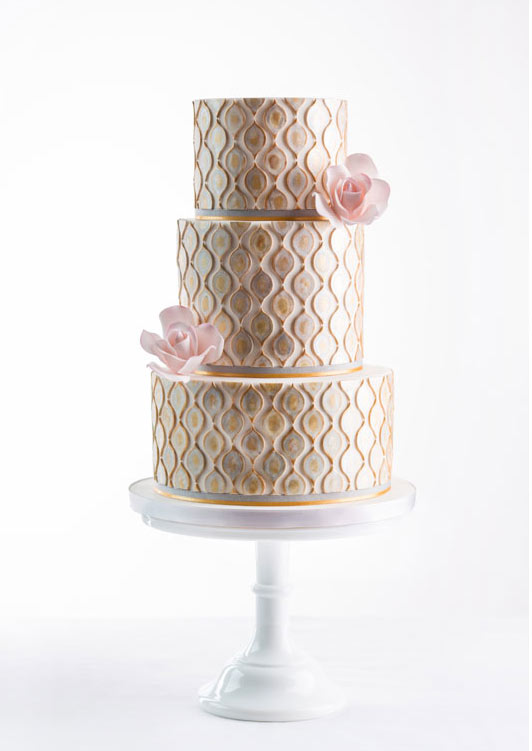 Photo via AK Cake Design
Hand-painted gold metallic 1960s pattern cake:
This stunner from the super talented AK Cake Design was inspired by a piece of stationary. The tiled pattern reminds me of a beautiful silk brocade form-fitting dress from the 1960s.
Each ornamental shape is hand-painted using shiny gold, silver and bronze petal dust in a water-color technique. The light pink roses offer a nice feminine reprieve from the pattern, and they are also edged with a slight amount of gold, too. Gold and pink — those colors are many a girl's best friends.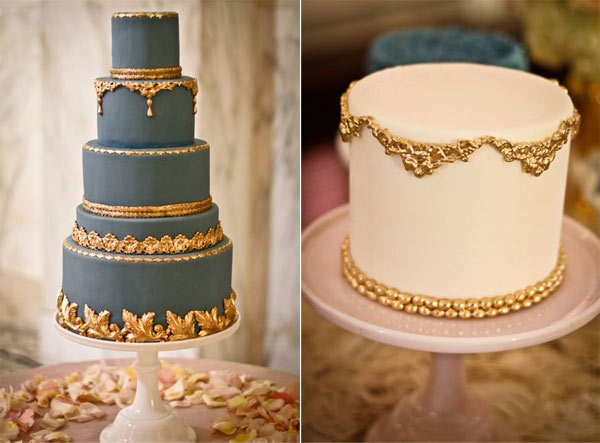 Photo via Sweet and Saucy Shop
Marie Antoinette themed wedding cakes:
These gorgeous gilded gold-trimmed cakes are part of an even larger spread of Marie Antoinette themed wedding cakes and desserts. The whole immaculate collection can be found here. I love the dusky gray-blue hue of the first cake offset by the elegant gold trim. Swoon.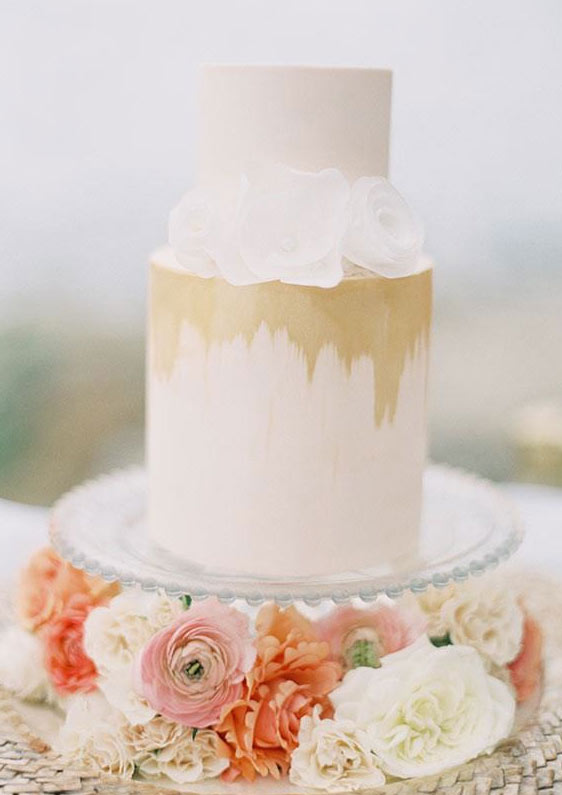 Photo via Hey there, Cupcake!

Jagged dripping gold-kissed wedding cake:
Stevi of Hey There, Cupcake! has undeniable talent and an eye for creating truly gorgeous but restrained works of cake beauty. I love the simplicity but artfulness of this tiered cake, with the faded painterly gold brush strokes offset by the paper-thin bright white wafer paper — a gorgeous new trend in cake flower creation.
Wafer paper is just so delicate. Has anyone else out there used it to make flowers or feathers? In case you were wondering, it is completely edible and made from potato starch.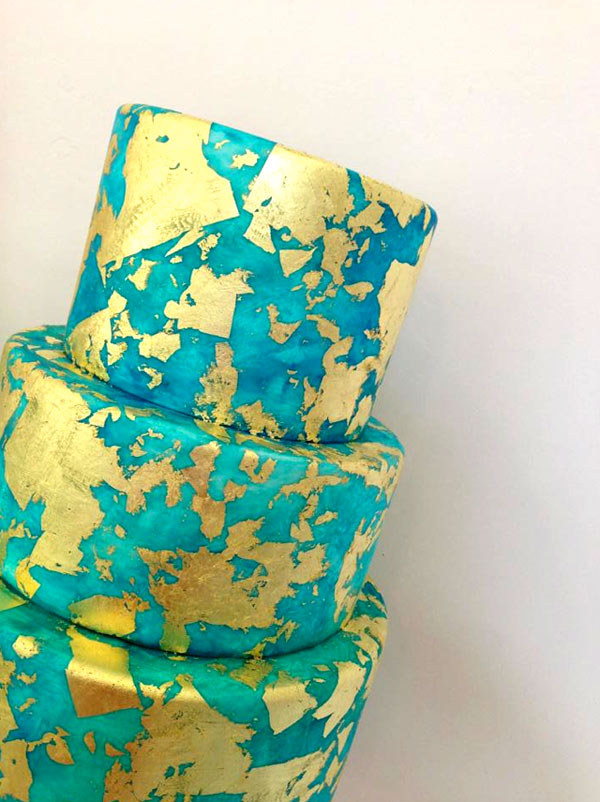 Photo via Sweet and Saucy Shop
Gold and teal abstract art cake:
This awe-inspiring beauty from the ever talented Sweet and Saucy Shop wouldn't be out of place sitting in the middle of a white-walled art gallery. Splattered with edible gold leaf on hand-painted teal fondant, the feel of this cake evokes the brilliant hues of a tropical seaside holiday.
I love the look of gold leaf. Has anyone out there attempted to use it? What are your edible gold leaf tips and tricks?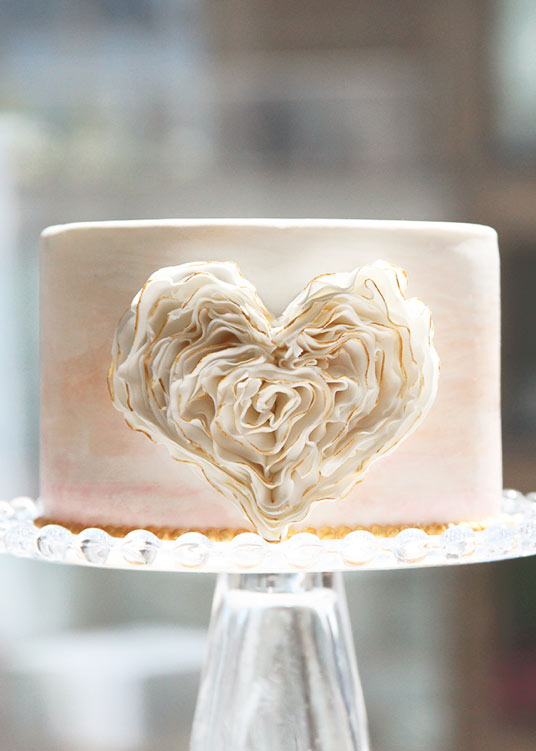 Photo via Style Sweet CA
Gold dusted ruffle heart watercolor cake:
Tessa of Style Sweet CA has been working with these beautiful fondant ruffle hearts lately, and I just adore the look of them. This one is dusted with gold and set into a lovely watercolor-looking cake. This is a nice way to add some romance, ruffle and a touch of gold to your cake without going too wild.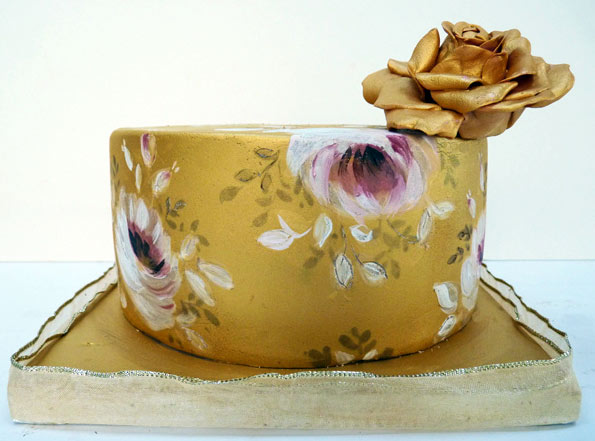 Photo via Nevie-Pie Cakes
Hand-painted floral gold-themed cake:
Natasha of Nevie-Pie Cakes creates the most beautiful floral hand-painted cakes that look like they've been brushed on as an oil painting. This cake started with an airbrushed gold fondant base and was hand-painted in a 1960s floral pattern.
Learn the art of painting confectionery canvases like this in the FREE Bluprint mini-class The Hand-Painted Cake.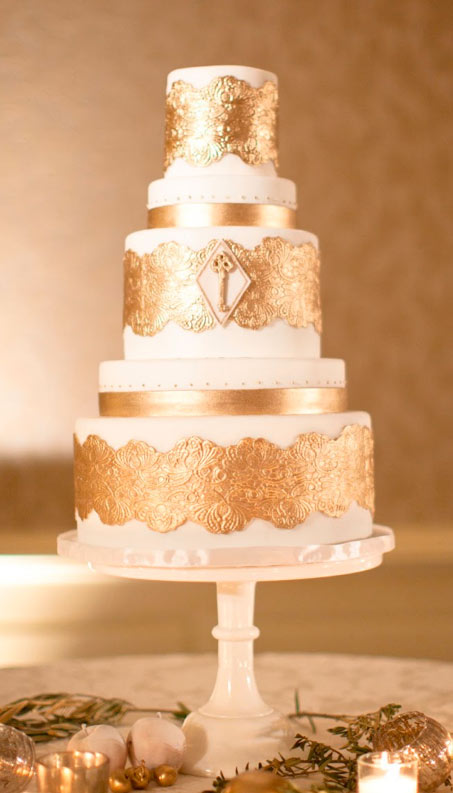 Photo via Sweet and Saucy Shop
Key to my heart gold majestic cake:
This incredible gold appliquéd beauty stacks five tiers high, with a gold antique-look key as the centerpiece. It's very majestic and old-world romance!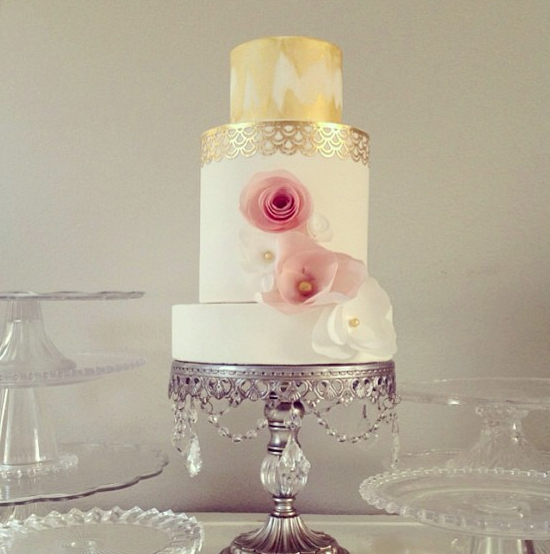 Photo via Hey there, Cupcake!
Artful gold topped wedding cake with wafer paper flowers:
One last gorgeous wafer paper and gold tiered beauty from Stevi of Hey There, Cupcake! I love the different heights and shapes of the round cake tiers, too. This cake is too pretty to eat!
Gold cakes! I feel utterly wild about them and am excited to try out some new techniques. Art deco is a fun trend right now in cake decorating, and shiny gold is certainly part of that era. Learn sleek art-deco cake designs in Bluprint's new class Cake Design Made Simple: Art Deco with Lindy Smith.
Be sure to come back to the Bluprint Blog tomorrow. We'll be celebrating the start of the NFL season with a look at some fun football-themed cupcakes!
Have you noticed metallic cake as a trend that brides are asking for?