A modern trend in cake design is the use of bold, graphic, ultra contrasted black and white. There's something about the starkness of two completely opposite colors that catches the eye. Do your clients go for black and white wedding cakes?
Ultra chic, from black and white stripes to delicate sugar floral work, these beautiful cake designs will provide plenty of cake decorating inspiration!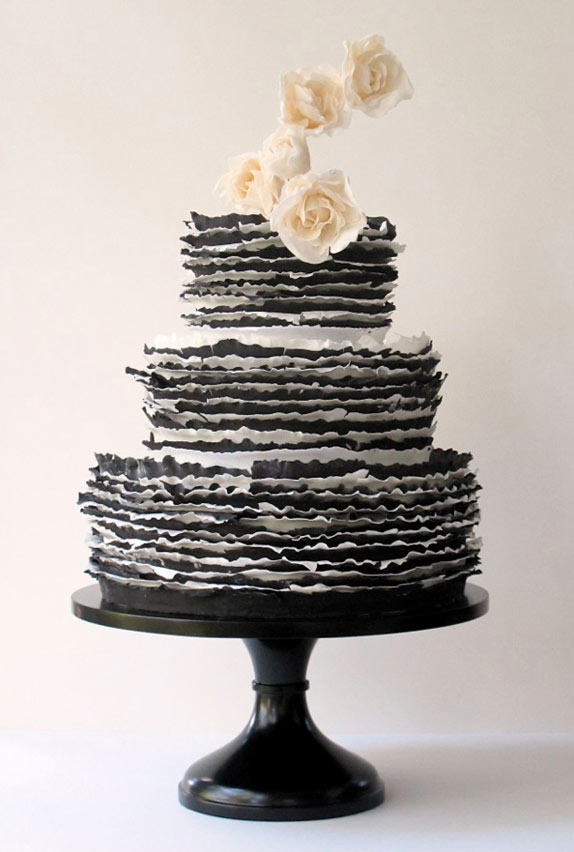 Photo via Maggie Austin Cake
Fabulous frills black and white cake:
A beautiful take on black and white by Bluprint instructor Maggie Austin. Black and white fondant stripes are softened into frilly ruffles, with a sculptural finish of white sugar roses perched on top. You can learn how to make a couture cake like this in Maggie's popular Fondant Frills Bluprint class.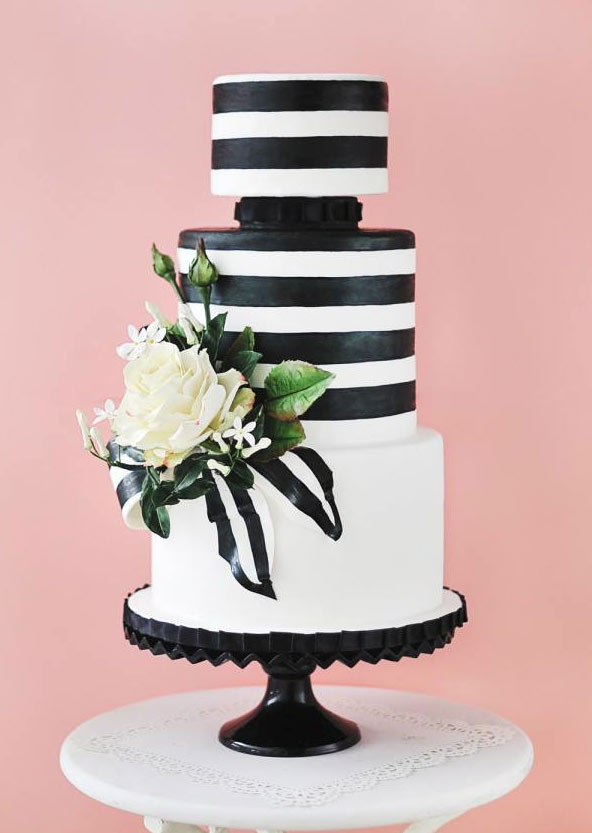 Cake by Anna Elizabeth Cakes; photo via Hong Photography 
Black and white striped wedding cake:
This elegant, ultra chic design is by Anna Elizabeth Cakes. This cake has an artful, elegant feel to it, like a New York "It" girl in a custom tailored dress. In fact, this hand-painted cake was inspired by a gorgeous gown from Oscar De La Renta's Spring 2013 collection. I like how the bursting cluster of sugar roses and stephanotises offsets the starkness of the stripes, adding a feminized touch.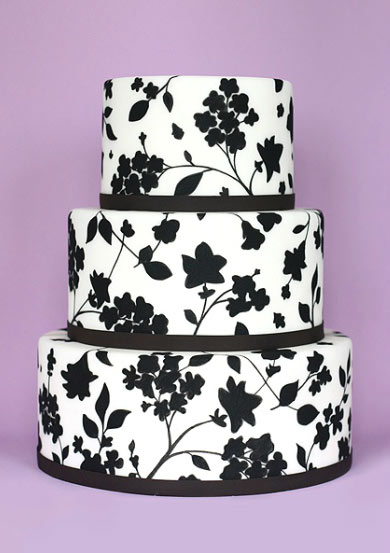 Photo via Eat Cake Be Merry
Silhouette flowers black and white cake:
This beautiful three-tiered fondant cake is elegantly covered in black silhouetted leaves and flower blooms. Reminds me of a 1960s print floral dress.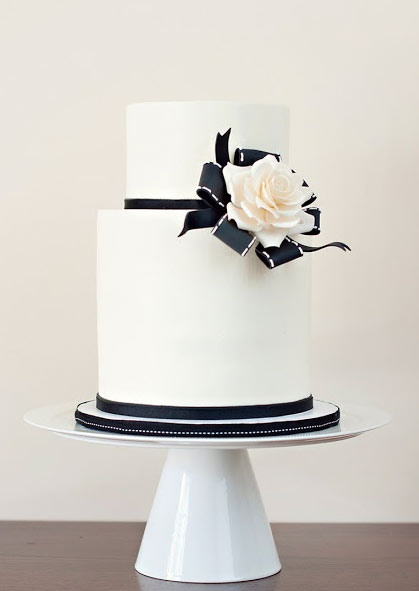 Photo via Miso Bakes
Sleek and chic minimalist cake:
Perfect for a modern bride who is looking for clean and simple, this tall, bright cake is softened by the white sugar rose.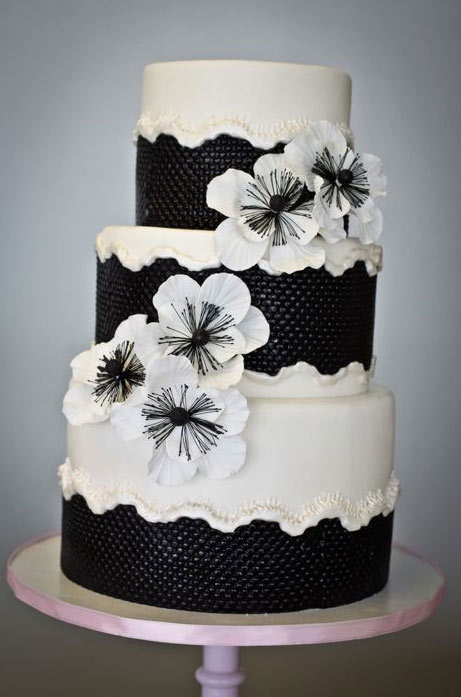 Photo via Sweet and Saucy Shop
Black and white textured cake with poppies:
This beautiful textured cake from Sweet and Saucy Shop reminds me of a Chanel jacket! The ruched wavy border above the black textured fondant is like trim on a gorgeous handmade jacket. I love the bright white sugar poppies clustered on this cake, too. Such a lovely cake for a romantic black and white themed wedding.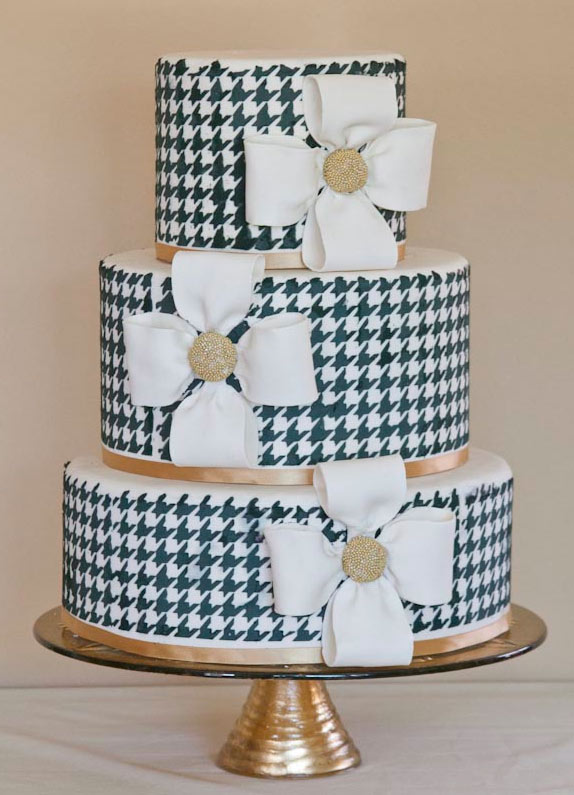 Photo via Erica OBrien Cake Design
Black and white houndstooth cake:
This three-tiered beauty looks covered in vintage fabric, but it's really been painted with an amazing houndstooth pattern. I love how the cake is offset with white ribbons with sparkly gold centers. An eye-catching cake perfect for a vintage themed or crafty wedding!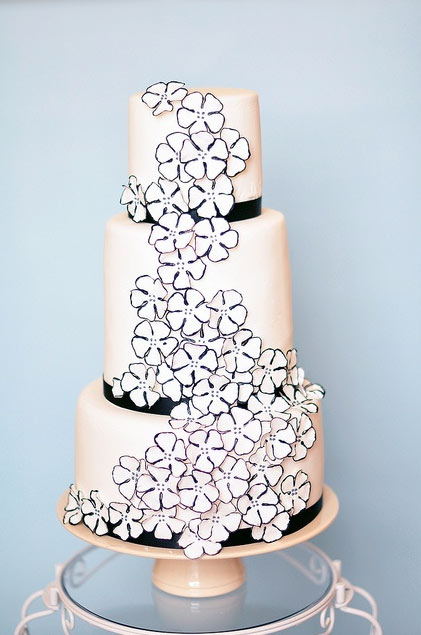 Photo via London Cakes & Bakes
Black and white flower covered wedding cake:
This sumptuous number has beautiful little white classic sugar flowers climbing to the top. I love how the black outlined look of the flowers gives it a hand-drawn feel.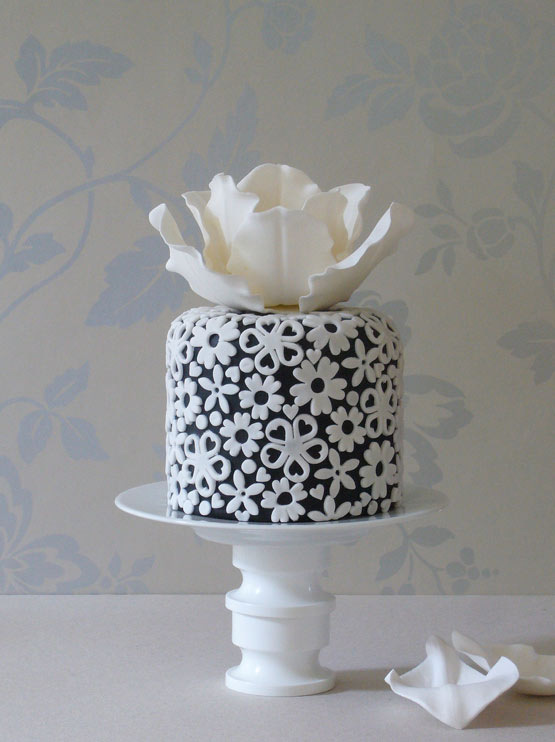 Photo via Made With Love
White lace overlay floral cake:
This beautiful little take on black and white features a black fondant single-tiered cake and an lacy "overlay" look of cut out white fondant silhouette flowers. The large petaled sugar flower on top provides a lovely contrast.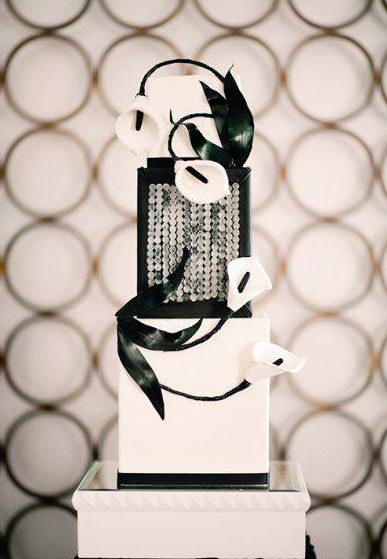 Cake by Anna Elizabeth Cakes; photo by Vasia Photography
Glamorous squared black and white beauty:
The über-talented Anna Elizabeth Cakes created this truly stunning work of black-and-white cake art. Three square tiers with white sugar calla lilies and an incredible inlaid isomalt silver sparkly pearl design on the middle tier. It's like the gorgeous sequin-dressed girl at the chicest party of the season.
Ready to perfect the bold and beautiful cake decorating techniques seen here? Check out Fondant Frills with Maggie Austin, Clean & Simple Cake Design with Jessica Harris, or Marina Sousa's brand new Bluprint class Designer Fondant Textures.
Are you sold on black and white cakes now? Which one is your favorite?