One of the best things about celebrating New Year's, apart from bubbling champagne and the excitement of a new year ahead, are all of the wonderfully luxurious metallic color palettes and textures that make this time of year rather magical.
As cake designers, we're absolute suckers for shimmering golds and gleaming silvers added to freshly baked and decorated tiers. To help make a statement at your New Year's Eve bash, why not be daring and add a glimmer of ultra-chic metallic shine to your cake designs?
Let inspiration shimmer and shine with these 5 New Year's Eve cake ideas!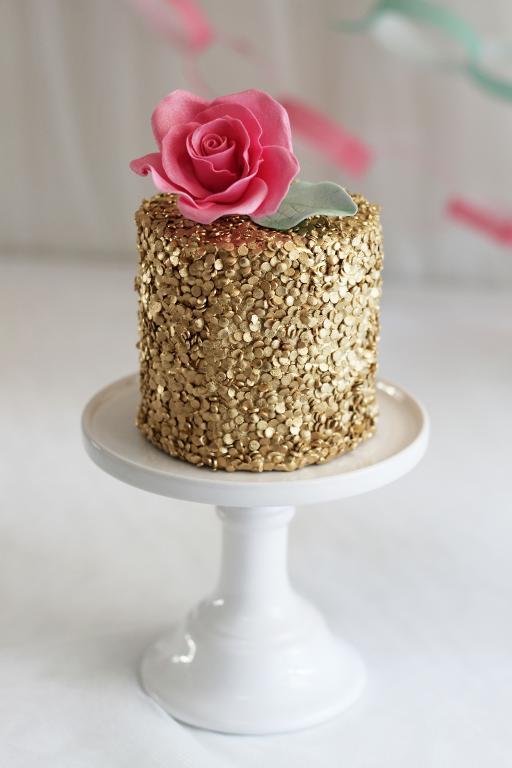 Photo via Bluprint member Sockerrus
Gold sequin cake
Add some fun glitz and glamor to an otherwise small and unassuming cake with a lavish hand-painted gold sequin effect! This is definitely one of our favorite new cake design trends. A simple yet bold sugar flower arrangement placed on top is all you really need to add an extra touch of elegance to cake like this. We love the vibrant pairing of bright pink with vivid gold used on the adorable cake above.
Discover how to create stunning sequin textured cakes that will add an instant luxurious feel to any party with Erin Gardner's Cakes in Full Bloom class today. You'll learn so many amazing techniques from adding edible sequins to your tiers to arranging statement sugar flowers!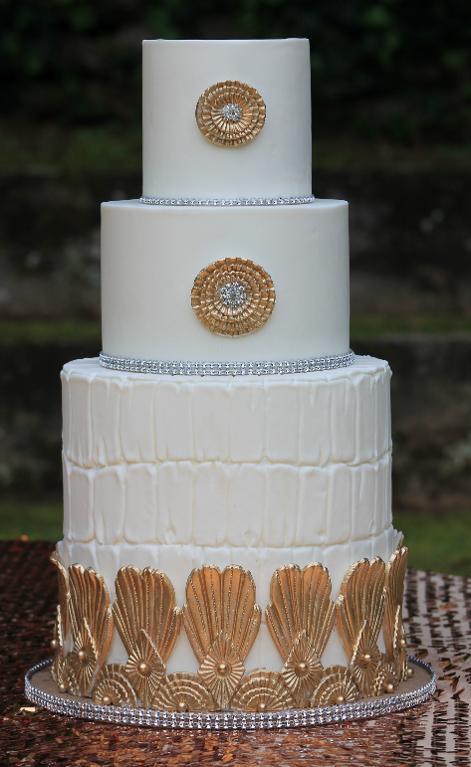 Photo via Bluprint instructor Joshua John Russell
Gold and silver cake
We love the glamorous 1930s inspired look of the above gold and silver tiered cake with it's textured moc-roc fondant and sunburst style gold elements. Using striking fashion design elements in cake design really helps to elevate your work and create a stunning on-trend look that never fails to impress guests. We love how the gold painted decorations adorning this cake replicate later Art Deco costume jewelry!
Adding fashion influences into your cake design needn't be daunting with Joshua John Russell's Fashion-Inspired Fondant class! Sign up today to discover lots of chic and unique ideas.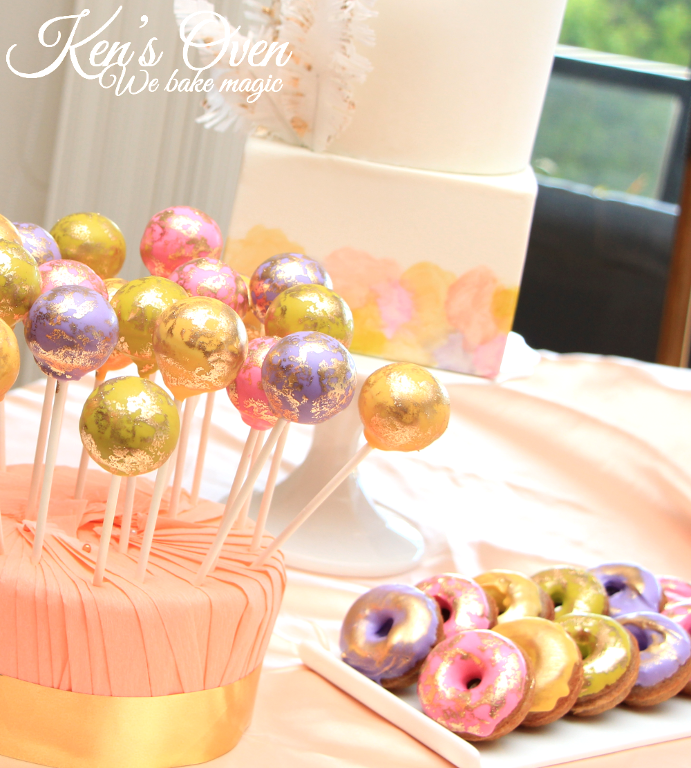 Photo via Bluprint member Kendari Gordon
Gold vintage cake pops and doughnuts
Wouldn't the above treats go down a storm at a fun New Year's Eve party? We love the vibrant pops of color teamed with a luxurious shimmer of edible gold leaf textured on top. The addition of gold makes these goodies shine so bright they'd be hard to ignore at the dessert table. For stylish and colorful cupcakes why not bake in gold cases before piping with silky vanilla swirls and topping with colored fondant discs layered with gorgeous gold! Or whip up pastel tinted white chocolate blondies and top with edible gold accents.
Master the art of fabulous cake pops with Valerie Pradhan's The Wilton Method®: Creative Cake Pops class and sign up today. You'll learn how to mould, coat and decorate fun cake pops perfect for any occassion!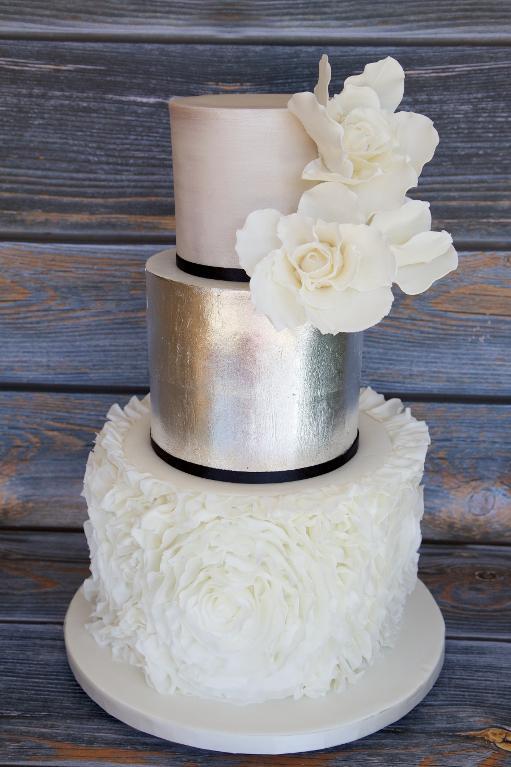 Photo via Bluprint member motowifey
Silver ruffle cake
Sophisticated black and white themed parties are always popular around the holiday season especially at New Year's so why not have a simple yet stunning monochrome cake as your centerpiece. We think this elegant black, white and silver cake would make a gorgeous statement at a grown-up event with it's soft ruffles, graphic black and silver accents and romantic off white florals.
 Adding pretty fondant ruffles to your next cake is made all the more easy and inspiring with Maggie Austin's Fondant Frills class!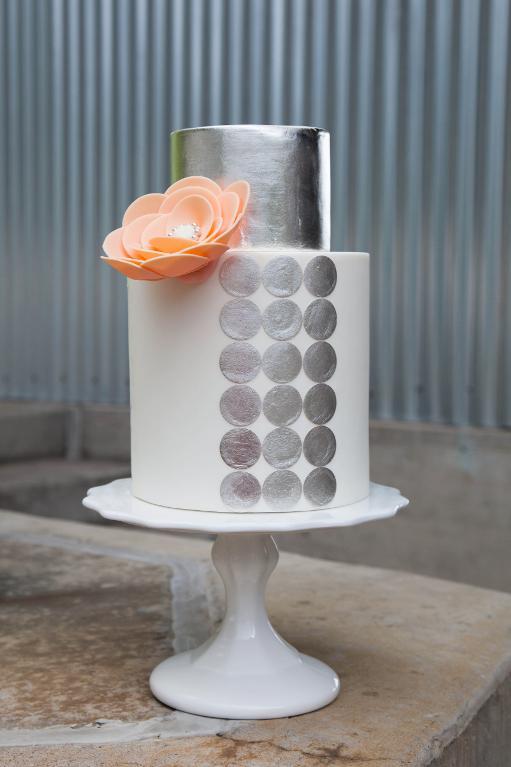 Photo via Bluprint instructor Jessica Harris
Silver dot cake
This contemporary styled cake design is the perfect fit for a more modern influenced get-together. We love the addition of the shimmering silver dots balancing the coral gum paste flower and the silver covered top tier. One of the best things is that you can easily play around with the different design elements to help customize it to your own party theme! Change the dots to bold stripes, add texture to the top tier or swap the floral decoration for a large edible bow.
Perfect sleek and sharp cakes with Jessica Harris' Clean & Simple Cake Design class and sign up now! You'll be amazed at all of the fabulous tips, tricks and ideas you'll find!
New Year's Eve parties certainly won't be a blur with a glamorous cake to remember bedecked with eye-catching gold and silver elements! You'll be sure to add some sparkle to your get-together with a luxurious tiered center-piece grabbing everyone's attention.
What are you looking forward to this New Year's Eve?