When you first begin free-motion quilting on a domestic machine, there are various tools to consider to make your job easier.
One of my favorite tools for free-motion quilting is a pair of quilting gloves, which come in all kinds of different sizes and styles.
Some people may wonder if you need to use gloves for quilting. Here are some of the reasons for using gloves for machine quilting that make me say, yes, you should.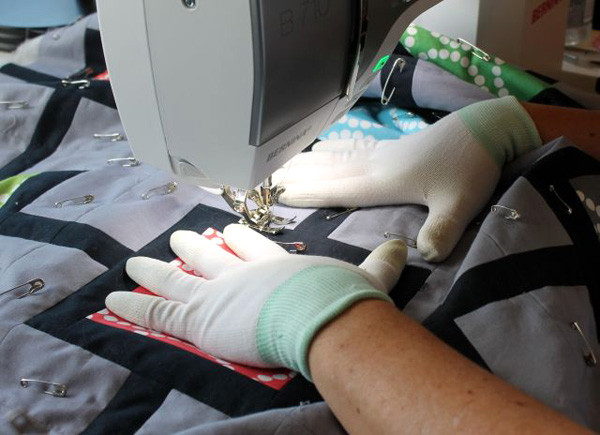 My favorite brand of quilting gloves are called Machingers. They are widely available and inexpensive. Photo via ChristaQuilts.
Here are the top 5 reasons why I recommend using gloves for machine quilting!
1. They help reduce hand fatigue.
Rather than constantly pulling and tugging on your quilt, the gloves take off much of the added stress and pressure on your fingertips. I usually keep an extra pair on hand, so then I always have a clean pair (if my other pair happens to be in the wash).
2. You can get a better grip on your quilt.
Lightweight gloves such as those shown in the photo above are made from a thin comfortable material. At the tip of each finger is a dense amount of padding that creates friction between your fingers and your quilt, allowing the quilt to move around much more easily.
3. Gloves help keep both your hands and your quilt relatively clean.
After lots of machine quilting, the fingertips of your gloves may start to get a little dingy. Simply throw them in the wash on a delicate setting, and they'll be good as new! Once you get comfortable wearing the gloves, you can even thread your machine while wearing them. However, if you prefer to remove your gloves, they slip on and off very easily.
Quilting gloves are so comfortable to wear that I usually forget that I have them on! Photo via ChristaQuilts
4. Instructors love them too!
Many of my favorite quilting instructors recommend quilting gloves as well. Elizabeth Dackson, instructor of the new Bluprint class Start Free-Motion Quilting, prefers Machingers gloves, seeing them as a necessity for quilting anything larger than a baby quilt.
She says, "I find they're the most durable and because they're so lightweight, I can do other stuff, like change out my bobbin or needle, without having to take off the gloves." Free Motions Fillers class instructor, Leah Day, also highly recommends the Machingers brand and sells them in her online store.
5. You can get them in the perfect size.
The gloves come in several sizes with a diagram on the back of the packaging for you to measure your hand size. If you need to order them online, rather than in a physical store where you can try them on, you can use this "handy" measurement reference:
For proper fit, measure your hand from the base of your palm to your middle finger.
XS is < 6.25"
S/M is 6.25″ to 7″
M/L is 7″ to 7.75″
XL is > 7.75″
In addition to using the gloves for free-motion quilting, I also wear them when stitching in the ditch with a walking foot, and when quilting straight lines.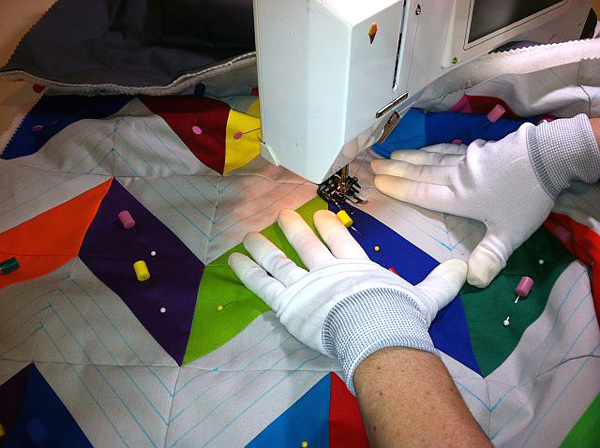 I used gloves for all of the machine quilting on my Charming Chevrons quilt.
What's your favorite tool for quilting on your home sewing machine?