Have you ever sat down to dinner at a nice restaurant and been served rolls or bread with a bit of butter? Of course you have! Every now and then, though, you'll get lucky and, after taking that first bite of your buttered bread, realize that there are some amazing flavors at play in your butter.
What you're eating is compound butter and it's a simple way to dress up a slice of bread, delicious when slathered on corn on the cob, and decadent when melted atop a perfectly cooked piece of steak. It's not at all difficult to make either.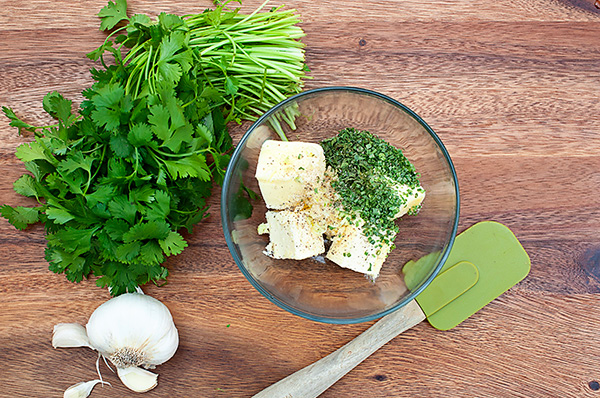 The method is simple!
All of our compound butters are going to start off the same way, which is with a really soft stick of butter. Aside from that, you'll just need a mixing bowl, rubber spatula, whatever mix-ins you choose for adding flavor, a sheet of plastic wrap or parchment paper, and a couple of hours to chill the butter in your refrigerator.
You'll cut your softened stick of butter into 4 or 5 pieces to make it easier to work with. Sprinkle in whatever additions you have, and mix everything together with a rubber spatula. Take your time and make sure that everything is thoroughly combined. Once you have the butter mixed up, scoop it out of the bowl and onto a sheet of plastic wrap or parchment, about 12 inches long. Use the wrap to roll the butter into a log and seal the ends tightly.
It's best to let your compound butter sit in the refrigerator for at least two hours. This will give the flavors a chance to meld. The butter will also firm back up in the fridge, making it easy to slice when you're ready to serve and the flecks of color in your butter look gorgeous when sliced into heavenly little butter coins.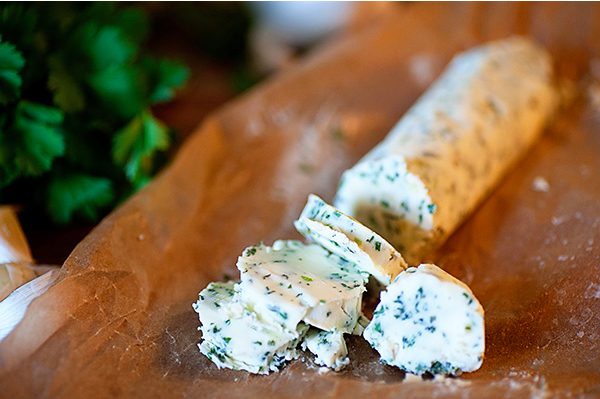 Of course, any compound butter recipe can be doubled easily if you're feeding a crowd or if you just enjoy keeping this flavorful butter in your fridge for everyday use!
You can make both savory or sweet compound butters.
A simple savory compound butter that is wonderfully versatile is garlic herb butter. Imagine the variety of uses! Having a log of this butter in your fridge would be wonderful for jazzing up a slice of bread or a dinner roll (instant garlic bread!), tossed in some salted pasta, melted on steak for instant flavor, rubbed over a chicken before roasting, or just melted atop some simple grilled vegetables for a quick summer dish.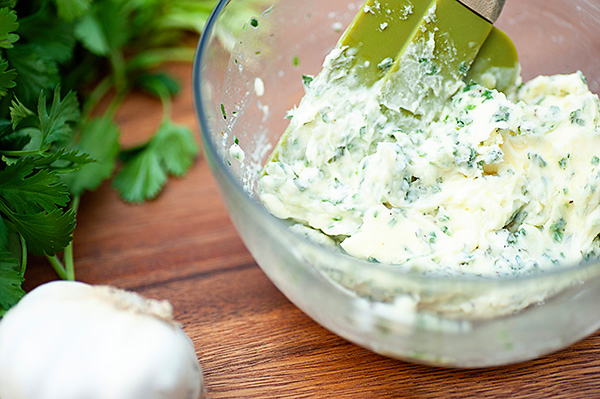 To make garlic herb butter, you'll follow the above method of making compound butter. You'll just add 1 large clove of finely minced garlic, 1 tablespoon of finely minced parsley, and 1 tablespoon of finely minced chives. Sprinkle in a 1/2 teaspoon of kosher salt and a 1/2 teaspoon of freshly ground black pepper. This butter will pack a flavorful punch!
Of course, savory butters aren't the only type you can make! I'm personally a big fan of sweet compound butters.
There are many popular restaurants that serve a sweet honey butter with their dinner rolls and everyone I know goes a little crazy over that butter. It's easy to make at home and always impressive to have on hand!
To make honey butter, you'll take a stick of softened butter and mix it thoroughly with 2 tablespoons of honey and 1/4 teaspoon of vanilla. You can use the above method of mixing with a rubber spatula or you can get out a mixer and combine the butter that way. Either way, be sure to thoroughly cream together the butter and honey for a perfect flavor and consistency.
Fruit butters are a vibrant and delicious twist to start your day.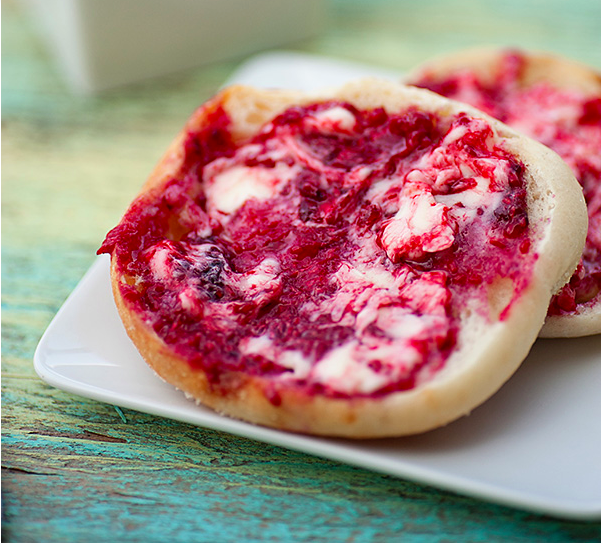 Spreading raspberry butter on your English muffin or buttermilk biscuit makes for a delicious breakfast.
To make raspberry butter, you'll need 1 stick of really soft butter, 1/3 cup of fresh raspberries, and a tablespoon of powdered sugar. Combine all of the ingredients with a rubber spatula, being sure to break up the berries as you're stirring. I like to spoon fruit butters into a small dish, refrigerate for a few hours to allow the flavors to meld, and then bring it back to room temperature, and serve soft for spreading. This also makes gorgeous butter coins, though, if you prefer to wrap, roll, refrigerate, and slice as I mentioned in the above method for making compound butter.
Compound butter is such a fun way to jazz up a meal or slice of bread. Can you think of any flavors that your family might enjoy?
Come back to the Craftsy blog next Friday for another dose of cooking heaven with Food Lover Friday.