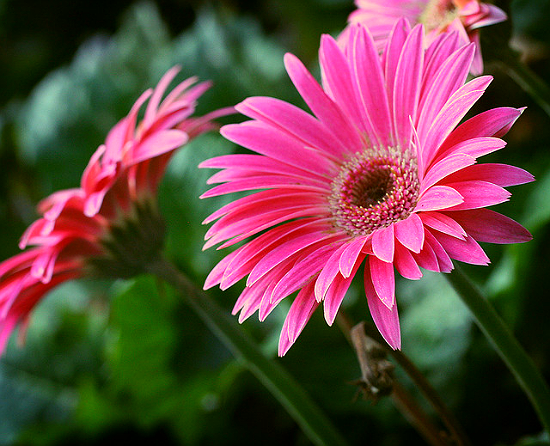 Gerbera daisy by Ginny via CC BY-SA 2.0
The big, bright blooms of gerbera daisies make them an easy pick at the garden center. But to keep them happy and healthy back at home, you'll need a little know-how. Even though it's usually sold as a houseplant or garden annual, this flowering plant is actually a herbaceous perennial that's native to South Africa. (Yes, that means you may be able to plant it once and enjoy it year after year! Woohoo!) Make sure your green thumb is ready to take on these daisies with these tips:
Consider your climate
Where you live will ultimately dictate how to care for your gerbera daisy. If you're in a southern zone, specifically zones 8-11, then you're going to want to pop these babies into your garden as perennials and care for them as such. (They'll grow to about a foot tall and another foot wide!) Up north, though, the plants can't survive the cold winter. If you still want to put them outside, simply grow and care for them like all of your other garden annuals. At the end of the season, you can either let them to die back into the garden or pull them for compost.
Keep them inside
No matter you climate, gerbera daisies are often kept potted and inside. And there's no shame in that game! They're simply short-lived houseplants that you enjoy for a few weeks and then you toss them. Place the pot in a sunny window and you should see blooms for about 4-6 weeks. (Be sure to remove any spent flowers to prevent the whole thing from going to seed too soon.)
Water correctly
Like many plants, there's a delicate balance here between over and under watering. The gerbera daisy is susceptible to crown rot, so if you're planting it outside don't go too deep into the soil. Whether outside or inside, always keep the water away from the center of the plant and off the leaves to avoid mildew and rotting.
Fertilize, fertilize, fertilize
If you're growing gerberas in the landscape, fertilize your plants monthly during the growing season. Similarly, fertilize gerberas in container gardens with your standard fertilizer and on your regular schedule. If your gerbera is potted and grown as a houseplant, fertilizing shouldn't be an issue since most plants come ready-to-bloom and will be tossed after.