Have you ever looked in your stash of quilting fabric and wondered if you could turn the yardage into a dress? Or, have you ever spotted a cute quilting cotton at the shop but abandoned it because you only sew garments? You're not alone.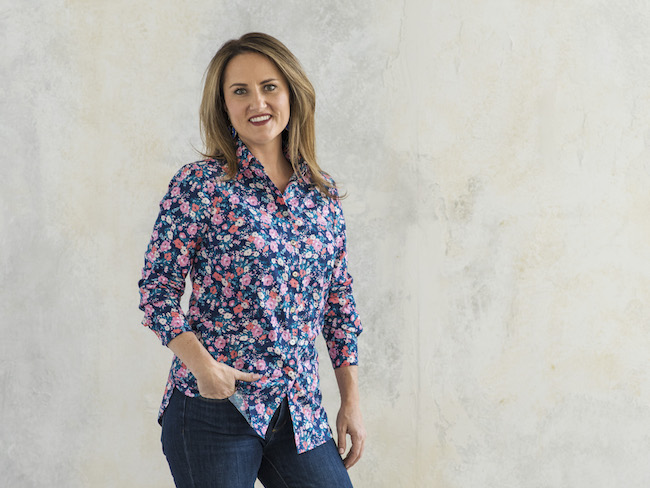 When we spotted our very own sewing and quilting expert Callie Works-Leary sporting a top made in Boundless Chelsea Rose fabric (the one you see above), we were surprised! Most garment sewers stick with fashion fabrics, leaving the cotton poplin for quilters. But Callie made us think twice.
So we sat down with Callie to learn the ins and outs of sewing clothes with quilting cotton.
If you're curious about sewing garments, quilting cotton is actually a great place to start.
While more experienced garment-makers swear off quilting cotton, this fabric is perfect for beginners. First and foremost, it's much less expensive than most fashion fabrics, which gives you more room for trial and error.
Plus, cotton poplin is very easy to sew with — you're not dealing with slippery or sticky fabrics, making the pieces easy to cut and sew.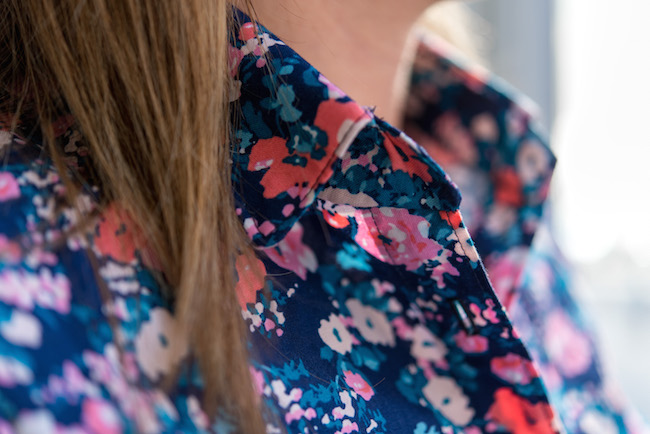 And finally, quilting cottons are just plain fun! "One of the reasons I love sewing with quilting cottons is the variety of prints," Callie says. "Fashion fabrics are more subdued, and with quilting fabric, you get more fun and funky prints. If you want to sew a dress with puppies, you'll probably need quilting cotton."
The key to successfully sewing a garment with quilting cotton is picking the right garment to go with the fabric.
The reason quilting cotton can be difficult to work with in garment sewing is that it has no drape and no real stretch — something many garments rely on. You want to look for garments that have little drape and need little stretch.
Structured garments
The more structure a garment has, the less the garment relies on fabric for its style. Think pleated or gathered skirts and dresses. That said, you want to avoid garments with too many layers (like ruffles or tiers) — cotton poplin is a relatively heavy fabric, and it will weigh the clothing down.
Simple blouses and tanks
Quilting cottons won't look right on flowy, drapey tops, but they can be a good fit for button-down shirts and some tank tops.
Structured jackets
You can borrow even more inspiration from quilting and use batting and quilting for a warmer jacket that works perfectly with quilting fabric.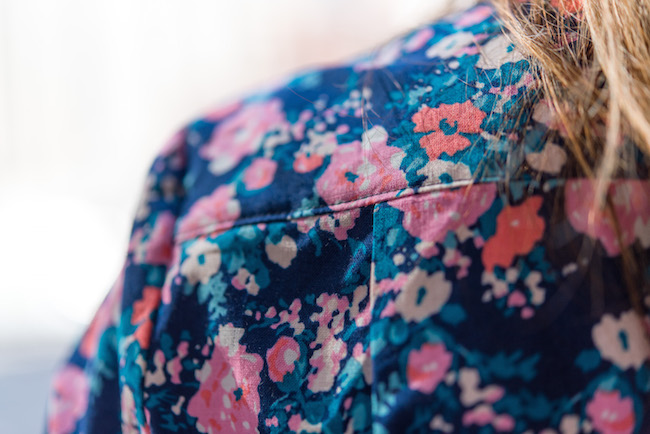 The type of garment isn't the only thing to look for.
Remember to keep an eye on the fabric required for the pattern. Callie says that while some fashion fabrics are 55″ to 60″ wide, quilting cotton is always 44″ to 45″ wide, which can effect the way you cut the pattern pieces. Be sure to pick a pattern that works well with the fabric size.
It's also important to know that patterns rarely recommend quilting cotton. Usually the pattern envelope will say just "cotton" or "cotton poplin." These are typically interchangeable with your favorite quilting cottons.
Finally, you want to take special care of any garments made with quilting cotton.
One perk of working with quilting cotton is that it's treated well before it gets to your sewing room. Most quilting cottons have been treated with sizing products, so they don't stretch or shrink. They also have a special finish that gives them a bit of a sheen and really helps the colors pop.
For the most part, quilting cotton is easy to care for: Always wash your garments in cold water and hang them to dry. If you plan to do this, there's no need to pre-wash your fabric before sewing. However, if you plan to tumble dry, definitely pre-wash and pre-dry the fabric.
If you're not careful, quilting cotton can get a bit "nubby" after washing. The more you wash the fabric, the more antiqued and faded it looks — that's not necessarily bad, but you may want to limit your washes.
Want to give it a try?
If you're brand new to sewing garments, we recommend our Startup Library: Sewing class with Sara Alm. This class was designed with quilters in mind, so seamlessly translates your quilting skills to garment sewing.