We've all seen aioli listed as an ingredient on restaurant menus, accompanying everything from sandwiches to sweet potato fries. It's delicious and actually very easy to make at home. So get ready to up your sandwich-spread game by making aioli in your own kitchen.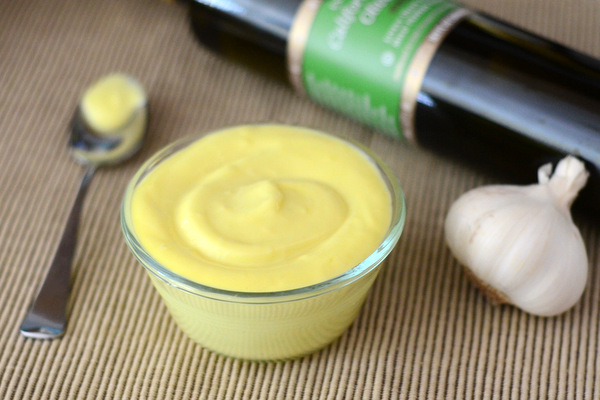 What is aioli?
The word "aioli" is often used to describe mayonnaise which has had herbs or spices added to it. This is partially true in that the two sauces are both made with egg yolks, oil and lemon juice (or vinegar, in the case of mayonnaise). The difference is that aioli actually starts with garlic.
Recipe notes
To make aioli, a staple of French country cooking in the region of Provence, you need to have plenty of fresh garlic. The garlic is mashed into a paste, then combined with the egg yolks, lemon juice and olive oil needed to build the rest of the sauce. This is traditionally done with a mortar and pestle, but you can easily do it without one using a chef's knife and a little elbow grease.
For this garlic aioli recipe, I mashed my garlic on the cutting board, after chopping it up and combining it with coarse salt. Simply press the heel of your hand onto the side of your knife and push it against the garlic. Repeat until the garlic is very soft and no big pieces remain. The salt is key because will help to break down the fibers of the garlic, then it will help to season your aioli. If you have large chunks, you'll taste them in the sauce, so take your time with this step.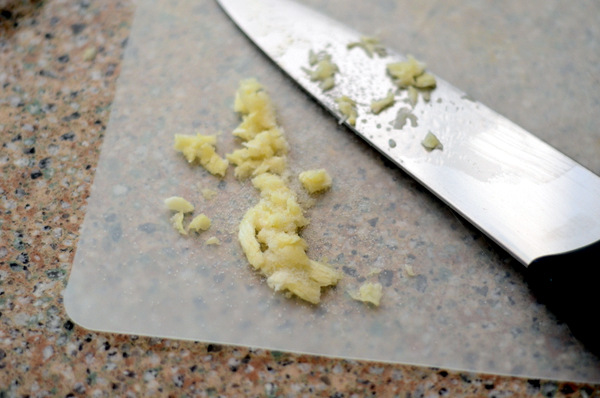 I build the rest of my garlic aioli recipe in the food processor, which is quick and efficient. If you are making a large quanity of aioli, you could puree the garlic in a good food processor, but the amount of garlic for most recipes is simply too little to actually puree in a full size processor. After adding in the egg yolks, lemon juice and olive oil, you'll be left with a very creamy sauce that is perfect for dipping veggies, spreading on sandwiches or anything else you can think of.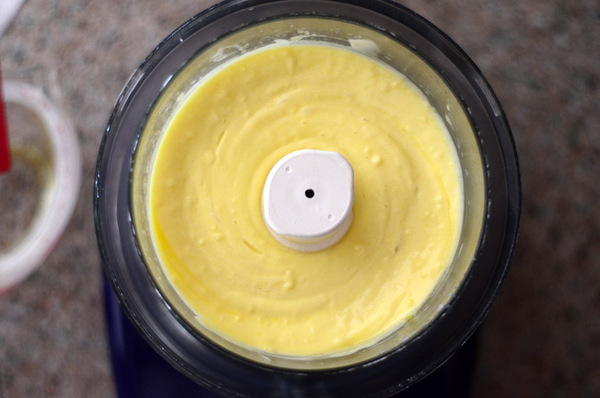 Once you have the basic technique, you can add in a handful of herbs, such as dill or basil, to compliment whatever you might be serving your aioli with.
Easy garlic aioli recipe
Makes about 1 cup
Ingredients:
2-3 cloves garlic
1/4 tsp salt
2 tsp lemon juice
2 large egg yolks
3/4 cup olive oil
Step 1:
Peel garlic cloves and smash them using the side of a chef's knife. Add salt to the garlic.
Using the side of the blade of your knife, run the knife over the garlic while pressing firmly. Repeat until the garlic has a paste-like consistency. 
Step 2: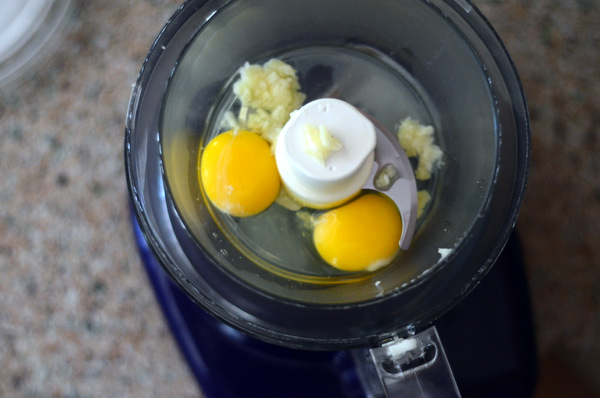 Combine garlic paste, lemon juice and egg yolks in a food processor and process until smooth.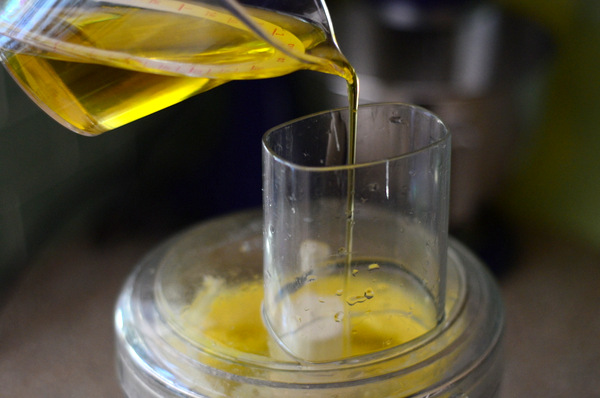 Step 3:
Stream in the olive oil with the food processor running and mix until a creamy emulsion forms, about 1 minute. Scrape down the sides of the bowl using a spatula and process again, if necessary.