Game of Thrones fans, rejoice! The popular TV show's 7th season is set to debut on July 16. Need a distraction to fill the seemingly endless hours, days and minutes until the premiere? Here's an idea: make a cake. If you're not sure where to start, this collection of seven incredible Game of Thrones cakes (and one amazing pie), is bound to get you inspired to create your own edible creation. 
1. Game of Thrones-Inspired Dragon Cake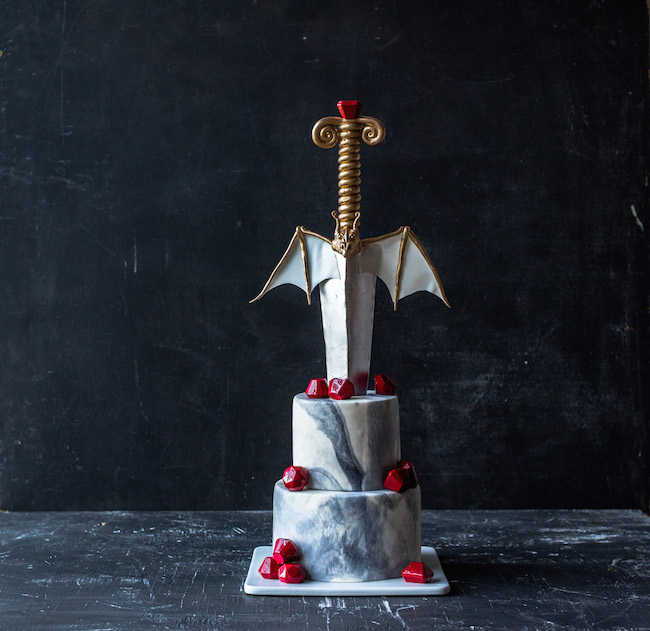 You can count on Joshua John Russell to dream up a show-stopping design!  In the latest episode of Man About Cake, our cake decorating star pays homage to George R.R. Martin with his marbled cake, topped with an unmistakable sharp sword. Watch him make it on YouTube!
2. Multi-tiered Game of Thrones cake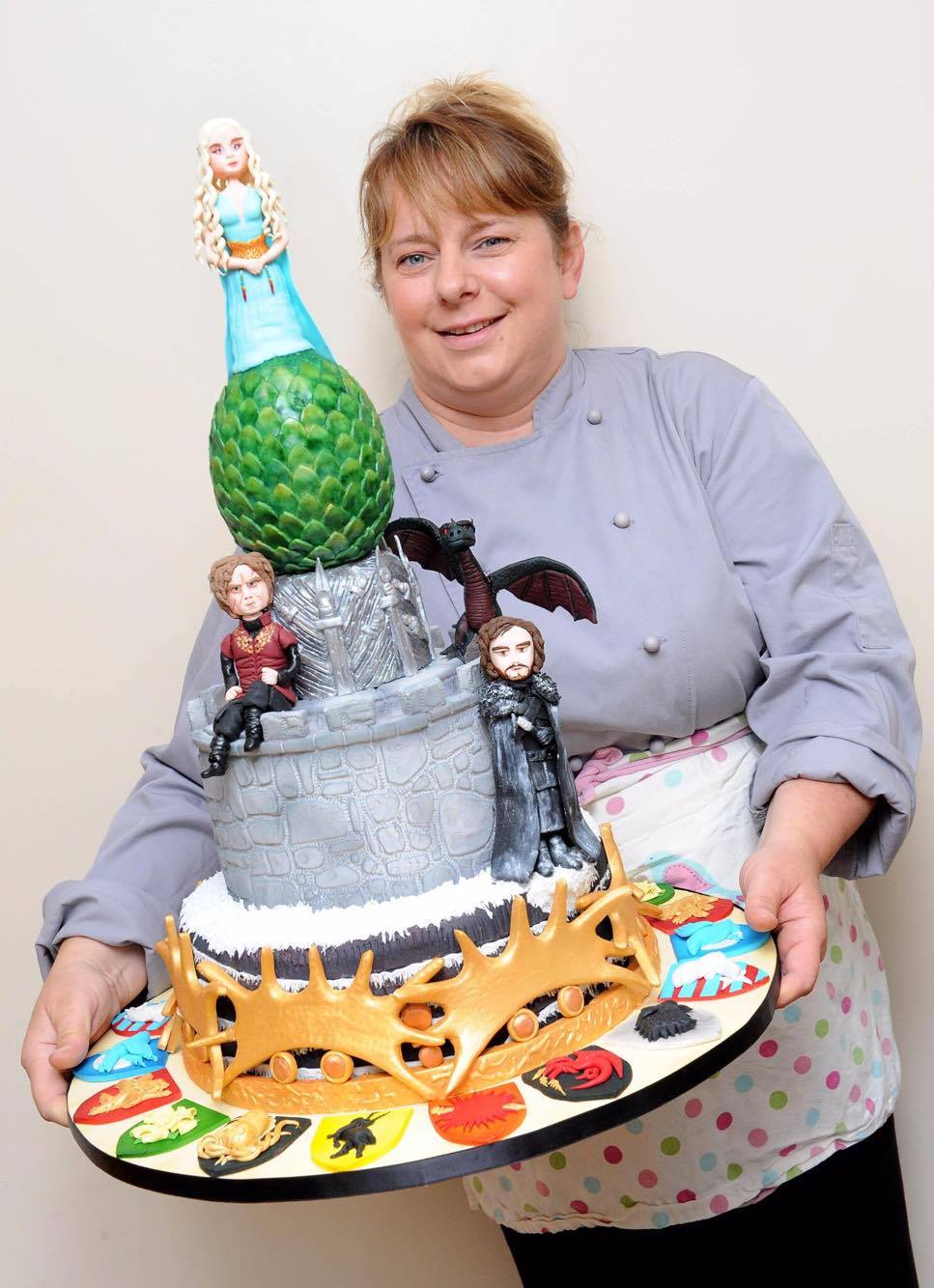 Photo via Mel's Amazing Cakes
U.K.-based Mel's Amazing Cakes has created a cake that lives up to the company name with this multi-tiered Game of Thrones extravaganza. She used combination of fondant and gum paste to create caricature versions of some of the show's most popular characters, which are perched atop tiers of cake decorated to resemble a dragon egg, the Iron Throne, castle gates and golden crowns. 
3. Iron Throne cake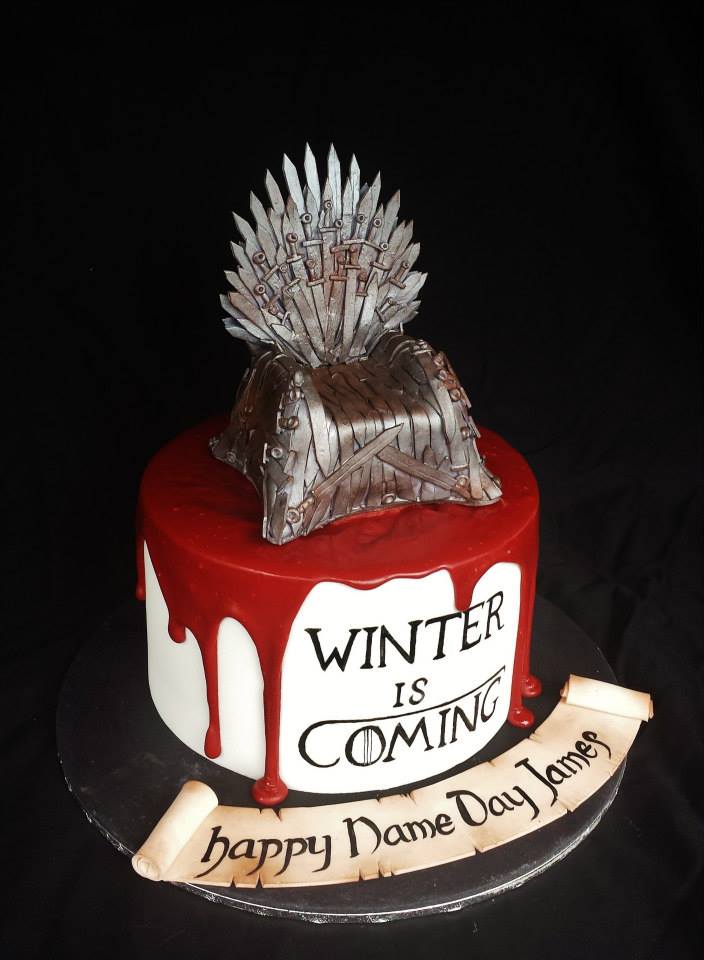 Photo via Cindy's Cake Creations 
While it may look like this cake is topped with a metal sculpture, it's actually an impressive and completely edible homemade Iron Throne topper. This fondant creation by Cindy's Cake Creations in Melbourne, Australia, required creating each of the hundreds of swords one by one, which "wasn't as fun as it sounds," according to the baker. But it certainly does yield an impressive and awe-inspiring finished result.
4. Dragon and dragon's egg chest cake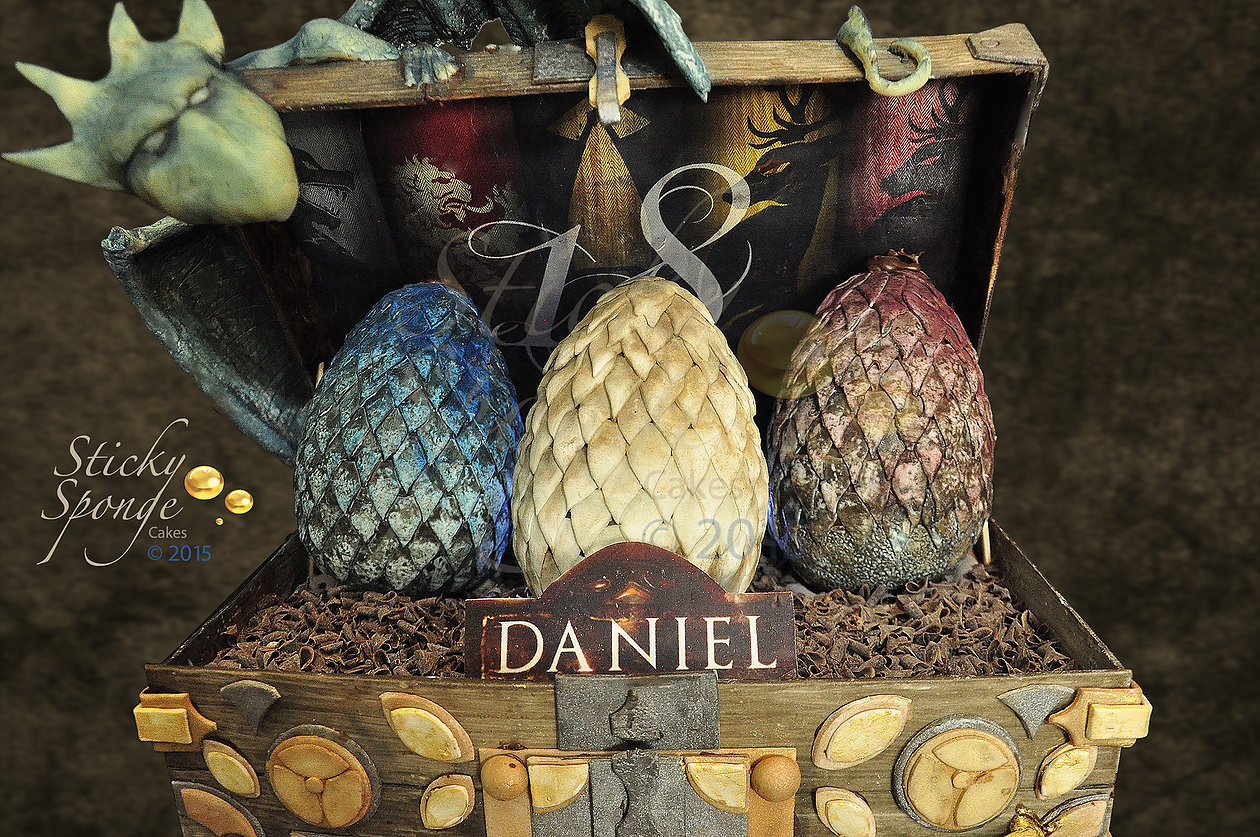 Photo via Sticky Sponge Cake Artists  
Believe it or not, aside from a few supports for the lid of the chest and the dragon wings, this creation by Sticky Sponge Cake Artists in the United Kingdom is entirely edible. The sword and chest are made from hardened sugar; the dragon is sculpted from modeling chocolate. The dragon eggs themselves are made from chocolate, and feature jelly snakes inside! 
5. Buttercream dragon scale cake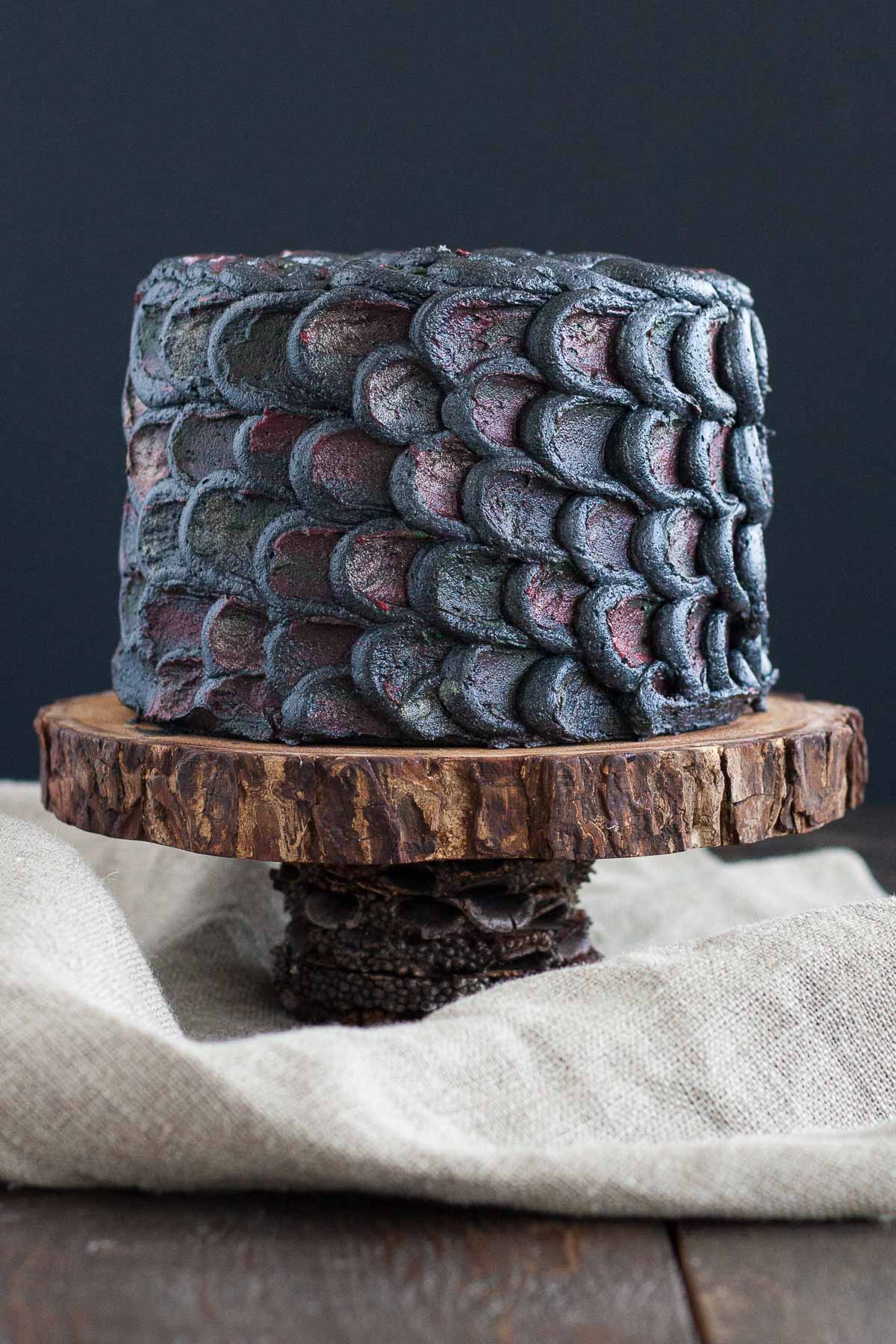 Photo via Liv For Cake
If you're all about buttercream, then this is clearly the Game of Thrones cake for you. Blogger Liv For Cake has cleverly concocted a "dragon scale" cake by using creative color mixing and piping techniques. She mixed gray buttercream using black gel coloring, and augmented with red and green buttercream for a multi-faceted color effect. Then, she piped buttercream was piped into dots and spread it slightly using an offset spatula to attain the unique texture shown, and then finished with gold pearl luster dust. 
6. Name day Game of Thrones cake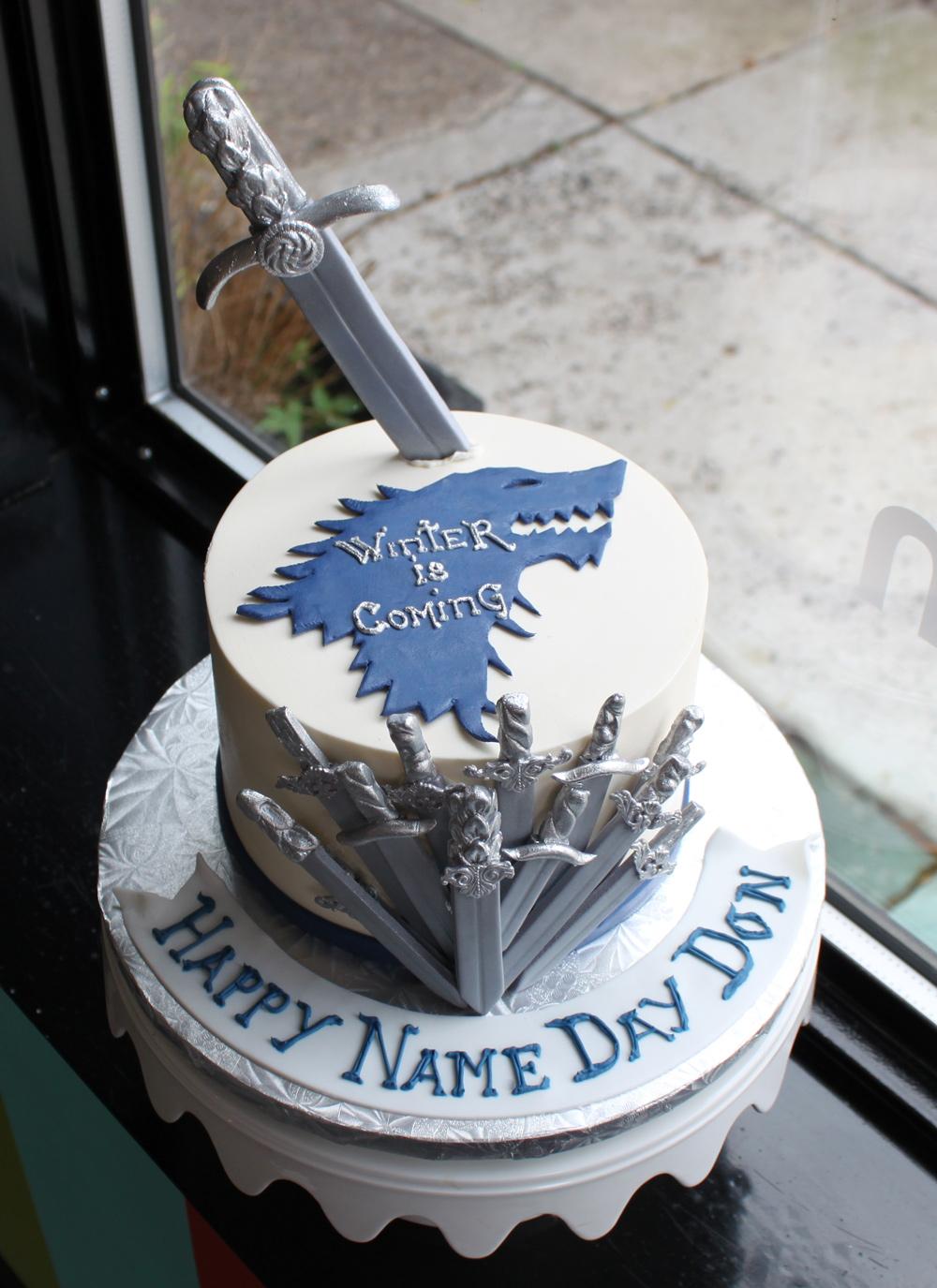 Photo via Whipped Bakeshop
Philadelphia's Whipped Bakeshop created this personalized "name day" cake for a Game of Thrones fan, with delicious and delightful results. First, a cake was covered with a perfectly smooth layer of fondant. Then, the snow white canvas was topped with a fondant direwolf emblazoned with the show's tag line "winter is coming," and finished with handmade silvery swords. 
7. Game of Thrones cupcakes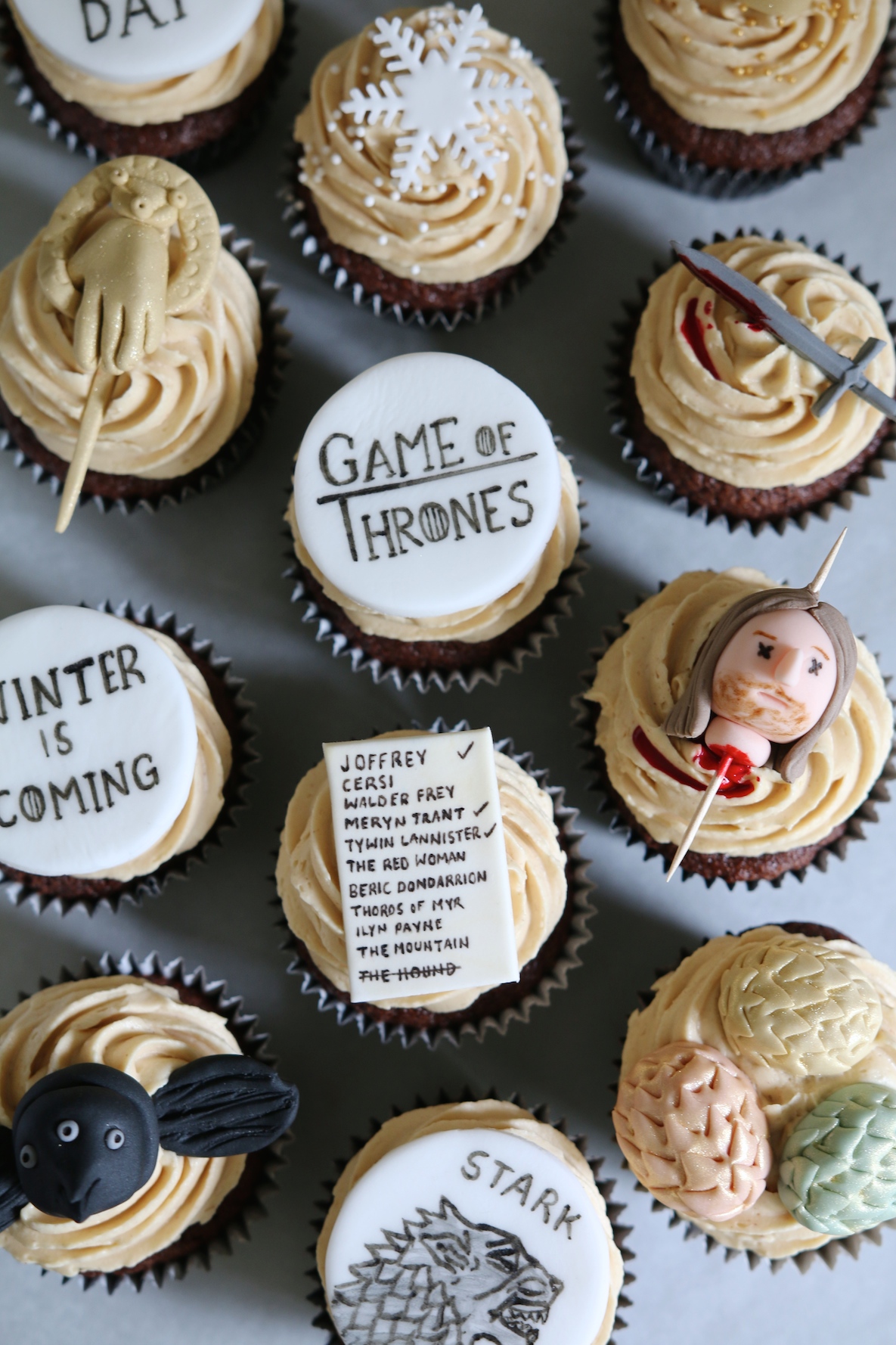 Photo via Afternoon Crumbs 
These clever cupcakes by U.K.-based decorator Afternoon Crumbs feature a variety of hand-made Game of Thrones toppers, including the Stark family seal, the "Hand of the King" pin motif, Arya Stark's so-called "kill list," dragon eggs and yes, even a disembodied head. The cupcakes themselves are chocolate, filled with salted caramel, and topped with peanut butter frosting, so they likely taste as good as they look! 
8. Faux pigeon pie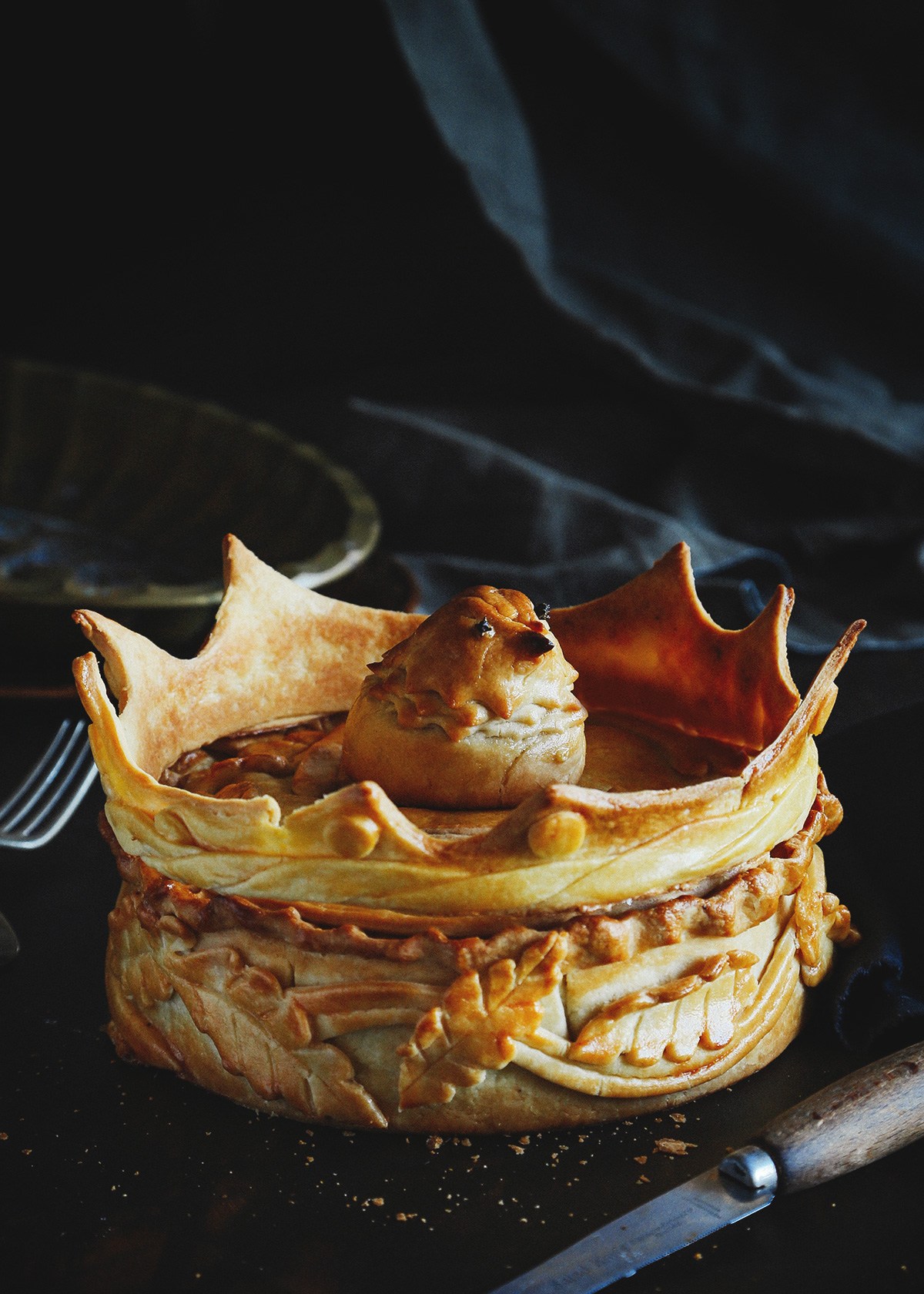 Photo via A Table For Two
Technically, this one isn't a cake, but it's too impressive not to share! Loyal fans will remember the ginormous pigeon pie served at Joffrey's wedding. This pie, featured on the Australian blog A Table For Two, is an homage to that pie (but with far more appetizing ingredients). Mushroom, leek, chicken stock, cream and spices make up the savory filling, which is wrapped in homemade pastry that's been painstakingly formed and molded to resemble a smaller version of the pigeon pie featured in the show.
Watch Joshua John Russell create his GoT-inspired creation on this week's episode of Man About Cake.