As we all do, I love an elegant and chic wedding cake. A bride deserves nothing less than a cake befitting a princess; after all that's exactly how she should feel on her wedding day.
But then there are those couples that just have to have a little (or a lot) or fun with their cake design. Pairing classically beautiful wedding cakes with custom decor that tells a story of the couple can feel daunting.
"Will it ruin the cake design?"
"Will it make sense?"
"How am I ever going to make it look LIKE them?"
Oh, the terrified thoughts that go through our heads. Let go of those perfectionist tendencies and step on over to the wild side, cake friend. Your bride and groom want to have some fun, so that means you get to as well!
Check out these five charming, custom, and giggle-inducing wedding cake toppers created by some of our talented and comical Bluprint members.
Let the giggles begin. Bring out the funny wedding cake toppers!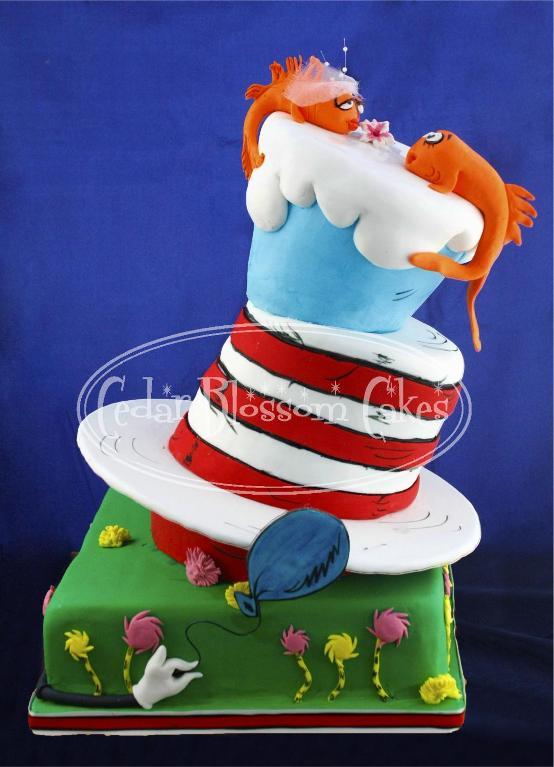 Dr. Seuss wedding cake via Bluprint member ozgirl42
Topsy turvey Dr. Seuss wedding cake
I'll grant you, Dr. Seuss had a big hand in designing this cake, but I don't think he ever married one fish, two fish, red fish or blue fish. Enter a clever cake designer, some fondant, and fun couple and all of a sudden this classic children's book has grown up a bit.
The design is lovely, but without those two star-crossed fish toppers the cake's personality would be missing. So, too, would my uncontrollable laughter.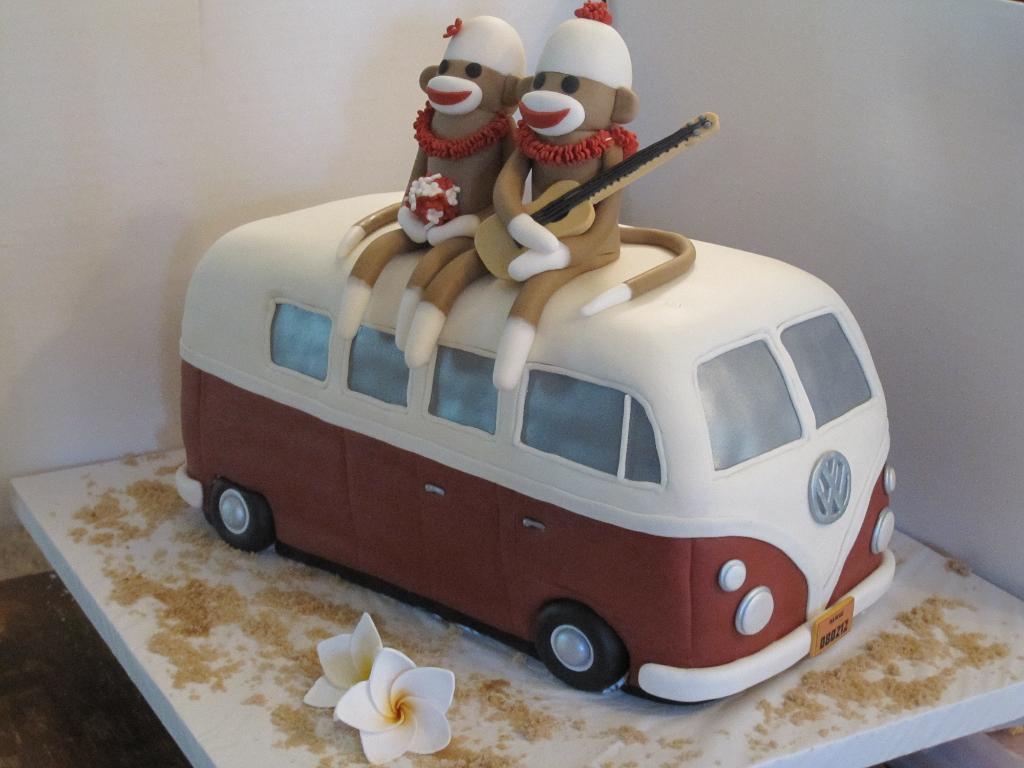 Sock monkey wedding cake toppers via Bluprint member reanie51
Sock monkey topper and VW bus wedding cake
If you've followed me for any length of time on my blog, you know I can't get enough monkeys. Maybe that's what drew me to this vintage van with hippie sock monkeys. I think I need to know this wedded couple. They are my kind of people. Clearly, a "traditional wedding cake" was not an option, and reanie51 obliged.
Chic and whimsical wedding cake via Bluprint member Vincent
Funny and whimsical critter wedding cake
Ok. I'll be honest here. I have no idea what those critters are. Perhaps they are crazed bunnies, and just maybe the bride and groom are, as well. I'd definitely enjoy hearing the story behind this design decision.
Even if great great Aunt Tilly doesn't get why these silly sugar figures are perched atop an otherwise sophisticated and beautifully executed wedding cake, the couple will remember this for a life time. As will the guests. Especially poor, confused Aunt Tilly.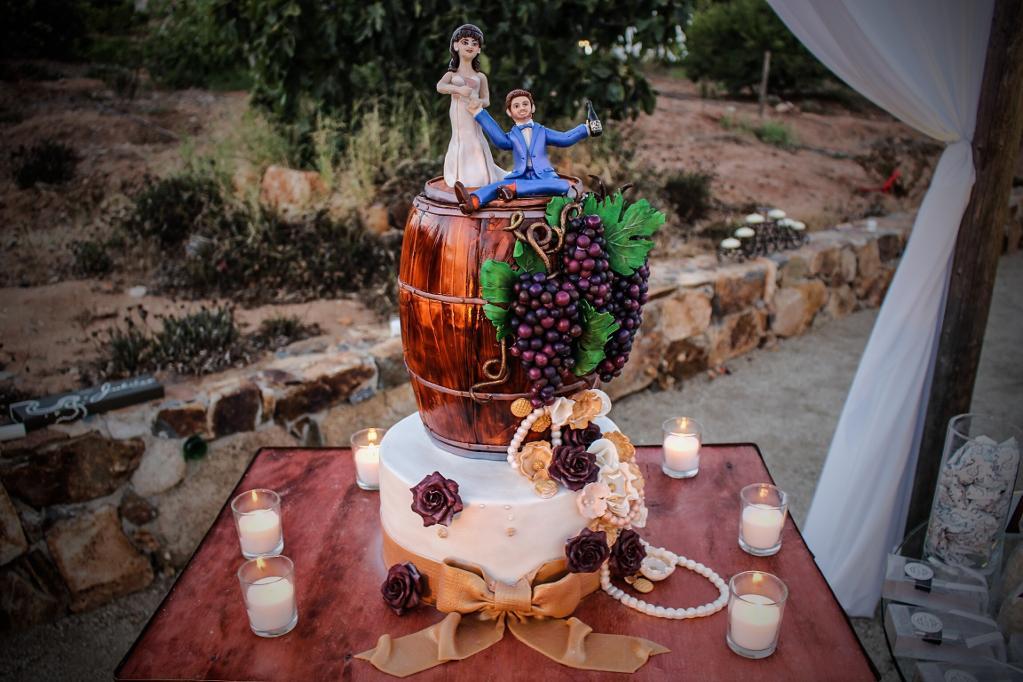 Chic vineyard cake via Bluprint member Millmika3
Vineyard chic wedding cake
Well, I think this design might have been a bit premature. How did the bride and wedding cake designer know the groom would be indulging a bit too much at this vineyard wedding? I wonder if the groom knew these funny toppers were going to grace their wedding cake.
Go ahead and find some porcelain toppers that have had too much wine. Can't find 'em? No worries, your cake decorator's got it covered!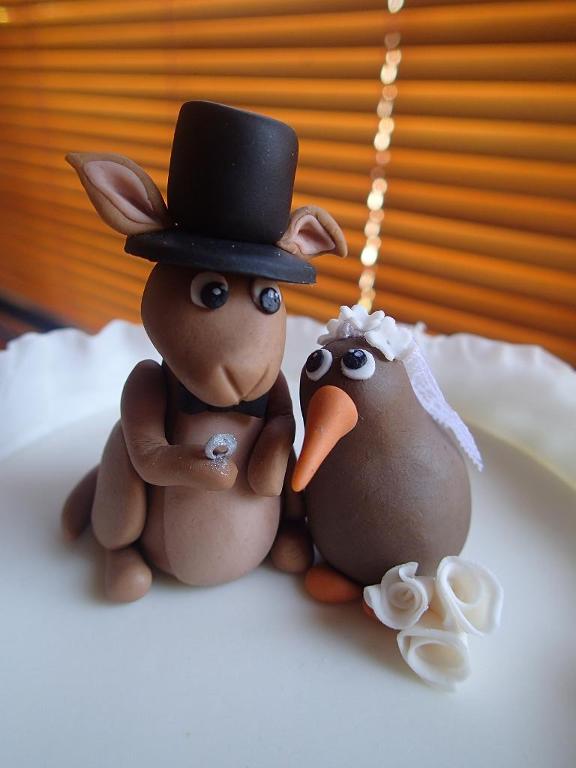 Kanga and kiwi wedding cake toppers via Bluprint member kitstar
An Australian and New Zealander wedding cake
This is the charming kind of cute that makes you scrunch up at the shoulders, tuck you chin in, clasp your hands and squeal-giggle. (You just did it, didn't you?) It's just too adorable, but that little kiwi bird bride, making lovey eyes at her kanga groom, is just too much. She's far too fun! And it needs to be pointed out how straight forward and simple these two really are in how they were created. Still, they perfectly represent the animals they are meant to be, and the homelands of the bride and groom.
Cake decorating is no longer as traditional, or dare I say stuffy, as it once was. Rules have been thrown out the window and modern designs, fun embellishments, expressive and personalized figurines engage us. Tell a story with your wedding cakes. Add some whimsy, and don't be afraid to go the "funny" route!
What's the funniest wedding cake topper you've ever made?
Make amazing cakes for legendary parties!
Build new sculpting skills as you create a marvelous unicorn cake supported by a gravity-defying armature.Enroll Here Now »