Do you sometimes look at your fabric stash and wish you had more of a particular color — or a whole rainbow of hues? Consider refreshing your yardage by dyeing your fabric for a fresh spin on any fabric, whether solid or printed.
Dyeing fabric can be a great way to branch out as a quilter or sewist. Not only can you enjoy learning more about the process of how fabric is made, but fabric dyeing also allows you to customize your projects by using fabrics that incorporate textures that are completely unique to you.
If you get excited by the idea of customizing your fabrics with dyes, read on for more tips and tricks to get started with dyeing fabric.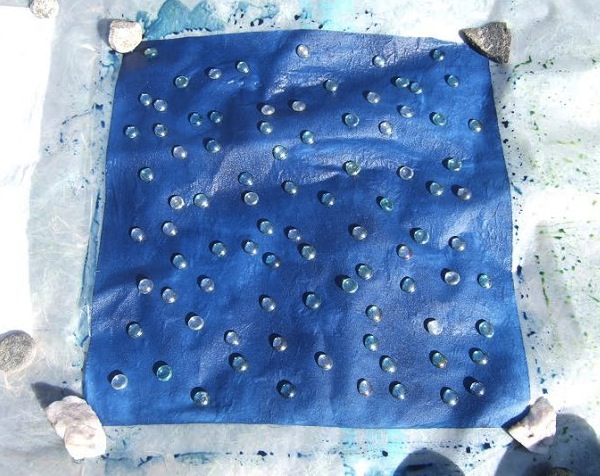 Sun resist dyeing
Kathy of Tamarack Shack shares some photos of fabric dyeing in the sun. Once a fabric is dipped in the dye mixture, she spreads it out to dry in the sun with different objects placed on top. The idea is that as the sun helps dry the fabric, the exposed areas will get lighter in color, creating unique textures. On her blog, Kathy explains more about sun resist dyeing with some interesting ingredients from the kitchen, including soy milk, rice and mini pretzels.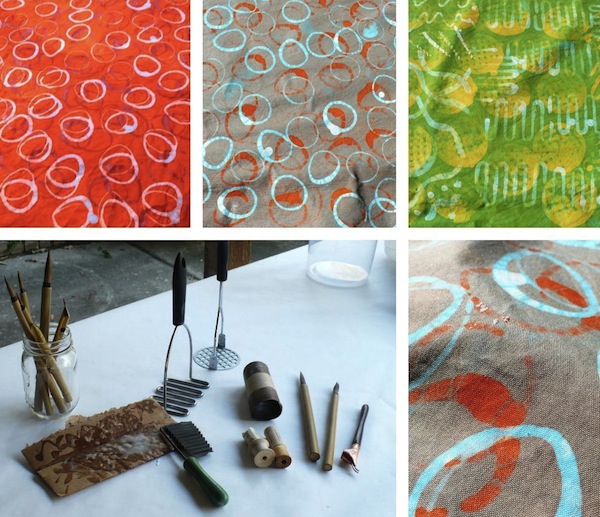 Wax resist dyeing
Another way to add patterns to fabric while dyeing is to work with wax resist. Bluprint member ramonamp worked with white cotton fabric and a mixture of beeswax and paraffin to amp up her fabrics. Starting with the lightest colors first, she used a variety of kitchen tools as "stamps" to cover sections of the fabric in wax, before repeating the process with darker shades of dye. Learn to master this method in the Bluprint class Fabric Patterning with Wax Resist. And also read our blog post Fabric Patterning Fun with Wax Resist.
Dip-dyed ombré
If you admire the gorgeous new ombré fabrics, why not make your own with this tutorial from CraftFoxes? You'll just need one or more yards of a white or light-colored fabric, cold-water fabric dye and a few other ingredients to get started. This dip-dyed ombré curtain panel was made by saturating sections of the fabric in dye for a longer amount of time than the top portion, which is completely white. After dyeing ombré fabrics, you can cut any shapes you'd like to achieve stunning monochromatic effects.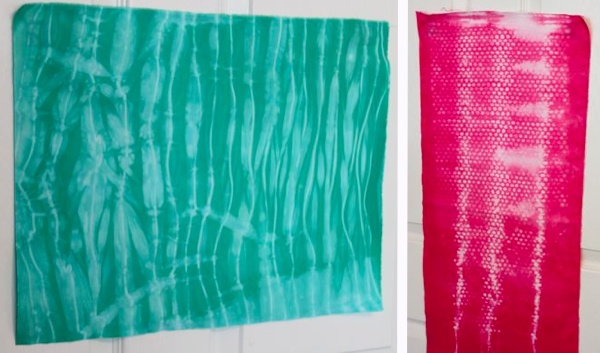 Fabric dyeing using household objects
Lynda of Bloom, Bake & Create shares a few pieces of fabric she dyed with the use of household objects. She started with white muslin fabric and used a shibori technique that utilizes PVC pipe and rubber bands to create the green batik-looking fabric. Do you recognize the packaging material she used to achieve the fabric dye effect in the pink sample? It's bubble wrap!
Lynda made these samples as part of The Art of Cloth Dyeing class taught by Jane Dunnewold, and she posts a great review of the course on her blog. Even though she'd been dyeing fabrics for some time, the class taught her how to use new techniques, like overdyeing, to salvage some of her previous hand-dyed fabrics that didn't turn out so great.
Have you tried your hand at dyeing fabric? What techniques would you like to learn more about?