Piecing with templates helps quilters create difficult blocks more easily and achieve precision on even simple blocks. Several popular quilts are easiest to piece when using templates. Many of the blocks in the Farmer's Wife quilt must be pieced using templates.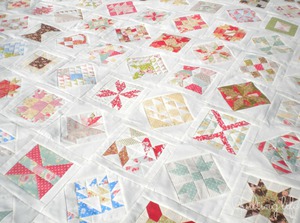 There are several different types of template materials available for quilters to create their own templates, and there are many wonderful templates on the market to help quilters with just about any type of block.
Many quilters like to create their own templates based on line drawings found in patterns and books. Different types of template plastic are available to help quilters create their own.
Simply trace the design on the template plastic using a permanent pen, and then cut directly on the drawn line. Your template is ready to use.
It helps to use a ruler on top of the template when cutting shapes to ensure your rotary cutter doesn't cut through the template plastic.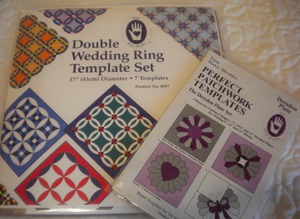 Creating templates from freezer paper is another useful technique for quilters who want to piece with templates. This can be done in three easy steps:
Step 1: Trace your design onto the dull side of a piece of freezer paper. Cut out around your image, leaving at least 1/2″ all around.
Step 2: Simply iron the shiny side of that piece of freezer paper to the dull side of another piece. This makes an extra sturdy freezer-paper template that can be used and reused several times.
Step 3: Cut out the freezer-paper template directly on the line. Freezer-paper templates can be lightly ironed to fabric and will adhere to the fabric while you trace and cut out your design.
Many companies have produced wonderful acrylic templates. These acrylic templates are easier to use than plastic or freezer-paper templates because the rotary cutter has a nice edge to line up against while cutting. This makes for extremely accurate cutting, helping the quilter achieve accurate piecing.
Acrylic templates are readily available for tumblers, hexagons, dresdens and triangles of many angles. You can purchase acrylic templates to make even more time intensive-blocks, such as double wedding rings and drunkard's path blocks. In addition, many quilt designers also design specialty templates to go along with their books and patterns.
Here is a roundup of some helpful templates for quilting today's designs:
Marti Michell has an extensive line of acrylic template sets that are perfect for piecing specialty blocks, as well as for typical squares and triangles used in many different block sizes. These acrylic templates are not just "pattern specific" and can be used with a wide variety of standard quilting designs.
Several designers have recently released tumbler templates. The Crumbler and Lil' Crumbler by Miss Rosie's Quilt Company and the Thimble Ruler by Lori Holt are two examples.
Another popular template shape is the hexagon. A wide variety of hexagon templates are available- many of them with options for creating a wide variety of hexagon sizes.