The Oscar winning Disney animated movie Frozen is so incredibly popular. It has taken over as the highest grossing animated film of all time! With this worldwide popularity, especially amongst children, comes the rising demand for Frozen-themed cakes and cupcakes inspired by the film and its recognizable characters.
Let it go and check out these awe-inspiring Frozen-themed cakes and cupcakes that are sure to warm up your sweet senses!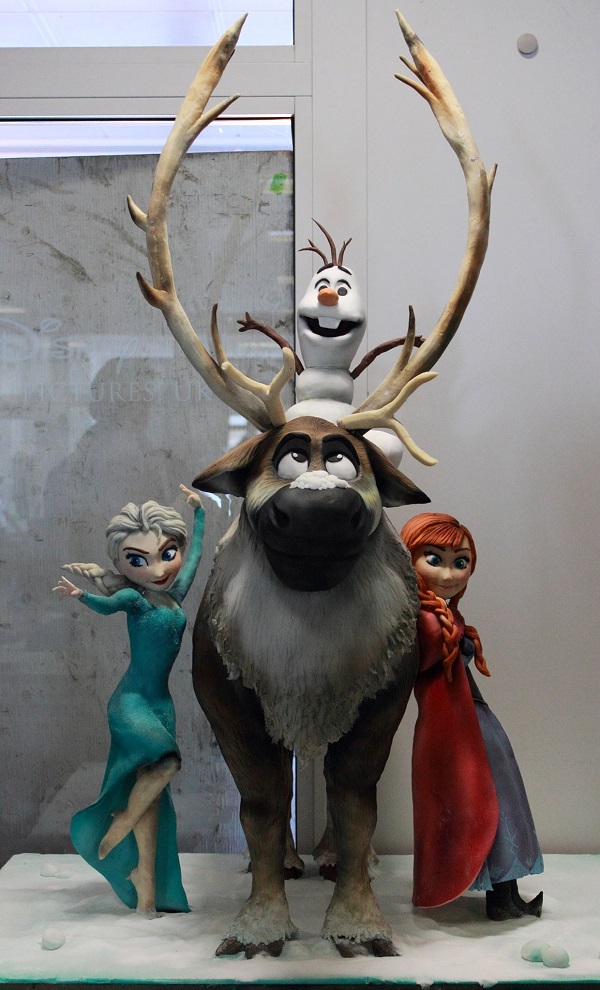 Photo via Sweet As Sugar
Frozen Life-Size Cake
Made especially for the Walt Disney Company in London, Sweet As Sugar Cakes constructed this jaw-dropping and awe-inspiring four-foot cake! Depicting the main characters of Frozen, the three-dimensional confection was amazingly sculpted and decorated with a combination of modeling chocolate, fondant and gum paste. Marvelous use of shading highlighted the texture, achieved with the use of airbrushing.
[box type="shadow"]
To delve into the world of sculpting cakes, check out the course Advanced Cake Sculpting: Bobbleheads with Mike McCarey to learn how to build works of art, from cake stand construction and stacking to carving and decorating!
[/box]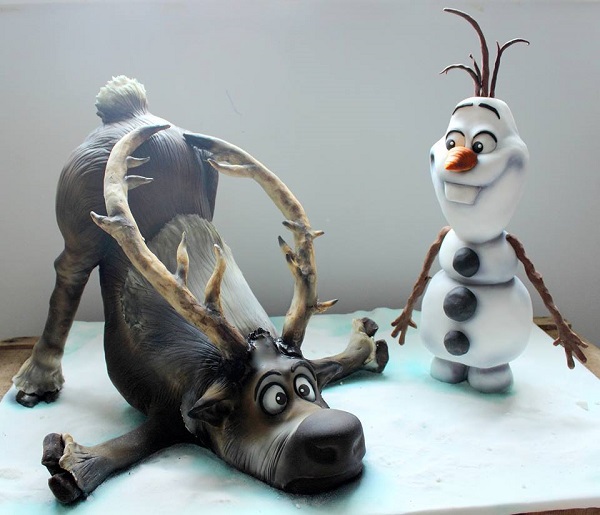 Photo via Sweet As Sugar
Snowman and reindeer cake
On a smaller scale than the cake above, Sweet As Sugar Cakes also created this beautiful scene with the reindeer and snowman cakes from the movie's comical characters for a Make-a-Wish Foundation fundraiser. You can see the wonderful details and techniques utilized: Indentations made by hand to create a fur effect on the reindeer along with airbrushing to achieve shading and depth on both the reindeer and snowman.
[box type="shadow"]
Get more in-depth tips on cake carving techniques in Elisa Strauss' Sculpted Dog Cake and perfect your airbrushing skills in Lisa Berczel's The Art of Airbrushing to create sugar masterpieces such as this.
[/box]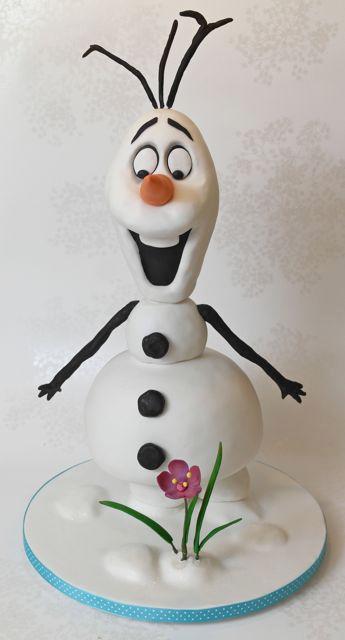 Photo via Bluprint member girlietow
Olaf snowman cake
In the course Cake-osaurus Rex with Catherine Ruehle, Bluprint member and cake artist girlietow created this absolutely adorable Olaf Snowman cake! The snowman's expressive head and face were sculpted out of RKT (Rice Krispies Treats), as were his feet. The remainder of the body was constructed out of cake, coated in ganache and covered in fondant. The twig arms and hair were formed from wire wrapped in modeling chocolate, and he was finished off with a gum paste carrot nose. The use of the cake board completes the beautiful design.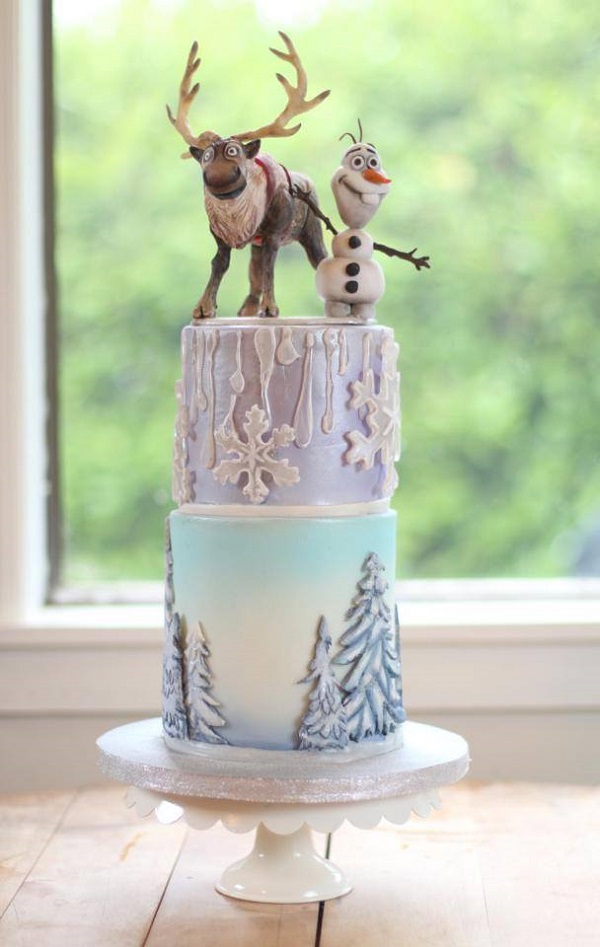 Photo via KO's Cakes
Two-tier Frozen cake
The dazzling two-tier Frozen cake beautifully made by KO's Cakes is topped by the same reindeer and snowman, Sven and Olaf, from the film, but in a scaled-down form! Both characters are superbly sculpted out of modeling chocolate with hand-painted accents. The cake's tiers were adorned with handmade sugar snowflakes and icicles, as well as wintry trees cut from modeling chocolate, to create a beautiful, frosty display.
[box type="shadow"]
Learn the advantages of working with modeling chocolate in the Bluprint course Modeling Chocolate Magic with Lauren Kitchens and create superb figures such as these. If you are new to sculpting figures, check out Sharon Wee's Cake Topper Techniques: Fondant Animals to get started!
[/box]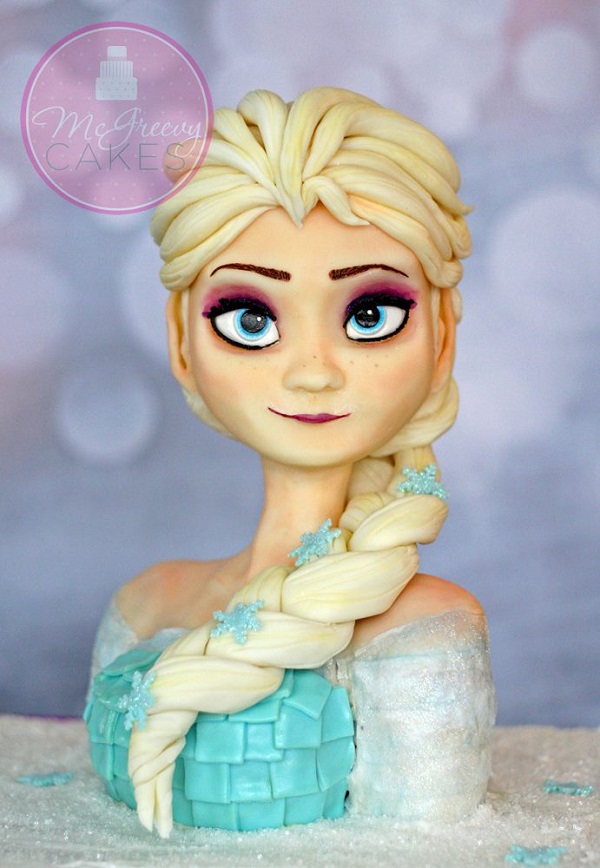 Photo via McGreevy Cakes
Queen Elsa bust cake
McGreevy Cakes magnificently captured one of the film's main characters and singer of the ever-so-popular song Let It Go, Queen Elsa, in this amazing bust cake! The head and hair are made completely out of solid modeling chocolate, while the front of the dress is adorned with blue fondant decorations. The wispy sleeves are created out of wafer paper, which was colored and embellished with disco dust. Check out additional WIP (work in progress) photos on McGreevy Cakes' website to see the various steps of this cake being made.
[box type="shadow"]
In addition to the courses listed above that can assist you in re-creating this cake, be sure to take a look at one of Bluprint's newest courses Delicate Wafer-Paper Cakes with Stevi Auble to learn more on how to work with this fun medium.
[/box]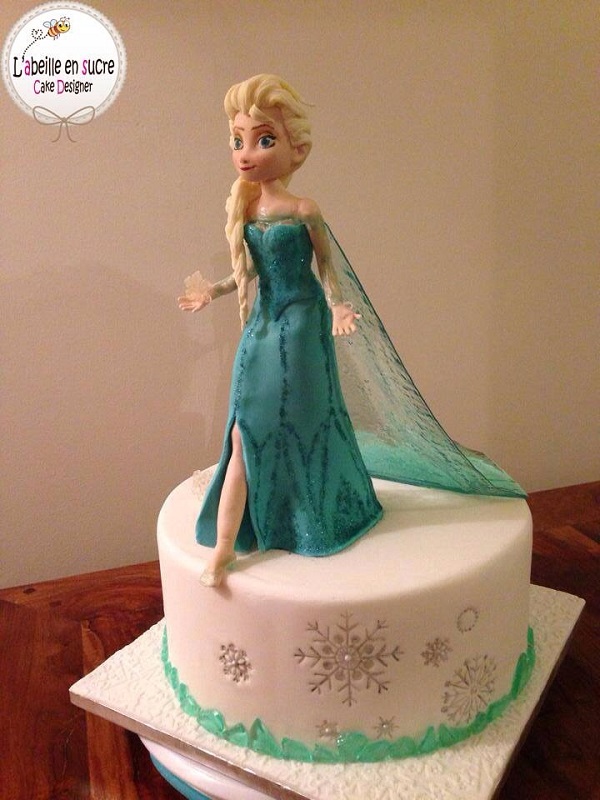 Photo via Bluprint member abeille
Queen Elsa figure cake
Bluprint member and cake artist abeille created this graceful and stunning figure of Queen Elsa, which she then embellished with a magnificent cape made out of isomalt! As part of the course Intro to Isomalt, the decorator learned techniques to pour and pull sugar to create the cape as well as the snowflake and snow swirl in the character's hands.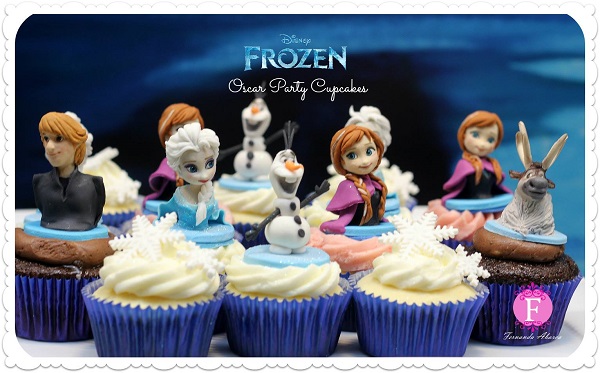 Photo via Fernanda Abarca Cakes
Disney's Frozen cupcakes
For Disney Animation Studios' Oscar party, Fernanda Abarca Cakes created these exquisite Frozen-themed cupcakes. The busts of each of the main characters from the film are sculpted and decorated out of fondant and placed over iced cupcakes. Each figure is hand-modeled, and their positions and expressions differ from topper to topper, bringing the entire beautiful presentation to life!
[box type="shadow"]
If you are beginning to hone your figure-sculpting capabilities, try Anne Heap's course Cake Topper Techniques: Figure Modeling for tips and step-by-step instruction on cake structuring.
[/box]