Classic friendship quilts have been around since the mid 1800s. Sewn together by local quilters or family members to memorialize a special person, occasion or memory. Today I'd like to share a new twist to the Friendship Quilt concept, deepening the special bonds between you and a few of your closest quilting friends. Come take a look.
Photographs by Karen Walker
A new way to make a friendship quilt
Step 1:
Gather up two to four of your closest quilting friends and select a quilt theme. Your theme can be anything you like, but here are a few ideas to get you started:
Christmas
Spring
Valentines
Patriotic
Fall
The list could go on, but you get the idea. 
Step 2:
Based on your chosen theme, agree on a general color palette (Craftsy's guide to color might be helpful!) Ask questions like:
Do we want cream, white or a combination of both?
Are there colors we don't want in the quilt?
Do we want the quilt to have a lighter feel or deep, rich colors?
It's important to identify some guidelines, but by no means let the rules stifle the process!
Step 3:
Pick three to six different blocks sizes. I like to keep it simple and select blocks sizes that match up easily when sewn together.  Recently, two of my friends and I embarked on a Springtime Friendship Quilt, and we agreed to make blocks that were 3″ square, 6″ square and 6″ x 9″. Since all the measurements are multiples of three, it would be easy to match them together.
Step 4:
Decide how many of each block size each of you will make in a set. In my recent Friendship Quilt, we chose to have each set include five 3″ blocks, three 6″ blocks and four 6″ x 9″ blocks. Then, you'll make enough sets for each participant (including yourself).
For example, for her three 6″ blocks, my friend Diane chose to make 6″ log cabin blocks. She made a total of nine log cabin blocks: three for herself and three for me and three for our other friend.
By the end, each of us had a total of 36 blocks: five 3″ blocks + three 6″ blocks + four 6″ x 9″ blocks = 12 blocks. 12 blocks times three participants = 36 blocks).
We also agreed ahead of time to make the same appliqué bunny block. Pulling from our own personal fabric stashes created more variety.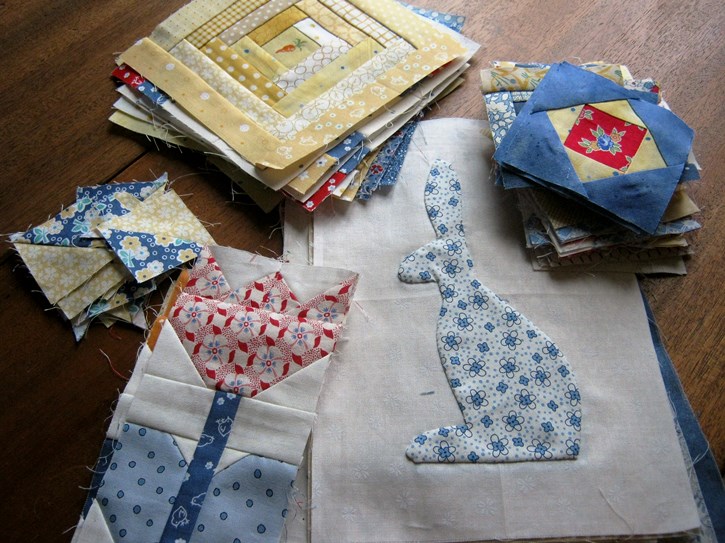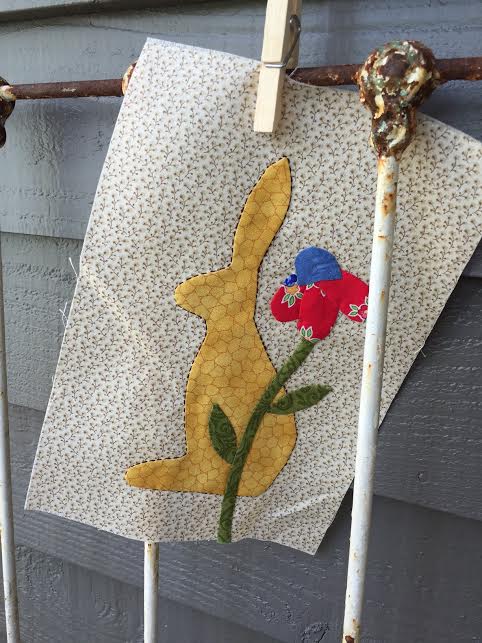 Get the Bunny with Coneflower and Chick Pattern
Otherwise, don't tell each other what blocks you will be making — it's a surprise!
Step 5:
Run home and start piecing your blocks. Get creative!  Select some fabulous free quilt blocks, shop your stash for fabrics that match your palette or pick some pre-cuts to coordinate.  
For a little extra fun, feel free to take a little liberty from your guidelines. For my friendship quilt, I made these 3″ x 9″ tulips blocks. As long as you stay within a size that fits well with the other blocks, the additions will be a fun surprise!
Get the Tulip Crush Pattern
Step 6:
Establish a date for the blocks to be finished. Plan a time together for a friendly exchange. Give each participant a set of blocks and receive a set of each block size from your friends.
In our exchange, I took home 3″ square-in-a-square blocks, 3″ and 6″ log cabins, a variety of 6″ x 9″ appliquéd bunnies, 3″ paper-pieced tulips, 6″ basket blocks and more! Some of the blocks were made by me, and many were made by my friends.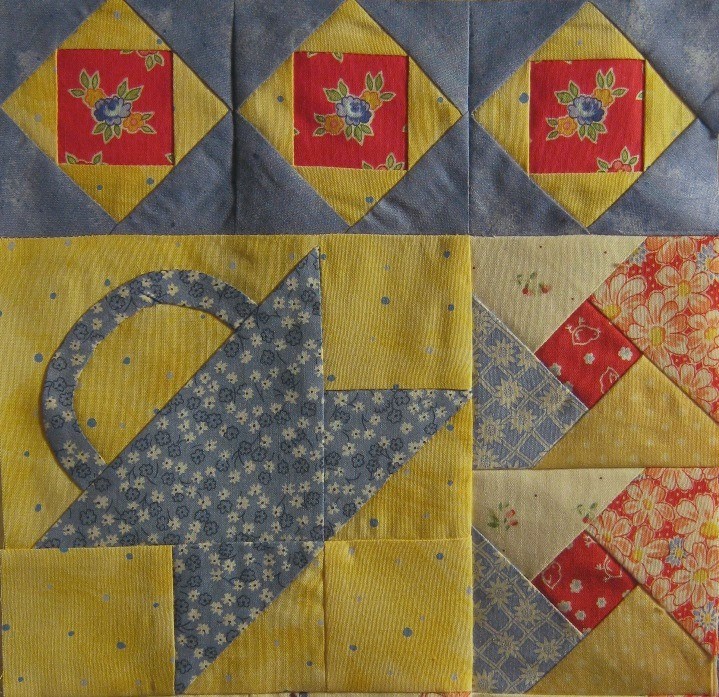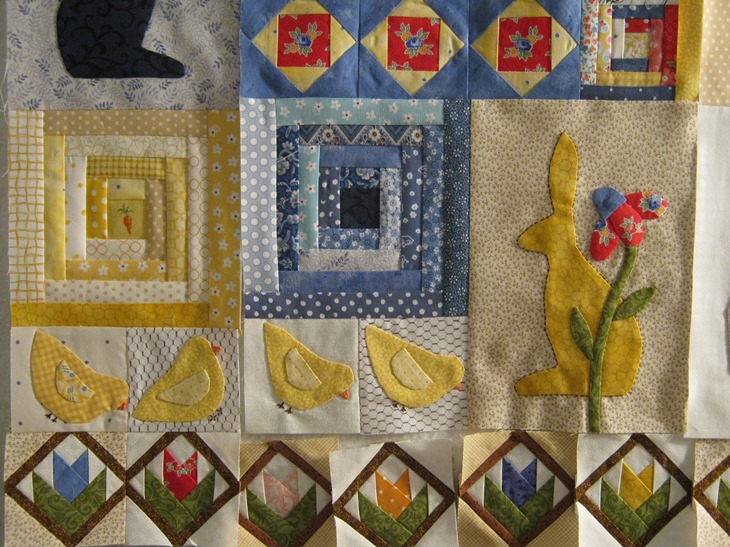 Step 7:
Now it's time to put all the blocks together!  Depending on your guidelines, you may end up with enough blocks to make a nice size quilt. However, there may be a need for "filler blocks," which can be added independently. The filler blocks in the quilt shown below are the Flying Geese units.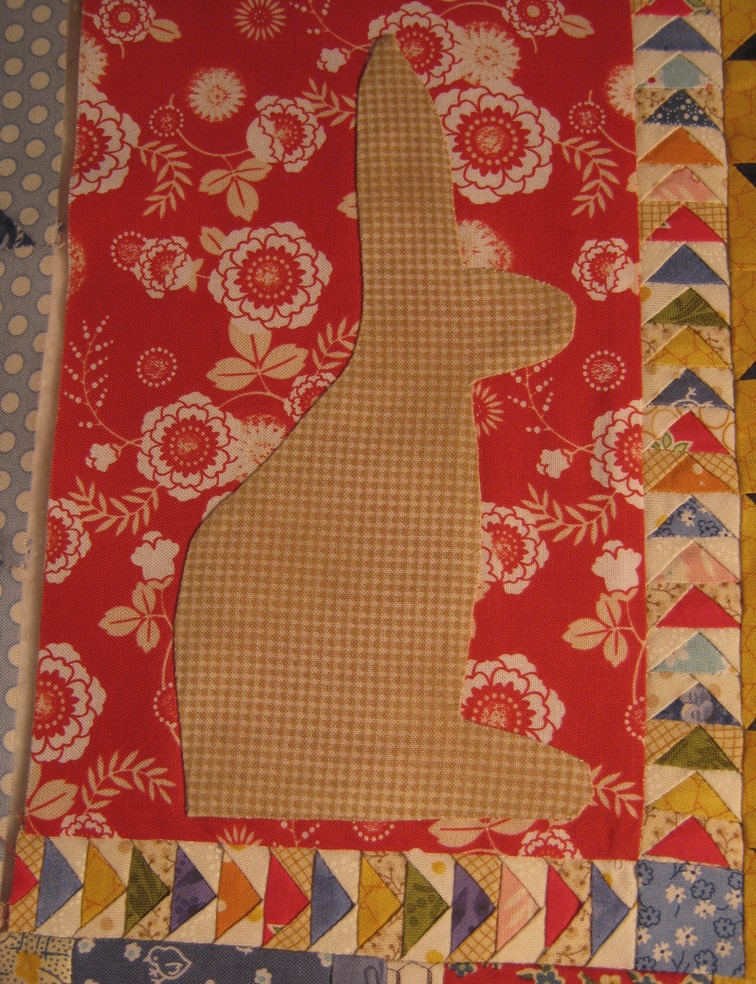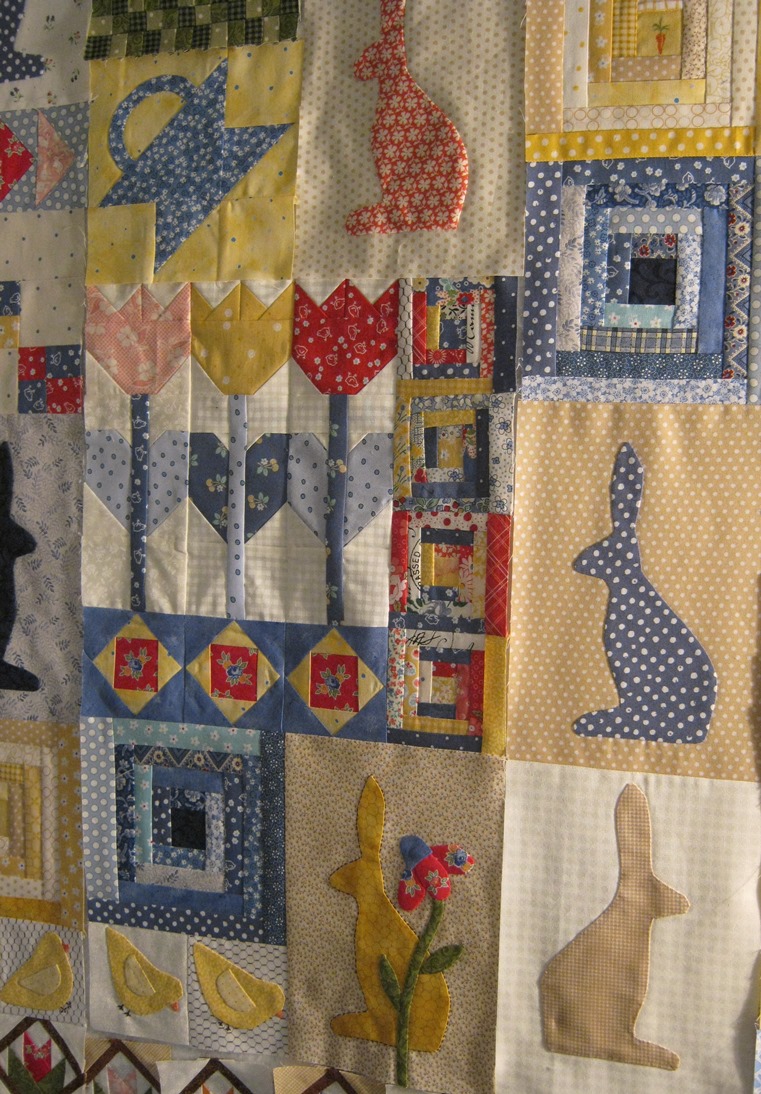 By the time you're all done quilting, you and your friends will each have a special quilt that contains heartfelt contributions from each other. This twist on the Friendship Quilt creates a special connection through the process of creating and sharing. The end result celebrates a unique, cherished friendship every time your quilt is displayed!