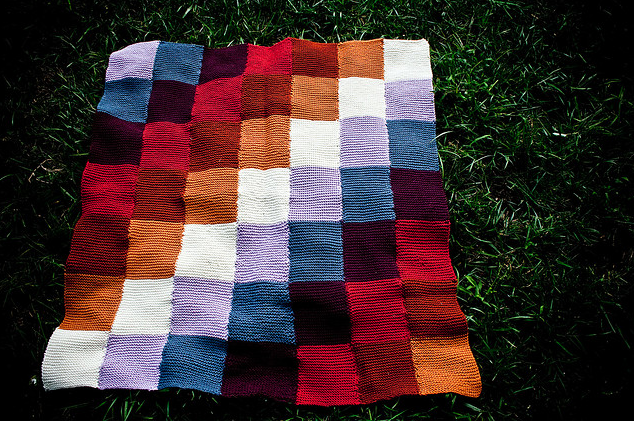 Have you ever belonged to a knitting club? For many years, I did. My girlfriends and I met once a week, usually at a local coffee shop, after which we named ourselves. We would drink wine, knit, and gab. We made Christmas trees for a local tree festival and charity auction. But my favorite group project was our Friendship Blanket. In this project, each of us directly contributed knitted portions to one finished blanket.
Friendship knitting was a great way for my little knitting club to truly knit together. And in the end, we had a sweet little blanket to send to a charity that collected baby blankets.
The idea of friendship knitting is to find a finished project that is worked in pieces, so each individual knitter creates a small portion. For our project, we chose this block blanket which was worked in seven vertical stripes.
We picked out our yarn, then assigned a vertical stripe to each knitter. We had two skeins of each color of yarn and each stripe started with a different color, so it was easy enough for us to distribute the starting yarns. Then we passed the colors amongst ourselves until we were each done. The friendship part of this project was satisfied, because we all had to see each other a little more often for the yarn passes.
The biggest issue we faced on our friendship knitting project was matching gauges. I am a very tidy, orderly knitter. My gauge tends to match a pattern's intended gage perfectly. My friend, on the other hand, is a very loose knitter. She has to work on needles 3 to 4 sizes down from the recommended size to achieve the right gage. (Even after watching her knit for years, I still do not know how she does it! She's always knitting even bulky yarns on size 4 or 5 needles.) Then we had a couple of newbie knitters who were still in the wonky stage of knitting.
Given this mix, we had to work to get everyone on the same gauge. When we were done with our stripes, you could definitely tell whose was whose. The newbies became better knitters while working on their stripes, so theirs went from wonky to even knitting by the end of the stripe. The task of blocking the stripes and sewing them all together was not for the feint of heart. Fortunately, that task didn't fall to me.
The knitter who gamely agreed to take on that task had to block some of stripes more than once to get them all to match up. She blocked the entire blanket again after sewing all the pieces together. All that effort was well worth it because in the end, we had a soft, fuzzy baby blanket for a baby in need. And we all had a hand in it.
I took the liberty of looking through Bluprint's patterns to find a few that might work for a Friendship Knitting project. This Butterfly Baby Blanket is a no-sew project, but it would be easy enough to to separate out blocks or columns of blocks. Or this Domino Baby Blanket, where you could pass the actual project from knitter to knitter, and all of you could bust your stashes, too. Or create your own pattern. Blankets made in blocks or stripes work the best. But don't be afraid to branch out, maybe making a stuffed animal, like this fabulous Elephant. Anything that can be worked in distinct pieces can easily become a friendship knitting project.
What will your knitting club make together?
You might also enjoy summer-perfect patterns and yarns! Come back to the Bluprint blog tomorrow for a free knitting pattern.