Fried chicken is the ultimate comfort food. There's absolutely nothing more satisfying than biting into a juicy piece of salty fried chicken.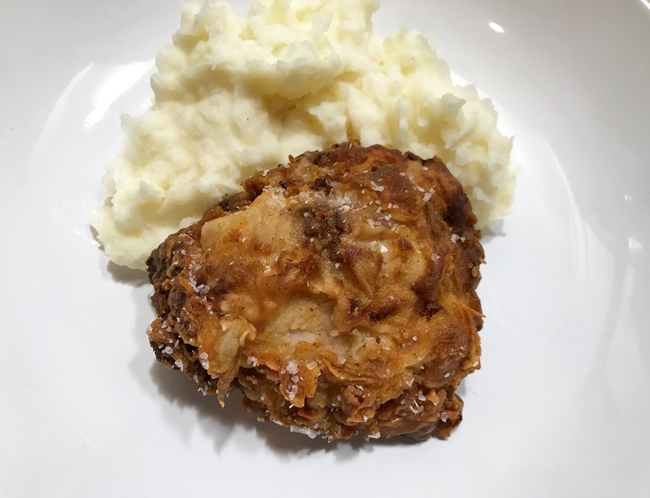 Over many years, I've learned a thing or two about making this staple dish — especially avoiding a dry and overcooked mess. Keep reading to learn the foolproof method to making the juiciest and most tender fried chicken ever.
What's the secret to making juicy fried chicken?
The secret is the brine.
Yes, it makes a difference, a BIG difference. Brining is an extra step that many feel is not particularly needed, but really, it's a game-changer.
Basically, brine is a liquid containing a lot of salt that the chicken will have to sit in for a few hours or overnight. Brining increases the moisture and tenderness of the chicken, which tends to get really dry right away if overcooked even a smidgen. It also helps to flavor!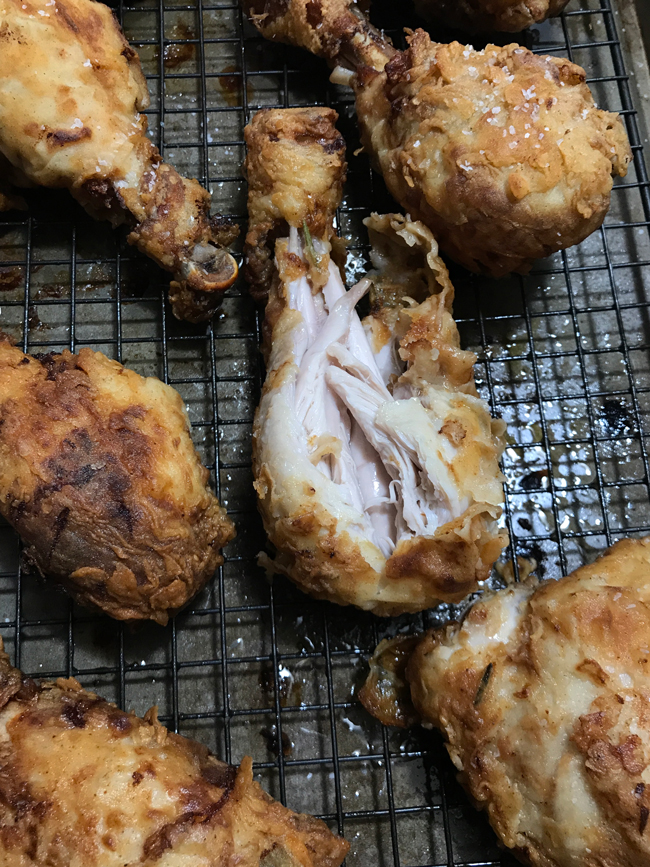 This fried chicken recipe hits two birds with one stone because while there are quite a few brining methods, using buttermilk is an ideal liquid for both brining and coating. It gives the chicken some tang and allows us to go from brining directly to dredging and frying without added steps in between. Whole milk can be used in place of buttermilk, and the results will be sweeter meat, rather than tangy.
Buttermilk fried chicken recipe
Serves 6-8
Ingredients:
4 pounds of chicken pieces
1 quart buttermilk
3 sprigs rosemary
3 sprigs sage
5 garlic cloves
2 bay leaves
2 tablespoons (plus 1 teaspoon) kosher or sea salt, divided
1 teaspoon paprika
2 cups flour
Canola oil for frying
Step 1:
Rinse the chicken pieces under cold water and pat dry with paper towels. Set them aside for now.
Gather the herbs: rosemary, sage, garlic and bay leaves.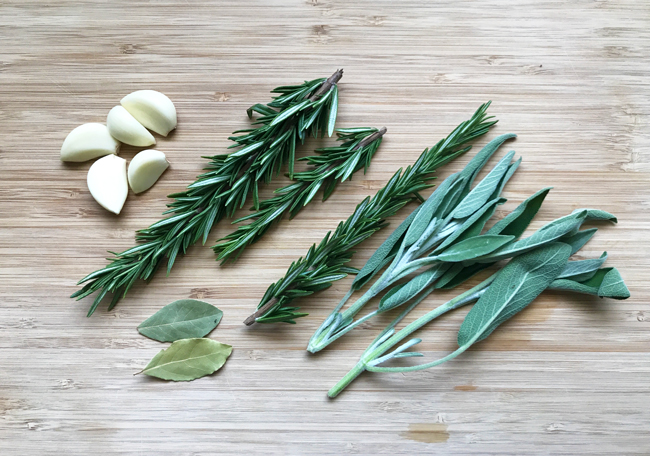 Snap the rosemary and cut the sage into smaller pieces. Bruise the herbs to release their oils. We want to bruise them instead of chop them because it'll be easier to remove large pieces of herbs from the chicken pieces just before dredging in flour. Do this by pounding the herbs using a pestle, mallet, the backside of a large serving spoon or the backside of a knife. Crush the garlic.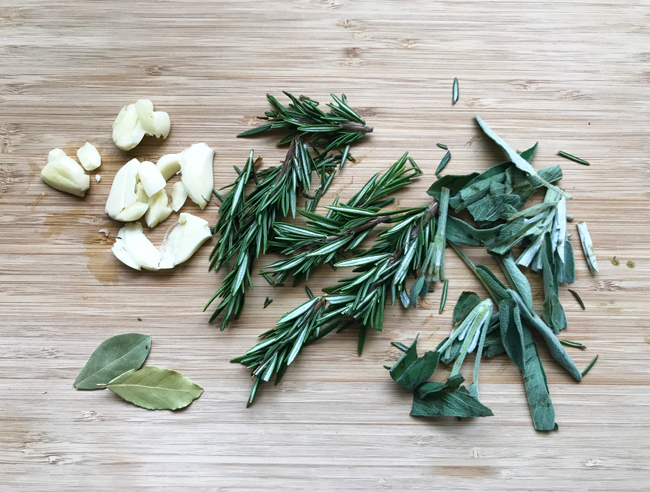 Step 2:
Place rosemary, sage, garlic, bay leaves and 2 tablespoons of salt in a large bowl. Add the buttermilk and stir well. Place chicken pieces in the buttermilk mixture, cover and refrigerate for at least 4 hours or overnight.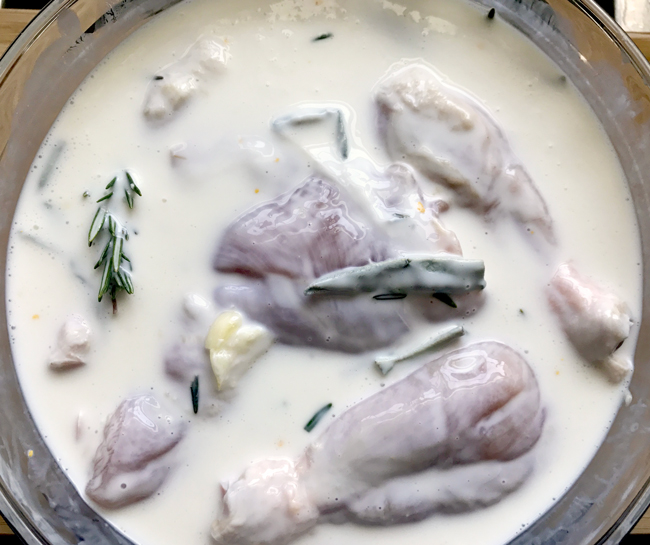 Step 3:
After 4 hours have passed, remove the bowl from the fridge. Remove chicken from the buttermilk mixture and place on a wire rack for 45 minutes. This will allow the chicken to come to room temperature and allow the salt to settle before frying.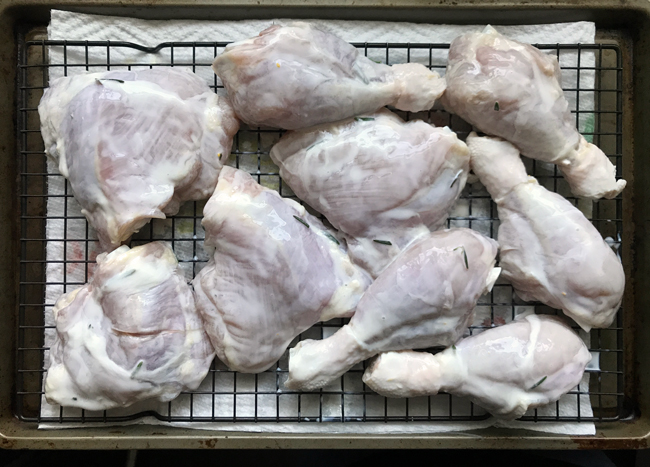 Step 4:
In a large bowl, mix together the flour, paprika and 1 teaspoon of salt and whisk to combine. Pour about 2″ of oil into a dutch oven, cast iron skillet or large pan. Heat to 375 F, using a frying or candy thermometer to aid in this step (on my stove, my knob dial is usually between medium and medium-high settings)./p>
Step 5:
Dredge the chicken pieces in the flour mixture and fry in batches until golden and the internal temperature reads 165 F, about 8-12 minutes depending on the size.  If you have larger pieces, fry them until golden and finish in a 400 F oven for another 10-15 minutes, or until the internal temperature reaches 165 F.
Place cooked pieces on paper towels to drain excess oil.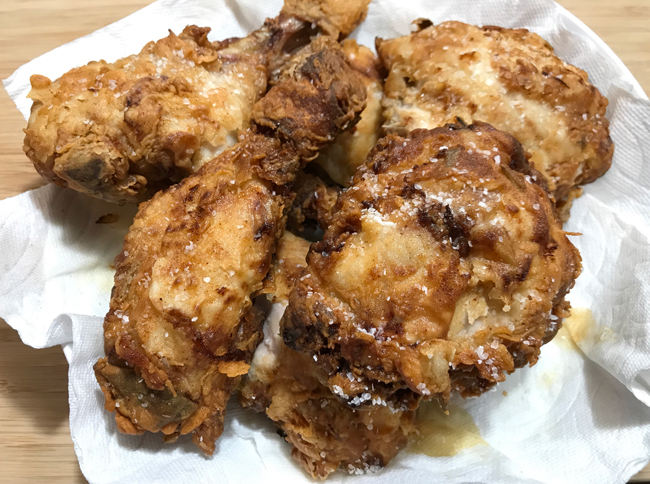 Finish with a sprinkle of salt and serve immediately with your favorite sides. There you have it! Foolproof as promised.