The summer season means it's strawberry picking time! These deliciously sweet berries are always plentiful this time of year, and today I'll show you my favorite thing to make in just 4 steps — fresh strawberry pie! I promise this strawberry pie recipe is easy as, well, pie!
This is the only strawberry pie recipe you will ever need!
This pie filling is so easy to make and uses loads of fresh strawberries. If you use a pre-made crust, the pie will take less than 30 minutes to bake and assemble. If you'd rather use a homemade crust, our simple four-ingredient pie crust recipe would be a great choice. Either way, the most difficult thing about the whole process is waiting for it to chill in the refrigerator!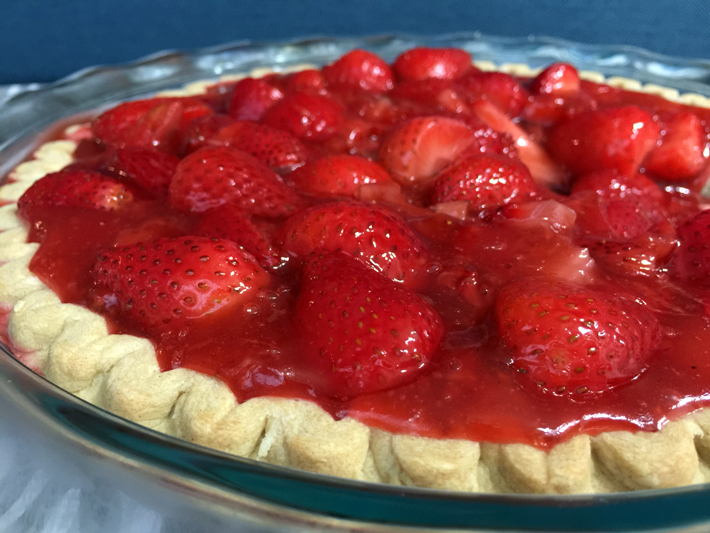 Easiest-ever fresh strawberry pie
Makes one 8-9 inch pie
Crust ingredients:
1 frozen pie crust, thawed
or
This homemade pie crust recipe 
Note: The homemade crust recipe makes two crusts, but you'll only need one for this pie. Freeze half the dough to use later or simply half the recipe.

Filling ingredients:
3 pounds fresh strawberries, rinsed, dried and hulled
1 large lemon
⅔ cup sugar
⅓ cup brown sugar
¼ cup cornstarch
Whipped cream topping ingredients:
1 cup heavy whipping cream
3 tablespoons sugar
Step 1: Bake the crust

Preheat your oven to 400 F. Place the pie crust on a 8″ or 9″ pie plate (if it isn't already in one). Flute the edges and use a fork to prick your thawed pie crust all over.
Once the oven is ready to go, bake the pie crust according to package or recipe directions until it's golden brown. Remove from the oven and set aside to cool.
Step 2: Prepare the fruit

Chop 1 pound of strawberries and place in a medium sauce pan.

Cut the remaining 2 pounds of strawberries in half (or into quarters if large), place into a bowl and set aside.

Zest the lemon and set the zest aside. Squeeze the juice over a strainer into the pan of strawberries.
Step 3: Cook the chopped strawberries
Add sugars, cornstarch and water into the saucepan of strawberries. Give it a good stir to combine everything together. Cook over medium heat, stirring frequently.
Once it starts to simmer, turn heat down to medium-low and continue to simmer and stir until the mixture really thickens, about 6-8 minutes. Remove from heat and add halved strawberries and lemon zest. Stir it all to get all the fresh strawberries coated in the gooey goodness.

Spoon filling into the pie crust. Refrigerate for at least 3 hours.

Step 4: Serve with whipped cream
Just before serving, make the whipped cream. Freeze the metal bowl for your stand mixer or a glass mixing bowl, as well as the beater attachment(s) for your mixer for 15 minutes.
Pour heavy cream into the bowl and begin to beat at a high speed. When peaks start to form, spoon in sugar around the bowl. Continue to beat until stiff peaks form.
If you think you may have left over pie, you'll want to stabilize your whipped cream by using one of these methods so it can stay put and behave in the refrigerator. Alternatively, you can also use store-bought whipped topping.
Serve with a dollop of whipped cream over each slice.