The house was quiet while the sun glared through the windows warming me as I worked at the table. Alone with little more than a loaf of bread, ricotta, heavy, deep-red tomatoes and peaches that smelled of candy as they sat ripening in a brown paper bag on the counter, it was all I needed for this culinary adventure.
For breakfast there was a thick slice of that bread toasted in a skillet with butter then slathered with jam. A short time later I was back at the counter sawing another slice of the bread, this time a little thinner, toasting it in that same pan with more butter then spooning on some ricotta, a touch of salt, thin slices of tomato and some emerald colored basil. That same day I tried another version with cherry tomatoes I squished between my thumb and forefinger. I poured the juice and smashed tomatoes onto the crisped toast which I had rubbed with raw garlic and ate the entire thing before I had returned to the table. Later there was thinly sliced red onion, peaches and basil on yet another slice of toasted bread.
If left alone with little more than bread and a few ingredients it turns into a few meals made up of one of my favorite foods – toast, or tartines if I'm feeling fancy.
What is a Tartine?
What we call "toast" the French call a "tartine" which literally means "a slice of bread". Our sandwiches tend to be stuffed full in between two slices of thickly cut bread but in France their sandwiches are often served open-face using fresh and seasonal ingredients which allows the contents of the sandwich to stand center stage.
Tartines can start the day with little more than butter and honey or jam. They can be a light lunch alongside a simple green salad and in the evening they can be dinner or they can start the meal as a simple appetizer. I like them because you can put anything you want on a piece of toasted bread and call it a tartine and suddenly it feels significant. It just sounds so much more lovely and sophisticated than toast.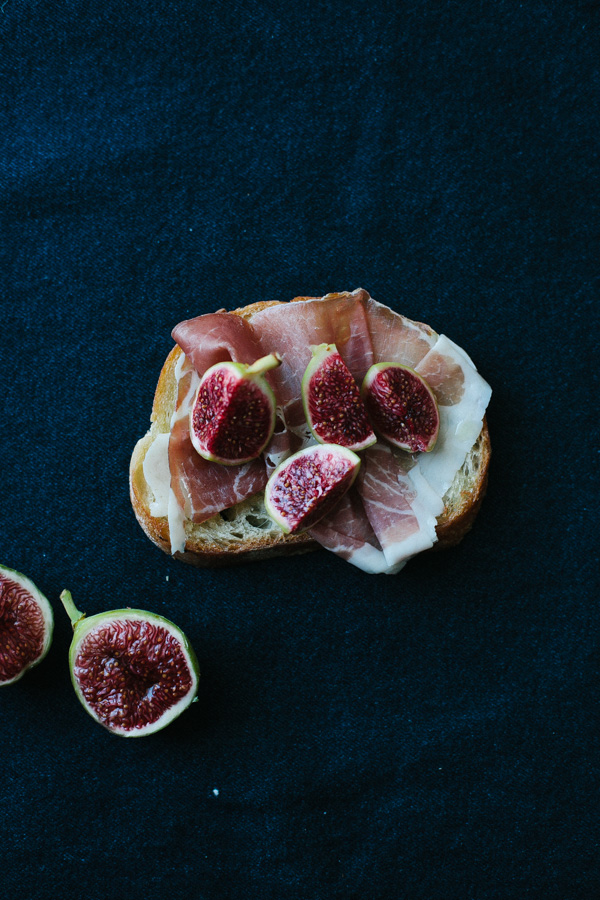 What to put on your Tartine
You and I could sit in the kitchen with crusty bits of toasted bread falling onto the plates as we discuss tartine possibilities all day while nibbling on one of said possibilities. On the day that I ate nothing but toasted bread with a few things on top it was the squashed tomatoes on garlic rubbed bread that was my favorite. This classic is also referred to as Bruschetta (Italy's version of a tartine) or tomato toast.
There are no rules, that I could find, in creating tartines – as long as they are on bread and topped with something delicious you are free to classify your toast as a tartine. So don't think of these suggestions as hard and fast rules, use them as a starting point then create your own variations.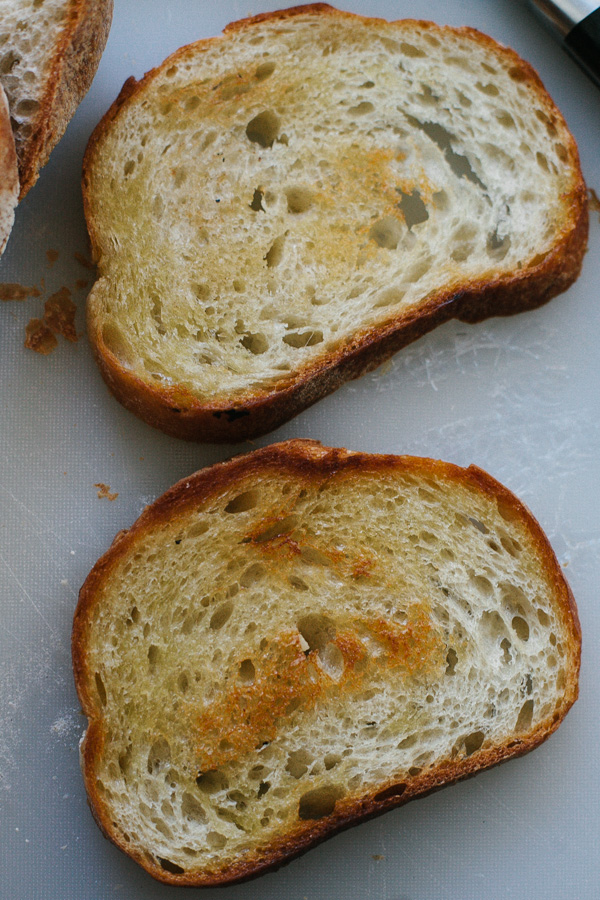 Bread
I like my bread moderately sliced, about 1/2" inch. The crust is deep and crisp while the inside is soft and pillowy. Most often I toast my bread in a cast-iron skillet with butter or olive oil. I want the outside to be golden brown while the interior still remains soft. For most savory tartines I'll rub a raw garlic clove just over the crisped, craggy surface of the bread.
Sauce
It's not so much a sauce but I do like something creamy to sink my teeth into. Most often that is ricotta. You could also use mayonnaise, goat cheese, mozzarella butter, mascarpone or cream cheese. Again, this is just my preference.
Top
This time of year is tartine season if there ever was one. It's the time of year when the produce doesn't need to be cooked in order to be at its best. Tomatoes sliced thin over ricotta with a bit of dill or thyme is pretty darn near perfect.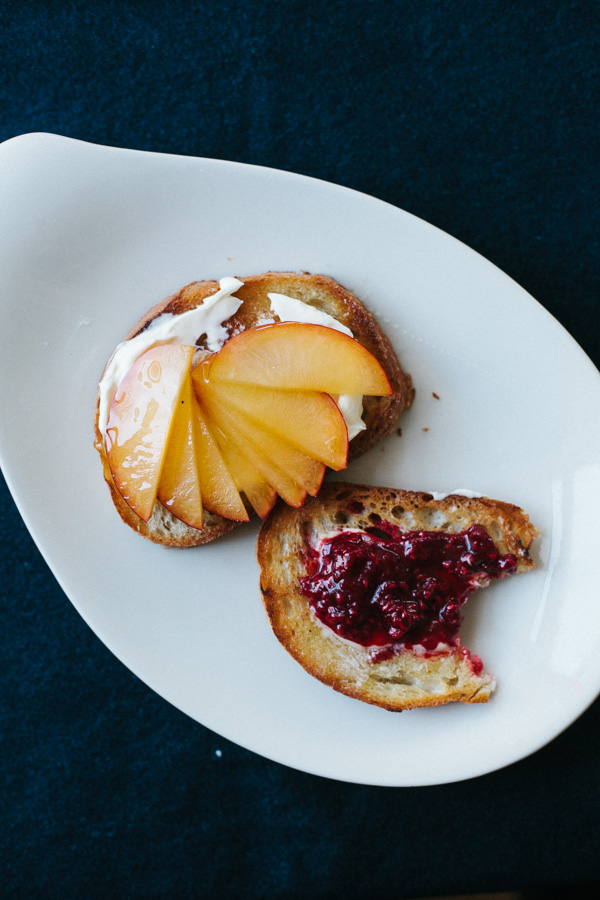 Other suggestions for appropriate toppings:
Peaches
Plums
Pears
Blue cheese
Figs
Prosciutto
Smoked salmon
Cucumber
Roasted peppers
Roasted squash
Asparagus
Green beans
Avocado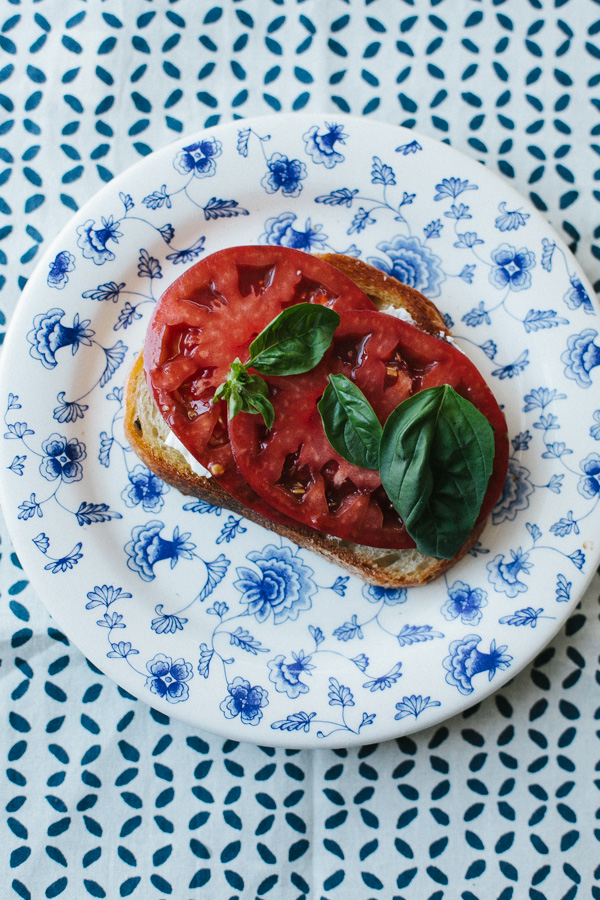 To learn more about French food check out this great class on French Cooking at Home taught by Georgeanne Brennan.
What combinations will you try first with your tartines?