The Fourth of July holiday is the perfect time to embrace Americana with a delightful red, white & blue embroidery pattern. Coming up with a patriotic embroidery project that hasn't been done before can be a bit of a challenge.
That's where we come in! This freestanding lace tutorial may be just the fresh patriotic project you've been looking for. It will leave everybody wondering, "You made this?"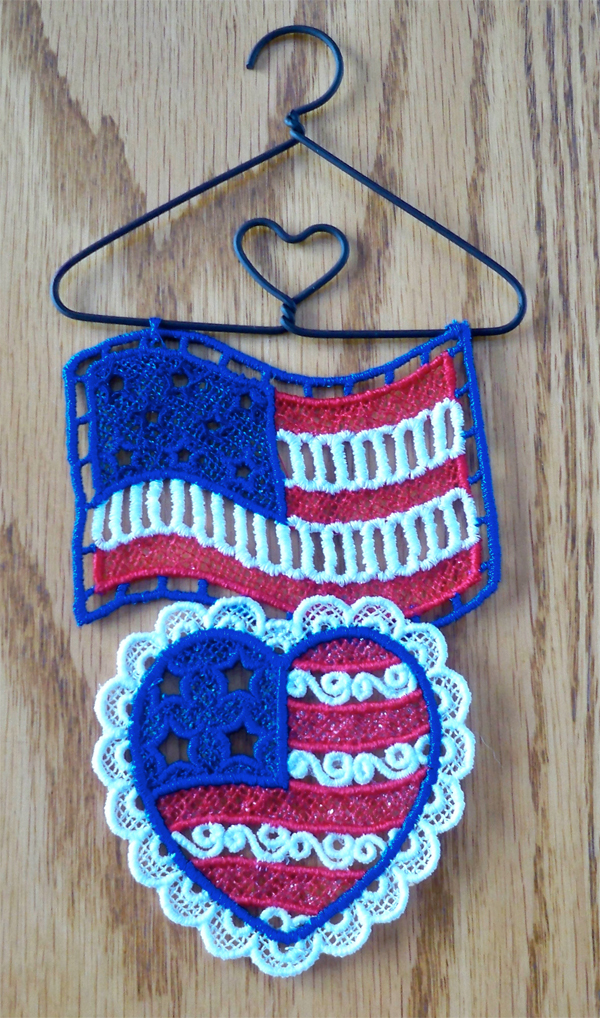 Photos via Debbie Henry
What is freestanding lace?
Most often, machine embroidery is stitched on fabric. With freestanding lace, a water-soluble stabilizer is used as a base. After embroidering, you simply trim away the excess stabilizer and soak the piece to remove the rest. What remains is a beautiful piece of machine embroidered lace.
Because there is no base fabric for support, freestanding lace embroidery designs are specially digitized to stand on their own. Underlay and supporting stitches ensure that every stitch is attached to another. Otherwise, the entire piece would come apart when the water-soluble stabilizer is rinsed away.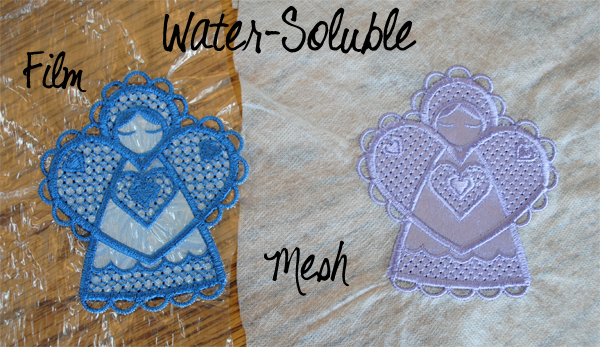 A word about water-soluble stabilizers
For freestanding lace, there are two basic types of water-soluble stabilizers (WSS) on the market: film and mesh. Film stabilizers are generally clear, like cellophane, and can also be used as a topper on fabrics with a nap, such as toweling. Brand names include AquaFilm and Sol-U-Film Light. Mesh versions, like AquaMesh, look very similar to fusible no-show mesh (I am embarrassed to admit I made that mistake once), but they wash away just like film varieties.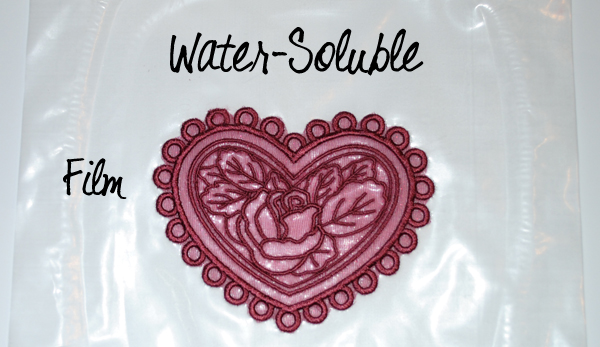 Other WSS films have a translucent, milky appearance, like a light-weight vinyl. You may recognize them as Solvy, Vilene and Badgemaster. Regardless of the type you choose, a good WSS is necessary for creating freestanding lace.
Let's make a freestanding lace flag and heart!
The designs in this project are part of the Patriotic Freestanding Lace set by Embroidery Library. Hoop WSS of your choosing. I used Sulky Ultra Solvy. Be sure to make it taut in the hoop, but do not stretch the WSS.
Get the Patriotic Freestanding Lace Set here.
When making freestanding lace, you should use the same thread in the bobbin as that with which you are stitching. That way, all threads that are visible will match. Polyester and rayon threads work well for this design because they have a high sheen. For a flatter, more matte look, use a 40 wt. cotton thread. Heavier weight threads of any kind can be problematic with freestanding lace designs.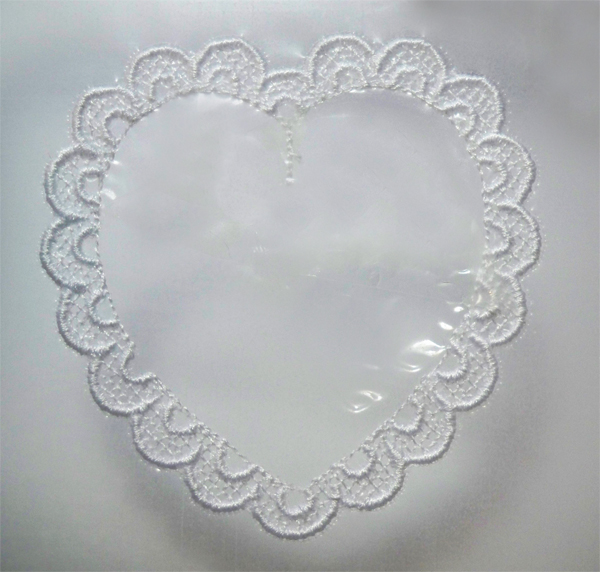 Directions:
1. Begin stitching the lace heart design. It starts with the outer scalloped edging.  Continue stitching the design.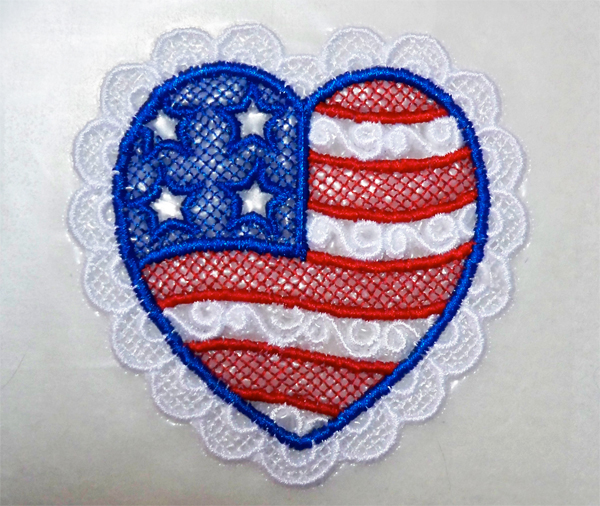 2. When finished, remove the piece from the hoop. Clip away most of the WSS close to the edges.
3. The remaining WSS is removed by soaking or rinsing according to the manufacturer's instructions. For a display piece like this that I want to be crisp, I do not rinse the WSS completely away. I rinse so that there is no WSS visible but not so well that it is completely gone. How do you tell? You can feel WSS on the surface of the lace. It feels slippery.
Rinse the piece by holding it between your index finger and thumb and stop when it is no longer slippery. You can always rinse more away later if you wish, but I like to leave some WSS embedded in the satin stitching so the lace hangs well.
4. Lay it flat to dry. When dry, you can press with a pressing cloth if needed. Stitch the flag design the same way.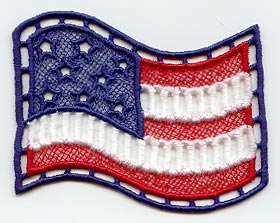 Photo via Embroidery Library
5. I attached the top of the flag to a 6" wire hanger in two places. You could also secure ribbon to the top edge as a hanger. I used a double strand of matching blue embroidery thread on a needle to run a couple of loops through the top edge of the flag and around the hanger before tying it off.
I did the same with the heart, looping through stitches on the back and attaching it to the bottom of the flag. The tricky part was keeping the heart level while attaching it to a curved edge. Then, hang and enjoy!
More water-soluble stabilizer tips:
I typically reduce stitching speed when using a WSS.
Pat, The Avid Embroiderer, uses a brayer to gently roll moisture out of freestanding lace pieces.
Always start thread changes by pulling the bobbin thread to the top where it can be clipped. That will prevent it from becoming entangled in threads on the back of the piece.
Place trimmed WSS scraps in a labeled plastic zip bag. They can be used later for patching tears or reinforcing areas of other WSS projects that need extra support.
 How do you use freestanding lace designs?