When we posted a couple of knitting rules that it's OK to break, many of you responded with enthusiasm to knitting outside the box and throwing the rules out the window. If you are one of those knitters who likes to knit on your own terms, freeform knitting is for you!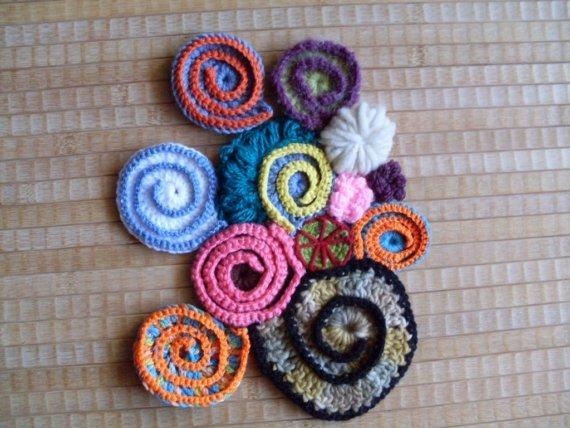 What is freeform knitting?
Freeform knitting doesn't have to follow a pattern. In fact, the point is that you let your creativity do all the designing! You can create freeform knitting by connecting small patches (a.k.a. scrumbles) of knitting, or you can design as you go.
.
How to get started with freeform knitting
"Experiment" is the keyword with freeform knitting. Grab a couple of different fibers and weights of yarn, then work up some squares or rectangles. When you have several shapes, arrange them randomly. When you're happy with the arrangement, stitch them together.
Freeform knitting can be difficult at first for knitters who are accustomed to following patterns. However, after a little bit of practice, the freeform technique can really unlock your creativity. It might even inspire you to go rogue with other patterns! 
Freeform knitting tips
1. Design as you go vs. planning a design
There's no formula for freeform knitting, so you can design as you stitch or plan a design ahead of time. Try both and see which one feels most comfortable and creative to you.
2. Layer, layer, layer
There are no strict rules about stitching pieces together. In fact, you can even layer them on top of each other to add even more texture. Embellishments like flowers can also be added on top of freeform knitting for dimension.
3. Combine it with crochet
Do you know how to wield a hook? If so, combine your knitting and crochet into one big piece. The mix of stitches, like the ones in the Freeform Nature Scarf pictured above, can create some beautiful textures. (See Myra Wood's Freeform Crochet class for more crochet ideas! New to crochet?
4. Consider swatches as scrumbles
If you have a lot of swatches hanging around, freeform knitting is a great opportunity to use them. Remember that the swatches don't need to match in weight or fiber, so anything goes!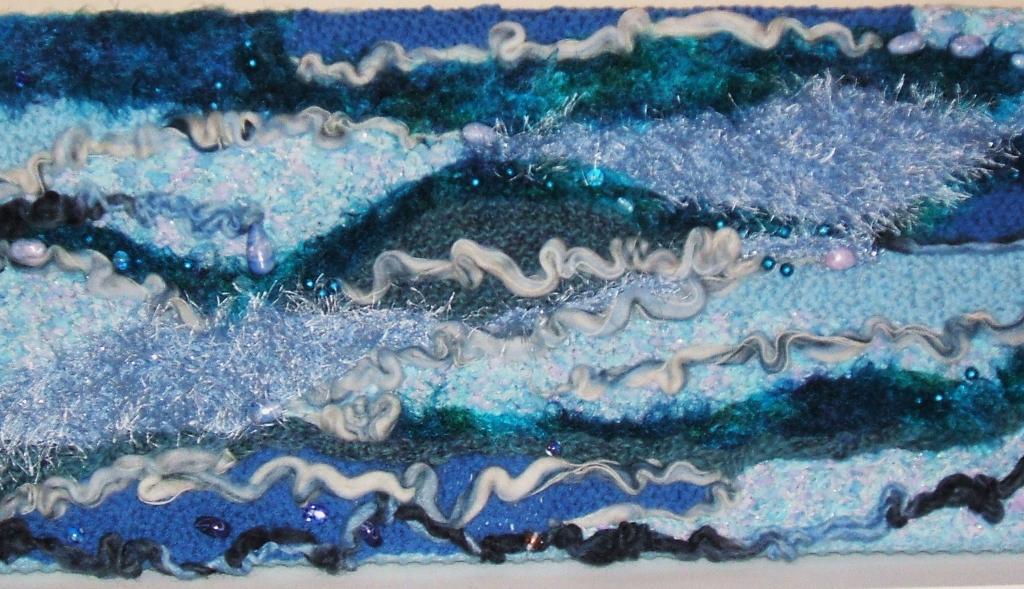 Photo via Craftsy member SusanW48
5. Mix fibers
Mixing fibers — like Craftsy member SusanW48 did in the Endless Blue wall hanging pictured above — is encouraged in freeform knitting. The blend of different plies and lofts can have a really cool effect. Just remember that if you're planning to wash your freeform knitting, make sure you care for it based on the most delicate fiber. For example, if you used both 100 percent wool and a superwash wool, you'll still have to hand wash the piece.
6. Use a digital camera
A camera can come in handy when you're knitting freeform. If you have a big pile of scrumbles, for instance, you can arrange them the way you like them, then take a photo of the result so you won't forget. Then you can take your time connecting the pieces without worrying about your cat or kids moving the pieces around when you're not looking.
What to do with your freeform knitting
Now that you've completed your freeform knitting, what should you do with it? You might choose to turn the freeform knitting into a fabric. For example, a roughly rectangular shaped fabric could be folded in half and seamed up the sides to create a bag. You could use a smaller piece of freeform knitting as the centerpiece for a bold statement necklace.
Freeform knitting can also serve as an embellishment. Use it as a trim on a skirt, for example, or as the edging on a tote bag.
Freeform knitting is art, so don't shy away from framing your piece and hanging it in your home. You could even create pieces as gifts for friends using the colors in their home decor.