I've always been fascinated by freeform crochet and what you can do with it. Because it's freeform, the possibilities are endless. And because it's a great way to use up scrap yarn, the result is usually looks funky and vintage — a style I'm always drawn to.
My crochet hook quivered in my hand when I spotted Myra Wood's new Freeform Crochet class right here on Craftsy. Check out a few of the ways you can use your freeform crochet projects, whether it's for home decor, clothing, or just a quick new accessory.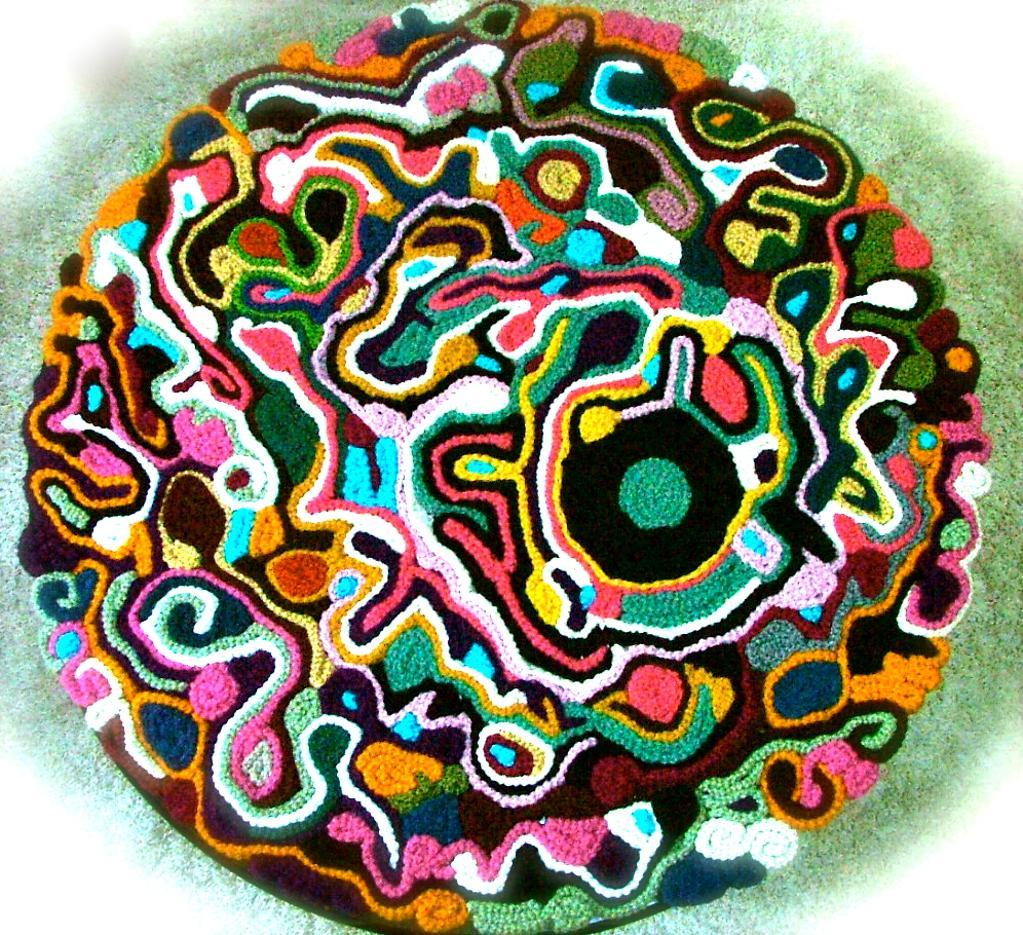 Photo via Craftsy member tiamia
Rugs
Craftsy member tiamia let her freeform crochet take over the floor when she turned it into this awesome rug. The rug is 36″ in diameter uses yarns of all colors and weights. Such a genius way to use up yarn scraps!
Bib necklaces
The first freeform crochet I ever saw was a bib necklace. I was crazy for it! The great thing about freeform crochet is that you can make it as large or as small as you'd like. If you aren't the type of person to wear big, bold statement necklaces, then keep your freeform piece on the smaller side. You can create a lobster cord to fasten the necklace, or just attach a piece of ribbon.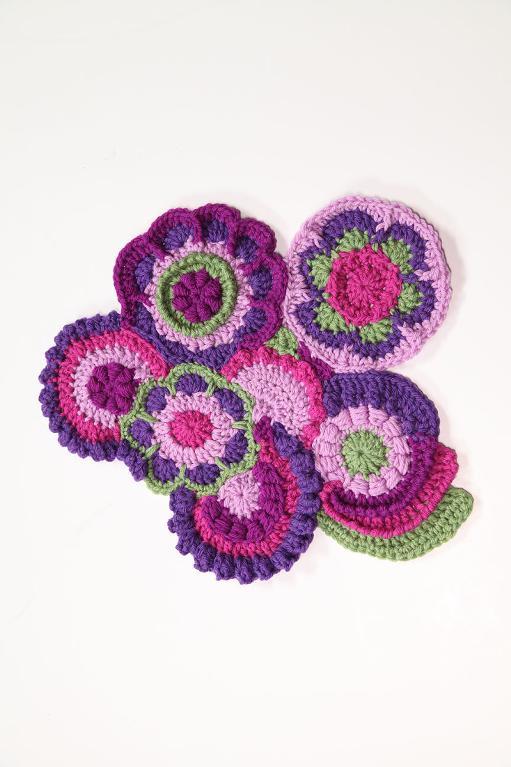 Photo via Craftsy instructor Myra Wood
Wall art
Take a look at that plain scrumbled fabric you see above. How cool would that look hanging on your wall? You could frame your freeform crochet, or attach a wire that lets you hang the piece on a picture hanger.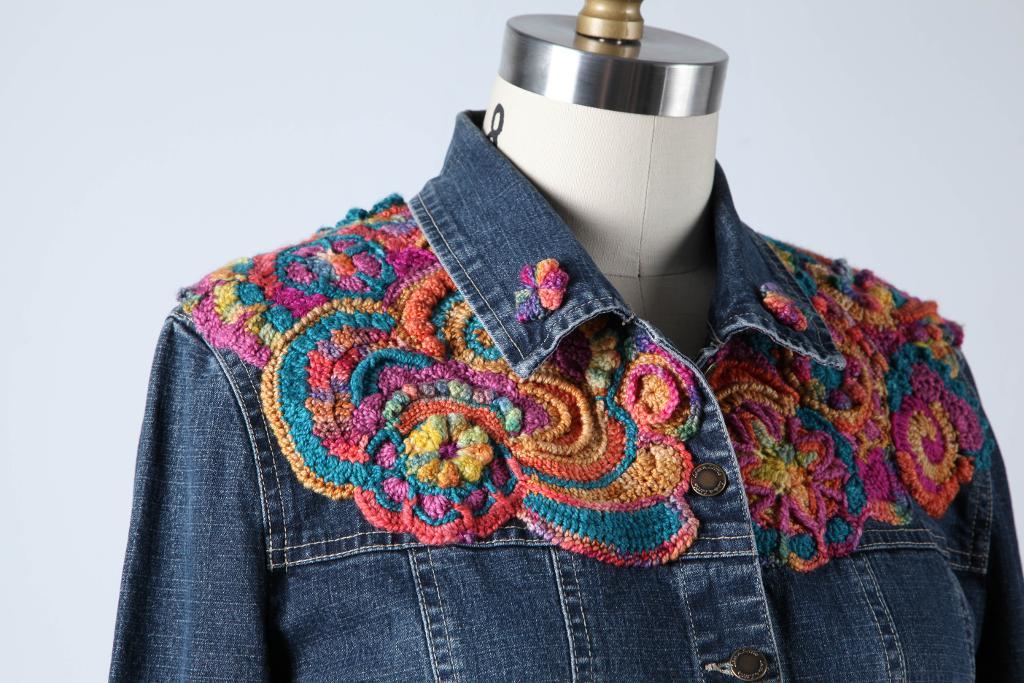 Photo via Craftsy instructor Myra Wood
Embellishment
Give old clothing a new look when you use freeform crochet to embellish. Craftsy instructor Myra Wood used freeform crochet to embellish a denim jacket. You could also use smaller pieces of freeform crochet to embellish items like totes. I'm thinking about sewing a small piece of freeform crochet onto the lower half of a plain skirt that's been hanging in my closet for way too long.
Place mats
I love crochet place mats, especially when the edges are not perfectly straight. Crochet your freeform piece in the shape of a rectangle to create a place mat that's unique — and don't worry about making all the mats look the same. That's the cool thing about freeform crochet!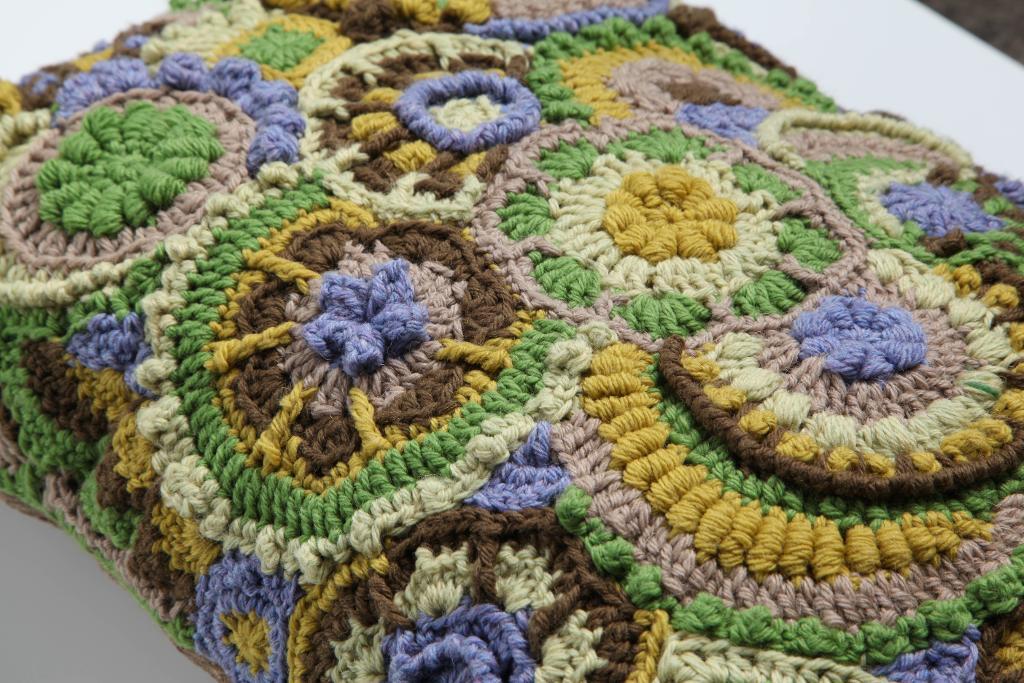 Photo via Craftsy instructor Myra Wood
Pillow
Freeform crochet doesn't always have to involve crazy, random edges. In fact, there are ways to square up your crochet so that you can turn it into a piece of crochet fabric. That fabric can become anything you'd like, including the pillow like the one pictured above.
Not quite sure how to turn your freeform crochet into fabric? That's just one of the lessons in Myra Wood's new Freeform Crochet class. Enroll today to find out not only how to make your freeform crochet piece, but also turn it into a crochet fabric. Cool, huh?
Clutch
Speaking of crochet fabric, I'm dying to make a clutch from freeform fabric. Making your own is simple. Just square up your freeform crochet rectangle, then fold it over, leaving enough extra fabric to make a flap. Seam the sides of the clutch together, then sew on a button. You could even add a lining if you have some basic sewing supplies.
What will you make with your freeform crochet?