Do you ever find the perfect free sewing pattern, only to find that the pattern you love doesn't come in the size you need? Luckily, the 10 FREE skirt sewing patterns featured here come in multiple sizes and styles, so hopefully you can find the perfect fit for your next project!
Photo via Schnitzel & Boo
1. Merry-Go-Round Skirt
This cute girl's skirt pattern is great for beginners, plus the paneling makes it great for using up fabric scraps. Use coordinating fabrics for a fun and playful look. This pattern comes in sizes 6 mos to 8 yrs, so it covers a wide range of sizes for young girls.
Get the FREE pattern »
Photo via So Sew Easy
2. Easy Pleated Skirt
This easy-to-wear skirt is designed with pleats in the front and the back instead of darts. This skirt does have a zipper though, making this an intermediate-level pattern, but it has pockets. Who doesn't love having pockets? There are nine adult sizes included in this free pattern.
Get the FREE pattern »
Photo via The Sewing Rabbit
3. Side Bustle Skirt Pattern
I love easy skirts with a fun twist just like this adorable girl's skirt. It has a hi-lo hem and gathered side bustles, which make this skirt really unique. The elastic casing waistband makes it a great beginner pattern. It comes in sizes 4 and 6, but it is forgiving, making it easy to alter for other sizes.
Get the FREE pattern »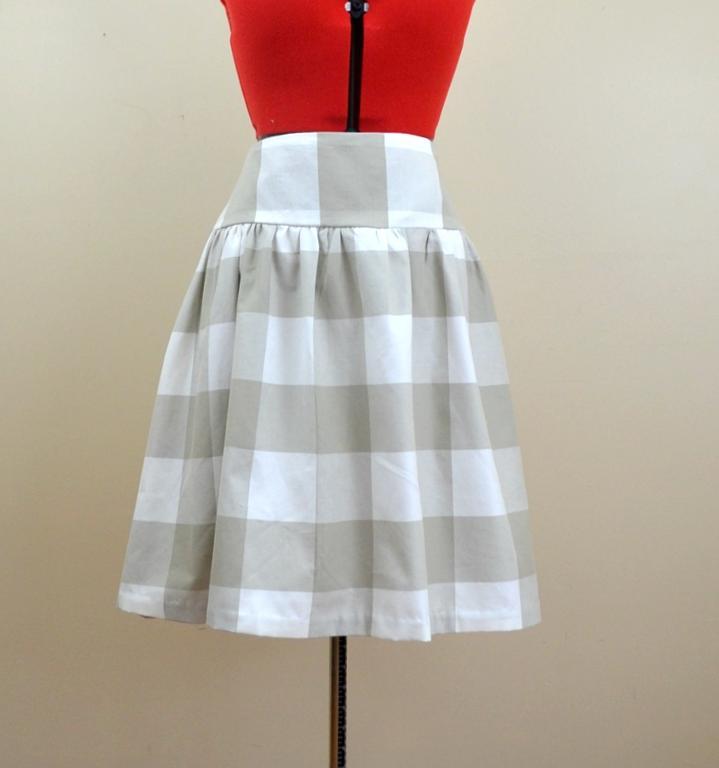 Photo via On The Cutting Floor
4. Sofia Skirt Pattern
This is a classic gathered skirt that sits at your natural waist and comes in sizes women's 4-22. The wide yoke makes it easy to fit and the gathers can be so flattering. This is a intermediate pattern since you learn how to install an invisible zipper.
Photo via Angela Bowman
5. Ruffle Hem Skirt
This is a fun beginner pattern that is truly adorable for all the little ladies in your life. The elastic casing waistband makes it easy to sew and comfortable to wear, while the ruffle adds an extra cute finishing touch. The pattern can be made in almost any size since the pattern comes with a simple worksheet where you plug in your measurements. This skirt pattern would be fun to make a bunch of matching skirts for sisters, cousins or friends.
Get the FREE pattern »
Photo via So Sew Easy
6. Wear Everywhere Skirt
A flattering A-line skirt that's easy to sew and easy to wear. The skirt is designed with a waistband, darts, and a big inverted box pleat in front. There's also a center back zipper making this skirt pattern perfect for brave beginner's. It comes in a range of sizes for 34-50 inch hips.
Get the FREE pattern »
Photo via Felicity Sewing Patterns
7. Glitter Skirt Pattern
Even though this is shown as Christmas skirts, it can be made for any time of year. The pattern not only teaches you how to make a gathered skirt, it also teaches you how to add a fun appliqué or a pretty, glittery overlay. The combinations are endless for this simple beginner's skirt that comes in sizes 6 mos to 8 yrs.
Get the FREE pattern »
Photo via Laura Prascher
8. Adjustable Holiday Infant Skirt
Don't forget the babies! This cute skirt comes in multiple baby girl sizes: 3 mos-12 mos. It's easy and comfortable since it includes an adjustable elastic casing waistband. It also includes instructions for adding ruffles and ribbon trim making it really easy to customize for any baby and any season.
Get the FREE pattern »
Photo via Modest Eve Sewing Studio
9. Maxi Skirt Pattern (Sizes 4-14)
There is not much that is more comfortable than a knit maxi skirt. They are easy to make, stylish and incredibly comfortable. Sewing with knits can be a little tricky, but I would still classify this pattern for beginners. This pattern comes in sizes 4-14, but also comes in extended sizes (which you will see next)!
Get the FREE pattern (Size 4-14) »
Get the FREE pattern (Size 16-26) »
10. Free Girls Maxi Skirt Pattern
This is another free knit maxi skirt pattern, but for girls! They want to be comfortable just like mommy, and since the same pattern comes free for adults, you could making mother/daughter matching skirts! This is a beginning sewing pattern, and it comes in sizes for waists measuring 20-27 inches plus a matching one for an 18-inch doll.
See the Top 20 FREE Sewing Patterns!
Explore popular free patterns from the world's best designers.Get Patterns Now »