Craftsy instructor and knitwear designer Pam Powers never ceases to amaze us with her beautiful knitting patterns. From luscious cowls to buttoned boot liners, each and every one of her patterns features unique design details that truly standout. Her latest book, Dress-to-Impress Knitted Scarves: 24 Extraordinary Designs for Cowls, Kerchiefs, Infinity Loops & More is no exception. Read on to hear about the inspiration behind her book! 

A free pattern for everyone!
Whether you're a cowl lover or a scarf fanatic, the Silly String pattern is as fun to make as it is to wear.

Here's what Pam has to say about this beautiful pattern and her new book…
The knitted scarf is one of the first projects most knitters tackle as beginners. It's a great place to learn techniques and stitch patterns, resulting in an accessory that you can wear and be proud to say, "I made this!"
That was the inspiration for my new book Dress-to-Impress Knitted Scarves. I wanted knitters to showcase their abilities and produce handmade accessories that can usually only be found in exclusive boutiques, so I put together a collection of projects such as ruffled scarves, cabled cowls and lace ascots that would do just that.
One of the book projects Triple Plait was my inspiration for this free pattern not included in my book that I am going to share with you. Triple Plait is an infinity scarf designed from reversible cabled strands that branch out from a solid fabric of lace mesh and cables. It's a real show-stopper, but not for the beginner knitter.
This pattern, Silly String, has the same versatility in wearing options as Triple Plait, but is more suitable for the novice knitter or the experienced knitter who wants to tackle a quick project.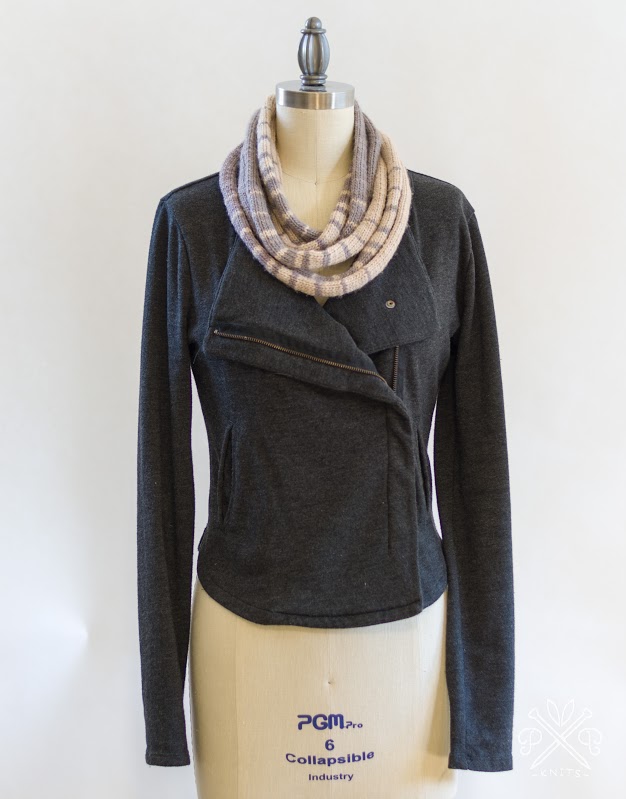 This design has three strands made of rolled Stockinette stitch—that is, the side edges roll in and form a tube that resembles i-cord, but these pieces are knit flat and not in-the-round. There is a short tube that is knit circularly that holds the three strands in place on both ends with the help of snaps. I designed my strands in an ombré pattern, using 2 colors, but you can simplify the pattern even more by using one color or larger blocks of color. Enjoy!