Whether you are a beginner or an advanced free-motion quilter, you probably have some free-motion designs that are your favorites. From simple stipple quilting to more elaborate patterns like quilted feathers, the free-motion quilting design you choose can have a huge impact on your finished project. There are plenty of beginner free-motion quilting designs to keep you busy, from wavy lines to spirals and swirls. But perhaps it's time to expand your repertoire with a few doable yet fresh free-motion patterns.
Here's a look at six approachable free-motion quilting designs that you can incorporate into your projects. These patterns are simple to draw and that means that just about anyone can learn to quilt them.
So regardless of how long you've been free-motion quilting, you can try one of these designs on your next quilt!

Photo via Lindsay Sews
Meandering stitch
One of the most basic free-motion quilting designs that beginners and advanced quilters enjoy is the meandering stitch. Formed by organic, rounded "U" shapes that never intersect, this continuous line quilting stitch is versatile and gives quilts of all styles a great finished look and texture. This Jewel Tones Mini Quilt utilizes the meandering stitch in the background and not the triangles for a dramatic contrast.
Get the Jewel Tones Mini Quilt Pattern here.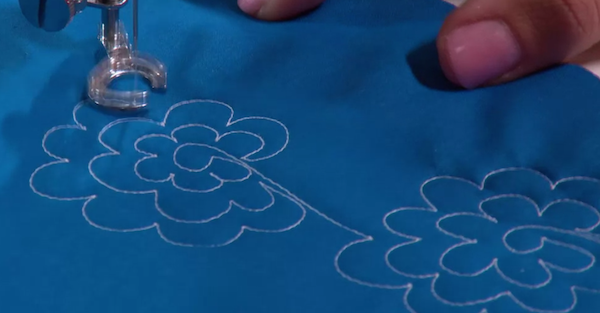 Loopy flowers
These loopy flowers are a playful free-motion quilting design with a dynamic impact. Make sure to leave plenty of space between your floral centers, so you have room to fill out the flower pattern. You can learn how to form these flowers and practice connecting units to each other in Start Free-Motion Quilting with Elizabeth Dackson.
Click here to join the Bluprint class Start Free-Motion Quilting.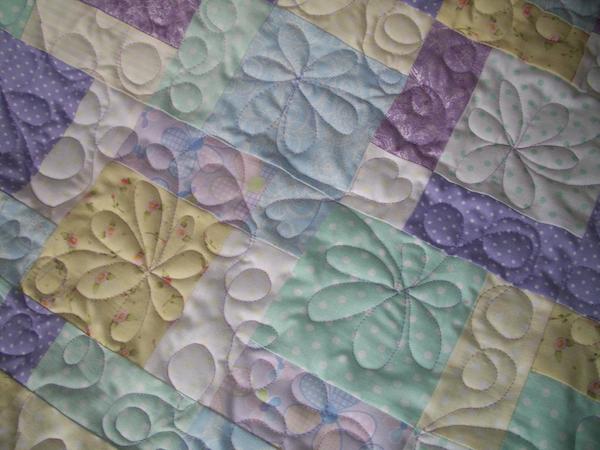 Photo via Bluprint member patz in suffolk
Flowers with petals
Naomi's Baby Quilt shows off an example of a flower design that's easy for beginners to quilt. This daisy free-motion quilting design features six tear-drop-shaped petals and a stem that connects to other loopy lines. When trying flower designs, it's helpful to practice making petals of the same size, one after the other, that point in different directions.

Photo via Bluprint member Lindsay Sews
Free-Motion Rectangles
This is a modern free-motion quilting design that is easier than it looks. Think of it as making loops without the curves. Geometry lovers will enjoy quilting interlocking squares and rectangles using one continuous line. Take a closer look at this quilting style on the Glass Half Full quilt pattern.
Get the Glass Half Full Quilt Pattern here.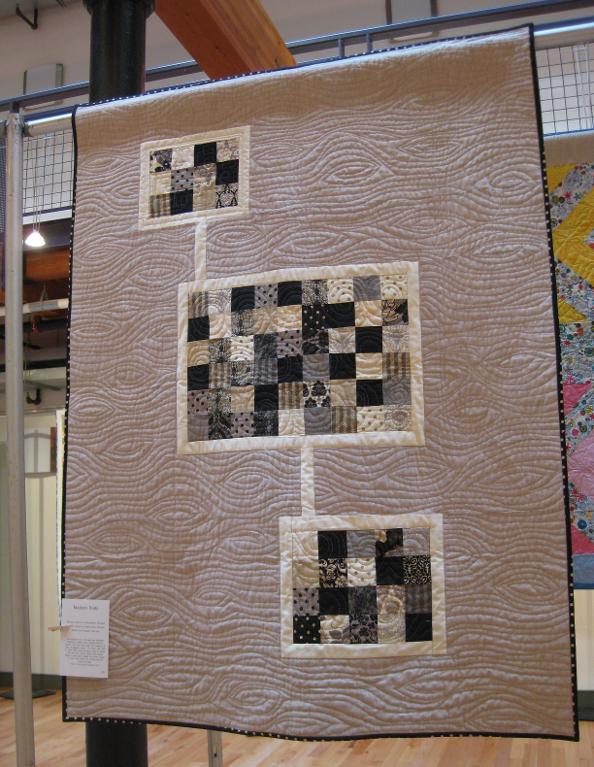 Photo via Bluprint member Malini
Wood Grain Quilting
If you've ever tried quilting with wavy lines, it only takes a slight adjustment to turn this design into a wood grain pattern. The Modern Pods quilt shows this off beautifully, with several sections of wood "knots" surrounded by wavy lines that resemble the pattern of a tree. This design was created as part of Machine Quilting Negative Space with Angela Walters.
Click here to sign up for the Bluprint class Machine Quilting Negative Space.

Photo via Lindsay Sews
Pebbles
If you can quilt a stipple design, you can learn to quilt pebbles. These overlapping circles are connecting in one continuous line, and they often circle back around on top of each other. You can get a closer look at pebble quilting in the Cherry Pie Quilt. You can vary the size of the pebbles from large to minuscule in different areas of your quilt to add interest.
What are the free-motion quilting designs you've been itching to try?