Yes, it takes lots of practice to master free motion quilting, but having the right tools and accessories can put you on the fast track to success.
Of course, you know you need a sewing machine, a needle, thread and your quilt sandwich. After that, you can add just a few extra supplies to your toolbox and be well on your way to an FMQ masterpiece.
These gadgets can take some of the stress out of free-motion quilting.
1. A free-motion quilting foot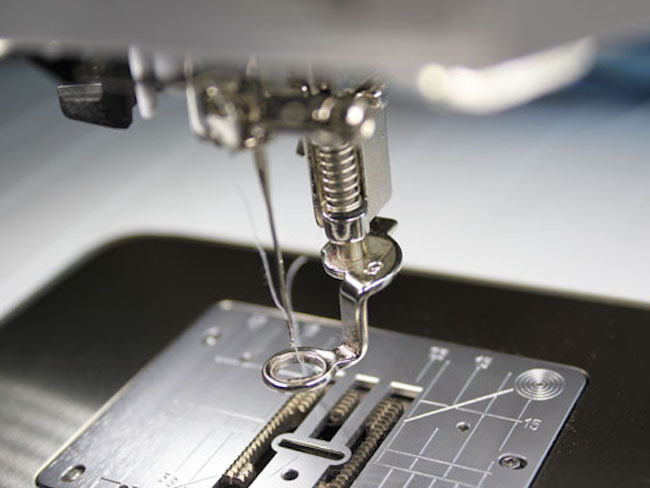 This first one is a must-have! A free-motion quilting foot allows full movement of the quilt under the needle and clear visibility while quilting.
There are lots of choices here: hopping or stable, clear or metal, open or closed. Only experience will reveal what you prefer. Consult your machine manual to discover what type is made for your machine. If you're unsatisfied with those options, generic feet are also available.
2. Extension table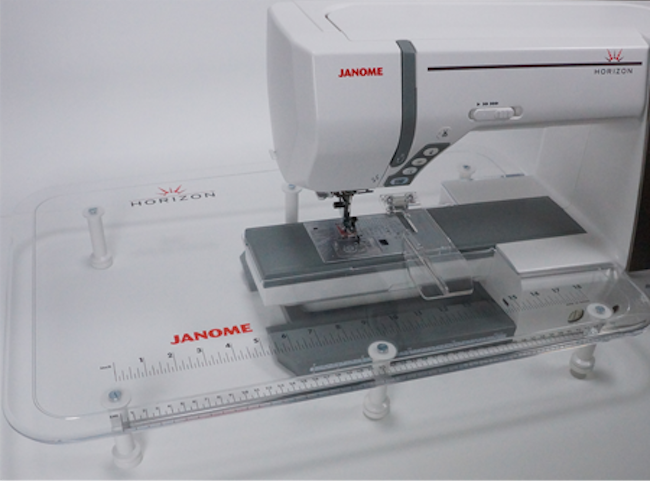 An extension table should be next on your list. This is a plastic rectangular platform that's designed to fit snugly around your machine. It extends your work surface at needle height.
An extension table makes it easier to support your quilt while free motion quilting.  This reduces hand fatigue, allowing you to quilt longer in one sitting. And, since the quilt is not dragging off the edge of the sewing machine, you can move it more smoothly to create nicer shapes.  
To get the correct fit, it's best to find an extension table made by the manufacturer of your particular machine. For example, Horizon Memory Craft 8900QCP Special Edition shown above only works with certain extender tables. You can also find universal sewing tables, like this one from Janome, which fits with more than just one machine.
3. Quilting gloves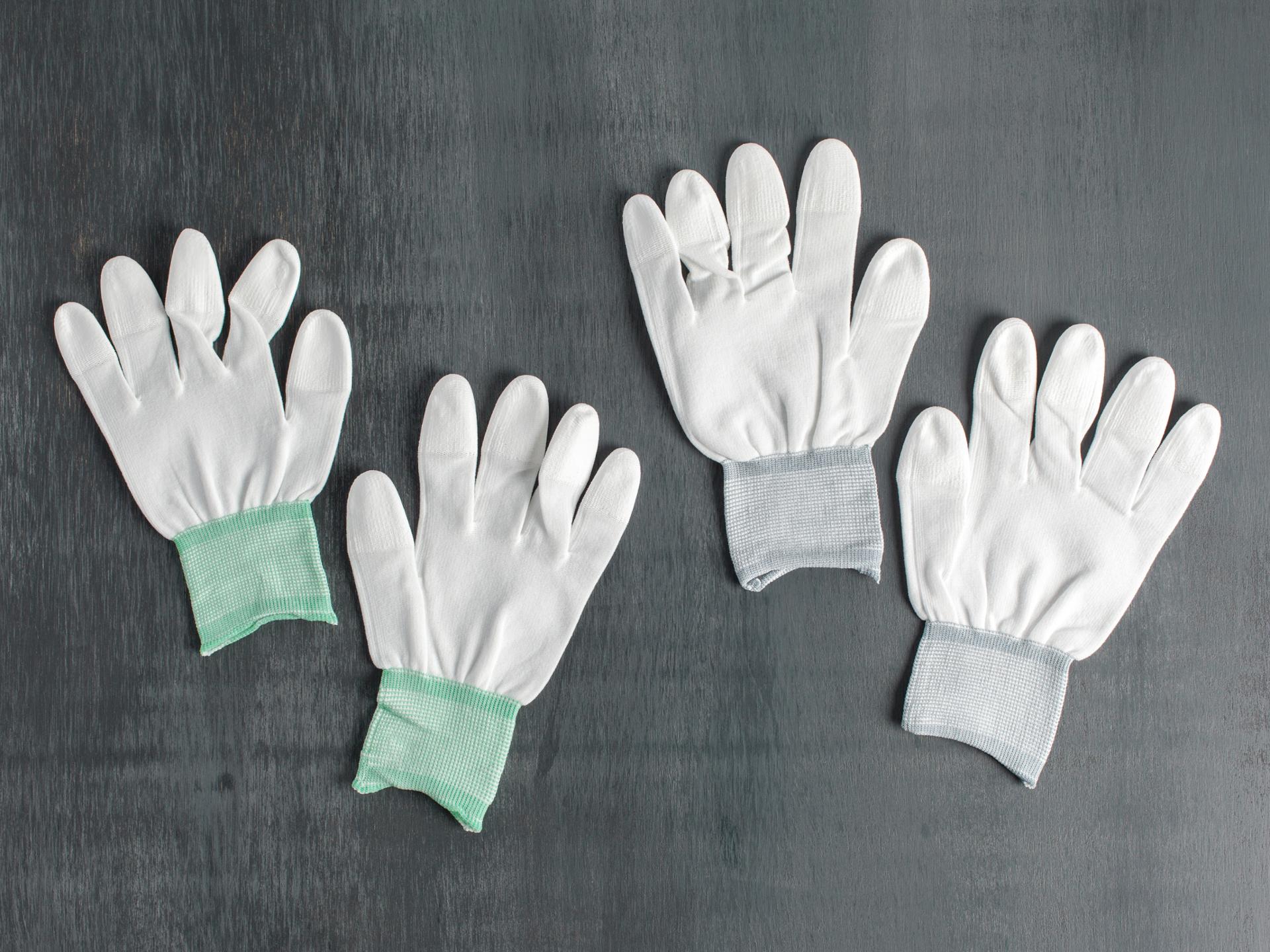 Like an extension table, quilting gloves make the task of free-motion quilting less tiring. These thin, stretchy gloves are designed to help you grip the quilt securely. Many have little sticky dots on them, much like non-slip pajama feet.
Gloves are available in all kinds of sizes and styles, so keep looking until you find a pair that fit you like a second skin! Quilt shows are great places to shop for quilting gloves, or you can find many online. 
4. Marking tools
Although it tends to look effortless, free motion quilting sometimes involves advance planning. You might wish to make marks on the quilt to create boundaries or reference points for spacing. 
The marking tools you use for sewing also work well when free-motion quilting.  A simple water soluble pencil, for example, comes in handy for marking points. A hera marker is my go-to for straight lines.  This tool creates fine creases to mark lines with more accuracy and speed than pencils, chalk or pen.
Of course, if you plan to use your piecing as guidelines (often called dot-to-dot quilting), you might not need marking tools like these.
5. Quilting rulers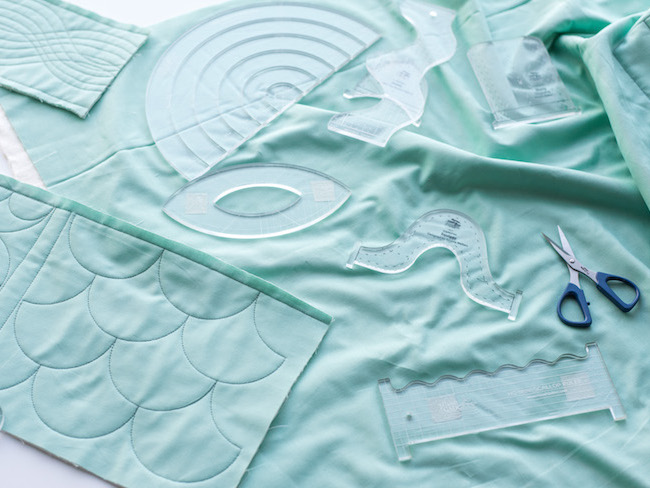 From Quilting with Rulers: Free Motion Made Simple with Angela Walters

After you master the basics, experiment with rulers designed for free-motion quilting. You can find all kinds of rulers available in half circles, curves, novelty shapes, straight lines, and more.  

When you can guide your FMQ foot along the hard edge of the rulers, you'll get smoother, neater quilting lines. If you ever get frustrated because your free-motion quilting is not as perfect as you'd like, rulers will help!

Free-motion quilting rulers are best used in conjunction with a thick free-motion quilting foot, called a ruler foot. The ruler foot guards against the possibility of quilting on the ruler itself. 
6. Supreme Slider
A Supreme Slider is a slick plastic sheet that clings to your sewing machine bed like a vinyl decal, creating a smooth surface that covers your machine's feed dogs. There's a small rectangle cut out at center for the needle hole. It's designed specifically for free-motion quilting on a domestic machine, and it peels on and off easy.
The Supreme Slider creates an extra slick surface. With it in place, you'll find it easier than ever to move a quilt under the needle as you quilt. Like an extension table and gloves, this tool reduces fatigue and makes FMQ more enjoyable.
7. Quilting guide
If you find it difficult to keep the quilt surface flat while free motion quilting, try a quilting guide. This specialty tool is a weighted ring is covered with a rubbery surface that lightly grips the quilt. You simply place it on top of your quilt and quilt within the ring.
The ring holds the quilt flat so you can clearly view your quilting canvas. Instead of holding and moving the quilt, your hands will rest on the ring and move it gently.