It's not difficult to find lots of free knitting and crochet patterns on the Internet. On Bluprint alone, there are more than 5,000 free knitting and crochet patterns!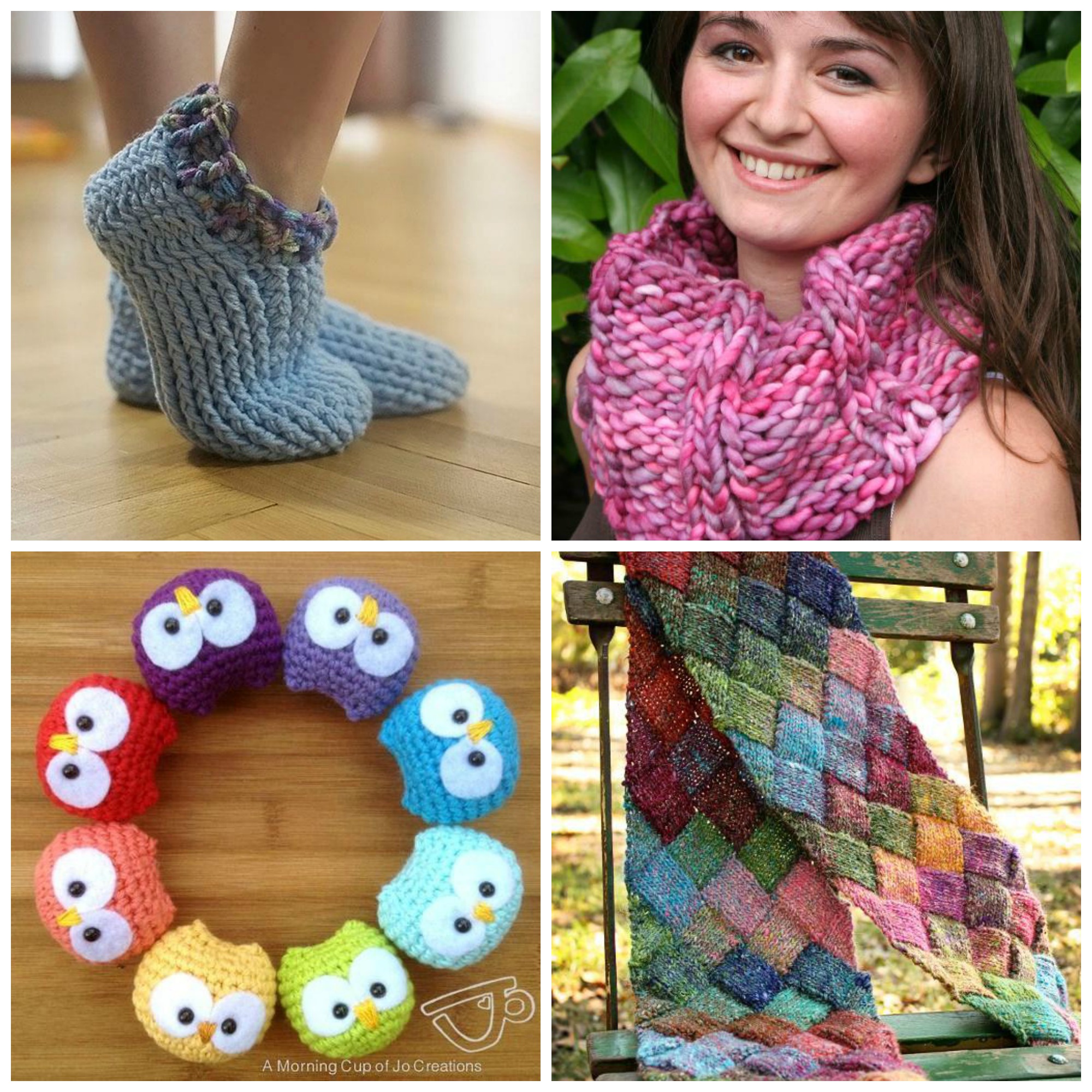 The challenge is finding a free knitting or crochet pattern that will give you a completed project to show off with joy and pride, instead of a wad of stitches you bury in frustration at the bottom of your pile of UFOs
With all the free pattern sites out there, it can seem like finding the right free pattern for you is like finding a stitch marker in your purse. Here are eight tips with eight matching free patterns to guide you to free pattern success.
1.
Less time searching = more time creating
To reduce the time spend hunting your pefect pattern, start with a pattern site like Bluprint that gives you the ability to narrow your search and evaluate patterns through detailed information and reviews.
It may seem like Pinterest and Google might be great sources of free patterns, but you have to wade through "free pattern" pins that lead to broken links or search results that contain your key words but no pattern.
Full-featured pattern libraries like Bluprint and Ravelry not only provide the details you need, but they also let you narrow your search through filters for free patterns, project type, difficulty and more. For example, to find the pattern for the Magnificent Moss Basket below, I searched Bluprint's pattern marketplace for "basket" and filtered by "Crocheting" and "Free."
Be flexible with your search so you don't unintentionally filter out some great patterns. For example, if I added a filter for a Type of "Table Accessory," the moss basket won't show, because the designer categorized the pattern as "Other."
Photo via Bluprint member Joyful Yarns
Magnificent Moss Basket
This crochet basket gets its woven look from a moss stitch in worsted yarn using any colors that match your decor. The versatile crochet pattern can be adapted for diameters of 8 inches to 14 inches and any height. 
Get the FREE pattern »
2. Size up the size
For a blanket or a scarf, you may be able to simply change the project size by adding repeats or rows. But varying the rows or repeats for projects like hats can change the whole shape and look of the finished piece. And adapting a fitted garment like a sweater to a new size is a project for an advanced knitter or crocheter. So make sure that the free pattern you love comes in the size you want or gives you instructions on how to adapt to a different size.
If choosing the correct size in a pattern is confusing, check out the class Perfect Knits Every Time: Understanding Knitting Patterns.
Photo via Bluprint member canarysanctuary
Corona
This knitting pattern for a hoodie comes in seven different sizes, for bust measurement from 28 inches to 54 inches. Some knitters have mentioned in the comments and reviews that it is a little tight, so you might want to select a size larger than your usual size for a more relaxed fit. Knit in the round, the sweater is almost seamless.
3. Keep your eyes on supplies
Money you save by using a free pattern could easily be eaten up if you have to buy new supplies or materials. A super bulky project might require a large needle or hook size that you don't have. Patterns knit in the round require circular and/or double pointed needles. Consider what you have on hand before you commit to a pattern.
Are you looking for a project for a specific yarn from your stash or your wishlist? Make sure that your yarn weight and type match the designer's original materials. Or perhaps the yarn the designer used has been discontinued or is not easily available and you have to substitute a new yarn. If you want to learn more about how to evaluate whether a yarn is suitable for a pattern, check out our blog post "How to Substitute Yarn."
Photo via Bluprint member Anastacia Knits
Three Triangles Shawl
No need to add to your supplies for this crochet pattern (unless you want to!) because this simple, top-down shawl can be created with any yarn, in any weight, with any gauge. The designer has included some options to consider for customizing the shawl, but you are only limited by your stash!
4. Know your comfort zone and if you want to step out of it
As knitters and crocheters, we want to learn new techniques and expand our abilities to new and more complex projects. However, if this is your first or second project, you probably aren't ready to tackle something intricate like lace and cable cardigan, no matter how much you have fallen in love with the pattern.
The best way to evaluate the difficulty of a pattern is review the techniques required. Bluprint pattern descriptions include a section for skills used in the pattern. On other sites, you may have to download the pattern to see if you will be comfortable with the skills needed.
If you don't understand the techniques and still want to try the pattern, there are many videos, tutorials and classes available here at Bluprint and other sites. Please remember that the designer has generously provided the pattern for you free of charge. That does not mean they have volunteered to teach the techniques used in the pattern. 
Photo via Bluprint member crochetbyjen
Adult Chunky Slippers
This crochet pattern is appealing for its versatility, comfort and wide range of sizes. If you are concerned about the intermediate level of difficulty, check the thorough list of skills required. You can brush up on two of the techniques with Bluprint's help: You can learn more about post stitches in the FREE mini-class Amazing Crochet Textures. For information on how to crochet in the round with the magic ring, see our tutorial "Demystifying the Magic Ring."
Get the FREE pattern »
5. Take time for deadlines
If you have a deadline for your project like a baby shower, birthday or holiday, be realistic about how much time the project will take and how much you can dedicate to it. Simple hats can be good weekend projects, but a sweater or afghan that you planned for Christmas could end up a Mother's Day gift instead.
Fortunately, some free patterns will tell you how much time the project will take, although it is always wise to factor in your experience level and the number of distractions from family to TV and so forth.
Photo via Bluprint member Taiga Hilliard
One Episode Cowl
This super bulky cowl is designed to be knit during a one-hour episode of a TV show — assuming you don't have to pay too close attention to the show! Though the designer recommends Malabrigo Rasta yarn, she gives you the flexibility of selecting super bulky yarn, two strands of bulky yarn or four strands of worsted yarn for the pattern. The cowl comes in four sizes with both written instructions and charts. The pattern does require size 19 U.S. needles, which not everyone has on hand.
Get the FREE pattern »
6. Give thumbs up to reviews
Many pattern sites, especially those like Bluprint and Ravely, post reviews or photos of completed projects from users who have completed the pattern. This is a great way for you to evaluate whether a pattern is right for you and the project you have planned. Although it's encouraging to see five star reviews, the details of the reviews are an even better guideline. Someone may give a pattern four stars and mention that the pattern size seemed off. It still may be the best pattern for you but the review may lead you to consider a different size.
And, remember when you've finished your project, post a review to help other knitters and crocheters!
Photo via Bluprint member BusyMomDesigns
Basic Beanie
Ten reviewers give this easy crochet beanie pattern an average rating of 4.9 stars out of 5. Even more encouraging if you are new to crochet, the reviewers comment that the pattern is easy to follow and great for beginners. This versatile hat pattern includes 7 sizes from preemie (or doll) to adults.
Get the FREE pattern »
7. The proof is in the finished projects
Many community sites like Bluprint and Ravelry ecnourage knitters and crocheters to post pictures and descriptions of the finished projects completed with the pattern. Looking at the projects can be a great way to see how the pattern will look with real-life yarn variations and get ideas on how to customize the pattern. You can also compare how other close the other crafters could get to the idealized project version the designer presented.
And don't forget to add YOUR finished project so that future crafters can see how you interpreted the pattern.
Photo via Bluprint member FrecklesnPurls
Entrelac Scarf
You can view 22 finished projects by knitters who created variations of this entrelac pattern with different yarn choices and color schemes. If you are new to entrelac knitting, it could boost your confidence to see all the completed projects by other knitters. In addition, several of the knitters adapted the pattern for blankets, cowls, and cushions to demonstrate the versatility of the pattern.
Get the FREE pattern »
8. Making money on free patterns
Are you planning to sell your finished project online or at craft shows? Check the description and the pattern to make sure that the designer gives you permission to do so. Some give permission to sell anywhere, some have restrictions, some ask for a link back to the pattern and others ask that you not sell the finished project.
Photo via Bluprint instructor Josephine Wu
Baby Owl Ornaments
Bluprint instructor Josephine Wu freely gives you permission to sell any of these adorable owls you crochet: "Since you'll be dedicating lots of time and love to crocheting, I'll totally support your efforts to earn some money!" With 9 five-star reviews and 24 finished projects, you can see how other crocheters have varied the pattern.